Betway is among the biggest/major players in the South African online gambling scene. With decades in the industry (EST. 2006) and only venturing into the SA industry in 2017, Betway has shown its tenacity as an innovation-led business continuously looking for opportunities to expand its geographical reach, partnerships, and brand portfolio, as revealed in this Betway.co.za review.
As part of its commitment to implementing the latest/new innovative strategies, the casino introduces its recent addition, Betway scratch cards! Players can unlock irresistible prizes, including free bets, free spins, and a share of the prize pool of up to R50 million. But how do you get Betway scratch cards and win your prize? Keep reading to learn more.
---
How to Get Betway Scratch Cards
To join/partake in the Betway Scratch and Win promo, simply follow these steps and be in the running for prizes in the millions, among other varieties: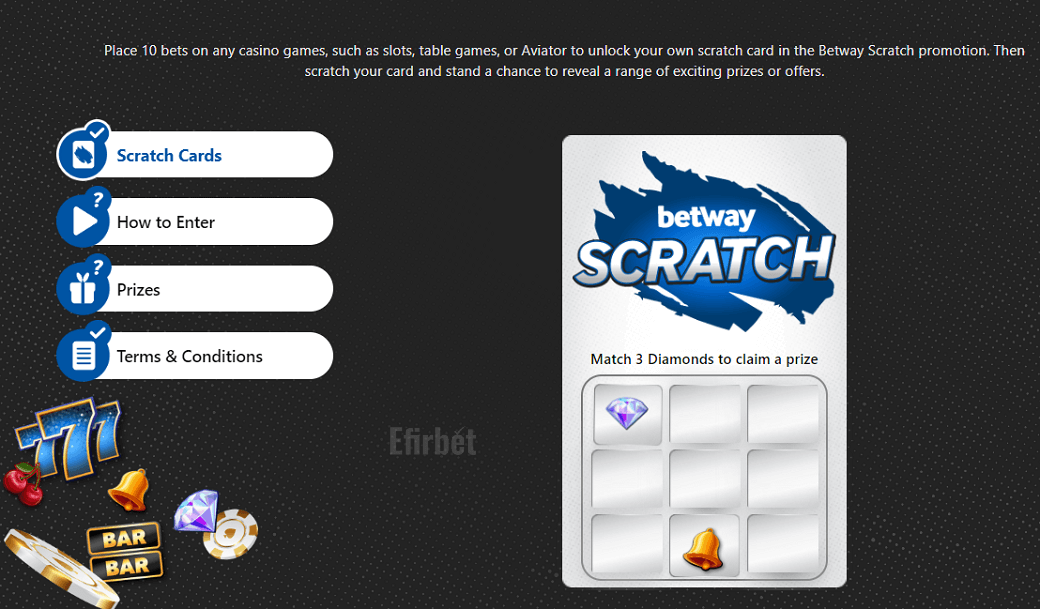 👉 1. Sign Up/login to your Betway account
Load/open www.betway.co.za on your browser and login or register for an account if you don't have one. Follow the prompts on the registration form.
👉 2. Click the 'Claim Now' button on Betway's banner or use the SMS link
You can either click 'Claim Now' on the Betway banner or use the Email/SMS promo link on your mobile to activate the offer.
👉 3. Start placing bets on your account
Place 10 bets on any casino game at Betway, including slots and virtual tables, or Aviator, to get your first scratch card.
👉 4. Confirm that you have received the scratch card
After placing/meeting the required bets, check your account for the Betway scratch card. Getting the scratch card can take anywhere from 45 minutes to 6 hours. Ultimately, you'll receive a notification once your scratch card is ready.
👉 5. Scratch the card to reveal/win your prize!
Lastly, scratch the card to reveal the prize! Your reward is dependent on the symbols on the card. Remember, the more you play slots, table games, or aviator at the casino, the more scratch card entries you get.
---
What are the Scratch Cards on Betway.co.za?
Betway scratch cards join the list of the latest Betway bonuses for South Africa — a move that has shown the casino's resolve not only to follow the latest betting tendencies but also to implement innovative strategies geared at improving your betting experience on the platform!
As mentioned earlier, Betway keeps the qualification requirements at the bare minimum. Much akin to a loyalty program, players are rewarded with scratch cards for continually playing games like online slots, virtual tables, and Aviator. Immediately the card is available. You need to scratch it to reveal the symbols. Your prize depends on the symbols that show up on your card.
Overall, the more you play (bets placed), the more scratch cards you can get. For instance, for your first card, you need to place ten bets, whereas your second card needs 25 bets, and the number keeps increasing the more card you collect, as shown in the table below:
| | |
| --- | --- |
| Scratch Card | Wager Count Requirement |
| Scratch Card 1 | 10 |
| Scratch Card 2 | 25 |
| Scratch Card 3 | 45 |
| Scratch Card 4 | 70 |
| Scratch Card 5 | 100 |
| Scratch Card 6 | 135 |
| Scratch Card 7 | 175 |
| Scratch Card 8 | 220 |
| Scratch Card 9 | 270 |
| Scratch Card 10 | 325 |
---
What Prizes can I win by scratching my card at Betway ZA?

There are plenty of prizes to be won on the Betway Scratch Card promo, including free spins, free bets, and a share of the GRAND prize of up to R50 million. Here's the complete list of Betway Scratch card prizes you can win during the promo period:
Free Spins
Lucky slot lovers will receive free spins of distinct value for playing select online slots. According to the scratch card T&Cs, the free spins are exclusive to Habanero slots, such as Hot Hot Betway, Hot Hot Fruit, Wealth Inn, Laughing Buddha etc.
Free Bets
Free bets are also part of the prizes that lie in wait. Depending on the bonus terms, you can use these to place pre-match or live bets on different sports matches. This portion of the prize list can only be used to place sports bets and not play casino games.
No deposit bonuses
Win no deposit bonuses by participating in the Betway scratch cards promo. No deposit bonuses (NDBs) will see you bet on your favourite games without having to fund your account. However, confirm the offer's T&Cs before putting it to use.
Reload Bonuses
Betway scratch cards may also win you reload bonuses! Also known as a match deposit bonus, this reward will require you to make a minimum deposit to claim. Take note of the minimum requirement not to miss out on the offer.
Cash
Players can win a share of the GRAND prize of up to R50 million. The cash reward will be available for withdrawal immediately after confirmation. How much you win depends on the symbols you reveal after scratching the cards.
Inverters
By simply participating in the Betway Scratch & Win promotion, you can win inverters you can use in your household. These are versatile for homeowners making the switch to solar power.
Smartphones
Players can also walk away with a brand-new smartphone with the Betway Scratch & Win promotion! The smartphone's specs may vary, as well as the brand of the mobile.
Smartwatches
Smartwatches are also up for grabs! Players can win different brands of smartwatches from the casino. The kind/make of smartwatch you get depends on the operator and your scratch card outcome.
Grocery Vouchers
Lastly are Grocery Vouchers! YES, you can win grocery vouchers to be redeemed at designated stores using the Betway Scratch & Win promotion.
---
Betway.co.za Scratch Cards Terms
Like any other Betway promo, the Betway Scratch & Win bonus must meet/observe terms and conditions. First, customers can only earn 10 scratch cards per day. The scratch card will appear within 45 minutes if you meet all the requirements. However, a delay may see you receive the scratch card within 6 hours.
Winners of non-physical prizes will receive their rewards within 48 hours; after that, they must play the bonuses within 7 days.
On the other hand, if you win a physical prize and the Betway customer representatives cannot contact you within 48 hours, the prize is given to another winner.
Finally, you MUST be 18 years old and over and a South African resident to claim the Betway Scratch & Win prizes.
---
Our Opinion: Are the Scratch Cards at Betway any good?
In a move unlike any other, Betway takes the traditional/everyday scratch cards and adds a much-needed twist! Players experience a new world of exciting non-physical and physical prizes ranging from a share of the GRAND prize pool of up to R50 million to smartphones, inverters, and grocery vouchers.
Free spins, free bets, and reload bonuses are also part of the lineup! With such a diversified line of rewards up for grabs, it is easy to see Betway's innovation-led mindset and the openness to explore the latest betting tendencies, albeit customised to their SA clientele. Overall, the promo is easy to partake in, and the requirements are reasonable. Claim your entry today and scratch away at the ultimate prize.
---
FAQ about the Betway Bonus Cards
How many scratch cards can I get at Betway ZA?
You can get up to 10 scratch cards at Betway ZA per day. Once you hit the limit, you must wait for the next day.
What bonuses do the Betway scratch cards provide?
Betway scratch card bonuses include free Spins, free bets, no deposit bonuses, reload offers, and a share of the R50 million GRAND prize. You can also win physical prizes like inverters, grocery vouchers, smartphones, and smartwatches.
Can I get free spins out of my BetwayScratch Cards?
Yes, you can get free spins out of your Betwayscratch cards. However, the Betway free spins are exclusive to playing Habanero slots like Hot Hot Betway, Hot Hot Fruit, Wealth Inn, Laughing Buddha, and more!
Can I scratch a card using my Betway app?
Yes, you can scratch a card using your Betway app. The promotion is available on both Betway iOS and Android apps.
Do I need to be logged in to claim the Betway scratch cards?
Yes, Betway login is mandatory if you want to claim Betway scratch cards. If you don't have a Betway account, feel free to register for one.
Must I be from South Africa to claim Betway scratch cards?
Yes, you must be from South Africa to claim betway scratch cards.