Aviator by Spribe is one of the top trending games at Hollywoodbets SA with much to offer as this Hollywoodbets review records. The game grants punters the opportunity to win R10,000,000 with a minimum bet of R1. The RNG-based gaming solution by Spribe is fun to play with one basic rule, stake and cash out before the plane flies away! Keep reading learn more about the game, and get tips on how to win Aviator on Hollywoodbets.
---
Overview of Aviator Game
Aviator is a rather simple/easy-to-play game that tests your reflexes and ability to make informed decisions in a split second. Buckle up and learn the ins and outs of the game so that you can play it like a pro:
Introduction to Aviator
Considered the latest addition to Hollywoodbets, Aviator is a virtual RNG-based title that appeals to punters with big and small gambling appetites! The game requires players to predict how high the plane will go before flying off the screen. Immediately the plane takes off, the multipliers start increasing and only stop when it flies away.
Your task is to place a bet, observe the plane, and cash out before it disappears. If you cash out at the opportune moment, the product of your bet and multiplier will determine how much you have won.
How to Play Aviator on Hollywoodbets
If you have yet to learn to play Aviator, pay attention! Before you place any bets: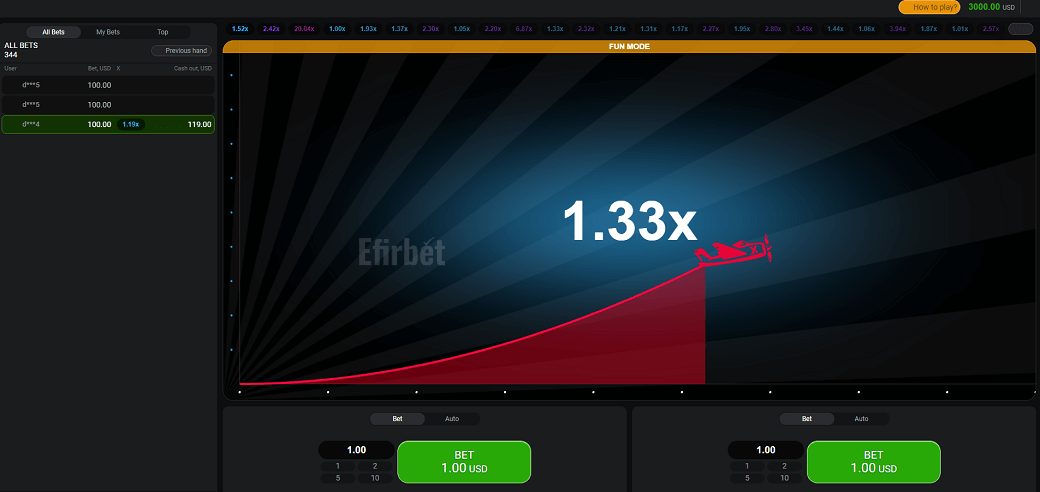 Launch Hollywoodbets on your computer and scroll through the secondary menu bar on the left to access the game.
Enter your bet value while observing the bet limits (minimum R1.00, Maximum R2,000.00).
Wait for the game to begin and pay attention to the climbing plane.
Click the cash-out button before the plane flies away to win.
For a successful cash-out, the product of your stake with the resultant multiplier will determine how much you have won. If the plane disappears before you cash out, you lose the wager!
Aviator has two bet buttons; you can bet twice for a single session/round. Immediately after the plane takes off, the bet buttons switch to cash-out controls that you need to withdraw your stake at the opportune moment. Also, expect the 'Auto Cashout' that allows you to cash out when the plane reaches a specific multiplier automatically.
Finally, Aviator has an in-game chat function that you can use to discuss the game with other punters. We recommend using the Aviator Hollywoodbets demo option to get a feel of the game before playing with real money.
---
Strategies for Winning in Aviator
While playing Aviator is straightforward, we have just the strategies to guarantee a win during your sessions. Here are the top Hollywoodbets aviator tips and strategies you can apply for the best outcome:
Understanding the Game Mechanics
Understanding the game's mechanics and factors that influence its outcomes is key. For instance, Aviator is a medium volatility game, so wins can happen quite frequently. The payout rate is 97%, which is relatively high compared to other virtual games. The two show that Aviator is worth playing if you are after frequent wins.
Bankroll Management Tips
Bankroll management cuts across all facets of online gambling, including how to win Aviator on Hollywoodbets. Set betting limits and adhere to them to avoid spending more than you can afford. If you hit your limit for the day, wait until the next day to play the game.
Bankroll management lets you keep track of your spending habits and make a distinction between gaming and personal funds, thus keeping you from running into debt.
Timing Your Bets
Timing your bets when playing Aviator is crucial, or you will miss every round. Note that you must place a bet before the session/round begins so that you can cash out right before the plane flies away.
If you are having problems timing your bet, you can buy-in so that the bet is placed automatically when the round begins. This will keep you from missing any round when placing an aviator bet. You also get to increase your winning chance since your focus shifts to cashing out rather than placing the bet.
---
How to Maximise Winnings in Aviator
Apart from the betting strategies, you can also maximise your Hollywoodbets aviator winnings. To do so, apply the following Hollywoodbets aviator tips:

Utilising Bonuses and Promotions
Bonuses/promotions give you the extra bankroll to stake at Aviator without digging deep into your pockets. Take advantage of these Hollywoodbets bonus codes and increase the number of rounds you can play the game without breaking the bank! This will positively maximise your potential winnings at little to no extra cost.
Tracking Results and Analysing Patterns
Lastly, don't play Aviator blindly! We recommend you keep records, track your results, and keenly analyse patterns. Doing this will help narrow down which strategies work and which ones don't. With the information, you can adjust your gaming strategies accordingly.
This will help maximise winnings in Aviator. It is also one of the best ways to avoid mindlessly chipping away at your bankroll when playing the game.
---
FAQ
How can I access and play Aviator on the Hollywoodbets platform?
Load the sportsbook on your browser and sign in or register for an account (if you don't have one). On the top vertical menu bar, select Aviator with a plane symbol. Click the tab once to open the game and continue playing.
What are the betting options available in Aviator?
You can place one or two bets on a single round. We recommend going for the two bets option, one being high and the other low, so you can enjoy winnings from the lowest cash out even if you don't hit the highest bet.
How does the volatility of Aviator affect potential payouts?
Aviator's medium volatility means that you will experience frequent/multiple wins of low amounts with no dry spells in between, albeit with the right strategy.
How much can I win on Aviator at Hollywoodbets?
The winnings per single bet on Aviator Hollywoodbets cannot exceed R10 million.
Can I track my gameplay history and results in Aviator?
Yes, you can track your gameplay history and results in Aviator. You can access this information on top of the screen! Here you get a leaderboard for the biggest wins of the last day, month, or year.
Are there any specific timeframes or patterns to consider when placing bets in Aviator?
There are no specific timeframes to consider when placing bets in Aviator. However, you can track patterns using your previous results and use strategies that work.
What is the return-to-player (RTP) percentage of Aviator on Hollywoodbets?
The return-to-play or RTP percentage of Aviator on Hollywoodbets is 97%. This is above average, especially if compared to other virtual games.