Wondering how to buy Betway voucher using Capitec? Betway is a top-rated South African gambling platform that supports numerous local payment methods, including OTT vouchers. Similarly, Capitec is one of the major banking institutions in the country, boasting over 20 million clients as of Feb 2023.
It only makes sense that these two juggernauts would collaborate, with Capitec being one of the most popular payment processors on Betway. If, like many South African bettors, you want to buy a Betway voucher with the Capitec app, stick around to find out if it's possible and how you go about it.
---
How to buy Betway voucher online using Capitec
We'll quickly start by pointing out that there's no such thing as Betway Capitec vouchers. Put simply, buying Betway vouchers per se with Capitec is not possible, or with any other bank, for that matter. If you're a Capitec account holder AND use the Capitec app, you can deposit funds into your Betway South Africa account using the app, as outlined below.
---
How to top up Betway with Capitec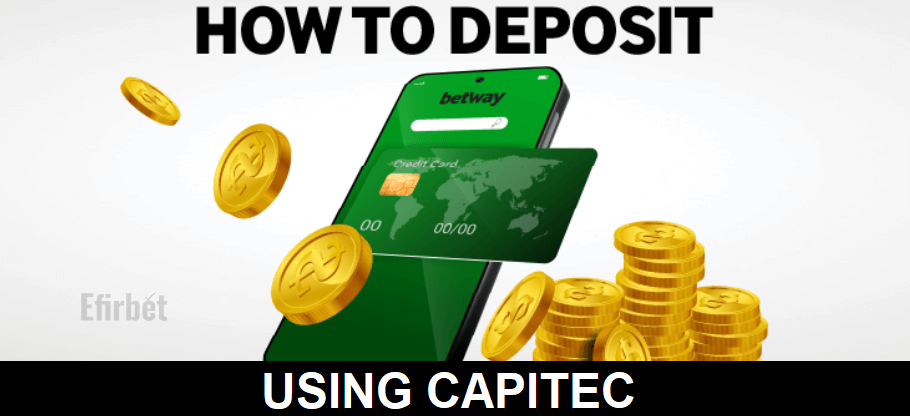 Capitec is SA's second-largest retail bank and offers a plethora of banking services. It recently forged a ground-breaking partnership with OTT Mobile Technologies that now allows users to buy OTT vouchers via the Capitec app.
The Betway Capitec pay process generally requires two steps: buying an OTT Voucher with funds from your Capitec account and then activating this voucher in the Betway account. The next section covers how to buy Betway voucher online using Capitec.
How to download the Capitec app & How to Install it
If you're trying to figure out how to buy a Betway voucher using Capitec, let's walk you through the simple process:
Visit the Google Play Store and search for the Capitec app.
Once the Capitec app pops up, click "Install" to initiate the download.
When the app installs, click "Open".
Follow the prompts in this video to link your Capitec bank account to the app and verify your email address.
You can now log in to your Betway Capitec app with your credentials.
How to deposit at Betway with Capitec
Once you've successfully linked your Betway account to the bank app, follow these steps to deposit your Capitec vouchers at Betway:

Use the Betway mobile app to log into your account.
Go to the Cashier section and tap "Deposit Funds" in the top left corner.
Click the "Capitec by Ozow" deposit option.
Select the amount you want to deposit from R10 and R1,000,000 and click "Proceed".
Enter your Capitec Account Number or your username.
Enter the password or remote pin and tap "Login".
Wait for the transaction to be authorized by Capitec. Once it's done, you're ready to play!
---
Can I get bonuses if I deposit at Betway with Capitec vouchers?
A 100% up to R1,000 welcome offer awaits when you buy Capitec voucher Betway, so you can bet on your favourite sports. A R2,000 bonus for casino was also available at the time of compiling this guide. Just ensure you enter the correct Betway bonus code to receive your preferred bonus.
Also, claiming the bonus is only possible after you complete FICA registration. You'll receive a One Time Pin (OTP) after registration you must enter to activate the offer.
---
Bottom line: Are the Betway Capitec Vouchers easy to use?
As we mentioned, direct Betway Vouchers Capitec purchases aren't possible, but you can buy OTT vouchers and activate them on the Betway app. Thanks to the partnership between Betway and OTT Mobile, South African bettors can now conveniently top up their accounts and start playing with zero delays.
---
FAQ
Can I buy Betway voucher using Capitec app?
South Africans can buy Betway vouchers using Capitec, but not directly. You first need to buy an OTT voucher via the Capitec app and then load it onto your Betway account.
Can I make at Betway Capitec withdrawals?
After you get a Betway voucher using Capitec, the next thing you're probably wondering is if you can withdraw your winnings via the same process. You can use Capitec EFT and withdraw with your Capitec card.
What's the Betway Capitec reference number?
You don't need a reference number when making a Betway deposit via Capitec. But you need one for other payments, and you'll find it listed under the My Account section.
Can I use at Betway Capitec account for deposits?
Yes, you can use the Betway Capitec account for deposits. You log in, go to the deposit section, and select Capitec and your preferred deposit option.
How do I deposit money on Betway without Capitec app?
Besides using the Capitec app to deposit, you can use several other banking options to top up your Betway account, including Visa, Mastercard, and EFT.