Betway South Africa customers enjoy access to the daily R25,000 Mahala Jackpot. This exciting addition to Betway's offering has proven a big hit among punters who regularly attempt to claim the prize for themselves. Although not an easy thing to collect, a solid strategy can really help boost your odds of getting your hands on the R25,000 prize. We have already discussed a range of Betway predictions more generally, but here, the focus will solely be on the Daily jackpot.
---
What is Betway Daily Jackpot?
Placing a pre-match or live bet at Betway will give you one entry to the day's Mahala Jackpot. There is no minimum qualifying odds or stake, so any sports bet will be enough to earn yourself one ticket.
Ticket holders will then be able to make their predictions on the Daily Jackpot page. There will be a fixed list of sporting fixtures, and your aim is to select the right outcome from them. The number of matches (usually eight) can vary, as can the selected markets (for example, match result, exact goals and/or correct score).
The odds of success depend on the number of possible answers. To give you an example, though, if we selected the shortest-odds outcomes on the last two recent jackpots, the odds were 454/1 and 762/1. Based on these figures, you can estimate your chance of success to be no more than 0.2% or 0.1%.
If there are multiple winners, Betway will share the R25,000 prize equally. If there are no winners, they roll over the amount to form the Mahala Mega Jackpot.
---
Step-by-Step Guide to Betway Daily Jackpot
To take part in the daily jackpot, just follow the step below. It is a very simple game to play, and its extremely low entry requirements encourage all users to try their luck.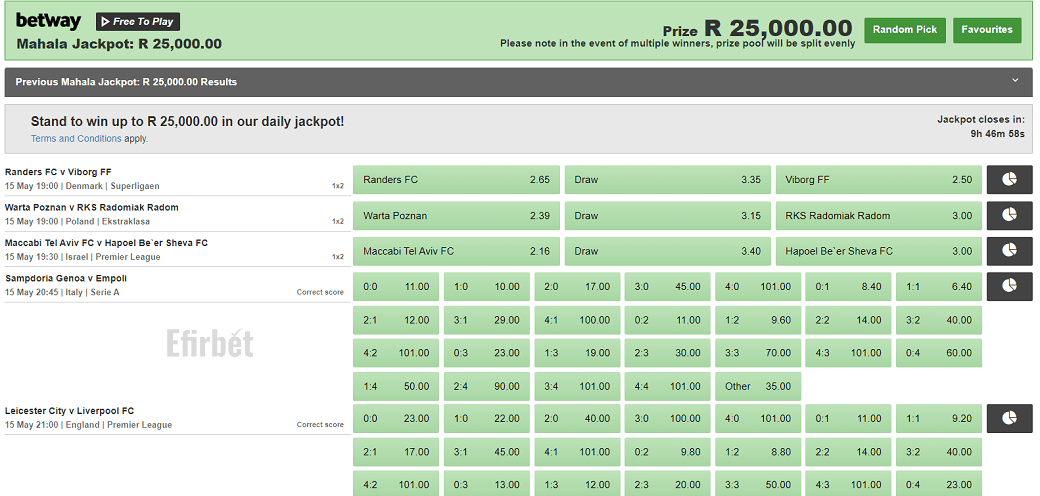 Log in to your Betway account, or register if you are a brand-new customer.
Place any sporting bet of any kind to earn a free ticket.
Click the Mahala Jackpot tab (you can find this on the promotions page).
Click one of the possible outcomes for each of the listed sporting fixtures.
When happy, submit your selections before the deadline (stated in the top-right corner).
---
Tips for Winning Betway Daily Jackpot
Winning the Daily Jackpot is challenging, but you can increase your odds of success by adopting a smart approach. One of the best things to do is research past results of the teams involved. 👉 Recent form and head-to-head records can give a good insight into how a future match might play out.
We would also 👉 avoid picking the shortest-odds option for every single fixture. The reason for doing this is that a lot of betters, who just want to make quick selections, will do exactly this. As a result, it means if you do win, the R25,000 prize pot will be shared among lots of people.
Lastly, we would stress that it 👉 is not worth betting more than you would normally just to collect extra Daily Jackpot tickets. While this is a fun game, the odds of success are sufficiently low that it is not worth targeting specifically.
---
Strategies for Maximizing Your Jackpot Predictions

As Betway customers earn one ticket for each sports bet they make, this enables them to make multiple predictions for the same jackpot. Not only do tickets stack (up to 99), but they are valid for seven days. Due to this, players can be more selective about which jackpot they play. If one features some particularly tough fixtures, simply avoid this one and wait for a better one.
You may also wish to avoid any weekend jackpots as these will typically feature more players (increasing the risk of a split jackpot).
On days with a kinder list of fixtures, mark some as 'bankers' and hedge your bets on the rest. With this approach, you will make multiple entries, backing the same result each time for some fixtures while covering a different selection each time on the harder ones.
---
Other Betway Jackpot Options
As well as the popular Mahala Jackpot, Betway also runs an even larger Bamba 13 Jackpot with a huge R250,000 prize pot. It is also worth mentioning here that different countries have their own jackpot games, such as Nigeria with its 17 Gbosa Jackpot and Do-Ri-Me Jackpot. Similarly, you will find other jackpots on Betway's Kenya and Zambia sites.

Betway Bamba 13 Jackpot
The other jackpot that Betway South Africa players can take advantage of goes by the name of Bamba 13. This one costs R5 to play and requires players to choose the outcome from 13 pre-selected matches. To earn the full R250,000 prize (or a share of it), players must get all 13 selections correct, but there are consolation prizes on offer.
Players who fall just short can still earn R5,000 (12 correct), R2,500 (11 correct) or R100 (10 correct). To improve your chances of success, it is possible to back more than one outcome per fixture (e.g. home win and draw). Doing so means adding an extra line, however, at a cost of R5 each time.
---
Factors to Consider in Jackpot Prediction
We mentioned before that doing some research before settling on your jackpot predictions is a smart approach. In terms of what information you should be looking for, there are various elements to consider. Firstly, you want to look at recent results, league standings and see the differences in home/away performances.
It is then wise to examine any recent-to-head results (from the last couple of seasons) between the two teams involved.
Lastly, it is very important to look at any news specific to the match, such as notable injuries or suspensions. You may also want to consider the weather conditions, too, as more extreme conditions can impact games.
---
FAQ
How much can I win in the Betway Daily Jackpot?
Normally R25,000 assuming there are no other winners. Betway does, however, roll over unclaimed prizes, and this accumulated amount becomes available on the last Saturday of the month (the Mahala Mega Jackpot).
Is it possible to increase my chances of winning the Betway Daily Jackpot?
Having more entries in a jackpot will increase your chances. Players earn one free entry for every bet they place at Betway.
What happens if there are multiple winners in the Betway Daily Jackpot?
Betway will share the R25,000 prize evenly among all the winners.