The range of football markets available is one that always seems to be expanding, with bettors now treated to a wide array of possibilities. At Betway ZA, one of these newer additions is the 10-minute draw' market. For bets placed within this market, Betway will settle them once the game reaches the 10 minute mark.
This means there's no long wait for any potential winnings. This can be perfect for bettors that do not like the suspense that comes with match-long wagers!
---
How to bet 10 minutes draw on Betway
The 10 minute draw market is available on many fixtures at Betway. To place a bet within this market, just follow the steps below: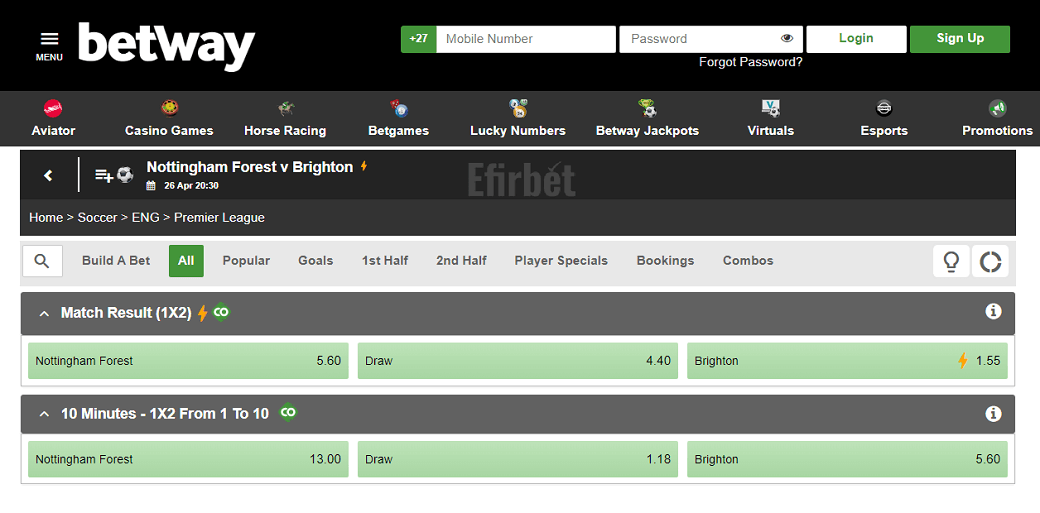 Click on the football fixture you wish to bet on.
Select 'All' from the list of markets across the top.
Scroll down until you find '10 minutes – 1X2 From 1 to 10'.
Select 'Draw' to add it to your betslip.
Select your stake on the betslip and confirm the bet.
---
Betway First 10 Minutes Draw Market Explained
The 10-minute draw option provides bettors with a relatively low-risk wager that can provide quick returns compared to any first-half or full-match bets. The premise of it is simple: you are just betting that the scores will be level when the clock hits 10:00.
Most of the time, this means having a 0-0 scoreline. Occasionally though, both teams may have found the net early, resulting in an early 1-1 draw. Of course, unlikely though it is, the match might already be 2-2 or 3-3. Any of those scorelines would be a winner. The only thing you need is that neither side is ahead once 10 minutes have elapsed.
As most games are goalless after the opening 10 minutes, the odds available for this market are low. Typically, you can expect a draw to be available between 1.15 and 1.2. Rarely will the offered price be much outside this range.
Due to the low payout, a common strategy with this type of bet is to combine multiple bets together. Five bets at 1.17 odds combined would more than double your money, turning R10 into R21.6.
This market can be combined with different markets (from other matches) too. It is not, however, something Betway currently offers as part of a Bet Builder.
---
1st 10 Minutes Draw Betway Similar Markets
Betway does not offer the 10 minute draw market globally. For customers that cannot access it, you will need to seek an alternative. Fortunately, there are a few available, the first two of which are available on Betway's UK platform during more high-profile games. To locate these, search for "15 mins" in the search box or select the 'other' market category.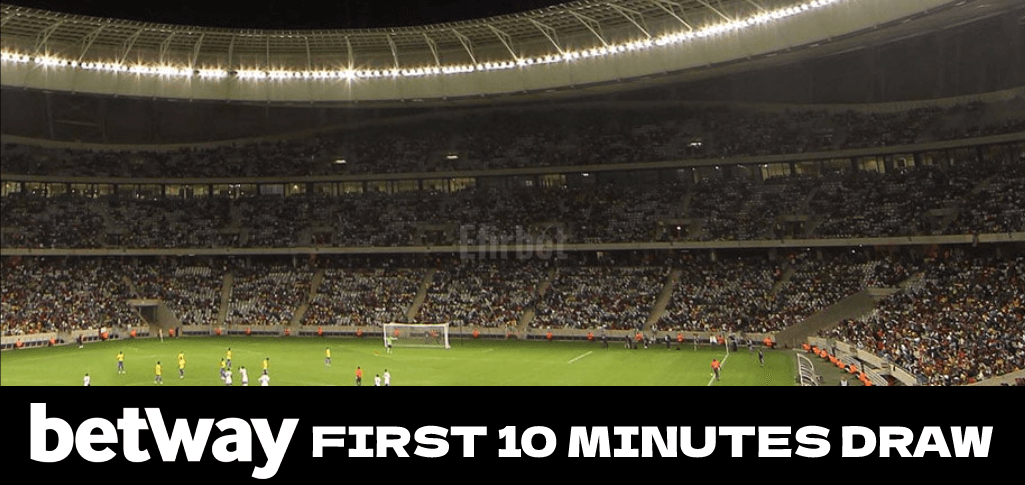 👉 Goal Scored between 1-15 Minutes
With this market, customers have a simple decision of 'yes' or 'no' to make. Yes, means they are predicting at least one team will score a goal within the opening 15 minutes of the match. No means they are expecting it to be completely goalless at this time. Cash out is available for this market.
👉 Win / Draw / Win Between 1-15 Mins
The job here is to correctly pick the match result, as though the match were to end after the first 15 minutes. You can pick either the home or away team or opt for a draw instead. If opting for a draw, note that the odds on this are marginally lower than backing 'no goals' in the market mentioned above. This is due to the slim possibility of there being a score draw after just 15 minutes.
👉 First Half Markets
Although the wait is longer with first-half bets, 45 minutes rather than 10, there is much more choice available. As well as backing a first-half draw, you can choose total goals over/under, team goals over/under, team clean sheet, exact goals, correct score, winning margin and both teams to score. Backing a half-time draw is not as 'safe' as with 10 minutes, but you can find similarly low-odds bets available.
---
FAQ
What does first 10 minutes draw mean at Betway?
This is a bet type that, in order to be a winner, requires the scoreline to be a draw when 10 minutes of the match have passed.
How do I place a 10 minute draw on Betway?
If you are a Betway customer located in a place like South Africa, you can do this by following the steps outlined near the top of this page.
What does draw 10 minutes 1X2 from 1st to 10th mean?
You are simply betting on what the match result will be 10 minutes into the game, 1 (home side winning), X (draw), or 2 (away side winning).
Can I use 1st Minutes Draw Betway Market to wager my bonus?
Yes, providing it meets the minimum odds requirement of the Betway bonus.