When it comes to Betway FICA documents, it is not unusual for punters to take offence at being asked to comply with the Betway upload documents request.
They sometimes feel that they have been singled out and that a request is only made when they make a withdrawal from their account, but the fact of the matter is that nothing could be further from the truth. As you are about to realise, any request for Betway FICA documents should be welcomed because these rules have been put in place to protect punters as well as Betway.
---
What Betway FICA documents are required?
The FICA documentation that is required will prove that you are a South African citizen and that you live in South Africa, so you will need proof of your identity and proof of residence documentation.
With that in mind, let's begin with the identity documents that are accepted by Betway.
👉 Green ID
👉 Smart Card ID
👉 Drivers Licence
A scan or photograph of the documentation is acceptable but bear in mind that in the case of the Smart Card and the Drivers Licence, a picture/scan of both sides is required. The following proof of residence documents is acceptable.
💳 Bank Statement
💳 Utility Bill
💳 Tax Invoice
Each one of these documents needs to be dated within the last three months, and one document from each category is required, for example, a driver's licence and a utility bill.
---
Are there any other Betway FICA documents required?
On the odd occasion, you may be asked to add another document to the Betway upload documents process, usually, if there is an issue with confirming your identity, but more often than not, one document from each category is sufficient.
To be honest, as all bookies now require FICA documentation, it is a good idea to have photographs or scans of the documentation on your PC or laptop, ready and waiting for when you receive a request from another bookie.
---
How to upload FICA on Betway
The upload FICA on Betway process has been made as simple as possible.
So, if you are wondering how to upload ID on Betway, on opening an account, a pop-up window will appear asking you to upload your documentation. It should be noted that you don't have to do this straight away, you could wait until it comes to making a withdrawal, but it has to be done, so why not get it out of the way?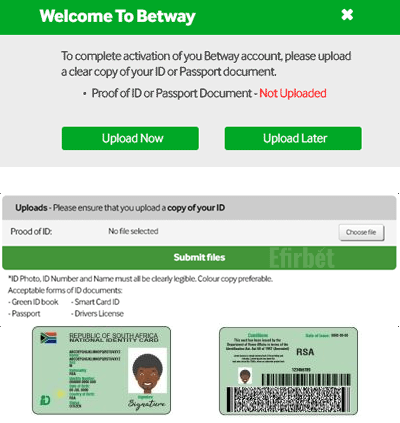 Click on the 'Upload Now' button in the pop-up window, and you will be taken directly to the secure section of the website, which has been designed for uploading documents
Click on the 'Choose File' button and select the copies of the documents that you would like to upload.
Click on the 'Submit File' button, and that's it.
It usually takes up to 48 hours for the documentation to be checked by Betway.
You will receive an email to inform you when the checks have been completed.
---
FAQ
Can you withdraw money from Betway without FICA?
Unfortunately not. This is why you might as well upload your documents when you open a Betway account.
What if I don't have the necessary proof of residence documentation in my name?
This is when it all becomes a little annoying, you will have to include an affidavit when uploading the documents, which have been signed at your local police station or by a person of authority such as a magistrate.
Why is my proof of identity being declined?
It could be for a number of reasons, so if there is a problem, check with customer support. One tip would be that when you open a Betway account, write your name in the same way as it is displayed on your ID document, such as your driver's licence. For example, if your name on your ID is John William Smith, don't open an account under the name of John W Smith.