The 'No Coverage' title may occur in your in-play betslip but it's no reason for you to worry. It's when Betway doesn't relay sports games on its site in real-time. The game is available on other platforms, including TV, but not on Betway. On the other hand, when there's coverage, you can find a lot on Betway live streaming, which we'll go through below.

---
What Betway Live Streaming Has On Offer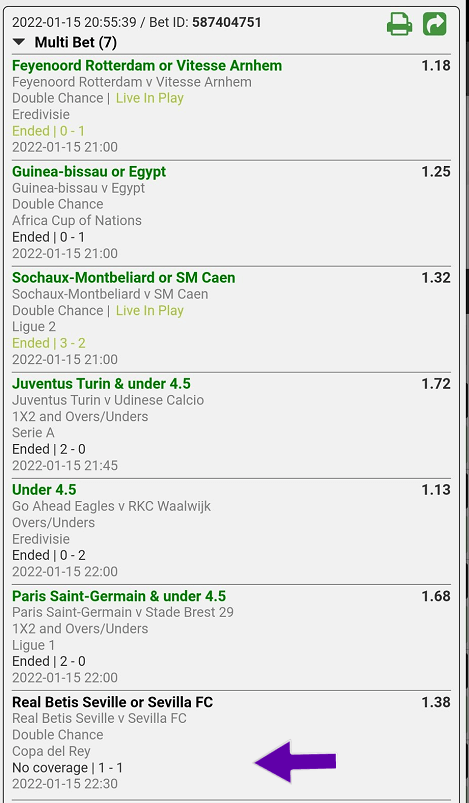 If you've considered in-play betting on Betway, you'll be pleased to learn that there's a lot to choose from in the live streaming section. You can watch the biggest games in your favourite sports on your Betway account.
Football is the most watched sport via live stream, and Betway has the best leagues for you. They include:
German Bundesliga streaming – You can follow top matches, such as the Borussia derby and major teams, including Bayern Munich, on Betway as you place your bets. On big game days, you won't miss a moment of the match.
Spanish La Liga streaming – Don't we all look forward to the Classico? With a Betway account, you can follow the action as it unfolds and still place your bets in the same tab.
Italian Serie A streaming – Whether it's the Milan derby or you're following Juventus in action, Betway will have the live stream. You can also place your bets as you follow the matches.
You will find all the best games on Betway's live stream most of the time, but when you don't, there are a few sites you can turn to.
---
Alternative Live Streaming Platforms
When talking about the no coverage Betway meaning, it's also important to note that, since live streaming is a fast-growing industry, it's easy to find alternatives to Betway with a simple click. Other sites also let you follow every minute of your favourite games. We've listed a few sites you can search for when your favourite games aren't streaming on Betway.
---
FAQ
We've answered some of the frequently asked questions on Betway no coverage meaning.
What happens if a match is not resulted on Betway?
When games are cancelled on Betway, your bet will be voided, and your stake will be reimbursed. In the case of delayed results, Betway will pay out all your winning bets as soon as the results are updated.
Does Betway pay if one game cuts?
Yes. Livestream glitches don't void already placed bets. You'll still get paid for winning bets at the end of the game.
What happens if a match is abandoned on Betway?
If a game is abandoned, it stands on Betway for 24 hours. After this, your bet will be voided.