Towards the top of the Betway website, you will see a tab leading to the Lucky Numbers. Here, you will be able to access various international draws, and these will give you an opportunity to win massive amounts of money.
---
How to bet on Betway Lucky Numbers
In order to participate in this betting option, you should follow these steps: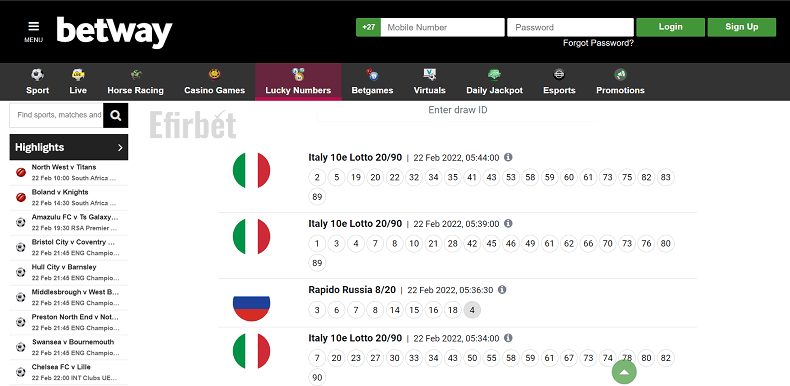 Firstly, you should select a country from the drop-down menu.
If you are searching for a specific draw, you can use the search function. You can also sort the suggestions in alphabetical order.
Then you can click the 'Bet Now' button to indicate that you have selected a specific draw.
After that, you have to select your numbers, and you can also pick a bonus ball.
Finally, you can set the amount of money you want to wager and activate the bet.
For full transparency, the draw results will be indicated on the site. You can also see your bets on your wager history. If you place a bet after the first number is drawn, the wager will be invalid. In case a draw is rescheduled, your bet will be cancelled and all affected punters will be refunded.
---
FAQ
Where can I see the draw results of the Lucky Numbers?
Under the Lucky Numbers section of Betway, you will see a separate link leading to the draw results.
Do I have to wager the winnings from the Lucky Numbers?
No, these funds can be withdrawn as soon as they are paid out.
Will the winnings be shared among other players?
No, with the Lucky Numbers, your winnings will not be shared among other players.