About 10Bet Mobile App
10Bet mobile app is a familiar name when people talk about casino gaming and sports betting. Operating in more than 90 countries, its popularity is widely known across many different parts of the globe. It is owned by the Ocean Star Limited and is operated by the Blue Star Planet Ltd. with a licensed number 43173. Its license is issued by the gaming commission in Malta.

10Bet was introduced way back in 2005 as a sportsbook and became so successful. Currently, 10Bet offers thousands of betting options, more than 1,000 bet types, over 60 different sports, and about 200 sports leagues, including football and other popular sports. 10Bet gives bettors multiple ways to win, accumulate bets, and enjoy the benefits of betting and winning. They offer about 60,000 different events each month. That's why more and more people are growing interest in joining the casino gaming and sports betting activities in this online casino and sportsbook website.
10Bet also offers great features. There is up to 50% of £200 welcome bonus, which grants new players bonuses for signing up and joining in the casino and sports events. Not only that, there are also frequent reload bonuses, competitive odds, and more. Users are advised to visit the page regularly for there are a lot of offers and surprises that 10Bet offers.
10Bet makes sure that deposits and withdrawals are safe, easy, and simple. They also offer betters a lot of payment options for them to choose freely. Players can be funded by various methods, including the leading payment options like PayPal, Bank Transfer, Visa, Neteller, and Skrill.
Indeed, 10Bet sounds like a great place to put your bets on. However, there are more that you haven't heard of. Read on and know a lot more about this online casino betting and sports betting website.
Mobile App for Android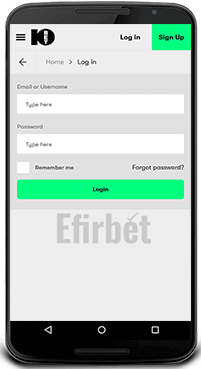 The popularity of 10Bet has even more increased with the launch of its mobile apps for Android and iOS mobile operating systems. One of the most promising thing about using 10Bet's mobile app is that it offers mobile-only promotions, which makes people get more and more attracted to it.
Although 10Bet's mobile app bonuses are available for both Android and iOS, they're still worth noting in this section. For one, there's the 10Bet Mobile Bonus that allows a player to receive up to £100 on his first deposit.
Aside from its mobile bonuses, this mobile casino app offers a lot more. It offers a wide variety of in-play betting options and live statistics. Cash Out, Mobile ACCA promotions, and Fast Market features are also available in the 10Bet Android app.
10Bet provides an easy access. By using our mobile phone, anytime and anywhere betting for sure is more easy and enjoyable. A lot of exciting features are waiting for you.
Some of the latest features added to 10bet's Android app are personalized bonuses, enhanced cash out options, new horse racing types, and improved graphics.
How to Download and Install 10Bet App on Android
Downloading the 10Bet Android app is easy. Just follow the steps explained briefly below:
Step 1: Go to your Android device's Settings.
Step 2: Select Security.
Step 3: Allow the installation of non-market applications by tapping 'Unknown Sources'.

Step 4: Go to your Android device's mobile browser and then go to 10Bet's official website.
Step 5: Download the Android app's apk file and then wait for the installation to complete.
Download 10Bet app for Android
10Bet App for iPhone and iPad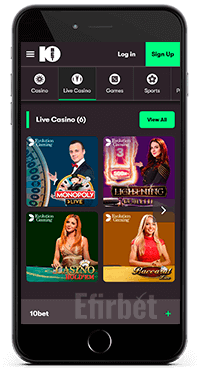 Using the iOS app, players can enjoy 10Bet's live streams of different sports events. They can also get competitive odds on major sporting events. Just like 10Bet's Android app, new players can also enjoy similar features, including enhanced odds, free bets, and cash out features.
On the aspect of the app's design and layout, it's pretty much satisfactory. There are no significant differences between 10Bet's mobile app for Android and iOS devices. There may be some, but they are both sleek in design. Plus, they are both user-friendly. The app has no bottom menu. All options are on the app's sidebar where everyone can easily access. Different users have different opinions when it comes to this layout. Some like it while others don't. Regardless, the app's design and layout do not definitely define 10Bet's capacity to give satisfactory mobile casino gaming and sports betting experience to its users.
How to Download and Install 10Bet App for iOS
You must have iTunes installed in order to download and install the 10Bet app. Also, your iTunes account must be active. Find out more about the process of downloading and installing the 10Bet iOS app below.
Step 1: Login to your 10Bet account. If you don't have a 10Bet account, it's time for you to create one now. Make sure to log in after creating your new account.
Step 2: Go to your Apple device's App Store.
Step 3: Search for the 10Bet mobile app.
Step 4: Select Install and wait for the installation to complete.
Step 5: After, open the installed 10Bet mobile app and start using.
Download 10Bet app for iOS
10bet Mobile Sport Betting
10Bet covers about 30 different sports and almost 200 live betting events every day. This means that you will always have something to look forward to every day in this online casino and sportsbook.
One of the grandest features of 10Bet mobile app in the aspect of mobile sports betting is the live score service. This mobile sports betting feature allows users to monitor and follow their favourite events, helping them make sure that they're not missing a thing in their sports betting experience.
Mobile Site Version Review
10Bet's mobile site version is fully functional. There is an interactive live betting module, and this is available for all Android and iOS devices.
A player's betting range on the mobile site version of 10Bet is similar to that of the desktop version. Similarly, the process is simple. You simply select a sports event of your choice, choose a price, and collect the bet slip.
10Bet's mobile site version only has a few differences from its Android and iOS apps. Just like its mobile apps, the mobile site version also offers several betting options, including soccer betting. On the mobile site version, you have the freedom to select regional leagues. For example, you can specifically choose Spanish League Division 4. In football alone, there are 100 different leagues, and all of these leagues will be displayed on the start button.
Differences Between Mobile App and Mobile Site Version
For many, it can be really hard and confusing to differentiate these two. To simplify the process, let's compare the two by listing down both of their advantages and disadvantages.
Mobile App
Advantages:
Specially designed for mobile use
Has exclusive mobile-only promotions
Better security
Disadvantages:
Requires system compatibility
Needs updates
Takes up storage space
Mobile Site
Advantages:
More accessible
Doesn't take up storage space
Disadvantages:
Has lesser functionality level
Has only limited features
Requires strong internet connection
10Bet Mobile Casino Review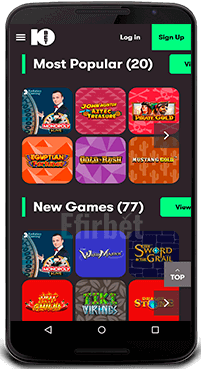 Casino platform has a great range of games. With over 400 different games, you can enjoy a variety of slots, roulette, blackjack, jackpots, and other card and table games. For slots, there are three sub-sections on the site. You might check Jackpot Slots, Bonus Slots, and Video Slots. For table and cards, they have blackjack and roulette.
In total, 10Bet mobile app offers more than 70 different casino games. This number includes over 60 video slots and 4 live casino titles.
Visit 10Bet casino app
10Bet Mobile Bonus
10Bet's mobile welcome bonuse for new players is good enough to start your betting experience through the mobile services. The bonus is only for newly registered players who deposit for the first time. This bonus requires the code WB10BET which should be entered during the deposit. That way you will receive 50% bonus on the deposit amount up to €100.
You will receive the bonus amount with the deposit. Then you should rollover the bonus and deposit amount 6 times at the Sports section. The rollover requires bets of at least 1.60 odds on singles and 1.40 per selection on accumulators. Cashed-out bets are not eligible for the rollover requirements, the same as Draw No Bet, Asian Handicap, Over/Under and Forecast/Tricast markets. The requirements should be met within 30 days after the first deposit.
This offer is the perfect start for your adventure at 10bet's mobile betting.
Claim this bonus
System Requirements and Compatibility
While the apps for Android and iOS devices are easy to download, you may have a hard time following each of the app's system requirements. Here are the most important things that you must consider to makes sure that your mobile device is compatible with your app.
For Android
The minimum software requirements of the app for Android devices include having a 4.0.3 Android Operating System. Higher OS versions are compatible.
For iOS
For you to download the 10Bet mobile app on your iOS device, your Apple device must have at least iOS 8.0. iOS versions higher than this are acceptable.
Compatible Devices
Here are some examples of compatible Android and iOS devices:
Android
Samsung: Galaxy Ace, Galaxy S3, Galaxy Y, Galaxy Note, Galaxy Tab 10.1
Sony Ericsson: Xperia Arc, Xperia X10, Xperia Neo
Others: LG Optimus, LG Nexus, Motorola Zoom, Motorola Defy, Motorola Atrix
iOS
iPhone 3, iPhone 4, iPhone 5
10Bet Mobile Payment Methods
Different payment methods are available for bettors to use. Check out the list of available payment methods in 10Bet below.
Deposit
| Payment Method | Minimum | Maximum |
| --- | --- | --- |
| Visa | £5 | £50,000 |
| Visa Electron | £5 | £50,000 |
| MasterCard | £5 | £50,000 |
| Maestro | £5 | £50,000 |
| Skrill | £5 | £50,000 |
| Neteller | £10 | £50,000 |
| Paysafecard | £20 | £1,000 |
| EcoPayz | £10 | £10,000 |
Withdrawal
| Payment Method | Minimum | Maximum |
| --- | --- | --- |
| Visa | £10 | £50,000 |
| Visa Electron | £10 | £50,000 |
| MasterCard | £10 | £50,000 |
| Maestro | £10 | £50,000 |
| Skrill | £5 | £50,000 |
| Neteller | £10 | £50,000 |
| Paysafecard | £10 | £50,000 |
FAQs
Should you have questions in mind, we've compiled some frequently asked questions and their corresponding answers for your convenience. Read on for more information.
Is there a customer support team available when customers need an assistance?
Yes. The 10Bet customer support team is available at all times. Customers can get an assistance by sending an email to csd@support.10bet.com. They can get a response within 24 hours.
Is 10Bet legal?
Yes, of course. 10Bet is legal. Its license is issued by the gaming commission in Malta.
Is 10Bet open for users of all ages?
No. Players should be 18 years old or above to join 10Bet.
I can't install the app even if I followed the instructions. What should I do?
If you can't install the app, check your settings. For Android users, allow the installation of unknown sources. If you still can't download the app, ask for assistance from 10Bet's customer support team.
Are the mobile bonuses and promotions the same as those on 10Bet's website?
All bonuses on the website are available on the mobile app. However, there are more bonuses on the mobile app. These are exclusive offers that are only available on the app.
Why should I try 10Bet's mobile app?
You should consider trying 10Bet's mobile app because it works on any Android and iOS devices. It also gives you access to more than 300,000 live events each year. It also has more than 30 unique casino games.
What should I do if I forgot my password?
Click on the 'Forgot Your password' in the login section and follow the given instructions.
Verdict and Apps Rating
10bet mobile app is, indeed, a pretty good platform to make bets, win games, and enjoy promotions. Although it has a few shortcomings in a few aspects, they're only minimal, and they rarely affect a player's casino gaming and sports betting experience. Because of this, 10Bet mobile app gets a 9 over 10 rating.
Visit 10Bet mobile