Introduction
Having been in the industry for over a decade, Betway has gone through a rough start before becoming a successful sports betting company.
In its early years, Betway had a poor and weak management, so there were many complaints from dissatisfied customers. Most of its markets come from UK, Germany, and Spain. They have a lot of sponsorships from major sports teams such as Premier League Darts, West Ham United FC, UK Championship Snooker, ESL UK Premiership, and many more major teams and leagues. Moreover, it has licenses in UK, Germany, Spain, Denmark, Belgium, Malta, Italy, and Ireland. eCOGRA which is a well-known and trusted testing agency in the online gaming industry audits this gambling platform.
Betway App for Android
Betway's sport app for Android has a well-designed layout. You can easily see the options through the Betway tab. You can select which games you want to navigate with just a couple of swipes. You can see Vegas-inspired games, sports betting games, and casino games. E-sports section can also be accessed through the app, which is not common with other online gambling applications. In addition, you can see the latest promotions upon opening the app. You will not get confused if you ever want to check out the special promotions and bonuses. There is nothing fancy, so the fonts are clear.
How to Download and Install Betway App for Android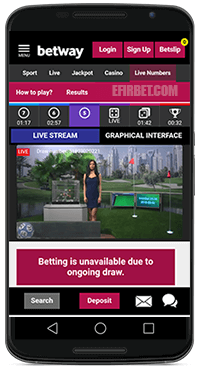 It is a bit more difficult to download the Betway sport app in Android phones compared with iOS devices. However, it is worth it since its version for Android is one of the best online gambling applications available. Follow the steps below to know how to download and install the betway app on your and Android device:
Step 1: Go to the Betway sport mobile site.
Step 2: Look for the Download Betway Android App button and click it.
Step 3: Download the APK.
Step 4: Go to your phone's security settings and tick Allow unknown applications.
Step 5: When you finish downloading the APK, you can install it.
If you have any trouble or difficulty installing the app, you can reach out to Betway's customer service for assistance.
Download Betway app for Android
Betway Sport App for iPhone and iPad
When you launch the application for Betway on iOS devices, you will see a default home screen which has live sporting events to make you experience the action in real time. There is also a header that contains quick links to Live Casino, In-Play, Vegas, and Casino. For the footer, you will see links directing you to My Bets, Banking, Blackjack, Roulette, and Promotions when you have logged into your account. One of the best features here is the search function. You can search a particular team, league, or sporting event. You can see the search bar on the side menu together with "My Account" and a list of all the sports available. Thus, various markets and live streaming can be enjoyed effortlessly.
How to Download Betway App for iOS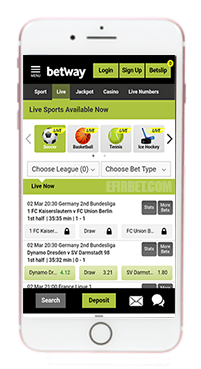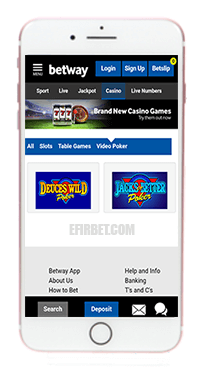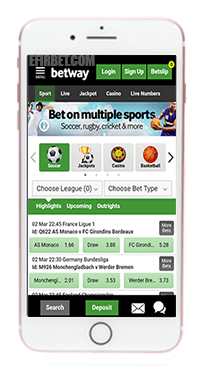 The following are the steps on how to download the application if you have an iPhone or iPad.
Step 1: Create an account on Betway.
Step 2: Visit the Apple store from your device and get the official application for Betway.
Step 3: Download and install it on your iOS device.
Download Betway app for iOS
Betway Mobile Sport Betting
After you downloaded the mobile application on your device or visit the Betway sport mobile site, you can instantly enjoy the betting options Betway has to offer. Even though you are a new user, you can directly register from the downloaded application and get your Betway bonus. Inexperienced punters will not have a difficult time navigating the application because the application runs smoothly when you switch from one event, odd, and market to another.
To start betting on the application, you can just simply click the sport that you want to gamble on. After that, you choose the event and market you prefer. You can determine the outcome and odd that will give you an advantage. Then, you add what you selected on the Betway bet slip, enter the amount of money you want to bet, and click it to finalize and confirm your bet.
If you bet using the application on a live sporting event, you do not need to worry because it is simple. You need to look for the sport, event, and market you want. Select the outcome and the odd that you think has the highest value, include what you chose on the bet slip, put your wager, and make your bet. It is almost similar to the pre-match gambling mentioned in the previous paragraph. However, for this kind of play, the odds might differ while you place your bet. It is common for the odds to update. You will have the opportunity to make a different bet before your wager is validated. In case you make adjustments, you can confirm to place your bet after you decide with the odds you want.
If you want to bet in play and live, you need to check out the live streaming schedule on Betway. Although there might be a few seconds of delay, it is far more fun than reading a live feed or an updated live score. For the live streaming, it is available for punters in Ireland, the UK, and Sweden. You also need to fund your account in order to enjoy different live streams.
Betway Mobile Version
If you want to save storage space on your phone, you might want to wager using the mobile site. Even though some mobile sites are notorious for not being reliable, the mobile version of Betway is one of the most dependable and one of the easiest bookmakers to use. You do not need to install anything when trying to access the website. You just need to type in the link in your browser, and you will be able to access different features and market as if you are browsing the website from your PC. You can access the site conveniently in virtually all browsers.
Differences between Mobile App and Mobile Site
Similar to the mobile applications, you can do all the things on the mobile site version of Betway. One key differences they have are the speed and payment options. It is faster to bet on events using the app because you do not depend on a browser to access this platform. In addition, because the app is installed separately on your phone, there are also less lags. For the payment methods, it will be discussed later on in this review.
Betway Mobile Bonus
Bonuses and promotions are common in online gambling platforms. Betway has numerous bonuses and promotions to keep up with the competition. When you click the promotions tab from the app, you can see the new and current promotions as well as the permanent offers they have. Here are some of the best bonuses on Betway's mobile app:
First Deposit Bonus on Betway Casino
For new users, they can receive 100% that can amount to £250 if they deposit for the first time in Betway Casino.
Second Deposit Bonus
This bonus is similar to the first deposit bonus. However, the second deposit bonus offers 25% bonus that can amount to £250.
Third Deposit Bonus
When they deposit in their account for the third time, instead of 25%, the bonus offer can become 50% with a value that can reach up to £500. These promotions can also be found in the Vegas section of the application.
Betway Poker
For poker players on Betway, they can earn 200% bonus that can reach up to £750.
Sports Betting
For those who like to bet on sporting events whether pre-match or live, they can receive free £30 as if they are new users. Users should remember that the amount depends on the deposit. For instance, if the deposit is £10, the punter can receive £20 that can be used in betting on the app.
Claim your bonus
System Requirements and Compatibility
In order for you to be able to successfully download and install the Betway app, your mobile device must be compatible with the app. Read on to know the app's system requirements.
for Android
Your device should have Android 2.0 or higher for its operating system to use Betway.
for iOS
Your iOS device must be iOS 8.1 or higher in order for it to be compatible with the app. The app is compatible with iPhone 3 until the most recent model.
The memory capacity needed for both operating systems is 107 MB.
Sample phone models that are compatible with Betway:
Samsung: Galaxy S series, Galaxy A3, Galaxy J3 and J5, Galaxy Note 6, and other advanced models.
Sony: Xperia XZ, Xperia XA, Xperia E5, Xperia X Compact, Xperia X
LG: G5 SE, G Flex 2, Nexus 5X
Huawei: P9 Lite, Y3, P8 Lite, P8, P9, P9 Plus
Other Models: ZTE Axon 7, Mini BlackBerry PRIV, Google's Pixel Phone, Vodafone Smart platinum 7, ZTE Blade V7 Lite, and DTEK 50
Payment Methods
Betway ensures that the money deposited and withdrawn are safe. Some of the banks are available on the mobile site but not on the application. Regardless of where you deposit or withdraw, you can transact using your debit or credit card and other payment options such as PayPal and e-wallets such as Paysafecard, Citadel Direct Instant Banking, and Neteller. £10 is the minimum amount you can deposit and withdraw.
Deposit:
| Payment Method | Minimum | Maximum |
| --- | --- | --- |
| Bank Wire (Transfer) | £10 | £10 |
| Click2Pay | £10 | £10 |
| ClickandBuy | £10 | £10 |
| EntroPay | £10 | £10 |
| iDeal | £10 | £10 |
| Instant Wire Transfer | £10 | £10 |
| Maestro | £10 | £10 |
| MasterCard | £10 | £10 |
| Moneybookers | £10 | £10 |
| Neteller | £10 | £10 |
| paysafecard | £10 | £10 |
| Poli | £10 | £10 |
| Postepay | £10 | £10 |
| Przelewy24 | £10 | £10 |
| Sofortuberweisung | £10 | £10 |
| Ukash | £10 | £10 |
| Visa | £10 | £10 |
| WebMoney | £10 | £10 |
Withdrawal:
| Payment Method | Minimum | Maximum |
| --- | --- | --- |
| Bank Wire (Transfer) | £10 | £10 |
| Click2Pay | £10 | £10 |
| ClickandBuy | £10 | £10 |
| EntroPay | £10 | £10 |
| Moneybookers | £10 | £10 |
| Neteller | £10 | £10 |
| Visa | £10 | £10 |
FAQs
You may found questions in mind about Betway. Read on for the FAQs.
Does the welcome offer expire?
Yes, it does. After your first deposit, it will expire.
What is the link I can use to view my deposit and withdrawal history?
If you live in the UK, you can check this site out: http://betway.mx/txn-check. If you live outside the UK, visit this link: http://betway.mx/cash-check.
How long do I need to wait to get my withdrawal?
Withdrawal requests will be in a queue stage for review by the payment team of Betway. After that, the money will be sent to your preferred payment method.
Is it possible to cancel my withdrawal request?
If it is still in the queue stage, you can reverse the total amount or part of it. However, if your request is already in the pending stage, it will be better to the contact customer support of Betway.
For the 4 to Score event, how can I register?
The teams are registered every week. You can visit Betway's website to see the instructions and select your team before the first game every Saturday.
Are all the football matches in the UK eligible for the 4 to Score event?
Unless mentioned, all matches that are to begin on Saturday at 3 in the afternoon in UK time are eligible for this event.
How can I contact Betway?
You can email them to support@betway.com or call them. If you call using a landline, it is free. However, mobile phone calls might have a charge.
Verdict and App Rating
Betway is something you should try whether it is your first time to bet or you have been betting for a long time. Although it is quite new, Betway has been able to level itself with its competitors. The app deserves a rating of 9 out of 10.
Visit Betway mobile