Ad disclosure
Here at EfirBet (EB) we pride ourselves on having a site that is completely ad-free. No ad blocker is needed while browsing EB. At the same time, we do use affiliate links to earn commissions (every time you click a link and sign up at a betting site). This revenue helps us deliver quality and trustworthy reviews for our readers at no additional cost to them. Read the EB
About Us
page if you want to learn more.
Last update by Efirbet :
Cbet Android app – How can I download it?
In the last couple of years, mobile betting exploded completely. Nowadays, there are more people betting from their handheld devices than ever before. Considering the fact that the vast majority of them use Android, it's only natural to expect to find a Cbet Android app, right?
Well, we are sad to tell you that this is not the case. Unfortunately, this bookmaker does not have an Android app just yet. This might come as a surprise, especially to those of you who have previous mobile betting experience.
In case you didn't know, the vast majority of the prominent betting companies tend to offer an apk file that you can download for Android. That's because Google rarely allows a gambling app to be accessible directly in their store. However, it seems like Cbet decided that they won't bother with an app just yet.
---
Is there a Cbet iOS app for iPhones and iPads
If there is no app for Android, at least there will be a Cbet iOS app, right? Well, that's not the case either. Right now, there is no Cbet mobile app that can be downloaded for iPhones and iPads. This means that iOS customers, much like their Android colleagues, will have to punt via their mobile browser.
Generally speaking, iOS customers are privileged when it comes down to gambling apps. That's due to the fact that the App Store has no problems with those kinds of apps. You can download them freely without having to install any external sources. Nevertheless, Cbet decided that it's better off not having an app for its iOS punters just yet.
---
Cbet Mobile Website & Web app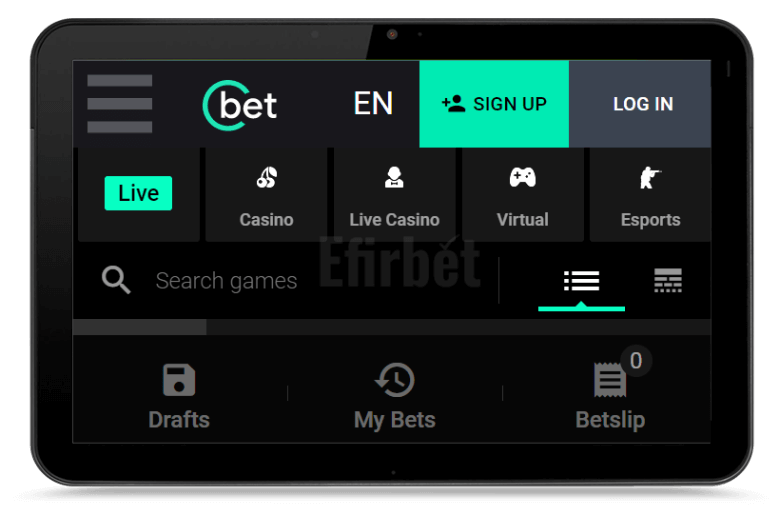 Even though there are no stand-alone mobile apps, that doesn't mean that you won't be able to play from your smartphone or tablet. Similar to any other top gambling website, Cbet offers an impressive mobile site. Thanks to it, you can get the ultimate gambling experience because punting on your favourite football, basketball, or eSports team has never been easier. Literally, everything is just a few clicks away, allowing to navigate around quickly.
Although some people might say that the mobile site is not as convenient as having an app, there are also many advantages. For instance, you don't have to download anything, which means that there is no need to free storage space. Also, the system requirements don't play nearly as big of a role as they do with an app. The only real thing that you should do is update your mobile browser to the latest version. By doing this, you can be sure that you won't have any issues while playing.
If you have any trouble accessing Cbet's mobile website, you can go to the desktop page and use your device to scan the big QR code that you'll find there.
---
Mobile Features
If you wish to get the best possible mobile betting experience, you have to take advantage of the mobile features that Cbet has to offer. Although there are no apps, this bookie makes up for it by providing four fantastic betting options, so let's check them out.
In-Play
This is something that every sports fan out there will appreciate. In-Play, as its name suggests, allows punters to place bets on live matches. This means that you can bet whether team A will score a goal in the next few minutes, whether your favourite tennis player will win that set, and so on.
Not only is this more fun, but it's also more rewarding if you know what you're doing. Our advice is to bet on live matches for sports that you're familiar with. That's the best thing that you can do if you want to maximize your winnings.
Live Streaming
Although In-Play is good, we believe that the live streaming option is even better. Thanks to it, you can literally watch a particular event live as if you're watching television. However, instead of having to find an external source, you can do that directly through your phone or tablet, which can be extremely convenient.
Nonetheless, this option is only available for the eSports section right now. If you happen to love betting on games, such as Dota 2 and CS: GO, you are lucky. Unfortunately, live streaming is not yet accessible to any other sports, but this will probably change soon.
Cash Out
This is a standard feature among all big bookmakers, and Cbet is no exception. However, unlike those that only offer it for their desktop users, this bookie goes one step further because it also allows its smartphone and tablet bettors to take advantage of it.
Other than that, this feature works exactly the same, regardless of which platform you use it on. It gives you the opportunity to "close" your bet before the event comes to an end.
Swap Feature
The last pretty cool betting option that's worth checking out is called Swap. In case the name if it didn't give it away, this allows you to change certain criteria in your bet. If you are one of the players who've accidentally made a stake before, this is something that will be of great use because you can at least adjust it with the parameters that you wanted it to have.
---
Cbet Mobile Sports Betting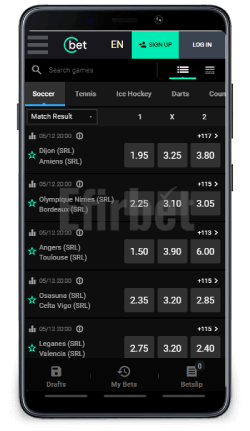 Mobile bettors, similar to their desktop colleagues, have access to most popular sports out there. Each of the events that you'll find there consists of multiple markets, so you will always have something to play on.
Here are some of the sports that you can come across when you enter Cbet's mobile website:
Badminton
Baseball
Basketball
Boxing
Darts
eSports
Football
Ice Hockey
MMA
Table Tennis
Tennis
Volleyball
Thanks to the easy to use interface, you won't have any problems finding the right match for you.
---
Mobile Casino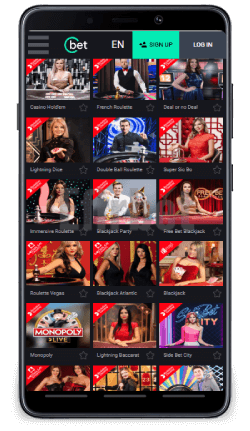 Apart from all of the great things we've mentioned about Cbet's sportsbook, this gambling website also has a casino, as well as a live casino section. Unlike other betting websites out there, this one allows its users to enjoy everything on their mobile devices.
In other words, regardless if you want to try out those free spins on the latest slot games or you prefer a good old game of poker, you can check everything from the palm of your hand.
Both the casino and the live casino have tremendous offers that you should definitely try out. Thanks to the latest casino software technology, everything is super easy to use. All you have to do is choose one of the thousands (yes, thousands) of games and start having fun. Don't forget to add the game you've played to favourites so that you can find it quickly next time.
---
Mobile bonus offer
As much as we wanted to find a no deposit bonus, or any other exclusive mobile bonus for that matter, we just couldn't. After checking everything, it turns out that Cbet does not have any exclusive mobile deals just yet. However, this is not that big of an issue because mobile bettors can still avail every single offer that's available on desktop.
That's right, regardless if you're a new customer or someone who had an account here, there will be something for you. So, the only thing left for you is to check what kind of offers you can get. Don't worry, you won't have to use a bonus code or meet any impossible requirements. Every single promo that you find on this gambling website is made with the customer in mind, so you can get the best possible experience.
---
Compatible devices
Since most of us use smartphones or tablets, one of the problems that we have is dealing with system requirements. However, that's not really an issue when it comes down to playing on Cbet.
Due to the fact that there are no mobile applications, the mobile website can be accessed by nearly every modern device. As long as you're phone or tablet was bought in the last couple of years, you should be fine. However, we still suggest you load the site and see how it performs. The last thing you want is to end up playing somewhere where you will have problems. Don't forget that in order to have the best possible mobile betting experience, you need to have no lag, disconnect, or any other problem.
---
Payment methods
Cbet allows its users to take advantage of some of the most popular payment options around. Sure, their number might not be as big as in other places but still. Unfortunately, if you want to check what methods do you have at your disposal, you have to do it after you sign up. However, we've decided to this for you, which is why we've created a table with everything that's currently available. Of course, feel free to check for yourself because there could be differences, depending on where you're viewing the payment options from.
While deposits happen nearly instantaneously, withdrawals might take more time. That's because each request is handled by Cbet's staff first. Once that's over, it might take around four days until you get the money in your account. When you combine both processing times, it will usually take around a week. Luckily, neither deposits nor withdrawals have any additional fees.
Deposit Methods
Withdrawal Methods
| Payment Method | Deposit Minimum | Deposit Maximum | Time for Deposit |
| --- | --- | --- | --- |
| Neteller | €10 | €4000 | Instant |
| Skrill | €10 | €4000 | Instant |
| Bitcoin | €12 | €1,000,000 | Instant |
| CryptoPay | €10 | €5,000 | Instant |
| Paysafe Card | not stated | not stated | Instant |
| Direct Bank Transfer | N/A | N/A | N/A |
| Payment Method | Withdrawal Minimum | Withdrawal Maximum | Time for Withdrawal |
| --- | --- | --- | --- |
| Neteller | not stated | not stated | Up to 24 Hours |
| Skrill | not stated | not stated | Up to 24 Hours |
| Bitcoin | €12 | €1,000,000 | Instant |
| CryptoPay | N/A | N/A | N/A |
| Paysafe Card | N/A | N/A | N/A |
| Direct Bank Transfer | €50 | €1,000,000 | Up to 5 Working Days |
---
FAQ's
How to use the mobile site of Cbet?
All you have to do to use the website is to open it from your phone's browser. Alternatively, you can also visit Cbet's desktop site and use your QR code scanner.
Is the Cbet web app a fraud?
No! Cbet is a licensed gambling operator, so there is no need to worry about the app.
Can I download a Cbet iOS app?
No, there is no iOS app currently available. However, this could change in the future. Be sure to visit Efirbet if you want to know when you can download it.
Can I change the odds from fractional to decimal?
Unfortunately, this function is not available right now. Please check the website regularly to see when it will be available.
Can I make a deposit from my tablet?
Yes, you shouldn't have any issues making deposits from all devices, including a tablet.
Is it possible to claim the welcome bonus from my Samsung smartphone?
Yes, as we've mentioned, all offers are available to mobile bettors.
Can I watch Dota 2 on my phone?
Yes, the live streaming feature is exclusively available for eSports. Needless to say, Dota 2 falls into this category.
---
About Cbet
Sure, Cbet might not have the brand name of other companies, but that doesn't make it less appealing. On the contrary, this gambling website offers pretty much everything you could ever wish for, which is impressive, considering the fact that it started offering its services in 2017.
Cbet also has a license from Curacao's government, which means that it's legit.
---
Contact Details
Cbet definitely stands out for its helpful and customer support. If you have any doubts or questions about how to use the web app, you can rely on the supports team. You can ask them via:
---
Mobile Rating
While it's true that the mobile site works flawlessly, the lack of both an Android and an iOS app is something that is worth mentioning. So, as much as we want to, we just can't give this operator an excellent score for its mobile offerings.
If you can cope with the absence of an app, you will have a great time here. Pretty much everything that's available to desktop clients is also accessible from your phone and tablet. Whether it's the casino, sports bets, live tables, or anything else, each of these great things is literally a few clicks away.