Deleting your Coral account is normal whether you want to switch your betting site or take a pause from gambling. Fortunately, Coral provides you with three easy ways to opt out of the bookie.
Throughout this guide, you will find information on closing your Coral account indefinitely. Keep reading for the steps and options you have at your disposal.
---
How To Delete Your Coral Account Through their Website?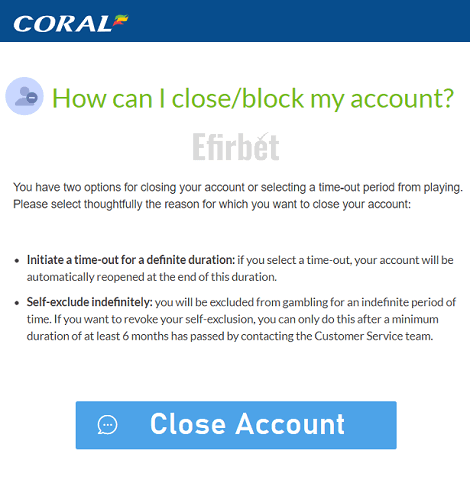 Deleting your account via the website is straightforward. To do so, follow these steps closely.
Log in to your account.
Open the technical issues page, opt for Coral support and click the email button to open the email window.
Provide your name, date of birth, and email, which you used to create Coral.
Share details of why you wish to delete your account.
Complete the process by sending the email.
Once you are done with the Coral account closure process, you need to wait for a notification from the bookmaker. According to the operator, even after you close your account, they will retain your information until the statutory period of limitation expires.
---
How To Delete Your Coral Account?
Coral operates within strict laws and regulations, meaning players have a lot of freedom to manage their accounts. This especially applies to cases where they wish to suspend or delete their accounts for whatever reason.
Although the process might seem like a hustle, it is not demanding and can be achieved in easy to follow steps. If you wish to have Coral delete your account, here are the three major ways you have at your disposal:
Through their Website
Live chat
Via Email
Deleting Account Through Live Chat
You can also choose to delete your account using live chat. This method is quite simple since all you have to do is:
Log in to your Coral account.
Click the live chat feature to begin conversing.
State you wish to delete your Coral account.
Provide any information requested.
Wait for the account to be terminated.
How To Delete Coral Account Via Email
Another method you can use to terminate your Coral account is using email. Like live chat, this method is simple so long as you apply these steps.
Log into your Coral and open your email account.
Tap the 'new message' option.
Use

[email protected]

as the recipient address.
Write a subject stating you wish to delete your account.
Share your information and why you want to delete your account and send the email.
After sending the email, you will receive a response from the operator acknowledging your request. The next step Coral will take is to initiate the account closure procedure.
---
Coral Delete Account Alternatives
If you are having gambling problems, you can consider self-excluding yourself. This option allows you to take a break from betting for a specific period.
The self-exclusion program ranges from six months to 5 years. You can also opt to self-exclude indefinitely.
To use the services, load the 'My Account' section and click 'self-exclusion'. You can then offer the information required to self-exclude and wait for the operator to reply to your request.
Once you self-exclude, you will be unable to access Coral promotions or participate in any gambling service at the bookie for the period stated.
---
Final Thoughts
Overall, the Coral account closure procedure is straightforward, even for amateur players. The entire process will only take you a few minutes to complete. However, the operator may take longer to actualise the request and close your account.
After you close your Coral account, you will not have access to any gambling service. Furthermore, Coral will not send you promotional messages or emails.
But then, you are free to sign up again to access Coral betting services. So, keep all these aspects in mind when closing your Coral account.
---
How To Delete Coral Account: Player's FAQ
Will Coral want to know the reasons why I am closing my account?
Yes, Coral might ask follow-up questions to know why you want to close your account.
How long will I wait before Coral representatives contact me regarding my request?
You will have to wait for up to 24 hours before Coral contacts you regarding your request.
Can I access the sportsbook fixtures after closing my account?
Yes, you can access Coral sportsbook fixtures after closing your account. The only thing you cannot do is place real money bets.