Intro
Matchbook is one of the few bookmakers nowadays that promises and really does bring maximum returns to their punters. After having been acquired by a group of European investors in 2011, the betting company has been brought to new heights in the industry. One of the highlights in the history of Matchbook includes its launching of mobile applications in 2012.
Following the latest trends in technology, the bookmaker launched Matchbook mobile apps that are compatible with most Android and iOS devices. The apps are free to download and support the majority of the main desktop site's functions. With Matchbook mobile, punters are now able to place and manage their bets at any possible time and place.
Matchbook Mobile app for Android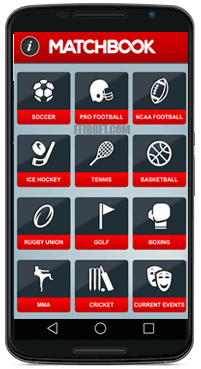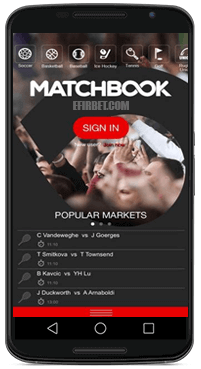 Matchbook app for Android is simple and easy to navigate. On the top right section are the 'Login/Join', 'Casino', 'Live Casino', and the 'Insights' buttons. If you are a customer who wants to quickly choose from the available markets or place bets, you can maximize the 'Search' bar on top of the homepage options on the left-hand corner of the page.
There is an entire selection of Matchbook's events and markets on the app. Betters can access each of them in a click even when they are on the move. The 'Insights' page is also very helpful for players who want to learn betting strategies or just browse through the betting previews. Overall, the app is not as striking as those of other bookmakers, but one can generally find all the necessary information on it.
How to download and install Matchbook app for Android
Downloading Matchbook app for Android requires new users to follow the simple steps below. It is important to note, however, that Android devices do not allow the downloading of gambling apps. Thus, you have to download the app from the bookmaker's own site.
Step 1: Create an account at www.matchbook.com if you have not done so yet.
Step 2: Allow downloading of apps from 'unknown sources' by adjusting your Android's security Settings. On your device's security settings, click on the 'Unknown sources' box to allow.
Step 3: On the Matchbook site, look for the 'Mobile Applications' menu on the 'About' page. Simply click the provided download link and wait till the download is complete.
Step 4: After the download is finished, open the APK file from your device's download folder (or as it pops up) to prompt installation.
Step 5: Once the installation is done, you may now start enjoying your mobile app!

Download Matchbook for Android
Matchbook app for iOS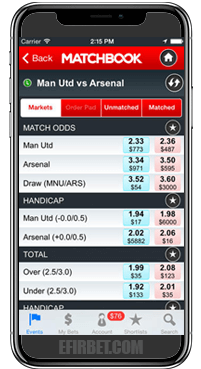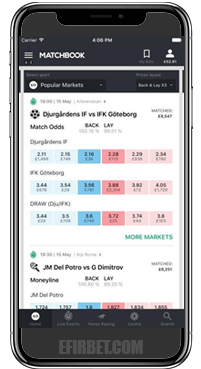 If you are an iOS device user, do not frown as there is a dedicated Matchbook app for you! The app is downloadable via iPhone and iPad devices and is compatible with most versions. You will also bring along the thrill from the desktop version as all of the key markets are found in this mobile app.
Punters are sure to enjoy the iOS mobile version as bets can be placed and managed at their fingertips even when they're simply lying on the beach. They can bet on all the markets in pre-match and in-play options as well as check match previews, sports results, and betting history. With Matchbook iOS version, players have complete control over their betting experiences.
How to download and install Matchbook app for iOS
There are two options for iPhone and iPad users to download the Matchbook app. The first one just requires users to follow the outlined steps above for Android. The process basically involves locating the app from Matchbook's own site, www.matchbook.com. If following the steps is a chore, here is an easier way:
Step 1: After creating an account at Matchbook, quickly visit the App Store.
Step 2: Look for Matchbook exchange app and prompt download by simply clicking the download button.
Step 3: Once the download is finished, your phone automatically installs the app.
Step 4: Click on the bookmaker's icon on your device to launch it, and start enjoying your betting app!

Download Matchbook app for iOS
Matchbook mobile sport betting
The bookmaker has a sportsbook in both its desktop website and its mobile site version. Players will get a common feeling in both as the display and interface are exactly the same. Yet, to prevent the mobile apps from getting cluttered, Matchbook cleverly tucked away the icons and menus to accommodate smaller screens.
The screen layout is very simple yet intuitive. The main sports markets are vertically placed on the left corner with an A-Z sports list players can easily bet on. Matchbook sportsbook is set apart from other bookmakers because of the option for players to bet amongst themselves. Instead of betting against the bookmaker, they can make their own Back or Lay which other players can match with. The bet slip allows punters to get updates as to whether a match has been activated.
If you are someone who wants to play big, you can bet on Matchbook Colossus. Punters can select from a variety of pools and jackpots and probably win up to £10 million from betting. Players can bet on any of Matchbook's key markets: American Football, Basketball, Horse Racing, Soccer, Tennis, Basketball, Cricket, Boxing, and more. The best thing is that there is a low commission rate on all sports market. Thus, players can really get the most from their wins.
Mobile site version review
While punters will benefit a lot from downloading the mobile apps, they always have the option to settle for the mobile site. In terms of functionality and ease of use, the site does not go far from the celebrated apps. All the markets found in the mobile apps are functional and still feature the casino, sports, and live-betting markets with all bonuses and promotions as well as real-time updates.
To avail the mobile site, simply proceed to your mobile's browser and type in www.matchbook.com. There is no need to download. All that is needed is an account and your first deposit to get started.
Matchbook mobile casino app review
Playing Casino games are also possible through Matchbook Mobile Casino. There are special versions for both Android and iOS devices where punters can enjoy a variety of games with a large market and high odds. The app is convenient to use and supports many mobile versions.
Popular Matchbook Mobile Casino games include:
Roulette, BlackJack, Rocket Man, Starburst, Twin Spin, Aloha, Gonzo's Quest, and Drago's Luck. These games have four main divisions: Table, Real Dealer, Video Poker, and Slots games. Live Casino is another feature that adds to the attractiveness of the mobile casino.
Visit Matchbook mobile casino
Differences between mobile app and mobile site version
In Matchbook, you have the option of betting through the mobile site or through the mobile app. Although there is not much of a difference when it comes to the availability of markets and functionality, there are some things that are better on the other.
Android and iOS mobile apps
Advantages:
Versions are specifically tailored for each app
More interactive and functional interface
Basic information is accessible without internet
Disadvantages:
Has system requirements and compatibility conditions
Mobile site
Advantages:
Does not need to be downloaded
Requires no version update (Matchbook does the updating)
Accessible on most device
No hassle of having to find the site through mobile stores
Disadvantages:
Logging in is required at all times
Not as convenient to access as mobile apps
No offline access
Matchbook mobile bonus
New Matchbook customers can get a £50 welcome bonus by signing either through a mobile device or the desktop website. You can also receive up to £500 cashback for paying commissions in your first five weeks. For every £1 commission paid, you get 1 Matchbook point. Once your pay accumulates to £5, you attain 5 Matchbook points which are directly equivalent to £5 cash back. It's like having a refund every time you pay commissions. Players love these bonuses and you will, too!
Get your £50 welcome bonus
System Requirements and Compatibility
Matchbook mobile app needs two main things: an internet connection and an Android or an iOS device. The process is far from being arduously difficult and is only a few clicks away. However, there are certain system requirements and compatibility considerations for it to function perfectly.
for Android
For Android users, the application requires a 3G, 4G, or Wi-Fi connectivity to prompt download and installation. Android version should be from 4.4 (kitkat) to the latest 8.0 (Oreo).
for iOS
To ensure that the app's functionality is maximized, your iPhone, iPad, or iPod Touch should be of iOS 8 version or higher. The app is also at least 50MB, so you want to make sure to have that much space left on your mobile. Having a Wi-Fi, 3G, or 4G signal is also needed.
Here are some of the Android and iOS devices with their respective versions that run Matchbook mobile best.
Android Devices: LG, Sony Xperia, HTC, Samsung Galaxy, and LG
Android Versions: 4.4 (KitKat), 5.0 (Lollipop), 6.0 (Marshmallow), 7.0 (Nougat) and 8.0 (Oreo)
iOS Devices: iPad, iPad Pro, iPod Touch, iPhone
iOS Versions: iOS 8, iOS 9, iOS 10, iOS 11
Mobile payment methods
There is a wide range of deposit and withdrawal methods available on Matchbook mobile which are free of service fee. These are easily accessible on the site and apps. They are also listed conveniently for you below:
| | Min. deposit/Max deposit | Min. withdrawal/max withdrawal |
| --- | --- | --- |
| VISA Mastercard | £5/£20,000 | £5/ £20,000 |
| NETELLER | £10/£37,500 | £10/£37,500 |
| Skrill | £5/£25,000 | £5/£25,000 |
| paysafecard | £5/£770 | £100/£50,000 |
FAQs
Have questions that need quick answers? Browse the frequently asked questions that follow.
Is there a bonus from opening an account via a mobile device?
There is no specific bonus for opening an account via mobile. However, the bookmaker has a new customer bonus of £50. New players can also collect up to £500 cashback in their first five weeks.
Can I play Poker on a mobile device?
Yes. You can play Video Poker as well as many other Casino games on your mobile device.
Is there a Live Casino game to play?
Definitely! Matchbook has a Live Casino option for players who want to get 'real' in their betting experience via mobile.
Are there available payment methods on mobile?
Yes. Players can pay through Bank Transfer, Neteller, Skrill, or Mastercard. Payment is free of service charge.
Are the odds high?
Although Matchbook does not offer as many markets as other bookmakers do, punters love it for its high odds for most markets. This is made even more exciting since players are allowed to have a match amongst themselves.
Is there a dedicated support team available 24/7?
Matchbook has a dedicated and professional support team ready to assist their players even on mobile. However, they can only be reached between 8 am to 1 am through live chat.
Are the apps compatible with all Android and iOS devices?
The apps are compatible with most Android and iOS devices. Nevertheless, players need to make sure to update their devices to their latest versions to attain the maximum benefits.
Verdict and Apps rating
As a responsible bookmaker dedicated to improving the betting experience of their customers, Matchbook launched special versions for Android and iOS devices. These are specially designed applications which are continually being improved for better visuals, quicker loading, and easier navigation. These are all done to make the mobile apps more efficient for punters who bet on favoured competitive markets.
Matchbook mobile is never out of punters for many good reasons. One is because of the bookmaker's generous bonuses and promotions. Also, since the commission rates of the bookmaker are lower than most, punters can get larger winnings. These are all in addition to its secure payment options and helpful and professional staff. Although Matchbook does not offer as many markets as other bookmakers, its benefits to players weigh more than the possible losses. All things considered, the Matchbook mobile receives an outstanding rate of 9 out of 10.
Visit Matchbook mobile