Last update by Efirbet on :
04 December 2019
Is there an Android .apk for download?
Sportsbet is fast-rising online gaming and sports betting platform aiming to leverage the newest technological innovations. The brand has risen fast by marketing itself as a Bitcoin-friendly platform. However, despite this strong inclination to modern day tech, Sportsbet has not developed any dedicated Android app for its gamers. This can be seen as an attempt to give players a seamless transition as they switch from the desktop site to their mobile devices, without having to make any additional downloads.
All the betting services available on the desktop site can now be found on the mobile website as well. The mobile site version runs more or less like a mirror of the main site since everything is done similarly. Accessing and playing on the Sportsbet mobile site is quite easy and hustle free. We have reviewed the mobile site version in more detail in the next section below. Read on to find out information on how to start playing at Sportsbet on the go.
---
Is there an iOS .apk for download?
For gamers using iPhones and iPads hoping to get a dedicated Sportsbet app, you will be shocked to learn there is no such app currently on offer. The brand has followed the same route as with android version, by offering all their gaming services through the browser-based mobile site. As such, you do not need to go searching for any Sportsbet apps or installation package.
---
Sportsbet Mobile site version
As we have established so far, the mobile site version is the only way to play at Sportsbet through your mobile phone or tablet. Although most gamer will frown upon the idea of using a mobile site at the expense of a downloadable app, it turns out the mobile site can be quite advantageous if the job is done well. This is the case with the Sportsbet mobile platform.
From the design to the operation of the mobile site, it is evident quite some thought was put into this. The Sportsbet mobile site does an excellent job at replicating the main desktop site. For starters, you will do not need to have any different or unique URLs to open the mobile site. Just type in Sportsbet in your phone's or tablet's browser's search bar, and you will automatically be redirected to the mobile version.
The theme and colour scheme on the mobile site version is quite similar to the desktop site. You will have the usual Sportsbet dark theme with green and dark blue highlights. The design is very user-friendly as from the start you can easily make out the various sections of the site. As usual, you will have a pull-out menu activated using the three small bars at the top left corner of the page. In addition to this, you can also navigate using the scrollable menu bar at the top of the home page.
Aside from the aesthetics, the Sportsbet mobile site content as well. The gaming and betting services available reflect the exact thing offered on the main desktop site. This means while gaming on the mobile site, you will not be missing out on anything. Ranging from sports betting to an online casino, you will find the mobile website to be a pocket-sized gaming powerhouse. While doing this review, we were particularly impressed by the quality of sports betting markets offered here. In the next section of this review, we will delve deeper into this mobile sportsbook and give you a taste of what to expect from this platform.
---
Mobile Features
Before we begin analysing the mobile sportsbook, it worth highlighting some catchy features we noticed with the Sportsbet mobile site. Though not particularly unique to the mobile site, these are some of the most sought after features in as far as online gaming is concerned. Most of these features are common with downloadable stand-alone apps, but Sportbet.io has gone ahead and included them to their mobile site version.
Cash Out function
For any avid sports betting fans, they will tell you of a time they watched helplessly as their stake money burnt away. This is quite common in games as the results can be very unpredictable despite your top-notch analytical skills. For this reason, cash outs come in to give you some hope of salvaging something from your burnt bet. With the cash out feature, you can request to withdraw your stake money way before the events you are betting or over. The amount you get to cash out is usually less than your stake, but this will depend on the turn of events at the game you were betting on by the time you make the cashout request.
By making such a withdrawal, you will be reducing the overall loss that you would have incurred if you would have allowed the events to follow their course of action. To cash out from your Sportsbet mobile account, click on your betting history then scroll to the active bets. Click on the bet slip you wish to cash out on, and you will see the cashout amount being displayed.
It is important to note that cashing out on a bet is different from cancelling a bet. A cash-out is only available for active events that are currently live.
In-play feature
This is another essential tool that sports betting fans can use to boost their wins. In-play betting involves placing bets on live events that are currently being played out. You can consider this as the opposite of pre-match bets, where you get to place bets before a game kicks off. With the Sportsbet mobile site, you can filter through the live events that are currently available for in-play betting.
From the homepage, click the 'In-Play' icon placed at the scrollable menu bar. This will lead you to a page dedicated exclusively to live events with in-play markets. It is worth noting that in-play betting here is not limited to just a few sports, but all games that can technically accommodate such. These include basketball, football, tennis, cricket, baseball, ice hockey and even e-sports such as CS Go.
Live streaming option
This is one of the most sought after features in sports betting. Gamers are now looking for a site that does not merely offer betting markets but includes some extra services on top such as video streaming of the events. To meet this demand, Sportsbet has also brought on board a live streaming feature that can be accessed through the mobile site version.
To access the events with the live streaming options, merely open the sports betting section on the mobile site then click on the in-play tab. You will be presented with a list of all the live events available. Under the description of the team names or contenders, you will see a small green icon indicated 'Watch Live.' When you click on this button, a small pop-up screen will appear with a video stream of the live action.
Live streaming can work particularly well for gamers who are interested in making in-play bets. This feature gives you a chance to catch all the action this you can make better rational decisions when making your live bets.
---
Sportsbet Mobile Sports Betting
As the company's name hints out, Sportsbet is quite a bit on sports betting. The mobile site indeed does have a casino section, but the bulk of the action is in the sports betting category. From the mobile platform, you will find over 30 different sporting categories with ready markets to bet on. The selections here cut across top sports such as football, tennis, basketball, and cricket to other alternative sports such as Futsal, floorball, water polo and snooker.
In addition to the usual real-life sports, you can also enjoy some action in cyber gaming through the e-sports and virtual gaming sections. Here you will find popular e-sports titles such as Dota 2 and Counter-Strike Go. As hinted earlier on, the e-sports are treated just like the regular sports betting markets. Thus you can also place live in-play bets. The presentation of the sportsbook is done quite well and in a very easy-to-use manner. To filter through the sports categories, click the 'All Sports' icon on the navigation bar. The sporting categories are lined up starting with the most popular ones such as football, tennis, basketball, and baseball. The rest follow in line based on alphabetical format.
Once you have selected the sport you are interested in, the main page will be populated with the various events available for that particular sport. Your bet slip will appear as a small pop-up window on the bottom of the screen as you begin to place your bets. You can choose to change the overall layout of the entire mobile sportsbook between either the European version or the Asian version. You can also change the odds format from the common decimals to American, Indonesian, Hong Kong or Malaysian format.
---
Mobile Casino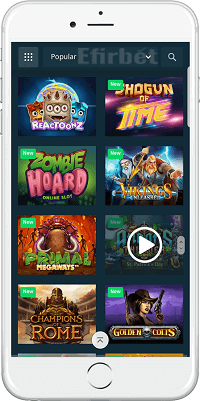 The casino fans won't be disappointed because Sportsbet's mobile version features attractive games in the casino section, too. Sportsbet's mobile casino is designed, so you can easily find your way to your favourite game.
You can browse through the vast amount of casino adventures and choose your prefered game. If you are in a hurry though you can check out the options filtering them by the provider.
In general, we can say that the mobile version of Sportsbet's casino has no significant flaws. It replicates the desktop version successfully and allows you to play your favourite games wherever you are.
Of course, you should be advised, that you will need a stable internet connection for the graphics to run smoothly. You may also notice that the slots run better on devices equipped with high-performing processors.
---
Sportsbet Mobile Version – Pros & Cons
The decision to stick with the mobile site version and forego having a downloadable app is one that comes with its pros and cons. In our review of the Sportbet.io mobile site, it would be fair to say there seem to be very few cons from this strategy. First of all, it is common knowledge in online gaming circles that downloading and installing android betting apps is no easy task as you usually have to rely on .apk files.
The use of the mobile site version counters this challenge as you need not worry about extra installation costs. You just open your favourite mobile browser, and you can start gaming right away. Besides, if we were to compare and contrast the mobile site with the desktop version, the mobile site tends to have the advantage of convenience. You can easily access all the betting and gaming services on the go.
In most cases, mobile gaming sites tend to underperform when it comes to streaming video content. But this is not the case with the Sportsbet site as you can enjoy HD video content, provided your mobile data or Wi-Fi connection is stable. This same quality is also replicated on the casino and live casino sections.
---
Mobile offers
In line with their design of offering the same products across all platforms, Sportsbet has not set apart specific bonuses for mobile gamers only. The same offers and promotions available on the main desktop site will still be at your disposal even when playing on the mobile platform. It is worth noting that the promotions page is well stocked with daily and weekly bonuses for regular gamers, as well as an impressive welcome package for new sign-ups.
---
Compatibility and System Requirements
This is another area where the idea of using mobile site scores higher than downloadable apps. With the Sportsbet mobile site, all you need to check is that your device is connected to the internet and the mobile browser is up to date. There are no concerns about the Android or iOS version you are using. This also allows gamers with older mobile devices that cannot accommodate new betting apps to enjoy the thrills of online gaming still.
It still necessary to check the mobile browser you are using as this can significantly affect your browsing speeds and quality of video streams. The most recommended here are the latest versions of Chrome, Opera, Safari and Mozilla.
---
Mobile payment methods
The cashier section is one area in which Sportsbet stands tall as a trailblazer. This is because the company is among a few that readily accept transactions in cryptocurrencies such as Bitcoin. If you are still new to the Bitcoin markets, but you would still like to join and bet using Bitcoins, then you need not to worry. Sportsbet has partnered with BlockTech; a company specialised in trading of Bitcoins. Through their platform, you can purchase Bitcoins using your e-wallet or credit cards. All these transactions can be carried out through the mobile site version.
But if you are more interested in the traditional payments methods, then you can still deposit and withdraw using the usual credit card, debit card or e-wallet. The table below gives a summary of the payment methods applicable here with their transaction limits;
| Payment Method | Deposit Minimum | Deposit Maximum | Time for Deposit |
| --- | --- | --- | --- |
| Visa | €10 | €10,000 | Instant |
| EcoPayz | €10 | €10,000 | Instant |
| MasterCard | €10 | €10,000 | Instant |
| Jeton Wallet | €10 | €10,000 | Instant |
| Bitcoin | mɃ 1 | Not Specified | Instant |
| AstroPay | €10 | €10,000 | Instant |
| CashtoCode | €10 | €100 | Instant |
| Neteller | €10 | €10,000 | Instant |
| Skrill | €10 | €10,000 | Instant |
| Payment Method | Withdrawal Minimum | Withdrawal Maximum | Time for Withdrawal |
| --- | --- | --- | --- |
| Visa | €20 | Not Specified | 1-3 Working Days |
| EcoPayz | €20 | Not Specified | 24 Hours |
| MasterCard | €20 | Not Specified | 1-3 Working Days |
| Jeton Wallet | €20 | Not Specified | 24 Hours |
| Bitcoin | mɃ 2 | Not Specified | Instant |
| AstroPay | €20 | Not Specified | - |
| CashtoCode | - | - | - |
| Neteller | €20 | €20,000 | 24 hours |
| Skrill | €20 | €20,000 | 24 hours |
EcoPayz, Jeton Wallet, Visa, MasterCard, AstroPay, CashtoCode, Bitcoin, Skrill, Neteller
EcoPayz, Jeton Wallet, Visa, MasterCard, AstroPay, Skrill, Neteller
---
Frequently Asked Questions
Do I need to download any mobile app to play on Sportsbet mobile?
Are there any bonuses for playing on the mobile site?
Is there a live chat option on the mobile site?
Can I transact using Bitcoins while on the mobile site?
Is the mobile platform secure enough to make real money transactions?
Other than sports betting, what other gaming services are available on the Sportsbet mobile site?
Does the Sportsbet customer support team have a direct phone number I can call them through?
---
Company Details
Sportsbet is still a relatively online gaming platform, has joined the industry at around 2016. The site is owned and operated by mBet Solutions NV. The company is based in Curacao, the same jurisdiction under which the online gaming and gambling services are regulated. Currently, Sportsbet serves a global market, except a few countries such as the UK, Australia and US.
---
Mobile Version Rating and Final Verdict
By most standards, Sportsbet has developed a very reliable and impressive mobile gaming portal. The idea that you can get all the features associated with mobile apps without having to make any downloads is quite good. The most outstanding of these it the live streaming option, which scores some good points for the site against its competitors. The lineup of games in the sportsbook is also quite comprehensive. Also, the incorporation of Bitcoin as a mode of payment brings the much-needed flexibility with online transactions on the gaming platform.
The only downside worth noting here is the lack of a direct contact number for customer support services. Even though the emails and live chats are effective, it would still be better if there was a direct number to reach out for support.