Ad disclosure
Here at EfirBet (EB) we pride ourselves on having a site that is completely ad-free. No ad blocker is needed while browsing EB. At the same time, we do use affiliate links to earn commissions (every time you click a link and sign up at a betting site). This revenue helps us deliver quality and trustworthy reviews for our readers at no additional cost to them. Read the EB
About Us
page if you want to learn more.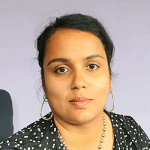 Approved by Nayden Panayotov
Lead Editor
Testing Methodology
See '
How we rate bookmakers & casinos
'
Related Articles Read
8 Topic-Related Articles
Brands Compared
6 Alternative Brands
In-House Edits
Edited 7 Times by Our Experts
If you are looking to bet on cricket, there are a lot of bookmakers to consider, given the popularity of the sport. One of the names I had high hopes for was Bet365, given that it is one of the biggest betting brands in the world. You can read our more general review of Bet365 on this page, but here the focus will be purely on their cricket offering.
---
Bet365 Cricket Betting Steps Explained
I always found it easy to place my bets at Bet365, given the simplicity of the website. First, I began by heading to their dedicated cricket page, accessible from the left-hand A-Z menu. From here, it was simply a case of following the steps below:
I selected either a specific match from the featured list or a competition/fixture from the 'match coupon' section.
When searching by competition, I would click on a relevant fixture to reveal all markets.
I would then filter the markets by type using the categories at the top of the page (when available).
I found the bet I wanted and clicked the odds to add it to my betslip.
For multiple/acca bets, I repeated this step a few times and then entered a stake on my betslip and confirmed.
---
Bet365 Cricket Section Overview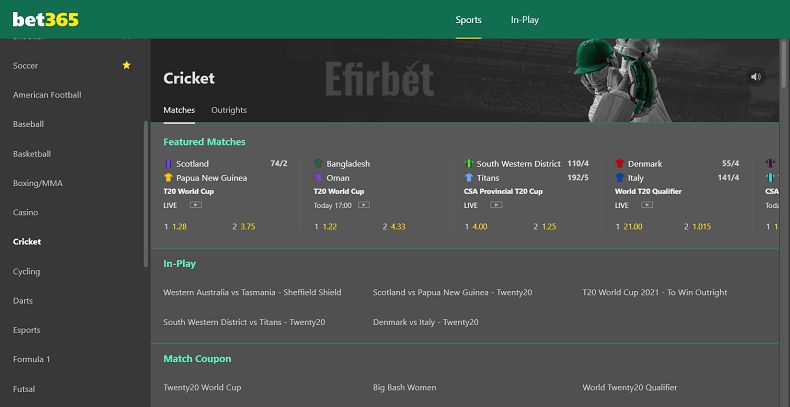 I was generally pleased with how Bet365 presented its range of cricketing bets, and my only criticism was with the initial navigation. It would be useful, like other sites do, to have an A-Z list of competitions or one ordered by country. There is no such organised list at Bet365, and you cannot sort fixtures by today/future matches.
I sometimes spent a few extra seconds tracking down a particular fixture, but the rest of the experience was great. Within a particular match, there were sensible market categories which made it easy to find my desired bet. I also liked that many of the markets were collapsible, as this minimised the amount of scrolling I had to do.
Finally, I would compliment Bet365 for making it easy to place outright bets. Listed next to 'Matches' at the top of the page, the 'Outrights' section made putting bets on various competitions easy. Conveniently, I could access all available outright markets directly underneath the specific tournament or series.
---
Cricket Tournaments
The cricketing calendar is always full of highly anticipated clashes, no matter if you prefer slower-paced Test cricket or faster, big-hitting T20 action. Whether a leading national league or international tournament, the best batters and bowers regularly meet up and cook up some top-class action.
The list below includes some of the most prominent cricket formats and competitions. Not only do these attract some of the biggest audiences but also the most betting activity too. Note this is not a full list of tournaments, as I found many others present at Bet365, but these are the main ones.
ICC World Test Championship
Only introduced in 2019, the ICC World Test Championship is a relatively new addition to the global cricket calendar. It operates as the league competition for international Test cricket sides, with a full cycle taking two years to complete. The top nine Test teams are involved, but quite unusually for a league format, not all countries face one another per cycle nor play the same number of games.
T20 World Cup
Generally held every two years, the T20 World Cup is always a hotly-anticipated affair. For all competing nations, there is no international prize better than the twenty-overs format. It is always full of wickets and boundaries, and this is, therefore, a tournament extremely high on drama and entertainment. It operates in a group-to-knockout format and builds up to one final match.
ICC World Cup
Often referred to simply as the Cricket World Cup, this is a much more established event compared to many. It was first launched in 1975, and it sees nations from across the world battle it out in a One Day International (ODI) format. The number of participating countries has varied over the years and has ranged from eight to 16, so qualification varies in how difficult it is. Any team that qualifies, though, must seize the moment, as this tournament only appears once every four years.
WPL (Women's Premier League)
The men's Indian Premier League has been immensely successful, so it is little surprise that India began making plans for a women's version of the T20 league. Replacing the Women's T20 Challenge, the new Women's Premier League was launched in 2018 and is a franchise league based on the structure of the IPL. The first season took place in March 2023 and featured just five teams, but there is an expectation that this figure will grow.
One Day Internationals
ODIs involve international teams playing a reduced overs (50) match. Each ODI match impacts rankings on the official leaderboard, so they are meaningful, albeit not to the same extent as a Cricket World Cup match. Twelve nations have permanent ODI status, while an additional eight have temporary ODI status based on performances in the ICC World Cup qualifier.
---
Bet365 Cricket Betting Markets
I felt that Bet365 offered a really solid selection of betting markets across matches which meant I could almost always place the bet I wanted. The list below does not include everything I could choose from in high-profile matches, but it does include many of the most popular options.
👉 Team Top Batter – The batter that records the highest number of runs for their team.
👉 Team Top Bowler – The bowler that will take the most wickets for their team.
👉 Top Match Batter – The highest scoring batter from both teams.
👉 Top Match Bowler – The bowler that takes the most wickets in the match.
👉 Player of the Match – The player that will be named as the official player of the match.
👉 Total Match Runs – Whether the total number of runs of both teams will be under or over the specified figure.
👉 Over/Under Player Runs – Whether a player will get over or under a threshold of runs, e.g. 22.5.
👉 1st Wicket Method – The method of the first dismissal: caught, bowled, LBW, run out, stumped or other.
👉 Opening partnership total – The number of runs (over/under) the opening two batters will manage before one is sent walking.
👉 1st Over Betting – A dedicated market for 1st over bets such as the total runs (over/under), whether a boundary is scored (yes/no), or whether there's a wicket (yes/no).
---
How are the Bet365 Betting Odds?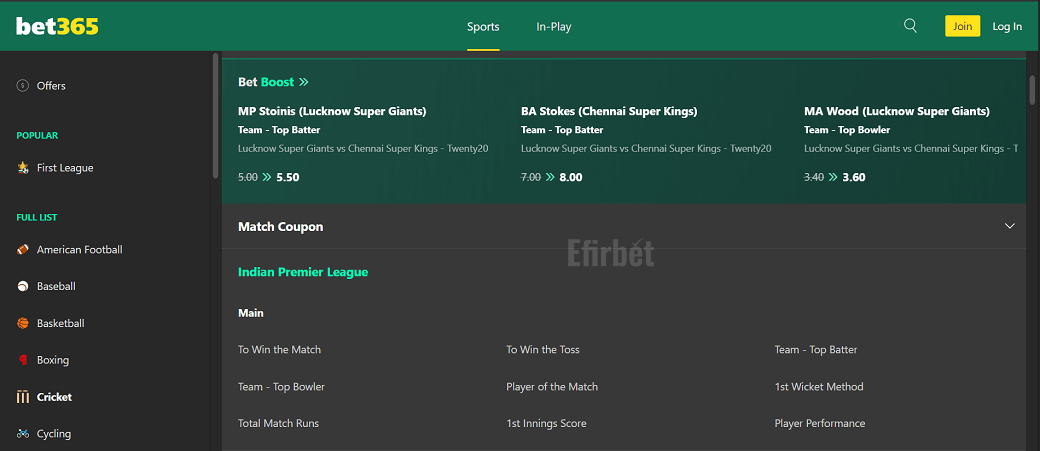 Having compared the odds from a range of competitions, we found that Bet365 provides consistently good value. They may not always be the very best, but they are regularly competitive with the odds they offer. The percentages below are from the 'win only' market, but Bet365 also performed strongly when looking at other markets too.
The below figures are payout percentages based on bookmaker odds. If a bookmaker offers two evenly matched teams at (2.00) odds to win, this would be a 100% payout. They do not do this, though, as they want to have their advantage. Instead, they might offer both teams at 1.9 odds, resulting in a 94.74% payout. The lower the percentage, the larger the bookie margin, which is worse for the player.
---
Bet365 cricket live
There is not an abundance of cricket matches compared to other sports, but I was able to experience live betting at Bet365. As I expected, during the game, Bet365 offered lots of markets for major matches, including bets on the upcoming over/delivery, current batters or the fall of the next wicket.
When streams were not available, in most cases, basic stats were available that also provided a run-by-run update of how the match was progressing. Lastly, I felt that even during the game, Bet365 still provided good-value odds across markets.
---
Virtual Bet365 cricket
It took me a moment to locate virtual cricket at Bet365. Unlike other sites, they neither include it within the 'games' section nor have a dedicated page for it. Instead, they list it as one of the sports within the 'specials' section of the A-Z list down the left-hand side.
When located, I was able to access two virtual cricket games. Both had the same developer and mechanics, but they differed in teams and appearance. Across the two, I felt there was a great selection of markets, and the animated footage looked sufficiently real to provide a fairly immersive experience.
---
Bonuses for Cricket Betting
When registering at Bet365 for the first time, I benefited from their new customer offer. The sign-up bonus was one I was able to spend on cricket, but I could have used it across other sports. Many of the existing customer promotions are related to football or horse racing. Other sports did have early payout offers but not cricket, at least not when I was betting.
So, while the Bet365 bonus list did not treat me to any cricket-specific offers, I was at least able to use any bonus bets on the sport. Be sure to read the full terms and conditions that apply.
---
Bet365 Cricket App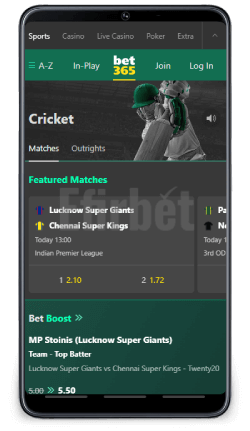 I am often on the move, so I often find myself betting via apps rather than desktop sites. Thankfully, with Bet365 app I had no difficulties placing my cricket bets on my smartphone. Their mobile apps came out extremely well during our full review, shining in virtually all areas.
My own experience lines up with this as they were fast to use, easy to navigate and didn't have any bugs or errors. Specifically for cricket betting, I could access every single market listed on the desktop site, meaning a completely equal experience.
---
FAQ
What are the Bet365 Cricket Betting Rules?
Bet365 has an extensive list of rules relating to cricket bets which you can read here.
How can I watch Bet365 cricket live?
If a live steam is available, you can access it through the in-play page. A play symbol on the right-hand side indicates a stream is available. I was only able to watch, however, when there was money in my account.
How can I watch the bet365 cricket live score ball-by-ball?
For many cricket matches featured on the in-play section of Bet365, they provided me with a score-by-score update. To view this, all I had to do was to click a fixture or the pitch icon.
Where can I find Bet365 cricket tips & predictions?
Bet365 has a regularly updated page dedicated to previews of upcoming matches and tournaments. These well-written articles include references to relevant odds and suggest markets/bets you might want to look out for.
What is the bet365 cricket bet boost?
This is a small selection of upcoming bets that have had their price boosted by Bet365. Increases are not huge, but they will see bets move up from 7/2 to 4/1, for example.
How can I use the bet365 cricket coupons?
The Bet365 cricket page is not particularly big on coupons, only offering a 'match coupon'. For this, you will select a competition or match, and it will show you the match-winner odds for all relevant fixtures.