Introduction
Betsafe mobile app was established in the year 2006 and has been offering various online gaming services to about half a million of satisfied gamers from all over the world. Betsafe was a Norwegian online casino and poker platform. In the year 2011, the Betsson Group Swedish company acquired all shares from Betsafe's Group for a total of €60 million, with €32.5 million being paid upfront in cash and in Betsson shares.
The acquisition was made in order to increase Betsson's market presence and to keep their continued growth and development.
The Acquisition helped grew Betsson's customer reach, acquiring an approximate of 419,000 players. Owned by Betsson AB, Betsafe enjoys the benefit of a stable and a financially secured environment.
In quite some time, up to the company acquisition, Betsafe had eventually increased its income by 119% and had more than eighty-four thousand players in the year 2011 on its poker room with a hundred and forty employees in Malta.
---
Mobile App for Android
Betsafe has been known as a popular online bookmaker then and now. Since 2006, the company have managed to build their name as a trustworthy and respected game provider. Betsafe's online reputation once again fortified when the Betsafe mobile introduced the Betsafe mobile Android app which is the Betsafe mobile version of the Betsafe app to players who want to bet while on the move.
The Betsafe mobile app was designed to enable users to get easy access to their all-time favourite Betsafe mobile android sports and market so that users can easily place their bet anytime and anywhere.
New Players have the edge to grab promotions upon signing up, making deposits, and placing bets on any sports market offered by Betsafe mobile app. It is called the Betsafe welcome bonus for new customers. The registration of the new player's account is so simple. The player just needs to click the "Get a €20 Free Bet" button together with the already filled up required details on the form provided.
How to download and install Betsafe app on Android
To be able to easily download and install Betsafe's mobile app, follow the steps below.
Prior to the downloading of the Betsafe mobile app, there are some steps that are needed to be taken. The user must adjust the settings on his Android mobile device. The main reason for the alteration of the settings on the android device is because Google does not openly support real money casino gambling and sports betting apps. This is why the Betsafe app is not found in Play Store.
Step 1: Go to your device's Settings, proceed to Security, and then allow the download for Unknown Sources.

Step 2: Go to Betsafe's mobile site version and then download the app's apk file.
Step 3: Wait for the download to complete. Once complete, click Install to prompt installation.
Step 4: Open the installed apk file and start betting!
Download Betsafe app for Android
Betsafe App for iPhone and iPad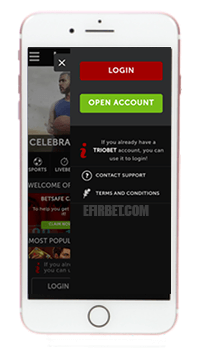 Betsafe is a famous Swedish bookmaker, and just like any Sweden's other great exports, the Betsafe mobile app is absolutely cool, stylish, and offers a great value for money. The Betsafe app has a lot to offer, which is why it is one of the best sports betting apps for iPhone and iPad right now. Betsafe is providing players around the world a whole load of offers across the vast catalogue of services available within the Betsafe app for iPhone and iPad users. The huge catalogue of services offered by the Betsafe app for iPhone and iPad gives players the opportunity to try out different markets and games.
The top features of the Betsafe Mobile App are as follows:
Live Betting
The Betsafe iPhone app lets the player place their bets as the exciting live action events unfold. The user can watch their favourite team play and place a quick bet on the result of the match. The live scores are updated automatically, so the user need not to remember to refresh their phone's screen. This is one of the most exciting types of sports betting feature and the Betsafe app has it covered.
Lots of Sports
The Betsafe app offers a lot of sports. There are more than thirty different sports that users can choose from. This includes all the usual favourites such as ice hockey, tennis, and football. Users may navigate to the sport is interested in from the A-Z link provided on the homepage.
Multiple Betting Opportunities
The user can enjoy bets in large amounts on the Betsafe iPhone or iPad app. The app offers Asian handicap bets, double chance, and handicap, Classical 1×2 bets, and even halftime bets.
Excellent Customer Service
One of the edges of using the Betsafe app for iPhone is that their customer service is excellent. The user can talk to customer service advisory 24/7 via email and telephone, and if nobody answers the call within fifteen minutes, the user can claim a bonus of 10 Euros. Betsafe also provides users with English speaking advisers available 24/7 on live chat.
Easy Withdrawal
There are lots of different withdrawal methods available for free.
Casino Options
Betsafe app for iPhone and iPad also features a separate casino section so the player can enjoy a game of blackjack and roulette.
'You have to be in it to win it' is the tagline of Betsafe. This is definitely true! So, if the user wants to enjoy lots of great offers and special promos, cashback deals, the Betsafe iPhone app is one of the best on offer. And if the thrill of sports betting starts to pall, the user may check out the poker and casino sections of the app for extra fun.
How to download and install Betsafe app for iOS
Downloading Betsafe on the user's iOS mobile device is very easy to do since Betsafe has made downloading their app very simple. Old app users recommend the installation of the Betsafe iOS app as a bookmark on the user's chosen mobile device. This can save space on the user's iPhone and iPad device but can still get quick access to the mobile site. The first thing to do is go to the Betsafe website (www.betsafe.com) The instructional image below shows the steps for easier comprehension.
Download Betsafe app for iOS
Betsafe Mobile Sport Betting
The Sports offering on Betsafe mobile is wide and varied, with an excellent range of events on offer. It is exceptionally easy to scroll through in-play choices contained in the app, with the updated events which are easily scrollable at the top of the screen when entering the sports page. Just a couple of taps, the user can be at the centre of the action, placing a bet on the latest football match quickly. The wide range of sports can be accessed thru the sidebar, with the full scope of offerings.
Some of the sports bettings can be live-streamed but Betsafe also offers live update services to keep the user updated if he/she can't watch. Everything from the Olympic Games to trotting is covered by sports betting feature, which is a truly a whole new level of betting offering.
Mobile Site Version Review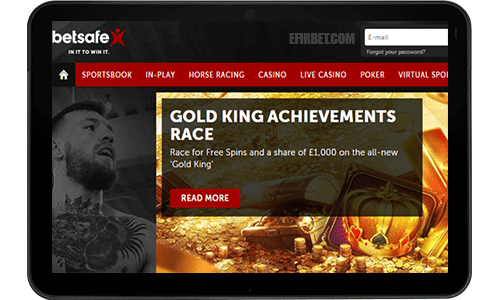 According to some users, the mobile site version might need a little improvement. The game providers should develop an easier way to provide navigation and do a little beautifying on the website design. The website design is dark- coloured that's why other users got lost in what they were looking for, so it is recommended to use a user-friendly background. Other than that, the mobile site version works just fine. All the games in the mobile site version are categorized on the left sidebar and have a search bar which lets the user find the game he/ she wanted to play quickly.
Differences Between Mobile App and Mobile Site Version
There is a little distinction between the Betsafe's app and its mobile site version. Let's understand their differences by listing down their advantages and disadvantages.
Mobile App:
Advantages:
Designed for mobile use
Has exclusive bonuses and promotions
Better security and stability
Disadvantages:
Includes system requirements
Needs regular updates
Takes up an amount in storage space
Mobile Site:
Advantages:
Easily accessible
Doesn't take up storage space
Disadvantages:
Less responsive
Has only limited features
---
Betsafe Mobile Casino
The Betsafe Casino App is not an average online casino. When it comes collections of a variety of the games, this online casino is tough to beat.
The real edge of Betsafe is its option for players to play every one of its casino games in fun mode or in real-money mode. This allows users to try and play as much games as possible before they make the final decision to register. The games in Betsafe Casino are divided into 3 different casinos:
Casino Black
Casino Red
Live Casino
---
Betsafe Mobile Poker Section
The Betsafe mobile poker, allows the player to play their favourite poker games anytime and anywhere. The customer should navigate to the poker game section to play the game. The Betsafe Company is licensed and regulated by the Malta Gaming Authority so rest assured that playing Betsafe mobile poker is safe to use. Betsafe mobile poker allows multi-tabling since it is essential to poker players. To open a new table when playing on the Betsafe Mobile Poker App, the player needs to simply tap the big "+" sign on the left of the table. That way, the player will be able to add up to 5 tables. The player's hole cards, from each of the open tables, will always show up on the mini table view above the add tables button.
---
Betsafe Mobile App Bonus
New customers can have a 50% bonus that can worth of up to £25 upon registering in Betsafe. There is a betting requirement in accordance to which customers have to deposit an amount and claim their welcome bonus. The welcome bonus is then transferred to the customer's account after activation.
There are also different promotions offered on the brand's sports app so as to offer Betsafe's players the chance to increase their winnings.
---
System Requirements and Compatibility
The Betsafe did not specify on the company website their mobile operating requirements for the Betsafe app for Android and iOS. Listed below are the generally compatible Operating system for Android and iOS:
for Android
Android versions 4.0 and above are enough to do the job
for iOS
For Apple users, iOS versions 5 onwards are very much capable of running the software just fine. It is also compatible with all Apple devices such as the iPhone, iPad, and iPod touch.
Compatible Devices
The following devices are compatible with the Betsafe app.
Android
Samsung: Galaxy S6, Galaxy S7, Galaxy S8
Sony: Xperia M5, ES, ZL
LG: LG G5, V30, X Power
Apple
iPhone 5, 5s, 5c
iPhone 6, 6S
iPhone 7, 8, X
---
Betsafe Mobile Payment Methods
Betsafe has a wide range of payment methods which are offered to customers, and they free of charge for payment and withdrawals. Check them out below.
Deposit
| Payment Method | Minimum | Maximum |
| --- | --- | --- |
| Visa | €10 | None |
| MasterCard | €10 | None |
| Entropay | €10 | None |
| Neteller | €10 | None |
| Skrill | €10 | None |
| Paysafecard | €10 | None |
| Instant banking | €10 | None |
| PayPal/td> | €15 | None |
Withdrawal
| Payment Method | Minimum | Maximum |
| --- | --- | --- |
| Visa | €30 | €50,000 |
| Entropay | €20 | €50,000 |
| Neteller | €25 | €50,000 |
| Skrill | €25 | €50,000 |
| Bank Transfer | €10 | €50,000 |
| PayPal | €10 | €50,000 |
FAQs
If you're confused about something, just read the comprehensive FAQs below.
How do I make my first deposit?
You can make your first deposit through four different methods: Credit Card, Bank Transfer, E-Wallets, and Bank Link Transfer.
What currency is allowed in making bets?
EUR is the only currency allowed in Betsafe mobile app.
Is it possible to make deposits to my friends through their Betsafe account?
No, it is not possible. You can only make deposits to your own Betsafe mobile app account.
Are there deposit fees?
Betsafe doesn't charge fees for deposits. However, the payment options that you choose may do so.
Is it possible to make withdrawals from my Betsafe mobile app account to another bank account?
No.
How quickly are withdrawal requests processed?
It may take up to 3 banking days before you can receive your withdrawal request.
Where can I read information about my bonuses?
You can find information about your bonuses on your account. Just visit My Account and then proceed to Bonuses.
Verdict and Apps rating
Betsafe is certainly one of the coolest sportsbooks in the industry of sports betting. The entire portal is an excellent platform in terms of games, design, and services. The Betsafe team is also popular for constantly changing their promotions, thus making the entire game of bets extra fun. Aside from sports betting, there are two casinos, two poker rooms, and so much betting fun on the player's whole gaming experience.
The Betsafe app is a great app that is easy and fun to use. All the major betting sports events are just a few swipes away from a player's fingers. As a final assessment of this review, Betsafe app is rated 8.5 out of 10.
Visit Betsafe mobile