Introduction to Boxing
At first glance, boxing might look like two people punching each other repeatedly with no specific rules, but in actuality, the sport is much more complex than people might imagine. We'll go over some boxing betting tips and tricks in this article to give you a better idea of what we mean.
There isn't a universally accepted ruling body for professional boxing like other sports, so each country has its own set of rules. In the United States, there are even different rules for different states. Bouts occur in square rings that are anywhere from eighteen to twenty-two feet, and they're fenced in with four different pieces of rope.
Professional bouts have 4 to 12 rounds, each three minutes long. In women's fights, you'll see two-minute matches more often. Referees stand inside the ring with the boxers, and they regulate the bout and ensure that both fighters follow the rules.
Sometimes, the referee scores the bouts with two judges who stand outside the ring. Most of the time, though, the referee doesn't influence the round's judging, and the score is decided by three judges.
Officials will award points to both boxers for each round, and one of the boxers needs to win two of the three scorecards to earn a victory.
---
Victory Methods
A bout ends when it lasts for the scheduled amount of rounds, and the scoring officials decide the winner.
Sometimes, conditions result in a draw. All three judges might award identical scores to both boxers. If two out of three judges awarded the opponents equal scores, the bout would end in a draw regardless of the third's score.
KnockoutBouts end in a knockout if a boxer is knocked down and can't get up within a 10-second count. In exceptional circumstances, a referee can choose to complete a match earlier if a fighter gets injured.
Referee Decision
Only referees can decide if a boxer caused a cut by punching or headbutting their opponent. If one of the boxers gets a cut on their head, the referee will take them to the ringside doctor when needed, regardless of whether it was because of a punch or not. Referee decisions occur during technical knockouts and technical decisions, and they end the round. Sometimes, there is no winner with a referee decision.
---
Technical Knockout
Fights sometimes end due to a technical knockout, which is when a referee or a ringside doctor deems a boxer unable to defend themselves properly or has a severe injury. Fighters can also call for a technical knockout themselves if they don't think they can continue the fight.
When the ringside physician decides the boxer can't continue the bout safely, the referee needs to stop the fight. If the referee decides that the opponent punched the boxer to cause the cut, the opponent wins by technical knockout.
---
Technical Decision
Technical decisions refer to when a boxing bout needs to stop because a boxer has headbutted their opponent. Most headbutts are not intentional, and they usually happen when the fight is close range.
If a fighter headbutts their opponent intentionally, they get a foul that might completely disqualify them. Technical decisions happen similarly to technical knockouts, where the doctor informs the referee that a boxer is too injured to continue the bout.
If the referee thinks the injured boxer's opponent caused the cut by an unintentional headbutt, the match ends. The ringside judges hand over their scorecards, and whichever boxer has more points at that point wins by technical decision. Fights need to go beyond the fourth round or the halfway point for either boxer to win by technical default. If a fight stops because of a headbutt before the boxers finish the required amount of rounds for a technical decision, the referee declares a technical draw.
---
Disqualification
Sometimes, bouts are no contest bouts because of an early and inconclusive end, such as if one of the participants is unwilling or unable to continue because of a cut or when the participants' heads clash. Disqualifications happen when judges stop a bout, usually when one of the boxers breaks a rule. Disqualified boxers lose by default, but if both fighters get disqualified, the result is no contest. Usually, disqualifications happen when boxers repeatedly foul, like when they headbutt, deliver low blows or rabbit punches, or bite their opponent. Referees typically warn offenders out loud, or they deduct a point.
If the boxer does something particularly bad, like kicking their opponent when they're down or pulling hair, referees will disqualify the opponent without a verbal warning. Referees can also disqualify a boxer if cornermen enter the ring or hit the opponent, even though that behaviour isn't under the boxer's control.
If a boxer isn't fighting or is excessively holding, referees can also disqualify them.
Disqualifications happen only at the referee's discretion, and fouling does not automatically disqualify a boxer.
---
Boxing Weight Divisions
Weight class divisions are fundamental to keep boxers safe. Size mismatches are dangerous for smaller fighters, and they are unsatisfying for audience members. There's a lot of classes, and they vary sometimes depending on the federation governing the bout.
Professional Leagues
World Boxing Association (WBA)
World Boxing Council (WBC)
International Boxing Federation (IBF)
World Boxing Organization (WBO)
Amateur boxing
In amateur boxing, the weight classes work a little differently. There aren't any federations involved, so they're a little more streamlined. There are three different categories: men, women, and junior.
These are the classes and limits for men
These are the classes and limits for women
These are the classes and limits for juniors
---
Where Can I Bet on Boxing?
Boxing betting has been growing for decades, and the market for this type of gambling is massive. Sports bettors in the United States can bet on boxing almost anywhere online, but you should be careful if you're planning on betting.

Rating
Starting Bonus
They have a mirror link
Various payments

Rating
Available demo games
An interesting design of the website
Active mobile apps for Android & iOS
New Customer Bonus up to €500 + 100 FS

Rating
Great website design
Chat feature
Variety of sports
200% Match Bonus up to $1000

Rating
Good odds
Plenty of sports
Helpful support team

Rating
Different bonuses
Cash Out
Different payment methods
New Customers only. Registration required. Bet £10* & Get £30* in Free Bets. Sign up, deposit between £5* and £10* to your account and bet365 will give you three times that value in Free Bets when you place qualifying bets to the same value and they are settled. Free Bets are paid as Bet Credits. Min odds/bet and payment method exclusions apply. Returns exclude Bet Credits stake.
+18 | Terms & Conditions
time limits & exclusions apply. #Advertisement

Rating
Big variety of sports betting options
Many slot games
Live casino games with real dealers
MELbet 100% up to €130 welcome bonus

Rating
High odds
Great markets
Superb support
100% up to £10 welcome bonus
New customers only. Min Deposit: £10. First deposit matched up to £10. 1 x wagering at odds of 1.75+ to unlock Free Bet. Debit Card & PayPal deposits only. This offer is valid for 7 days from your new account being registered. Terms apply 18+ |
begambleaware.org
|
gamstop.co.uk
There are many good online sportsbooks for Boxing out there that are safe to use and bet with, but there are also quite a few unsafe operators.
---
Boxing Facts and History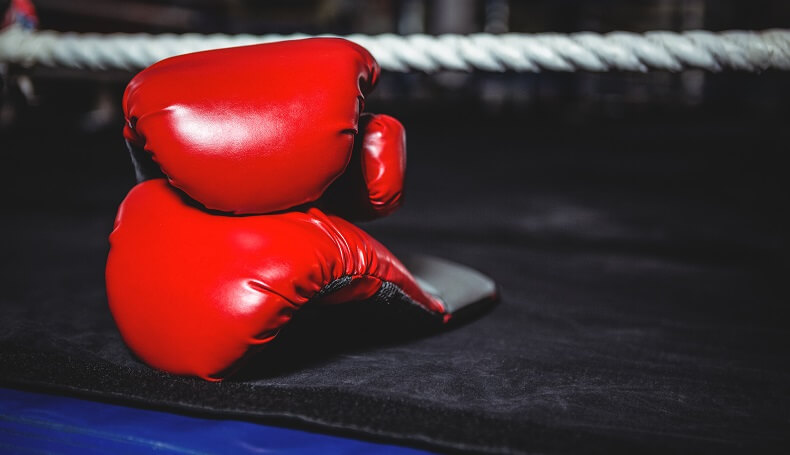 Boxing has a long history in both formal events, such as the Olympics, and much less formal events depicted in ancient Sumerian carvings.
Sculptures and art from Egypt in 1350 BC show both boxers and audience members, while Middle Eastern depictions of the sports show bare-fisted boxers, occasionally depicted with a band to support the boxer's wrist.
The earliest evidence of boxing gloves or other hand coverings come from Minoan Crete, around 1500 BC.
In Britain, during the late 1600s, people held illegal boxing contests, and boxers fought for money and side bets. Fans wagered on the outcomes, meaning that boxing and betting coexisted for a very long time. There weren't any weight divisions during this time, and boxers fought without gloves and sometimes even without rules.
Lighter men were at a disadvantage, and although rounds existed, boxers fought until one of them couldn't keep going. In these matches, rules allowed for wrestling, and fighters commonly fell on top of their opponents after knocking them down. Until the middle of the 1700s, boxers could also hit their opponents after they were down.
Eventually, a group called the British Pugilists' Protective Association put the London Prize Ring rules into effect in 1838, a set of rules that governed boxers throughout Britain and the United States.
These rules regulated a 24-foot ring bound by ropes. When a boxer knocked the other to the ground, the rules stated that the round ended, and the referee helped the knocked-out fighter to their corner.
The next round began thirty seconds later, and each boxer needed to reach the mark in the centre of the ring without help. If one of them couldn't reach the mark after eight extra seconds, that boxer lost.
The London Prize Ring rules also declared that kicking, gouging, headbutting, low blows, and biting were fouls.
In 1867, the Amateur Athletic Club created the Queensberry Rules, which emphasized technique and boxing skill. These rules also specified a ten-second rule for boxers to get back up without help (knockouts), rounds were three minutes long with a minute of rest in between, boxers needed to wear padded gloves, and wrestling was illegal.
The first classifications of weight divisions happened during this time.
The Queensberry Rules are the reason that boxing lost popularity in Britain and gained it in America. British people associated boxing with drinking and gambling, and large fights often happened among spectators.
On the other hand, Americans loved the energy that came with boxing. The sport was even illegal in Britain and became illegal in some states in America. During World War I, though, boxing was used as a training tool, and Americans began associating champions with American resolve.
Due to this, boxing started becoming more and more popular among the people, so states decided to regulate the sport instead of outright banning it.
---
Conclusion
Boxing has a long and detailed history, especially with betting. It's an incredibly popular sport, and the reason it exists and isn't illegal is because of how much everyday people loved it.
Lawmakers tried to make it illegal, but it still gained popularity. People even associate champions with power and revelry.
The addition of weight classes was a good call because they protect the boxers as they fight, even if the divisions aren't consistent across all rules and federations. Fighters can get severely injured very quickly, and it's the referee's job to make sure that they're as safe as possible.
Due to the joint history between boxing and betting, it's great to know that the tradition still exists today. It's even adapted to the Internet!
---
FAQs
How does boxing betting work?
There are a few things you can bet on when it comes to boxing. For starters, make sure that it's legal to place online bets for sports in your state. When you place a bet on boxing, you can wager on either boxer to win or lose, and in some cases, you can bet on the bout finishing in a draw.
How do I bet on a boxing match?
The first thing you need to do is make sure that it's legal in your state. Sports betting is legal in 25 states and Washington, DC, but not all states allow online betting. If it's legal to bet on sports in your state, then you just need to find a sportsbook to do so. If you can do so online, all you need to do is place a bet on that website.
What is a money line?
Boxing uses money lines to wager, like most other sports. Each fighter has odds for the fight. If the odds for a boxer are in the negatives, it means that boxer is more likely to win. You need to bet more money on that boxer to get the chance of a bigger profit, so if a fighter has -200 odds, you need to bet $200 to win $100. If a boxer has odds of +150, you need to put down $100 to win $150. Moneyline odds have $100 terms, but you don't always need to bet in increments of $100.
What is round betting in boxing?
With a basic round bet, all you're doing is predicting which round will be the last. Round betting can actually be more complicated than choosing a winner because there are more options and more chances to be wrong. Due to this, you might find some excellent odds. If the boxers are more evenly matched, the longer they'll fight, but if you're betting on a round where there's an obvious favourite, you should pick an earlier round.
What is round group betting?
Round group betting is a variation on round betting, and it's easier to win. In boxing, each round is part of a group, making it so that bettors can bet on groups of rounds to be the last ones. Depending on what the groups are, you could bet on rounds 1-3 or 4-7 to be the last. Instead of betting on one round, you're betting on several at one time. Round group betting is the best option if you're sure the match will be over quickly but don't want to take the risk of betting on a single round.
What's an over/under round?
Over/under rounds are similar to round betting, but instead of saying that a fight will end during a specific round, you're betting that the bout will finish before or after that round. The odds for these types of bets are closest to even if you bet on a round that's near the middle of the fight.
What is a victory bet?
You can add a victory bet to your wager if you are confident about who is going to win. You can bet on how the victor will win the round or if certain events will occur in the fight, like whether or not there will be a knockout. These events include knockouts, points, and draws.
What is an exacta box bet?
People often place an exacta box bet for horse racing, and you can win big for small stakes with them. To win an exacta box bet, you need to pick the first two finishers in a race in any order. A trifecta box bet is a little more complicated, and to win, you need to guess the first, second, and third-place finishers in any order.