In this article we will discuss how to bet on football matches, what to pay attention to before we put our money on bets, what betting options we have, and other tips and techniques on how to gain profits when we bet on football markets.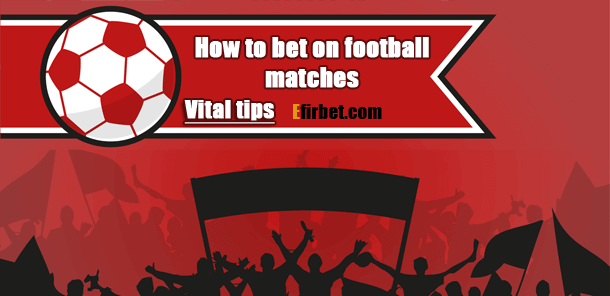 ---
What are football bets?
Football betting is betting on an event that you think will happen in a particular football meeting. Football bets are the most popular type of bets in the world. You have the most excellent variety of betting opportunities not only in terms of the kinds of betting markets but also in terms of the many football matches on which you can place bets. You can find a game on which to bet every single day. During weekends the variety of betting opportunities in terms of matches gets even more extensive.
---
Different football betting opportunities
Football markets are various. For championships like the Champions League usually, there are over 100 different betting opportunities only on a single match! Let's look at the main types of football betting markets:
Final result
ere you have three options- home team to win, guest team to win, or a draw. Remember that this betting market is valid for the real time of the match – the 90 minutes of the match + any additional time added by the referee. If the match is from a tournament like Europa League, Champions League or in any tournaments phase in which the winner is known after two matches, then things are different, and you have to remember some details. We will give you a simple example to illustrate what we want to say:

Let's say that Valencia and Napoli have a match in the quarter-final of Europa League. The winner will be known after two matches. If the first meeting has a result of 1-1 and in the second match Napoli-Valencia you decide to bet on Napoli to win. Suppose that the match ends again with a draw, then there are extra times (2×15 minutes) and Napoli scores in the 115 minute. The match ends 2-1 for Napoli. Do not think that you have won. For a final result, we take 1-1, you only win if you have placed a bet on a draw. There is another option with which you can win, and it is if you bet on 'Napoli to progress further in the tournament'.
To progress further in a tournament
You have two betting options here – one of the two teams to advance in the next phase of the competition. Usually, this betting type is offered by the bookmakers when the winner of the tournament will be known in two matches. Here, you only care about who will progress further even if the two games end with draws, when the team you have chosen scores more goals as a guest team, you will win.
Double chance
You have the option to secure your bet by betting on 2 of 3 options – home team wins or a draw, the guest team wins or a draw, the home team wins, or guest team wins.
Under/Over goals
This is one very famous betting type in which you predict the total number of goals in a match, whether they will be Over/Under a certain number.
Under/Over goals for a team
You can come across this type of bet very often. Here you also predict the number of goals but only for one of the teams in the match.
Both teams score
Two options are available here – Yes or NO. If you think that both teams will score during the match, you bet on the odd with Yes. If you believe that only one team will score ore none of them will score, then you bet with No.
Handicap result
An exciting type of bet in which you virtually give an advantage to one of the teams. Here is an example:

Let's take as an example a match between Arsenal and Tottenham
You see the handicap win for Arsenal (-1), and you bet it. This means that virtually the match begins with -1-0, or you accept that Arsenal is always one goal behind in the game. This means that Arsenal must win the match with at least two goals difference so that you can win your bet. If Arsenal wins with one goal difference, you lose.
Another example for the same match: You bet on a handicap draw by giving +1 goal to Tottenham. This means that virtually Tottenham is one goal ahead and you have predicted a handicap draw. This means that for a Final Result Handicap Draw to happen, Arsenal must win the match with only one goal difference, meaning that if the result is 1-0 or 2-1 for Arsenal, you win. If the game ends with a draw, you will lose because in your handicap bet you have given one goal advantage to Tottenham.
We hope that you have understood how the Handicap Result operates because when you believe that a team will evidently win the match, Handicap Result is a very convenient betting type.
Asian Handicap
Much more convenient than the standard Handicap since it somehow protects you from losing all of the money you have wagered. There is no option to bet on a draw, but a match's draw plays a crucial role in a certain bet. Asian Handicap offers greater odds. The confusing part is when you see the Asian Handicap for a win (-1, -1.5)
Here is another example to make it clearer:

You have chosen to bet on the match Fulham – West Ham. You bet 10 euro on Fulham to win with an Asian Handicap (-1, -1.5). What does this mean? In reality, you place two bets that you see as a single one. 5 euros are placed as a bet on the Asian Handicap -1 and 5 euros are placed on the Asian Handicap -1.5. If Fulham wins the match with 2-0, you earn the entire profit. If Fulham wins with 1-0, you lose half of the bet – 5 euros on the Asian Handicap -1.5 since 1 goal is less than 1.5. What happens with the other 5 euro bet on the Asian Handicap –1? Well, they go back to your account.
Here's how the Asian Handicap to some extent protects you from losing the whole stake. Of course, if West Ham wins the game or the game ties, you lose the entire stake. Asian Handicap offers betting on independent lines, -1.5, -2.5, 1.5, 2.5 and so on.
Goal line
You bet on total goals in the match, the idea is the same as in the Asian Handicap. When you see a line above 1.5, 2 goals in the game, if the game ends 3-0 or 2-1, then there is no problem, but if it ends with 2-0 or 1-1, what happens then? Actually, you still have 2 bets – one over 1.5 goals and one of more than 2 goals. At 2-0, you win the over 1.5 goals line.
The other line of over 2 goals, gives you back half of your bet, and thus you do not earn everything, but you still have some profit. This is how the goal line works, and you should definitely take advantage of it.
Football markets offer many types of bets. You can also bet on the scorer of the match, who will score the first goal of the game, how many corners will there be in the game, how many cards the referee show, you can predict the correct final score of the match, separately you can bet on how the first half of the game will finish, how many goals will be there and other exciting bets.
---
In-play bets
After we have already described the main types of betting markets on which we can place bets, let's look at one more specific part of the bets – in-play bets.
---
What are they?
These are bets that you can make during the match as it is being played. All bets like the final result, goals in the match, handicap, and so on, are active in in-play betting, the difference is that odds change during the match.
For example: Inter and Atalanta have a match. Assume that before the match odds are 1.5 to Inter wins, 4 to Atalanta wins and 3 for a draw. The match starts and Atalanta scores in the 20 minute of the match. Then live odds will change as soon as Atalanta leads the result, the odds on it to win will be lowered, and the ones for Inter to win will get greater. The more time goes in the game with this result, the odds for Inter will get greater, and these for Atalanta to win will decline.
One of the advantages of in-play betting is that if at some point the favourite team in the match loses surprisingly, you can bet again on it to win with higher than before the match odds. You can use this tactic especially if you watch the match live and see that the favourite attacks regularly and is on the edge of scoring. The other option is to bet on the next goal in the game for the team that attacks and seeks to score.
In-play betting gives you great opportunities that you should certainly try. One more useful tip to bet live is to place bets on corners. Assume that you are watching live match, you see that both teams are attacking each other or one is closed in its own half, attacked by its opponent who does a lot of corners. If you think they will continue doing this until the end of the match, bet on more corners in the game. The familiar decimal, fractional and American odds are excellent in most cases.
Cash Out option
If before the game you had bet on a particular match event, and the event has happened in the first half, for example, then you can use the cash out where you close your bet before the game is over and store certain profit. In most cases, it is less than the one that could be earned if you wait until the final whistle, but it depends on the bet and the match itself. Most bookmakers offer partial closing of the bet.
For example, if you have bet 50 euro on Liverpool to win against Everton with odds of 2, you can actually earn a maximum of 100 euro (50 x 2). If Liverpool is ahead with a result of 2-1 in the 70th minute, for example, but the team has one player less and Everton attacks and is close to a tie, you can partially close the bet, leaving for instance 20 euro and taking a profit of 30 euro with odds of 2. This means your gain will be 60 euro If the game ends with victory for Liverpool, you would earn the rest of the profit, but if Everton ties, you will be secured and will not lose everything.
To summarize, in-play betting has:
+ Advantages:
Opportunities to bet on high odds on the favourites
Choosing the bet depending on the development of the match
Opportunities to bet on a variety of betting markets
- Disadvantages:
Risk that you get deceived by certain odds
Risk that you can stop following your betting strategies
Nevertheless, in-play betting is an opportunity that each bettor must try and earn profits from.
---
What to pay attention to while betting
This is a critical point because many people bet without being interested in the facts before a match or they have just seen predictions somewhere for 5 games at one place that most likely are computer-generated forecasts.
Successful players in the football markets, and not only, are always interested in the facts before the game.
Things that you should always check before you bet are:
Statistics from at least the last 6 games of each team;
Injured and suspended players;
Statistics from past matches between these two teams;
The physical form of the teams;
What is the environment in the dressing room of the team (or more accurately the mood of the players before the game). It is important to follow the interviews and comments given by each player.
All these facts are essential because, for example, a change of the coach would affect a team both positively and negatively. The same is valid for the absence of key players. There are analyses before the game that are very useful and can really give you tips for successful betting.
When you decide to bet on so-called accumulators or a bet slip with a few predictions, our advice is not to form the accumulator from too many matches. Indeed, there is always a chance to win, but if you lose only one from the ten games that you have placed a bet on and it is with the lowest odds, you will not be so happy. It is better to distribute the amount you want to bet on 2 or 3 bet slips and fewer matches, so your chance of success increases significantly.
Be careful with bets on matches from state's cups or finals of different tournaments. Very often in the early stages of the Cup of the country, small teams, especially if they are the host, play above their abilities to promote their players and to earn more money, and qualify for the next phase. There are numerous examples in which the big favourites lose such matches. The situation is similar to the final games and derby matches. There, regardless of the current form of the teams, players always put an effort to win the game.
Once you have gotten to know the principles of betting on football matches, you can now sit down and choose a few games to bet on, then analyse them, read and earn profits. Good luck!