Virtual horse racing is an RNG form of horse racing, so it combines elements of online casino games and sports betting services. This game has become popular because it runs for very short periods. Also, it can be played on-demand, meaning the horses will run when you confirm your wager. E-sports enthusiasts also appreciate these games because of the live streams. Since virtual sports are developed with random number generators, punters can be sure that they are fair.
TOP Bookmakers for Virtual Horse Racing Bets
If you are interested in virtual horse racing betting, you can consider signing up on these highly trustable platforms.
Bwin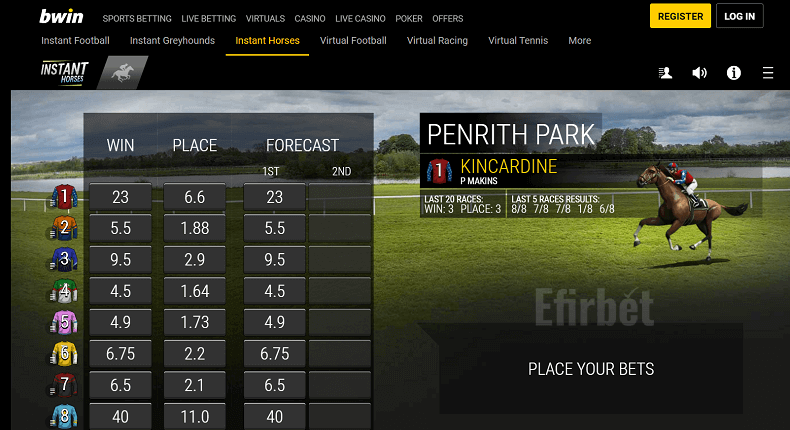 Bwin is among the best bookmakers for virtual horses. It has been running since 1999, when it was known as Bet and Win. The bookie has a gambling license from the UKGC, and it has sponsored a number of high-profile events around Europe. In the virtual horse racing section of Bwin, you will be able to punt on games such as Instant Horses and Instant Trotting.
Pros:
The bookie allows users to stream the virtual horse races, and this can create more thrill in the bets.
The odds can be viewed in decimal, fractional, or American formats.
Since the races are run on-demand, you can place wagers at any given time.
Cons:
Telephone support is not available 24/7.
Bet365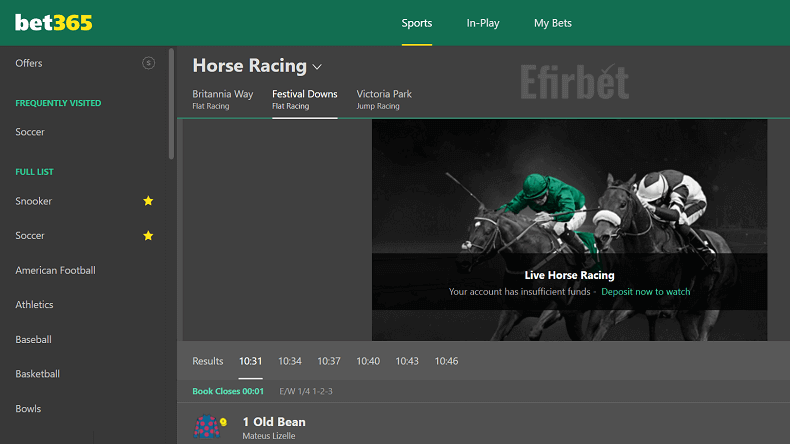 Bet365 is another excellent gambling service for virtual horse racing betting. On this bookie, you will be able to bet on virtual horse races on Trentham Park, Britannia Way, and Festival Downs. The virtual games are streamed in realistic feeds, and this can make the gambling experience a lot more thrilling. As a member of Bet365, you will also be able to build a stable, and the bookie will alert you when your selected horses are running.
Pros:
It offers a maximum daily win of £1 million per day on all virtual horse racing bets.
You can use the best odds guarantee bonus when betting on virtual horse races.
Since the bookie has a UKGC license, you can be certain that its virtual horse races use random number generators.
Cons:
Your Bet365 account can easily get limited if you win large amounts.
William Hill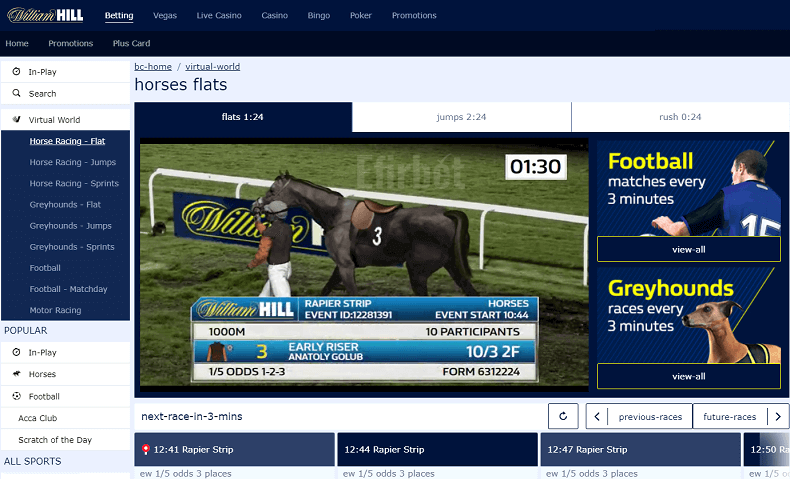 William Hill is one of the best bookmakers for virtual horse racings, and it offers different varieties of horse races. These include flat horse racing, jumps, and sprints. The horse races are held every three minutes, so you can place bets at any time of the day. This website of William Hill has a UKGC gambling license, which means the virtual games are not rigged.
Pros:
Since virtual horse races run for short periods, you will not need to wait long for the bets to be settled.
You can access the virtual sports section in different languages, including English, German, and Irish.
With William Hill radio and podcast, you will be able to learn more about horse racing.
Cons:
Players cannot claim William Hill VIP bonuses.
Betfred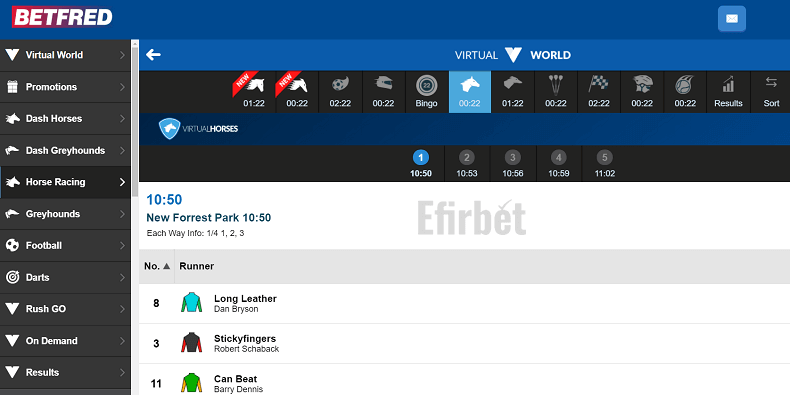 Betfred is known for its numerous bonuses and promotion. The service has been in existence since 2004 and has managed to grow significantly, particularly in the UK market. The operator Betfred is now among the best UK platforms for virtual horse racing bets.
Pros:
The layout of the website allows punters to quickly access virtual horse racing markets.
The bookie has a generous welcome bonus, which can be used to bet on virtual horse races.
Since it is a licensed site, punters can be certain that the virtual sports use random number generators.
Cons:
The KYC process takes a long time.
Ladbrokes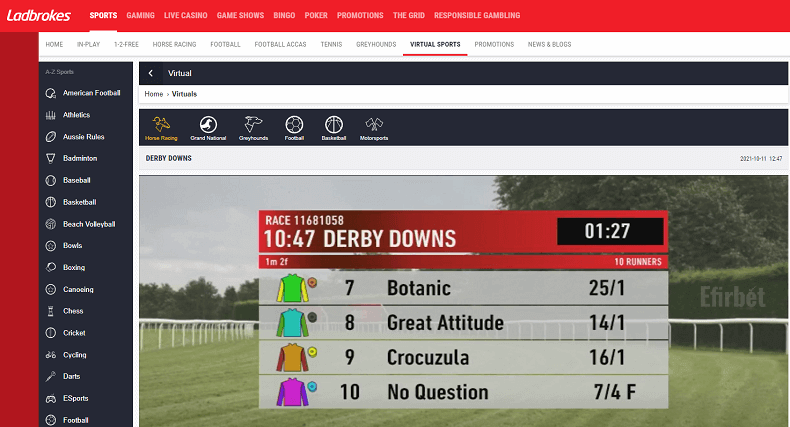 Ladbrokes offers virtual versions of the Derby Downs and the Grand National. These races are set up in horse racing flatform, horse racing jumps forms, and horse racing sprints. As one of the best bookmakers for virtual horse racings in the UK, Ladbrokes has a license from the Gambling Commission. This means its virtual sports have been checked for fairness.
Pros:
It offers high virtual horse racing betting odds.
It is regulated by the Gambling Commission, so players from Great Britain can safely use the platform.
Since the site has a mobile app, you can conveniently place wagers on virtual horse races while on the go.
Cons:
You can't deposit or withdraw money using cryptocurrencies.
---
What to consider when choosing where to bet on virtual horse races?
When selecting a betting site for virtual horse races, you should consider the betting markets, the odds levels, the software suppliers, the bonuses, and mobile usability.
Markets
For the best online betting experience, you should sign up on a bookie that features many virtual horse racing betting markets.
Odds
You should also consider the quality of the odds when selecting a virtual horse racing betting site. With higher odds, you will be able to make more winnings.
Software Suppliers
Virtual sports are designed by software suppliers, and you should consider these providers before choosing a betting site. Different software suppliers offer different qualities of games, so you should always go for the one that meets your needs best.
Bonuses
You should also choose bookies that offer generous bonuses, as these will give you leverage.
Mobile usability
Another important factor to consider is the mobile usability of the bookie. The mobile sites should fit well on mobile screens. In some cases, you may even be able to use mobile apps.
---
What is Virtual Horse Racing?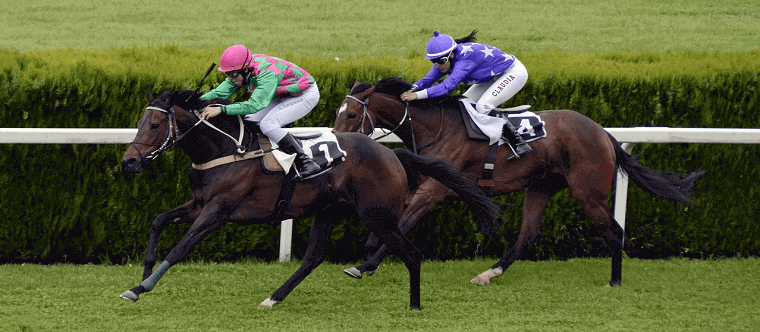 Virtual horse racing imitates real horse races, but since the games are controlled by random number generators, they can be played on demand. This means the race will start once you confirm your wager. The tracks, jockeys, and tournaments are all based on real places, and these are mostly in the United Kingdom and Ireland.
Virtual Horse Racing Types
Flat racing – These races are run on even surfaces and don't feature any obstacles. In these races, the winners are determined by their speed, stamina, and skill levels of jockeys.
Grand National – Grand National virtual races are based on the real-life event that goes by the same name. In this sport, horses jump 30 fences over two laps.
Jumps – This is a form of virtual horse racing, where the horses have to jump obstacles. The obstacles may be in the form of hurdles and fences.
Sprint Racing – Sprint races are run over distances of five feet to six feet.
Virtual Horse Racing Betting Markets
As you learn how to bet on virtual horse races, you will need to learn how different markets work. Let's look at some of these betting markets.

Winner
This betting market allows you to predict the winners of different horse races.
Top 2 Finish
With this betting market, you will have to pick the two horses that will be in the first two positions.
Top 3 Finish
When betting on the top 3 horses to finish, you will have to pick the first three horses that will win the race.
Forecast
Forecast betting markets will allow you to predict which horses will emerge in the first and second place. You will only win if the horses finish the race in the predicted order.
Tricast
A tricast bet allows you to predict the top three horses to finish the race, and you also have to specify the order in which they will cross the finish line. If one of the horses fails to fit in the order, the bet will be lost.
Each Way
Each-way betting is a unique betting market that allows you to predict that a specific horse will win or place by the end of the race. This bet type will require you to double your wager.
---
Virtual Horse Racing Betting Tips
If you are interested in this form of online gambling, you should follow these virtual horse racing betting tips:
Firstly, you should remember that trainers, jockeys, and horses are all virtual and don't exist in real life. Therefore, you shouldn't research them when choosing your bets.
You should also keep track of the time since the races run for very short periods. You can even use the responsible gambling features of the site to prevent you from spending a lot of time and money on the races.
While forecasts and tricast betting markets offer very high odds, you should remember that they carry the highest levels of risk.
Since virtual horse racing entirely depends on luck, you should create a bankroll management strategy and stick to it.
You should always punt on reputable and licensed online bookies since these cannot rig the games.
Online bookies are known for having some of the best bonuses and promotions, so you should always pick a platform that has generous offers.
---
FAQ
How do you bet on Virtual Horses?
Before you bet on virtual horses, you have to make a deposit to an online bookie. Then you can navigate to the virtual sports section, where you will be able to select different betting markets. You will then have to confirm your wager on the bet slip.
What is the best Virtual Horse Racing gambling site?
The best virtual horse racing gambling site is Bet365, and this is because it offers some of the best bonuses and promotions. Also, they have a very high winning limit.
Is betting on Virtual Horses legit?
Yes, virtual horse races are legitimate since they are designed with random number generators. The licensing bodies always examine the bookies to ensure that the games are fair and random, so you don't need to worry about getting scammed.
Can you bet real money on Virtual Horses?
Yes, you can bet real money on virtual horse races.
---
Final Thoughts
Virtual horse racing has been popular in online gambling sites for a long time. This betting option is featured in most online bookies, but the best betting services are offered at Bwin, Bet365, William Hill, Ladbrokes, and Betfred. You should only place virtual horse racing bets on sites that are regulated and licensed. Otherwise, you are likely to end up getting defrauded. Make sure you apply the betting tips listed in this guide as you bet on virtual horse races.