Ad disclosure
Here at EfirBet (EB) we pride ourselves on having a site that is completely ad-free. No ad blocker is needed while browsing EB. At the same time, we do use affiliate links to earn commissions (every time you click a link and sign up at a betting site). This revenue helps us deliver quality and trustworthy reviews for our readers at no additional cost to them. Read the EB
About Us
page if you want to learn more.
With origins dating back to 2001, Bwin is a predominant betting site, decades-long in the gambling scene and has a significant following in Europe and other parts of the world. Behind the scenes, the MGA-licensed site is operated by ElectraWorks Limited, a verified company with offices in Gibraltar.
While its excellent repertoire leaves a lot to be admired, this is equally matched in its peerless bookmaking and casino gaming services. In part, explaining why it has managed to gain global recognition.
Remarkable as it is, a player's/bettors journey can be bumpy, and it reaches a point when you want to quit gambling or take a break from Bwin. This decision will prompt you to delete your Bwin Account.
How do you go about the process? Well, read this piece in its entirety to find out.
---
Deleting an Account at Bwin – Step by Step Manual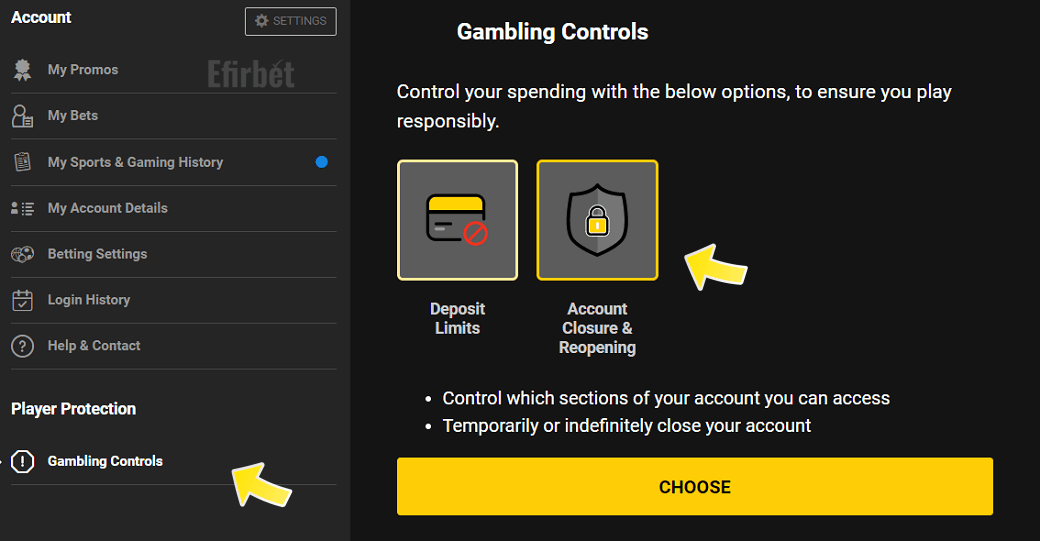 In case you are unaware, deleting an account at Bwin is an easy procedure that shouldn't take long. If you don't know how to delete Bwin account, use the following step-by-step procedure:
Launch Bwin on your computer.
Log into your account.
Navigate to 'My Account' section.
Scroll to 'Gambling Controls' option and open the page.
Click the 'Account Closure & Reopening' link provided.
Enter your account password and complete the procedure.
This process requires you to first sign into your account to access the 'Account Management' page. Moreover, you need to have your account password ready because the operator will prompt you to provide the information.
Once you submit your account closure request, sit back and wait for a reply from Bwin representatives.
---
Deactivate Your Account by Sending Mail
If the above process seems lengthy, worry not! This is because there is another way you can close your Bwin account, and that is using email.
Unlike the procedure described above, deactivating your account by sending an email is spot-on. But first, make sure you use the email attached to your account.
After confirmation, open your email on your computer and in the recipient section, enter Bwin's email [email protected]. In the subject section, write a short but precise heading.
After that, request to close your account in the body section. If possible, provide the reason or reasons and send the email.
---
Cancel Your Bwin Account Through the Website
Cancelling your Bwin account through the website is a great choice, especially if you are logged in already. You also have multiple ways to proceed with the process, including contacting customer representatives via live chat. But the most recommended method is to navigate to the 'Account Management' page and click the close account link. After that, enter your Bwin password and complete the process.
---
What Happens if I Delete My Bwin Account?
Before you go ahead and close your account, you need to understand what happens if you follow through. First, you will not be able to access any online gambling services from the operator.
In short, you cannot deposit cash, place bets, play casino games, or even access your betting history. Additionally, you will lose your entire profile.
Finally, Bwin will discard any customisations you will have made on your gambling account. Therefore, make sure you want to close your Bwin account before continuing with the steps.
---
How to Reactivate Bwin Account?
Unlike self-exclusion, deleting your account will trigger the operator to discard your information. This means you will have to go through the Bwin registration process once again to reactivate your Bwin account. If you googled 'how to delete my Bwin account' and successfully applied the steps, follow this procedure to reactivate your Bwin account:
Click the yellow 'REGISTER' button at the top right corner of the site.
Choose your country or residence and share your email.
Provide your full name.
Create a user ID and password.
Share your home address.
Enter your phone number and click the 'CREATE MY ACCOUNT' button to complete the process.
---
Bwin Contacts
The Bwin account closing process is supposed to be smooth and short. However, there are instances when you face problems that hinder you from deleting your account.
You may also have questions regarding the procedure. With this in mind, Bwin has multiple secure and responsive contact methods that you can use for assistance. The main communication options include:
---
Summarise
The information above gives a step-by-step procedure of how to delete Bwin account. It also provides alternatives that you can use in case one method fails.
If you have read this piece keenly, you should be able to deactivate and reactivate your Bwin account easily. You should also know what you can and cannot do as soon as you delete your gambling account.
---
FAQ
Will I Lose My Betting History After Deleting My Bwin Account?
Yes, you will lose your history after deleting your Bwin account.
Can I Reactivate Bwin Profile?
Yes, you can always reactivate your Bwin profile by registering again.
What is going on with my account balance when I delete my Bwin profile?
When you delete your account, the operator will withdraw your account balance to your e-wallet.