Last update by Efirbet on :
24 September 2020
FAVBET Review
This article will give you a detailed review of the betting services that you can access from FAVBET. Experts have done our review from their firsthand experience on interacting with the products offered by FAVBET. This review will highlight the various betting markets; odds offered, mobile gaming options as well as the general layout and design of the FAVBET website.
---
How to register at FAVBET?
Before you begin playing and staking your money here, you will need to have an active FAVBET gaming account. The account registration process at FAVBET is simplified, and it only takes a few minutes to get done. Setting up a gaming account is free. You will need to have a functioning email address as this used as the primacy of communication. The email address is also an essential element in the verification of your account, a process that we have described in detail in the next section.
Step 1: To get started, open the FAVBET main homepage on your favourite browser.
Step 2: At the top right corner of the page, you will find a green button labelled 'JOIN'. Click this button to begin the two-step account registration process.
Step 3: A pop-up window will appear prompting you to provide your email address and a password of your choice.
Step 4: Ensure you select a password that is strong to crack but still easy for you to remember.
Step 5: The second and final step is where you will provide your personal information such as full name, country of residence, date of birth, phone number and a security question.
It is important to note that the information you provide in this account registration process cannot modify in the future. Once you have submitted your account's details, you will receive an automated email confirming that the account has successfully registered.
Steps for activating and verifying your account
Account registration is not always the one and final step to begin playing at an online betting site. There is an extra step of account verification, which entails the site acquiring more details that will help them establish that the information provided such as your name and age are truthful. That is the case with the FAVBET site as well.
The verification process is quite simple as well. You will need to have some documents at hand before your account verified. The most important of these is your identification document. This can be either your national ID, driving license or passport. If you are using a passport, you will have to scan 2 or 3 pages of the document.
In addition to the identification document, you will also need to provide proof of address. That can be any utility bill that is no more than three months old. These documents should scan in clear copies that are eligible. You should then send the scanned copies to the support team through the email address info@favbet.com.
According to their stipulated timelines, the account verification process, once you have submitted the documents, should take no more than 24 hours. However, while doing our test run, it took about 48 hours to get feedback on this. If your documents are okay, then you will receive an email notifying you the same, or informing you to adjust or clarify something else.
How to recover a lost password?
If you had an account with FAVBET, but you are unable to login as you cannot remember the password or username, then you do not need to go through the hustle of registering another account. If you happen to record more than one account per household, IP address or individual, then it would be in breach of the company's terms, and it could lead to the closure of the account and forfeiture of any funds therein. So how do you recover your login details?
If it is a password issue, then click the 'Forgot Password' in the pop-up login window. That will prompt you to provide the email address that you used to register an account. You will then receive an email with a link to reset your account password within minutes.
Probably you previously held an account here but then you have been dormant for a long time, and now you are unable to log in. FAVBET normally deactivates accounts that have been dormant for more than 18 months. If this is the case, you should contact the support team, and they can assist with reactivating the account for you, rather than creating a new one.
---
Design, Structure & Menus
The layout and general user interface of the FAVBET website are quite impressive. The company went for a brilliant blue colour scheme that makes the site bright and catchy. If you are browsing from the desktop version of the website, you will notice that there are two modes to view the website.
There is the normal mode whereby the home page populates with quite some details from the various sports or casino betting markets. You can alternatively switch to the simple style. In this mode, the layout is much simplified, with only essential highlights left on the home screen. We found the simple mode view to be quite easy to navigate, especially if you are still new here.
The design and layout of the menu mirror the general interface of many other online betting sites. For starters, at the very top is the main menu or navigation bar. On this bar is a row of the various betting sections the site offers. Here you will find a tab for:
Sports
Live Betting
Virtual Sports
Casino
Live Casino
Lottery
TV Lotto
Promotions
To the right side of this menu bar are the LOGIN and JOIN buttons. On the left panel of the screen, you will find a list of the various betting markets available. These categorised in terms of different sports disciplines. Your bet slip placed on the far right panel. The mid-section of the screen contains a breakdown of specific games and their betting options.
When you switch from the sportsbook to the casino section, you will see the general interface change drastically. In the casino and live casino section, the screen mainly populated with tiles of the various casino games available. You can filter through the games using either the popularity, type of game, alphabetically or even games that you have saved as your favourites.
---
Sports Betting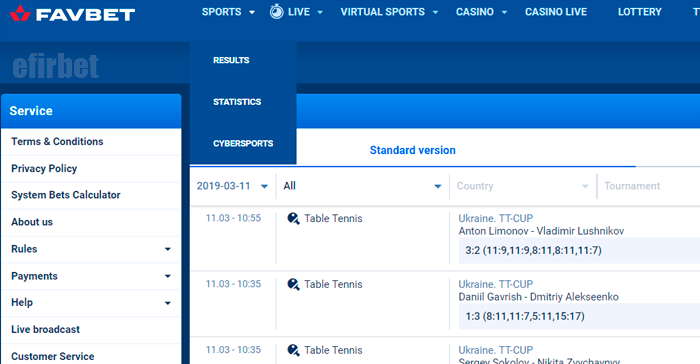 Since their launch in 1999, FAVBET's primary business focus has been in sports betting. The company has invested heavily in developing its sportsbook, and the results of this investment are quite evident. By most standards, this is one sportsbook that is very comprehensive, in terms of sporting varieties as well as market options offered.
The variety in the FAVBET sports betting section includes more than 35 different sports categories. The site takes pride in offering over 23,000 live events to bet on in any particular month. The sports offered here range from the most popular types such as soccer, cricket, tennis, American football, rugby, and golf, to alternative sports such as cross-country skiing, hurling, CrossFit games and motorsports. On any given day, you will have hundreds if not thousands of sporting events featured here to bet.
Amongst the list is also non-sport entertainment and reality events such as:
Political elections
Eurovision
other reality TV shows
Here you can even bet on when the first man will set foot on Mars, with some excellent odds.
A review of the sportsbook would not be complete without giving a few details on the world' most popular sport, soccer. FAVBET has done some justice on this sport. Their soccer section features leagues from the most popular to the least known around the world. In addition to top tier leagues in England, France, Spain, Italy, and Germany, you will also find matches from South American leagues, Eastern Europe tournaments and even American matches.
In terms of the odds offered, nothing is outstanding. FAVBET's odds set at average market rates, especially for soccer matches. That has however been the case with most established online betting companies as they already have an established client base.
---
FAVBET Welcome Bonus – Up To €10

FAVBET has an exciting way of welcoming you to their sportsbook. Rather than having the usual deposit match-up bonuses for new customers, FAVBET guarantees you a refund in their Risk-Free Bet promotion. Here is how it works.
If you are a new sign up, the first bet you make on any sporting event is guaranteed a refund if you lose. You could think of this as more of insurance from loses for new customers. The return can be a maximum of €10, or it is equivalent in any currency you are using. Qualifying bets have to be of odds of at least 1.5 for singles and at least 2.5 for multi bets. This offer is redeemable only once per customer. The bonus money will deposit in your account within 24 hours after the match is over.
It is important to note for you to activate this bonus, you have to move the slider placed in your bet slip to 'switch on' the cash back guarantee cover. If you do not manually move this slider, then the bet plays out like any regular bet per the house rules, and you will not get any refunds in case you lose.
---
Live betting on Sports
If you are into the thrill of live sports betting, then you will get your dose of adrenaline rush from the FAVBET live betting section. Here you can place in-play bets on live matches such as tennis, cricket, soccer, American football, ice hockey, basketball, and even e-sports. Live betting is made available on any sport that is technically possible to have the in-play bets.
To make it easier for you to track the live event you can bet on at any time, FAVBET has created a specific tab with a list of such. At the very top of the page on the menu bar, you will see a tab indicated 'LIVE'. By clicking this tab, you will introduce to a diverse range of in-play betting markets.
What's more, the live events have a live stats centre that keeps you posted on all key highlights and stats from the match. That helps you determine to which side the game is leaning. Thus you can make an informed betting decision. With some of these matches, you will even have a live streaming option. We will explain more on this feature and how to activate it in the next section.
---
Cash out option
It is quite interesting to note that FAVBET does not have any cash out options for their sports betting section. That is quite sad especially for a big brand that has been in operation for such a long time. We hope that shortly we will see some improvement in this section that has grown to be a fan favourite.
---
Live streaming feature
Aside from the let down with the lack of the cash out feature, FAVBET still has a lot more to offer. Most notable is the live streaming feature. Live streams give you as a player quick access to watch all the live matches and catch all the action as you place your bets. Unlike watching the events on your TV, the live streaming feature on FAVBET's website gives you the freedom to watch your favourite sport wherever you are.
What you will notice though is that for you to access the free live streams, you must log in to your account first. You will also need to have a balance of no less the €10 in your account, or have placed a bet of at least €1 in the last 48 hours.
The live streams are made possible through FAVBET TV. To view matches available on the live stream, click the 'LIVE' tab on the main menu bar from the homepage. A list of all live matches will appear. If an event has a green play icon, then a free live stream is available for it. A red play icon denotes the event is available on pay-per-view terms, while a grey play icon indicates the live stream is yet to start. Alternatively, you can also click the 'Live Event Calendar' to view a comprehensive schedule of upcoming matches and their kickoff times.
Our experience:
We did a test run of the live stream on football matches, and the quality of the video streams was quite impressive. Interestingly, there were no in-play ads that are common with free streaming services and the delay time was quite negligible.
---
Virtual Sports section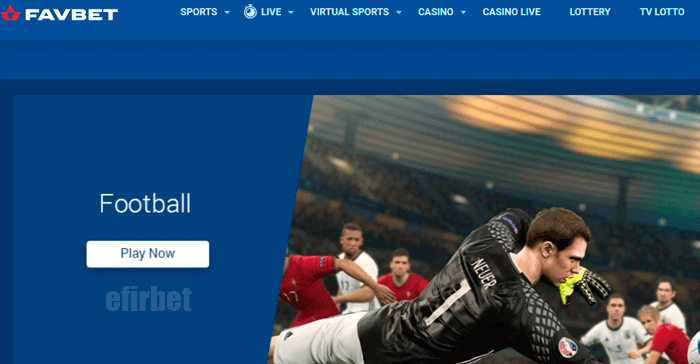 Also, to having such a rich sportsbook, FAVBET ensures you get a daily dose of your favourite sport even when the leagues or tournaments are on break. That is made possible through their virtual sports section. Virtual sports make use of 3D visualisation of real sports to provide round the clock entertainment and betting markets.
What makes the FAVBET virtual sports section outstanding is the idea of bringing together products from different developers. We noticed that at FAVBET, you would find virtual sports from Inspired Inc., Betradar and Vermantia. That means each sport gets represented threefold, giving you more variety to choose from.
Here you can watch and bet on:
virtual football
basketball
tennis
horse racing
table tennis
cycling
speedway
dog racing
F1 motor racing
Each of the three software providers has something that makes their games stand out. However, you will notice that none of them offers their virtual sports in on-demand instant play format. All the virtual sports here are scheduled to start at specific pre-determined intervals.
The odds offered in the virtual sports section seem more lucrative than from the main sportsbook. Interestingly, the virtual sportsbook is also part of the Risk-Free Bet welcome bonus package, and you will still get refunds for bets placed on virtual basketball, virtual football league, virtual tennis, and virtual football. The terms of this bonus will remain the same regarding the value of the odds.
---
FAVBET Casino Section
Even with such a comprehensive sportsbook, FAVBET has still gone out of their way in developing an online casino section. The FAVBET online casino brings together products from leading software providers such as NetEnt, Microgaming, Endorphina, Betsoft, and Habanero. In all, the online casino is powered by up to different online gaming software providers.
With such a lineup, you expect to find dozens upon dozens of online casino games of all kinds. This exactly what you get with FAVBET. Ranging from classic slots to 3D animated video slots machines and jackpots, this online casino has quite a lot to offer.
The layout of the online casino is elegant, with the games placed in specific categories. You will have a tab for slots only, jackpots only, table games and roulette. The site also allows you to save particular games as your favourites for easier access. You can also filter the games based on the latest additions to the catalogue.
One section that is worth highlighting is the Roulette category. Actually, rather than placing this together with the rest of the table games, FAVBET has developed a stand-alone roulette lobby complete with up to 22 different variants of this fan-favorite casino game. These include French Roulette, American Roulette, Roulette Royal, European Roulette, and Common Draw Roulette.
Another key attraction here is the jackpots section which features 18 different jackpots games. These include the most sought after jackpot slots such as Treasure Nile, Tunzamuni, Mega Moolah and Major Millions.
---
Casino daily promos

Now if you thought the FAVBET cashback insurance in the sports betting section was any interesting, then you will be amazed at the offers in the casino section as well. Here you not only get one but seven different bonuses. These are daily offer with each day having something special to give in the online casino.
You can start your week with the Active Monday bonus which gives you €10 for every €2,000 spent on any Monday here. The maximum amount you can get from this bonus is €50. On Tuesdays, you will get the Mysterious Tuesday offer in which three players who have lost at least €10 get their refunds. These three players chosen at random. Every Wednesday, the casino selects one Slot of The Day, and for every €1,000 you spend on the game, you get a €10 bonus, regardless of whether you win or lose. Thursdays have a Double Thursday offer in which three players chosen at random will have their wins doubled.
Things get heated up as the weekend approaches with the Tournament Friday offer in which players face off in a slots tournament with €150 worth bonus prize money. On Saturdays is another competition but this time in the live dealer section. The prize money for the Tournament Saturday also set at €150. To end the week is the Happy Sunday offer which pays back 10% of all loses made of more than €10.
With all these daily offers, the bonus money usually is credited in your account within 48 hours. It is also essential you go through the terms and conditions binding each of these offers before engaging in any of them for a better understanding of what is at stake.
Important note:
Some offers may be changed on a daily basis. That is why we advise you to check the Favbet website regularly.
---
Live Casino in FAVBET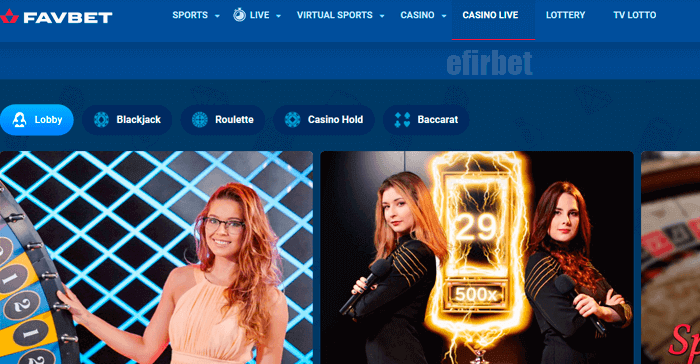 FAVBET also has a live dealer section with casino games designed to play out in a real land-based casino format. To enter the live casino lobby, click the 'CASINO LIVE' tab at the menu bar. The landing page is the leading live casino lobby comprised of all the live dealer rooms. You can alternatively jump to specific categories based on the type of casino game you are interested in.
The alternatives here include Live Blackjack, Live Baccarat, Live Roulette and Casino Hold. Each of these live lobbies has different variants of these games, all hosted by live dealers. The action is brought to life through HD video streams that are accompanied by crisp audio effects.
If you are interested in having a realistic casino session right in the comfort of your living room, then this is the section you should be playing in.
---
Other betting sections
In addition to the usual sports betting and online casino games, FAVBET has also built a brand around their lotteries and live TV lottos. That is particularly so in the Eastern European countries where FAVBET has an expansive network of retail outlets. These alternative betting options are for those who feel like lady luck is on their side, as no strategy can help you win here. There are two main categories offered in the FAVBET website:
Lottery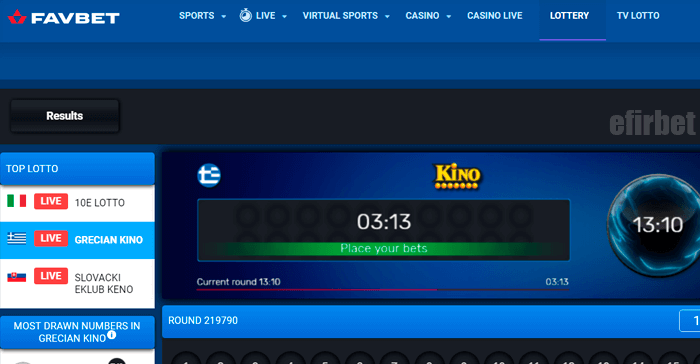 In this first section, FAVBET features international lotteries from around the world. Here you will find national lotteries from more than two dozen countries such as the USA, Turkey, Great Britain, Switzerland, Spain, Slovenia, and Australia. The beauty of this section is that it gives you access to all these international lotteries worldwide, regardless of your country of residence. You will have access to some of the oldest lotteries such as the Toto which is known to make millionaires.
Each of these lotteries has a draw set to take place at a pre-determined time interval. The lottery organisers independently determine the schedules. The number of lucky numbers involved as well will vary from one lottery to the other. After each draw, the results will be made available in your account's betting history for you to verify.
It is worth noting that you cannot combine a lottery bet with another bet such as on sports or casino in the same bet slip. But in the lotteries, you can place a stake of as low as €0.1 or as much €200, with the potential of winning €11,000 from each ticket bought.
---
TV Lotto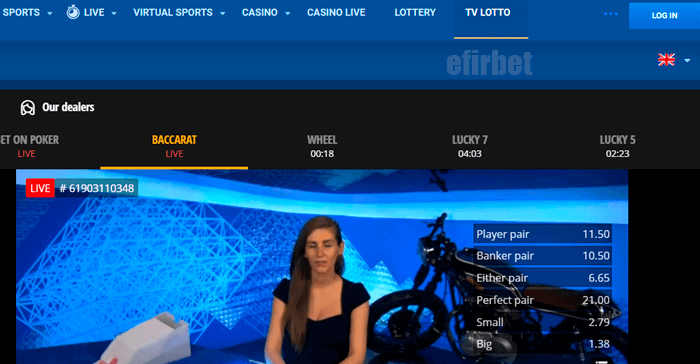 This is another lottery-based betting section that is available on the FAVBET website. The TV Lotto section is quite similar to the live casino in that the events are hosted by live dealers, with the live events being streamed live through HD videos. There are seven different game categories you can bet on here. These are Lucky 7, Lucky 5, Dice, Wheel, Bet on Poker, Baccarat, and War of Bets. Similar to regular lotteries, the draws are played out at scheduled intervals whose length vary from one to another. On average, you will have a new draw or game kicking off every three minutes.
What makes this type of lotteries interesting is that you will be interacting with the beautiful and entertaining live dealers. Also, TV Lotto games tend to have a higher return, which could be as much as two thousand times your stake money.
---
Deposits & Withdrawals
With such a global clientele, FAVBET has developed a flexible cashier section that accommodates multiple currencies and payment options. When setting up your account, you will be prompted to select the currency you wish to use, generally based on your country of residence. Since most of the bonuses here offered in terms of Euros, you will get the money deposited in your currency of choice based on the current Forex rates.
For your deposits and withdrawals, FAVBET supports a vast range of payment methods which include e-wallets, cards, internet banking, cheques, and direct bank transfers. In all, there are 27 different payment systems that you can use here. You will, however, notice that the methods available for withdrawals are slightly limited compared to deposits. In the table below, we have highlighted a sample of the major payment systems that you can use here:
| Payment Method | Deposit Minimum | Time for Deposit | Minimum Withdrawal | Withdrawal Maximum | Time for Withdrawal |
| --- | --- | --- | --- | --- | --- |
| Visa | €10 | Instantly | €10 | €3000 | 24 Hours |
| Neteller | €10 | Instantly | €10 | €3000 | 24 Hours |
| Skrill | €10 | Instantly | €10 | €3000 | 24 Hours |
| Paysafe Card | €10 | Instantly | | | |
| EcoPayz | €10 | Instantly | €10 | €3000 | 24 Hours |
| MasterCard | €10 | Instantly | €10 | €3000 | 24 Hours |
| Skrill 1-Tap | €10 | Instantly | | | |
| EPS | €10 | Instantly | | | |
| iDeal | €10 | Instantly | | | |
| PayTrail | €10 | Instantly | | | |
| WalletOne | €10 | Instantly | €10 | €3000 | 24 Hours |
| Boku | €10 | Instantly | | | |
| POLI | €10 | Instantly | | | |
| Bank Wire Transfer | ₽50 | Instantly | | | |
| Yandex Money | ₽50 | Instantly | ₽50 | ₽15000 | Within 24 hours |
| Qiwi | ₽50 | Instantly | ₽50 | ₽15000 | Within 24 hours |
| Russian post | ₽50 | Instantly | | | |
| Moneta.ru | ₽50 | Instantly | ₽50 | ₽15000 | Within 24 hours |
| Alfa-Click | ₽50 | Instantly | | | |
| Netellergo! | €10 | Instantly | | | |
| Bradesco | €10 | Instantly | | | |
| Webpay | €10 | Instantly | | | |
| Banco do Brasil | €10 | Instantly | | | |
| Itau | €10 | Instantly | | | |
| Promsvyazbank | ₽50 | Instantly | | | |
| Faktura.ru | ₽50 | Instantly | | | |
---
FAVBET Mobile Application
FAVBET is also available on the go through their mobile gaming platform. There are two ways in which you can play at FAVBET on your mobile device. The first option is through the downloadable app. It is important to note that currently FAVBET only has an app for the Android platform. They are yet to develop one for iOS mobile devices.
If you are using an Android smartphone or tablet, you can install the app using a .apk file provided on the main site. To download the .apk file, open the mobile site in your web browser and click the green download button. Alternatively, you scan the QR code using your Android device and the .apk file be download. You should note that since is an app provided independent of the official Google play store, and you will need to deactivate your security settings to allow installations from unknown sources.
The second alternative for playing on mobile is much faster and also convenient for iOS users. That is through the mobile version of the FAVBET website. To open the mobile site version, use the URL m.favbet.com on your mobile browser. The mobile site version offers the same kind of services as the main desktop site.
---
Affiliate program
With two decades of operation in the betting markets, FAVBET has a very robust affiliate marketing network. Their market network comprised of more than 400 partner retail outlets, in addition to there over a thousand physical shops. You can opt to either join their affiliate marketing team through the real partner shops or by using your online presence as an affiliate marketer.
The registration for the affiliate marketing program is free and quite comfortable. You can begin the registration by filling in your details in the form provided in this page. Once you have submitted your details, they will review pending approval which will communicate to you via email.
Once approved, you will receive the necessary API tools and marketing materials to assist you in pushing the content online. The affiliate program also has a support team that is available round the clock, and you can reach out to them through the email address affiliate@favbet.com. The commissions paid out every month, and they range between 25% and 35% of the online gaming revenue share. The minimum amount you can request payment for is €50.
---
Frequently Asked Questions
The FAQs below will give you more info on the various issues and common challenges customers face while playing at FAVBET.
Am unable to access the FAVBET site in my location. What do I do?
This issue is common if you are browsing from an area with restricted access to the site. In such instances, you will be required to use an alternative link that reroutes your traffic to the FAVBET site. This is made possible by the zerkalo sites, which mirror sites accessed through the alternative links. The product offered through the alternative links is the same as those on the main FAVBET site.
What do I need to be a FAVBET partner?
Provided you have an internet resource such as a website and a way of generating traffic; you can enrol as a partner here.
I tried to reset my login details, but I cannot remember the answer to my security question. What should I do?
In such a situation, you should immediately contact the customer support team and provide them with your account info. That will enable them to help you regain access to your account.
Does FAVBET have a loyalty program?
Yes, once you enrol in the loyalty program, you will be earning coupon points from every real money bets you place. The coupon points help you rise through the different ranks in the VIP program, with the potential to win more prizes.
Does FAVBET have a live chat option?
Yes, you will find a live chat option available on both the browser version and app version of FAVBET.
Does the TV Loto section feature the Lucky Six game?
No, instead, you will get Lucky Five and Lucky Seven, in addition to some other live lottery games.
Can I access customer support in another language other than English?
Yes, just as with the other website contents, the customer support is also available in multiple languages.
---
Company Information
FAVBET is one of the oldest betting brands still making waves, with a history that dates way back in 1999. In their two decades of operation, FAVBET has established itself as a significant online betting platform offering diverse betting markets with quite favourable odds. Over the years, FAVBET' operations have mainly focused on the Eastern European markets, with a massive presence in Ukraine and Romania. In the recent past, we have seen the company expand its operations to alternative markets in the Western block including the UK market.
Favourite United N.V. owns the FAVBET brand. That is the same company that is behind the day-to-day running of the FAVBET gaming website. The company based in Curacao with its physical address at the E-commerce Park Vredenberg Suite, Nr. C2, Office Center. The company has also obtained the online gaming license from within the same legislation as issued by the Curacao gaming and betting regulator.
---
Customer Care
FAVBET provides round the clock customer support services. The customer care is available in multiple languages such as Russian, Dutch, and Romanian, in addition to English. This makes it easy to communicate with their diverse global clientele. You can get in touch with the support team through either email, web calls or live chats, using the details provided below.
---
Contact Details
The customer service email address is: info@favbet.com;
The live chat portal is available under the contact us page;
For phone calls, FAVBET makes use of live web calls through your browser, rather than a regular mobile phone number.
---
Conclusion and rating
The year of experience in the online betting and gaming markets are quite evident in the presentation of the FAVBET website. Ranging from the general layout to the diverse betting markets, this gaming platform is quite impressive. The live streaming option and availability of virtual sports complete the setup giving you round the clock entertainment, even when you don't want to place real money bets.
A few notable cons here include a high percentage fee charged on withdrawals. However, this typically comes into play if you want faster withdrawals, rather than waiting for the 3 to 5 business days stipulated. Our final rating is 8.6/10.