Most recommended Bookmakers for French Cup betting
Roland Garros is the major tennis tournament that is held on clay. There are four Grand Stam tournaments held each year, and the French Open is the second one of them. Here, we will present to you the best Roland Garros betting sites that can offer you the most attractive gambling session.
Most recommended Roland Garros Bookmakers
1xBet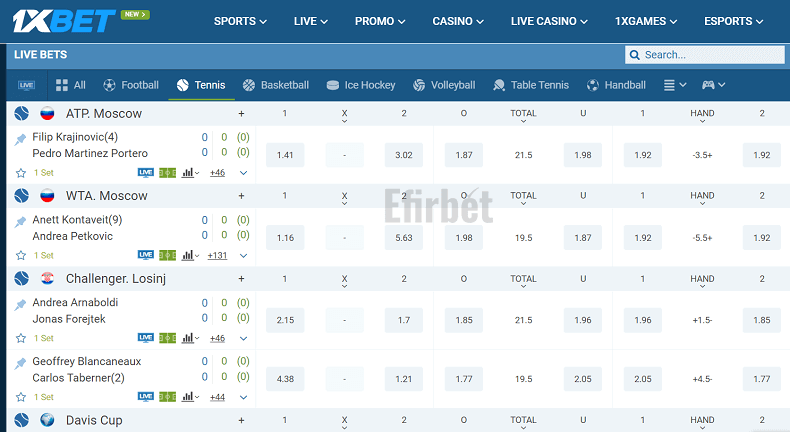 If we are talking about tennis betting, you need to know that 1xBet is among the major operators to list in this selection. This online bookie 1xBet is very popular among online bettors thanks to its vast selection of sports events and different betting features on offer.
Pros:
Lots of features on the platform
Easy to navigate
Competitive odds levels
Special Grand Slam promotions
Cons:
Blocked jurisdictions
Winning limits might be lower
Betway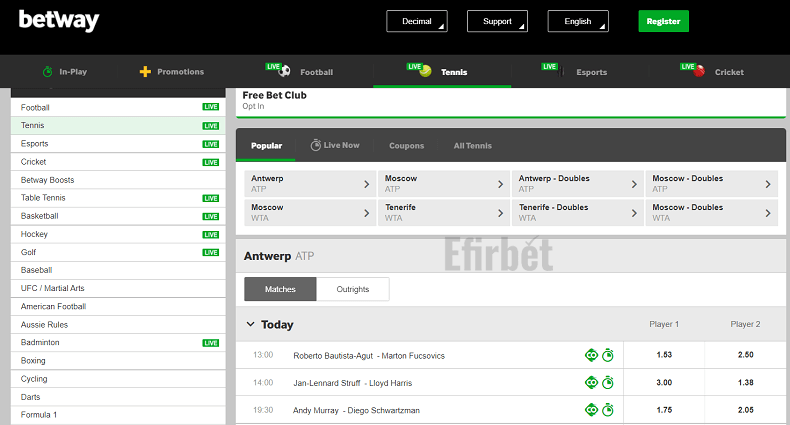 Thanks to their advanced services, some online sportsbooks have become players' favourites. Betway is one such example. This platform is perfect for betting on Roland Garros thanks to its excellent selection of markets. The odds given by the bookie for the different events are also worth the attention.
Pros:
High odds
Good selection of markets
Tennis free bet promotions
Cashout avaialble for tennis events
Cons:
Some features might be missing on the apps
Lower withdrawal limits
Bet365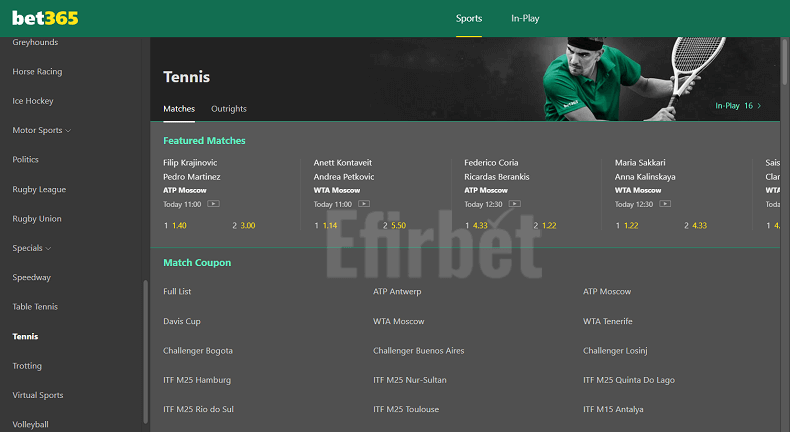 Those of you who are looking for an excellent betting session need to check the services of Bet365 as well. The top tennis tournaments, including Roland Garos are major ones in the sports events list of this operator. Moreover, Bet365 boasts a well-managed betting section full of convenient options that you will need for sure.
Pros:
Great streaming quality
Latest tennis news
Various betting features
Great mobile betting performance
Cons:
Odds might be less attractive for specific events
Not many Roland Garros-specific promos
Bwin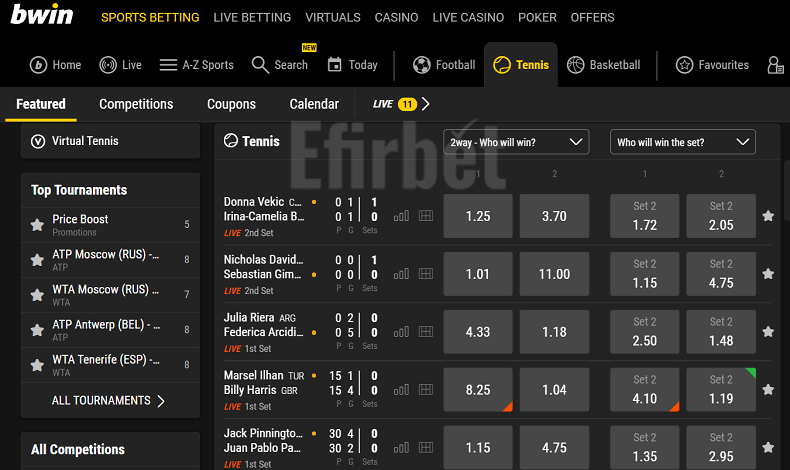 This operator is among the highly competitive betting sites. If we are talking about Roland Garros, you need to know that Bwin is highly recommended. It has a great live streaming service and offers a list of the most desired betting markets. This is what ranks it among the best betting sites for Roland Garros.
Pros:
Great in-play sections
Excellent live streaming service
Top markets for Roland Garros
Good profit margins for the tournament
Useful media options
Cons:
Some countries may be blocked
Odds might be lower for some tennis events
22Bet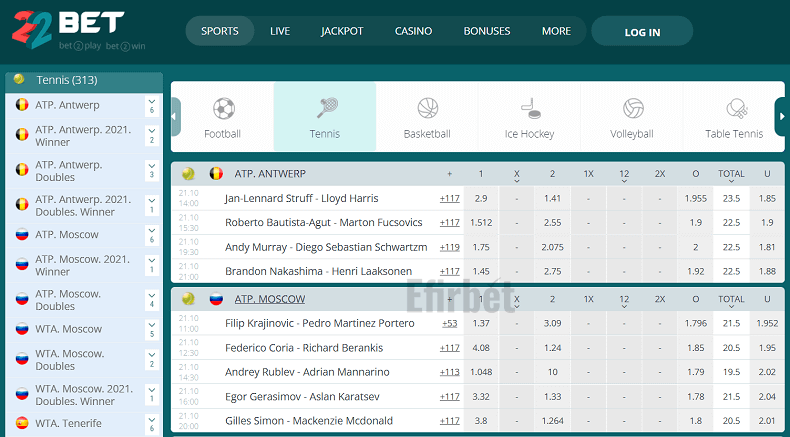 22Bet is yet another operator that needs to be listed among the best bookmakers for Roland Garros betting. Its advanced platform allows you to choose from the most preferred tennis tournaments. The betting site 22Bet has a vast selection of the most recommended markets for tennis matches. Besides, cashout is also available for betting on tennis.
Pros:
Cashout feature for tennis matches
Option for streaming more than one event
Edit my bet option
Higher payout rates
Cons:
Lower odds for Handicap bets
Slower withdrawal time
Melbet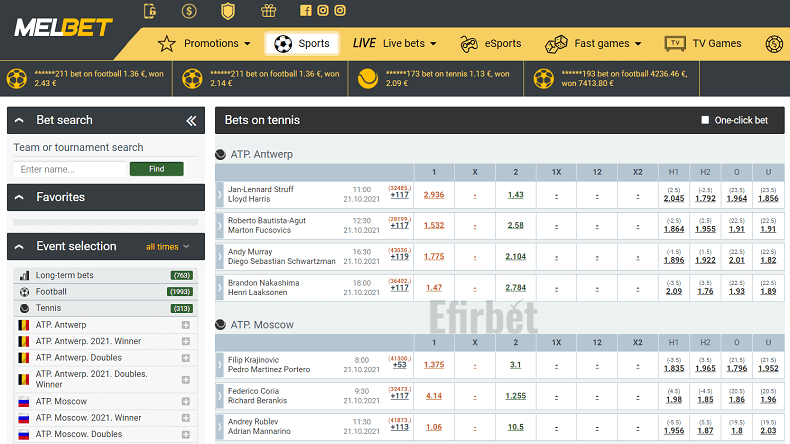 Melbet is an online sportsbook with a good reputation. The operator boasts an improved platform containing lots of the most preferred betting options. The online bookie Melbet offers numerous pre-match events daily. All top tennis matches are included in the betting schedule of this bookie. The list of available markets is also good enough.
Pros:
Top-ranked tennis pre-match events
Competitive streaming service
Faster withdrawals
Cashout on Roland Garros events
Cons:
Bet Builder is not available
A limited number of payment methods
888Sport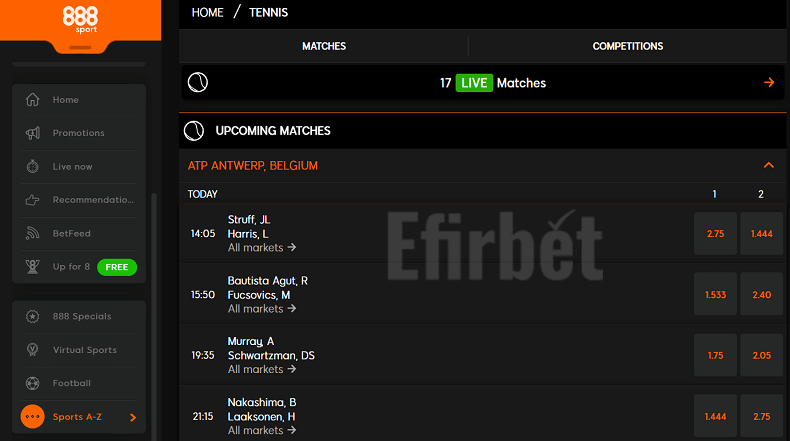 888sport is a leading betting platform with long years of experience in the gambling industry. If you like to bet on tennis and tournaments such as the Roland Garros, this online bookie will offer you a full cashout option. Not to forget to mention the higher odds for the major tennis events that you can also benefit from.
Pros:
Full cashout available
High odds for the Roland Garros events
Higher winning limits
Streaming of all tennis events
Cons:
Auto and partial cashouts are unavailable
A limited number of live betting markets
Unibet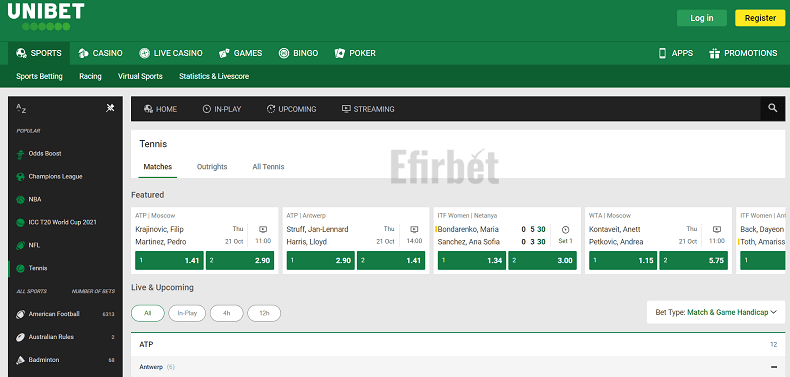 The selection of the best bookmakers for Roland Garros betting can not be completed without adding Unibet. This is an online sportsbook that offers very competitive services. It has a good selection of top markets for both pre-match and in-play events. You can also use cashout for the top tennis matches.
Pros:
Matches and outrights
Cashout on Roland Garros matches
Higher odds on Handicap bets
Good odds levels
Cons:
Longer withdrawal period
The quick bet option is not available
---
What to consider when choosing where to bet on Roland Garros?
Although you may like the Roland Garros tournament a lot, you need to focus your attention on some details. Before you access any of the best Roland Garros betting sites to punt, you are advised to compare the essential elements. Here are the major factors that you need to take under consideration
French Cup Markets
You may prefer a specific operator, but what you need to check is the number of Roland Garros betting markets on offer. The more markets you can choose from, the more betting opportunities that you might have.
Roland Garros Odds
Online sportsbooks are trying to offer odds that are compatible with those offered by their rivals. This means that in most cases, you will be able to find balanced odds levels. But still, some betting sites may surprise you with more advantageous odds for specific Roland Garros matches.
Live Streaming
The quality of the live streaming feature tends to be of great importance. Many bettors prefer to wager on the top tennis matches in the in-play section. Being able to watch the event with excellent quality is an option that many will be willing to benefit from.
Useful features
Some other features may come as very useful when you bet on the Roland Garros. Make quick research to find out whether the bookie that you have chosen offers other betting features. These could be full or partial cashout and others.
Mobile usability
The mobile compatibility of the best bookmakers for Roland Garros betting is crucial. Mobile gambling is preferred by many punters. This is why the betting platforms need to offer the same array of useful features and options on the go.
---
Most Popular Roland Garros Betting Markets
As we already mentioned, the list of available Roland Garros betting markets can be crucial for your overall betting experience. But the best Roland Garros betting sites have proven to be in top positions in this respect. Here are the most popular markets that you can use to bet on the French Open.
Match Winner – Use this market if you have a prediction of which player will succeed in winning the specific match from the tournament.
Over/Under – With this market, you can place a bet on how many sets there will be during the match. This market is used often by lots of punters.
Set Heading to a Tiebreak – You have the chance to bet not only on the match-winner but also on the correct result of the match. This market will allow you to predict the result in the number of sets.
Break of Serve – You can also place a bet to estimate if the player who takes the service will break it or not. The break of service is used by many punters because the tennis matches are dynamic, and this is an opportunity that should not be missed either.
To Win in Straights Sets – This market is used by punters who want to outline the player who will win by two sets during the match.
Outright Winner – The outright winner market is used when you are confident to determine who would be the player to win the whole tournament and not only the particular match.
---
French Cup Bonuses
If you want to have a bigger gambling excitement, you need to consider playing with a bonus. Some of the best Roland Garros betting sites can offer you special bonuses that can help you get generous rewards. Here are the most popular types of Roland Garros bonuses.
French Open Free Bets
Free bet promotions are often offered by the majority of betting sites. But the best bookmakers for Roland Garos betting will offer you free bets that are specially created for this particular tournament.
Money-Back Guarantees
In case you don't want to risk too much, you may benefit from the French Open money-back promotions. They can offer you the chance to secure part of your losses in case your bet is not winning.
Roland Garros Odds Boosters
The odds boosters are types of promotions that many punters want to benefit from. Being able to use Roland Garros blast outright odds can help you increase the betting chances.
ACCA Insurances
The Acca insurances are similar to the money-back offer. However, the Acca insurance offers are more suitable for punters who place multiple bets. This promotion will guarantee you money back even if more than one of your selections are not winning.
Roland Garros Specials
These are other types of promotions available for the French Open tournament. Many betting sites can also promote specific bonus code offers or other exclusive prizes to be won.
---
Roland Garros Betting Tips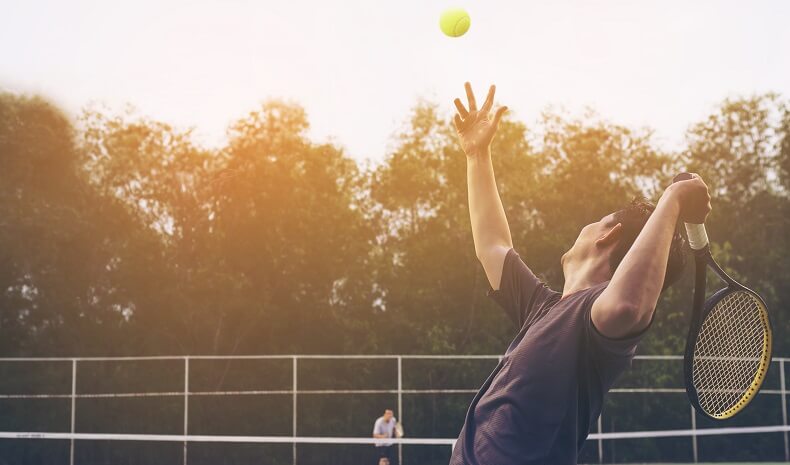 Before you decide to bet on the French Open, we advise you to have a look at the section below. Here, we have listed the major Roland Garros betting tips that other players also consider.
Find Roland Garros Statistics
It is important to know more details about the tournament. You can also find statistics about previous tournaments and watch for any details that you may need to know.
Explore the overall performance of the players
Each player has its style and capabilities. It is good to know who will be the contenders in each match. Analyse the gameplay of each player. This can help you make a better prediction.
Check the odds offered by the bookmakers
It is good to analyse the odds levels not only at the sports betting platforms. Compare the odds at more online sportsbooks too. Thus, you will know the average percentages to expect and choose the betting site with the more balanced odds.
Analyse the Roland Garros betting markets
As you may know, each operator may offer a specific array of markets available for a particular event. It is good to compare the French Open betting sites and check what are the most common markets on offer. Thus, you will be able to select the betting sites with the most convenient market for the French Open.
Pay attention to the Roland Garros promotions
Mind that not all bookmakers will offer exclusive promotions for the French Open. Some operators will rely on standard tennis bonus offers, while others will offer specific Roland Garros promos. Check the terms to find the ones that will be suitable for you.
---
FAQ
How do you bet on the Roland Garros Tournament?
First, you need to choose the top bookmakers and register an account. Then, you need to select the markets that you prefer and deposit the preferred amount.
What is the best Roland Garros gambling site?
We have managed to make a list of the top-ranked French Open gambling sites. However, among the best bookmakers for Roland Garros betting, we might outline Betway. This online sportsbook offers a vast selection of features that you can use.
When can I place an Outright bet on Roland Garros?
Choosing the Roland Garros betting market depends on your skills and preferences. To place an outright bet, you need to know very well how each player performs. This requires that you make lots of analysis.
What are the most popular Roland Garros betting markets?
One thing is for sure – the best betting sites for Roland Garros can provide you with the most attractive markets for this tournament. Among the most preferred ones are over/under, outright winner, match winner and many more.
Can I read Roland Garros betting predictions?
Yes, you can. Lots of information can be found in the blog sections of some of the top Betting sites for the French Open. There, you can find various statistics and data for the competition.
Which are the most attractive Roland Garros betting offers?
Many of the best bookmakers for Roland Garros betting offer various betting promotions. The French Open free bets, though, tend to be very preferred together with the Acca insurances and the odds boosters.
---
Final Thoughts
Roland Garros is among the most attractive and anticipated tennis tournaments. The best French Open betting sites can definitely meet the expectations of most French Open fans. These operators have an extended selection of betting options and multiple top markets to choose from. Their special Roland Garros bonuses can help you get generous rewards.