Storyline
In a deck of cards, the ace symbolizes excellence and has come to be associated with victory in most people's minds. This is particularly true of the ace of spades since it's traditionally viewed as the most valuable card.
As you might expect, Ace of Spades is themed after a card game, with symbols designed to mimic those you usually see on the cards. Is this a game you can win? There's only one way to find out.
---
Graphics, Sounds, and UX
Ace of Spades is an intentional throwback to old fruit machines. Consequently, the design of this slot is fairly simplistic. There are three reels in this game, framed against a simple kelly green background. Your paytable is helpfully displayed to the right of the reels, where it can be easily referenced at any time.
The audio component of the slot is designed to reinforce similarities to old fruit machines. There's no music. Instead, you can hear the whir and beeping of other people playing in the background. The symbols are carefully chosen to reinforce the card theme. They include the symbol for the ace of spades, a golden crown, clover, and the traditional playing card symbols (J, K, and Q).
---
How to Play Ace of Spades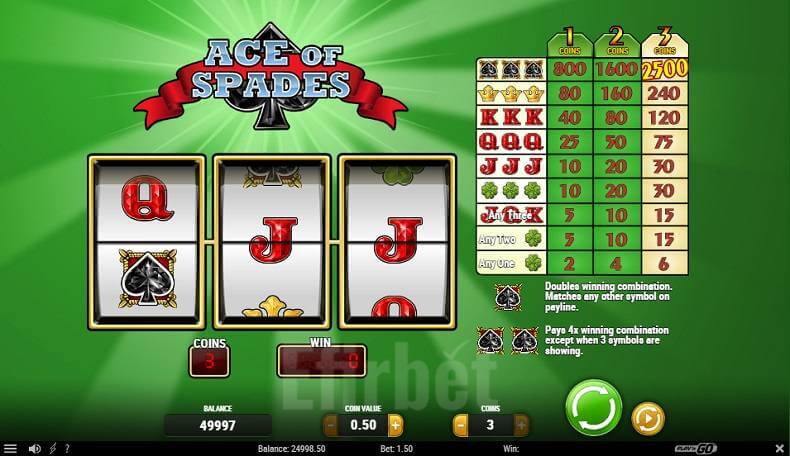 The controls for Ace of Spades are fairly straightforward:
Press the plus and minus signs under Coin Value to change your bet size.
Press Start to spin one time.
Press Autoplay and set your preferences in the menu to spin more than once.
---
Special Symbols and Bonus Rounds
The spade is the most valuable symbol in this online slot game. If you get one spade symbol, it'll double your winning combinations. Two spades will pay 4x.
If you manage to achieve three spades, you'll get a 10x higher payout than the next best payout. This means you could potentially win as much as 2,500 coins by betting three coins. In addition to all of this, the spade also serves as a bonus symbol—specifically, as a wild.
The golden crown symbol possesses the second-highest value in the game. This is closely followed by the king, the queen, and the jack. There's also the clover symbol. If you hit this symbol once or twice, you'll receive a small payout – potentially be up to six times your stake.
This online slot machine, with its one fixed payline and three reels, tends towards the simplistic. Therefore, most of the usual bonus features you might expect are absent. There aren't any bonus rounds or even free spins in this slot game.
---
Ace of Spades Volatility
Ace of Spades is a medium volatility slot game, making it a fairly good middle ground for those who dislike the increased risk of a high volatility slot and are bored by low volatility slots.
---
Strategies for Ace of Spades
Winning a slot game is based on pure luck. This means that there isn't very much you can do to affect the outcome. However, the more you know the game, the better placed you are to succeed when you play the Ace of Spades slot online, either free or with real money.
---
Ace of Spades Mobile Version
Ace of Spades on mobile is, for the most part, very similar to the desktop version of this slot. However, the paytable and some of the controls (specifically, the controls to manage bet size and how many coins you want to bet) have shifted from being positioned around the reels to being tucked into a multilayered menu.
This menu can be accessed by pressing a button in the bottom corner of the screen. The start button has also moved higher up to compensate for the smaller screen. However, this shouldn't interfere too much with your Ace of Spades free play.
---
Frequently Asked Questions (FAQ)
Where can I play Ace of Spades with real money?
Ace of Spades is playable with real money at many of the online casinos on our site.
What is the RTP for Ace of Spades?
Ace of Spades has an RTP of 95.94%.
How much can I win from Ace of Spades?
You can win as much as 2,500x your total stake.
Is there an Ace of Spades app available for Android and iOS?
Unfortunately, there's no app for Ace of Spades. However, you can still play on your phone through a web browser.
How much is the minimum stake?
The minimum stake in Ace of Spades is 0.25.
Will I lose my money in the Ace of Spades demo version?
Not at all. The demo version of this slot will allow you to play Ace of Spades for free.
Who would like Ace of Spades most?
New players are likely to appreciate the simplicity of this slot. Players who miss the old fruit machines may be similarly drawn to the nostalgic charm inherent to Ace of Spades.
---
More Classic Slot games