Ad disclosure
Here at EfirBet (EB) we pride ourselves on having a site that is completely ad-free. No ad blocker is needed while browsing EB. At the same time, we do use affiliate links to earn commissions (every time you click a link and sign up at a betting site). This revenue helps us deliver quality and trustworthy reviews for our readers at no additional cost to them. Read the EB
About Us
page if you want to learn more.
The advance bet in 1xbet is a perfect solution for those players whose accounts have run out of funds. The 1xbet advance bet allows you to still settle specific bets even if you are short of funds.
This happens as the operator will allow you to benefit from the advance bet if you have at least two pending bets. Then 1xbet will give you credits in advance that you will be able to use for those two unsettled bets.
---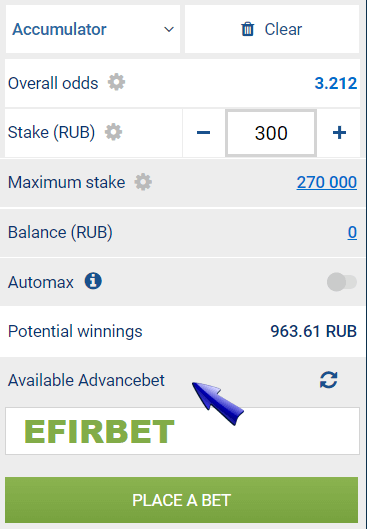 How do I Place an Advance Bet?
Of course, to be able to place advance bets, you need to have registered and verified your 1xbet account. The good news is that bettors who have unsettled bets can easily and simply benefit from the advance bets and use the trust funds that the operator will offer to them. Here is how to place an advance bet in 1xbet.
First, you need to access the live betting section of the operator.
Then, you can select the events that you want to place bets on.
You can then check the dedicated "Available Advance" field. There, you will be able to see what the maximum bet amounts provided by this feature are.
If you want to activate it, just tick the box next to it and place your bet.
---
What Events Can the Advance bet be Used On?
The advance bet at 1xbet can provide punters with great advantages at the right moment. However, there are specific details that need to be outlined. First of all, you need to know that the 1xbet advance bet can be used only on events at the live betting section of the operator.
The good news is that you can also use this type of bet even for sports events that are expected to start in 48 hours. Without a doubt, the advance bet at 1xbet can provide you with excellent flexibility.
---
Advance Bet Bonus Rules
If you would like to benefit from the advance bet and benefit from a trust amount provided by the operator, you will have to pay attention to specific terms. Certain advance bet bonus rules need to be followed. Here are some of the major terms and conditions.
Even if you have existing advance bets, 1xbet will allow you to place even more advanced bets if you still have unsettled bets.
The operator can terminate or erase the advance bets at any time without further explanation.
Bets that have been settled right before the advance bet or placed two days after the advance bet will be used to recover the available advance bets.
---
1xbet Advance Bet – Winning Tips & Tricks
The 1xbet advance bet offers flexible solutions to those bettors who need a bit of assistance at a certain point. This type of bet or promotion can still offer you the chance to secure some good winnings, cover the trusted funds and credit another amount to your account.
To place a winning advance bet at 1xbet, you will have to choose the events carefully. Make sure that you pick the right betting markets as well. It is also a good idea to compare the odds and make a quick calculation of the profit margins for the events that you have picked.
Bet on events where you are rather certain of the outcome and don't risk too much. After all, the goal is to be able to cover the trust funds and still add credits to your account.
---
1xbet Advancebet Offer Features
The advance bet offer will be extremely suitable for those punters who bet often and are constantly engaged in placing wagers. The advance bet has specific features, though, that you need to be aware of. Thus, you will have the chance to benefit from the potential that this offer can provide you with.
The advance bet promotion provides a unique chance to use your unsettled bets for the top live sports events and matches that are expected to take place within 2 days. The offer helps bettors clear the unsettled bets in their accounts easily.
---
FAQ's
What is an advance bet in 1xBet?
The 1xbet advance bet is an offer that helps you get trust funds and use them for the unsettled bets in your account.
What happens if I lose Advance bet 1xBet?
If this should happen, then the bets that have been used for the advance bet will have to be void.
How much is 1xBet highest payout?
This may depend on the type of bet that you have placed, but the maximum payouts at 1xbet may reach up to $600,000.