Ad disclosure
Here at EfirBet (EB) we pride ourselves on having a site that is completely ad-free. No ad blocker is needed while browsing EB. At the same time, we do use affiliate links to earn commissions (every time you click a link and sign up at a betting site). This revenue helps us deliver quality and trustworthy reviews for our readers at no additional cost to them. Read the EB
About Us
page if you want to learn more.
22Bet is a fully licensed and regulated sports betting provider whose reputation continues to develop through its commitment to competitive odds, fast payouts and multiple mobile-friendly betting platforms. With pre-match and live sports betting at the forefront of their sportsbook, 22Bet is an avid proponent of player-friendly betting features.
Therefore, with 22Bet offering such a vast selection of betting features, this article will explain how to rebet on 22bet. Moreover, it will explain other options, such as 22Bet's bet slip sale feature, explain how a bet slip sale works and how to use a bet slip sale on 22Bet.
---
What Does "Re-bet" Mean in Betting Industry?
The term "Re-bet" in the betting industry means that you are simply placing the same bet and stake you made on a previous betslip. For example, if you placed a €5.00 bet on Arsenal FC to win, a re-bet would allow you to repeat the bet on an upcoming Arsenal FC match.
Likewise, if you placed a €10.00 accumulator bet and wanted to repeat your bet, a re-bet would let you rebet on your selections and adjust them accordingly. Unfortunately, most bookies prefer a cash-out feature over a re-bet option due to the nature of punting and the vast number of betting options.
---
How to Rebet a Lost Game on 22bet?
The short answer about how to rebet a lost game on 22Bet is you can't, as such a feature is not offered. However, instead of offering the option to rebet, 22Bet offers a feature they call a "Bet Sip Sale". This feature, which is found in the My Account" section at 22Bet under the "Bet History" tab, will allow you to sell your bet back to 22Bet partially or in full in exchange for a specific amount.
---
22Bet Bet Slip Sale Feature
The bet slip sale is a sport betting feature at 22Bet that is offered to registered bettors. The bet slip sale feature is one of several betting features designed to give punters more control over their active bets. Similar to a cash out feature frequently offered by other bookies, the bet slip sale allows the settling of bets in advance of the conclusion of a sporting event.
As a 22Bet betting feature, the Bet Slip Sale option will provide two options for selling back your bets once a bet slip has been accepted. The first of the two options is a partial settling of your bet, and the second is a full settlement of your bet. In both cases, the settlement offer will depend on the game conditions and type of bet.
Primarily used by bettors as a money management tool to reduce potential losses, 22Bet offers a third option that lets bettors select an auto bet slip sale. With this option, bettors can indicate the amount that they are willing to sell their bet for, and should that amount be met, 22Bet will automatically settle their bets for that amount.
How to Use The Bet Slip Feature on 22Bet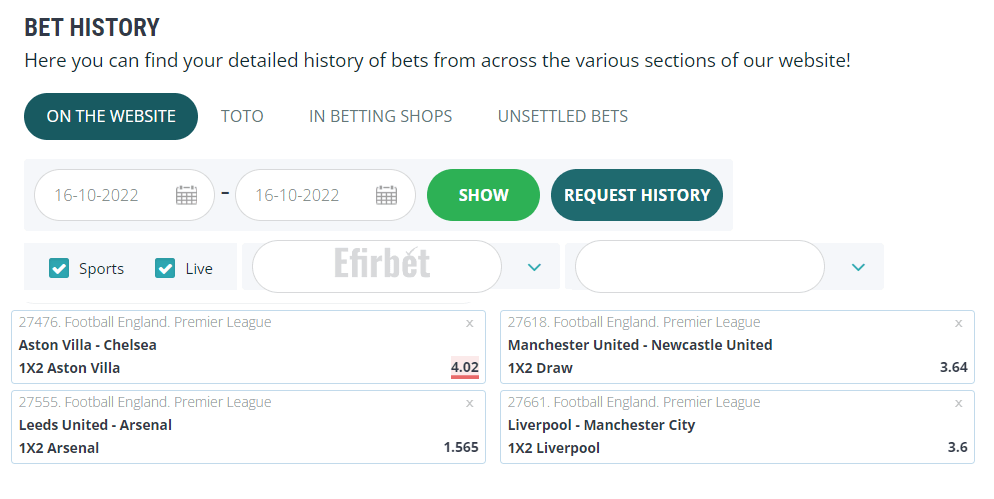 Naturally, how to use the Betslip feature at 22Bet is not remotely difficult as the bookie has designed it so that it only requires you to complete a few simple steps. To use the bet slip feature on 22Bet, you will need to:
Log into your 22Bet account.
Open the "My Account" section and select "Bet History".
Click on the "Sell" button.
Select "Partial" or "Full" to view the sell price.
Make your selection and settle your bet.
Keep This in Mind When Using the Bet Sale Feature
The 22Bet Bet Slip Sale feature is a great option for punters who want to manage and control the destiny of their bets. However, it is important to keep this in mind when using the Bet Sale Feature, as once you agree to a settlement offer, it cannot be reversed.
Determine if the odds favour a partial or full bet slip sale.
Compare both bet slip sale price offers based on those odds before accepting a bet settlement offer.
If opting to use the Auto Bet Slip Sale feature, make sure you indicate your intention immediately after submitting your bet slip.
Bet Slips That You Won't Be Allowed to Sell
While the majority of registered bet slips will qualify for the 22Bet Bet Slip Sale Feature, there are several bet slips that you will not be allowed to sell. Namely, bet slips where the sporting event is about to end or has already come to a conclusion will not be able to be sold. In addition, certain sporting events will be excluded from the Bet Slip Sale feature at 22Bets discretion, and therefore, punters betting on those events will not be able to sell their bets to 22Bet.
---
FAQ about 22Bet
How to adjust my account settings on 22bet?
To adjust your account settings on 22Bet, log in and navigate to "My Account", and select the setting you would like to adjust.
What is the welcome bonus?
2Bet is offering all new players who sign up using our 22Bet bonus code 22_1540 a 100% bonus up to €122.
Is it possible to cancel a bet?
No, once a bet is submitted at 22Bet, it cannot be cancelled.