Ad disclosure
Here at EfirBet (EB) we pride ourselves on having a site that is completely ad-free. No ad blocker is needed while browsing EB. At the same time, we do use affiliate links to earn commissions (every time you click a link and sign up at a betting site). This revenue helps us deliver quality and trustworthy reviews for our readers at no additional cost to them. Read the EB
About Us
page if you want to learn more.
22Bet is a fully licensed and regulated sports betting provider whose reputation continues to develop through its commitment to competitive odds, fast payouts and multiple mobile-friendly betting platforms. With pre-match and live sports betting at the forefront of their sportsbook, 22Bet is an avid proponent of player-friendly betting features.
Therefore, with 22Bet offering such a vast selection of betting features, this article will explain how to rebet on 22bet. Moreover, it will explain other options, such as 22Bet's bet slip sale feature, explain how a bet slip sale works and how to use a bet slip sale on 22Bet.
---
What Does "Re-bet" Mean in Betting Industry?
The term "Re-bet" in the betting industry means that you are simply placing the same bet and stake you made on a previous betslip. For example, if you placed a €5.00 bet on Arsenal FC to win, a re-bet would allow you to repeat the bet on an upcoming Arsenal FC match.
Likewise, if you placed a €10.00 accumulator bet and wanted to repeat your bet, a re-bet would let you rebet on your selections and adjust them accordingly. Unfortunately, most bookies prefer a cash-out feature over a re-bet option due to the nature of punting and the vast number of betting options.
What Does It Mean to Rebet on 22Bet?
The rebet options are common across many online betting platforms. Many gamblers are willing to rebet a lost game in their attempt to make changes to their initial predictions.
In most cases, the rebet option can be used mostly for bets included in accumulators. This allows punters to make any changes if a single selection seems to fail the whole accumulator on the betslip.
At this stage, 22Bet does not offer exactly the same type of rebet option. However, the operator seems to have included other extremely useful alternative features that bring you the chance to get an advantage over specific issues related to the bets that you have placed.
---
How to Rebet a Lost Game on 22bet?
The short answer about how to rebet a lost game on 22Bet is you can't, as such a feature is not offered. However, instead of offering the option to rebet, 22Bet offers a feature they call a "Bet Slip Sale". This feature, which is found in the "My Account" section at 22Bet under the "Bet History" tab, will allow you to sell your bet back to 22Bet partially or in full in exchange for a specific amount.
---
How to Rebet on 22Bet – Good Alternative Features
To provide its customers with fair gambling options, 22Bet will offer them several extremely convenient tools. There is an easy and helpful way to edit your bet at 22Bet.
Although it may not be possible to cancel an already placed bet completely, the operator will provide you with an option to choose an alternative, using other features on the website and thus reorganise your selection. Here is how you can edit your bets.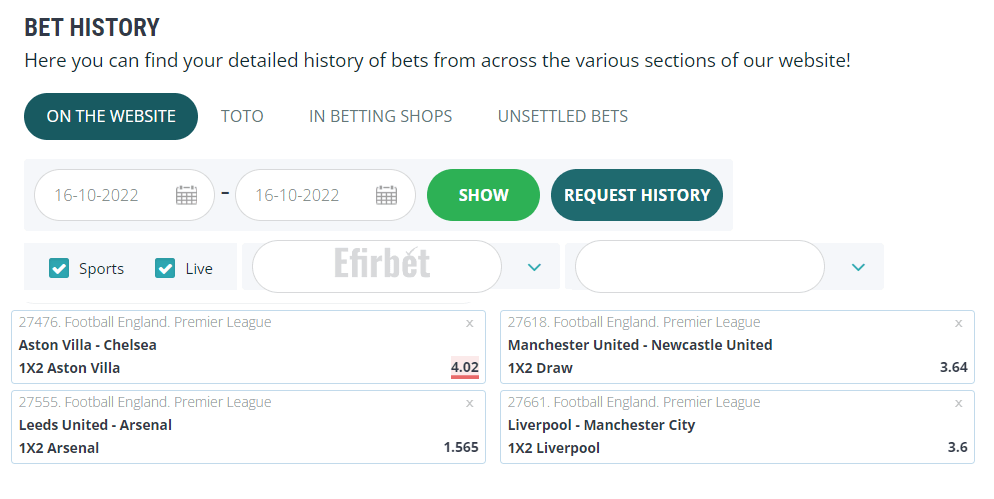 Enter your 22Bet account
Go to the betslip
Find the selections that you have made and select the one that you think needs to be amended.
You can either try to use a cashout feature or edit your betslip.
The operator will also offer you the chance to try to sell the specific bet. To do this, you can use the feature called "Bet Slip Sail". It is available in your account or under the "My Bets" tab.
As we have already mentioned, it may not be possible to completely cancel a bet or amend only the losing bet in your initial wager. However, the good news is that you can actually edit your betslip using some alternative options that will come in extremely handy, in case something seems to be not as good as you have expected.
Cash Out
The cashout feature is one of the best alternatives that you can use at 22Bet in case the situation tends to be unfavourable. The option allows you to style the bet before the specific event has ended. Thus, you can secure part of your losing bet, but you will not receive the whole amount of the wager. The cashout that you can receive will depend on the specific bet type and the event. Here are some other details to watch out for.
The amount that you can receive back will depend on the option you wish to use on your betslip – whether it will be a full or partial sell option.
❗ The sell option can be used only on single bets and accumulators at 22Bet
❗ Don't wait too long before you use the option because this may lead to lower profitability.
Partial Cash Out
This feature is similar to the one that we have described above. We need to clarify one thing, though. Keep in mind that the amount of the cashout will depend on whether you have predicted your bet. Yet another specific detail to outline is that those who use the feature to simply secure part of their bets will not be able to receive an among as big as those who use the feature on winnings. Here are some other things to consider:
❗ The sell feature may not be available if more than one event has been locked on your betslip.
❗ You may not be able to cashout in case the sell option has been already used in the betslip.
❗ If all bets on the betslip have been already settled, the sell options may not be available.
Edit Betslip
The betslip sale option is the major tool that punters can use to make any changes if they decide that a specific selection tends to be unfavourable.
To be able to edit your betslip, you need to have accessed your active 22Bet account.
Once you enter the betslip, the "Sell" option will be the major one to use.
It will help you use either a full or partial bet slip sale. You can also use both options depending on your specific preferences in the given situation.
---
When to Rebet a Lost Game on 22Bet?
The best thing about the 22Bet rebet features is that they can be used for all types of events. Therefore, punters will have the chance to benefit from the rebet options on major sports such as football, basketball, baseball, handball, rugby and more. Thus, you can use any of the alternative options at the right time when you need them.
For example, in case you want to try to get your losses back, the cashout feature will be preferred. On the other hand, in case you need to cash out part of your bet and use it for another selection, then the partial cashout will be a convenient option.
And if you need to amend your selections before they have been settled, then you can edit the bet slip and once again benefit from the sell option at 22Bet.
---
Keep This in Mind When Using the Bet Sale Feature
The 22Bet Bet Slip Sale feature is a great option for punters who want to manage and control the destiny of their bets. However, it is important to keep this in mind when using the Bet Sale Feature, as once you agree to a settlement offer, it cannot be reversed.
👉 Determine if the odds favour a partial or full bet slip sale.
👉 Compare both bet slip sale price offers based on those odds before accepting a bet settlement offer.
👉 If opting to use the Auto Bet Slip Sale feature, make sure you indicate your intention immediately after submitting your bet slip.
Bet Slips That You Won't Be Allowed to Sell
While the majority of registered bet slips will qualify for the 22Bet Bet Slip Sale Feature, there are several bet slips that you will not be allowed to sell. Namely, bet slips where the sporting event is about to end or has already come to a conclusion will not be able to be sold.
In addition, certain sporting events will be excluded from the Bet Slip Sale feature at 22Bets discretion, and therefore, punters betting on those events will not be able to sell their bets to 22Bet.
---
FAQ about 22Bet
Can I cancel a bet at 22Bet?
You can not completely cances a bet at 22Bet, but you can use the sell option that the operator offers to make amendments to your selections from your betslip.
Are there some tips on how to rebet on 22Bet?
Yes, you can benefit from the 22Bet rebet feature when you need to make changes to specific unfavourable bets. You are always advised to check the selections in your betslip and choose the most convenient option.
Can I rebet a lost game on 22Bet if I use the cash out feature?
The "Sell" tool at 22Bet and all options that come with it can be used to secure part of your winnings during the game. Some of the options can be used for winning as well.
Is the Edit bet feature the same as rebet on 22Bet?
The "Sell" feature that you can find available in your betslip is the major tool that will allow you to either benefit from full cashout, partial cashout or the edit bet option.
How to adjust my account settings on 22bet?
To adjust your account settings on 22Bet, log in and navigate to "My Account", and select the setting you would like to adjust.
What is the welcome bonus?
2Bet is offering all new players who sign up using our 22Bet bonus code 22_1540 a 100% bonus up to €122.