Ad disclosure
Here at EfirBet (EB) we pride ourselves on having a site that is completely ad-free. No ad blocker is needed while browsing EB. At the same time, we do use affiliate links to earn commissions (every time you click a link and sign up at a betting site). This revenue helps us deliver quality and trustworthy reviews for our readers at no additional cost to them. Read the EB
About Us
page if you want to learn more.
Bet9ja gives business people a chance to make money. You simply need to sign up as an agent. For this opportunity, you should sign up as an agent and pay the fee. Learn more about how to open a Bet9ja cashier account by reading this guide.
---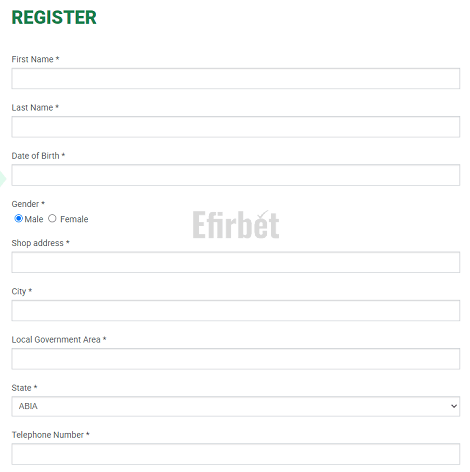 How to Become a Bet9ja Agent: The Requirements
You can follow these steps to become a Bet9ja agent:
✅ Add your first and last name.
✅ Fill in your date of birth.
✅ Choose your gender.
✅ Enter your shop address and city.
✅ Fill in your local government area.
✅ Select your state and phone number.
✅ Add your email address.
✅ Upload a verification document.
✅ Finish by entering your business description.
---
What Are the Benefits of Becoming a Bet9ja Agent?
This option allows you to run your own business. You will be supported by well-known sports betting brand. Let's look at some benefits of becoming a Bet9ja agent.
The commissions are calculated based on your turnover. That means you will get paid for every bet you print.
You will work with the top European sports betting software.
The service will give you access to over 5000 events every week. You also get access to over 12,000 live betting events per month.
You will have zero risk or liability for winning bets.
Bet9ja will give you on-site support.
---
How to Open a Bet9ja Shop Account
You can open a Bet9ja shop account by following these steps:
Send your documents to Bet9ja. The company will check your documents and location.
Meet the field staff for an introductory conversation.
Wait for the team to verify the premises.
Sign the agent contract.
Once everything is done, Bet9ja professional support will help you get your shop ready.
---
Things Needed for a Bet9ja Physical Shop
You will need a few things to open a Bet9ja physical shop. It is recommended that you first find a shop that can accommodate at least eight cashiers. The space should also be big enough to hold four TVs. Remember that agents from the company will have to check the location. If the place isn't suitable for sports betting, you will have to find a new place. Here is a full list of things needed for a Bet9ja shop:
LCD TV sets.
Laptops or desktop devices. It is advisable that you have 3 or more such devices.
Access to electricity. You can get a generator as an extra power source. Solar panels can also help.
Fans.
Seats or benches.
Access to stable internet connectivity.
The company will provide a few items when you pay the signup fee. These include:
A banner that will advertise your service.
Thermal receipt printers. These include a roll of paper.
---
Bet9ja Agent Registration Fee
The company will require you to pay a registration fee of 50,000 NGN. This fee will show your commitment to starting the betting shop. You should note that this is only a small fraction of the amount you need to spend. To get the shop set up, you have to spend between 300,000 NGN and 1 million NGN.
How Much Do Bet9ja Pay their Agents?
Bet9ja pays its agents commissions of between 1% and 20%. The commission rates are based on your turnover. You should note that there are zero risks or liabilities for winning bets. The amount you can make will be highly determined by your location. Also, the size of your shop will play a big role in the profits you make. Since the payment is commission-based, you won't have any guarantee of regular income.
Bet9ja Agent Commission Percentage

As noted earlier, the commission percentage ranges from 1% to 20%. The percentages are calculated as follows:
👉 One selection earns commissions of 1%.
👉 Two selections earn commissions of 2%.
👉 3 selections earn commissions of 5%.
👉 4-5 selections earn commissions of 7%.
👉 6-8 selections earn commissions of 9%.
👉 9-10 selections earn commissions of 12%.
👉 11-13 selections earn commissions of 14%.
👉 14-20 selections earn commissions of 16%.
👉 21-25 selections earn commissions of 18%.
👉 26-40 selections earn commissions of 20%.
---
FAQs
How do I become an agent?
To become an agent, you have to sign up on the site. You also need to pay a fee and rent a shop.
Does Bet9ja offer bonuses and promotions?
Yes, players can get bonuses when betting in Bet9ja shops.
Where can I find the results of an event that has ended?
You can visit the official Bet9ja site to see these results.
The game has finished, but my bet is still not updated?
Bets are usually settled within 30 minutes. You can talk to the support agents if the bet takes longer to update.
Where can I view information about my previous transactions?
You can log into your Bet9ja account and go to 'My Account'. Then you can click on the bet list.