Ad disclosure
Here at EfirBet (EB) we pride ourselves on having a site that is completely ad-free. No ad blocker is needed while browsing EB. At the same time, we do use affiliate links to earn commissions (every time you click a link and sign up at a betting site). This revenue helps us deliver quality and trustworthy reviews for our readers at no additional cost to them. Read the EB
About Us
page if you want to learn more.
Stake.com is a rising icon in casino and sports betting today but is unavailable in some countries due to legal restrictions.
This implies that punters from the restricted countries have a great thirst for this crypto-rich bookmaker but they cannot access it unless they use other means of doing so.
This article will focus on the countries where Stake.com is legal and illegal. Moreover, we shall look at how to access the bookmaker via a VPN client.
---
List of Allowed Countries
Stake.com is a legally licensed bookmaker. Its license allows the platform to operate in certain bookmakers, making it unavailable in jurisdictions where it is not licensed.
But knowing Stake.com allowed countries would help you identify if you can play at the bookie from your country or if you will need to get an extra means of access.
Below are some of the 218 countries where the bookmaker is allowed:
✅Argentina
✅Djibouti
✅Taiwan
✅Costa Rica
✅Bolivia
✅Panama
✅Egypt
✅Kazakhstan
✅Bahamas
✅Brazil
✅Eritrea
✅Sweden
✅Egypt
✅Canada
✅Guatemala
✅Mexico
✅Uruguay
✅Dominica
✅Colombia
✅Ecuador
✅Chile
✅Zambia
✅Norway
✅Tanzania
✅Rwanda
✅Mozambique
✅Afghanistan
✅Madagascar
✅Ethiopia
✅Chile
✅Korea
✅Mexico
✅China
✅Oman
✅Qatar
✅Brazil
✅Tuvalu
✅Tunisia
✅Ghana
✅Uganda
✅Kenya
✅Benin
✅Togo
✅Saint Pierre
✅Bahamas
✅Kosovo
✅Curacao
✅Cayman Islands
✅Haiti
✅Burundi
✅DRC
✅New Caledonia
✅Lithuania
✅Russia
✅Somalia
✅South Sudan
✅Mauritius
✅Gibraltar
✅Macau
✅Cape Verde
✅Congo
✅Reunion
✅Panama
✅India
✅Jamaica
✅Comoros
✅Virgin Islands
✅Hong Kong
✅Andorra
✅Bosnia
✅Croatia
✅Faroe Islands
✅Georgia
✅Germany
✅Cuba
✅Japan
✅Cyprus
✅Denmark
✅ Bulgaria
✅Liechtenstein
---
Which are the Stake restricted countries?
Although Stake.com is available in many countries, it has not been able to get licensure in some countries. The list below shows some of these restricted countries.
❌ USA
❌ Netherlands
❌ Slovakia
❌ Czech Republic
❌ Finland
❌ Portugal
❌ Iraq
❌ Serbia
❌ Cambodia
❌ Zimbabwe
❌ France
❌ United Kingdom
❌ Armenia
❌ Australia
❌ Kuwait
❌ Paraguay
❌ Peru
❌ Latvia
❌ UK
❌ USA
❌ Venezuela
❌ Iraq
❌ Syrian
❌ Iran
---
How to Play on Stake.com Abroad with a VPN (detailed guidelines)
For the punters based in countries where Stake.com is illegal, playing their favourite section at the bookmaker is seamless. But it is impossible to freely access the platform's website unless they use a VPN.
A VPN is a service that, in addition to securing you online, helps you bypass territorial restrictions to access content that is not allowed in your home country. The VPN works by accessing servers located in a different country, enabling you to access the server that hosts Stake.com in a different country, in our case. Consequently, your IP address changes, and it appears you are browsing from that country.
If you are not from one of the Stake.com allowed countries, you can follow the below steps to use the VPN services:
1. Determine the VPN service to use
Firstly, know the best VPN to use and download it to your computer or mobile device. Moreover, create an account with the VPN service.
2. Select Your Preferred Proxy
Most VPNs will offer you a wide range of proxies to access. If you are in either UK, US or France, select the country in your VPN and connect.
3. Browse Stake.com website
After you connect to the country of your choice, you should proceed to load the Stake.com website. This simple exercise requires you to enter the platform's URL and load it.
This time, you will not get the notorious error 'Website not available in your region' Instead, you will log into Stake.com like a punter who accesses it from a legalized jurisdiction.
When selecting a VPN, you must do a good background search. Some VPNs have a limited number of proxies. Consequently, you may settle on a VPN that denies you the chance to access your desired country unless you research well.
Does a free VPN work on Stake?
Yes, some free VPN services work on Stake. Provided the free VPN has servers in a country where Stake is legal, you will enjoy the platform on a free VPN.
However, you will find that some free VPN services have limited servers. As a result, you might settle on a free VPN service that does not have servers where Stake.com is accessible. In this case, we would urge you to get the premium services of a VPN you choose to use.
---
Best VPN for Stake.com – Overview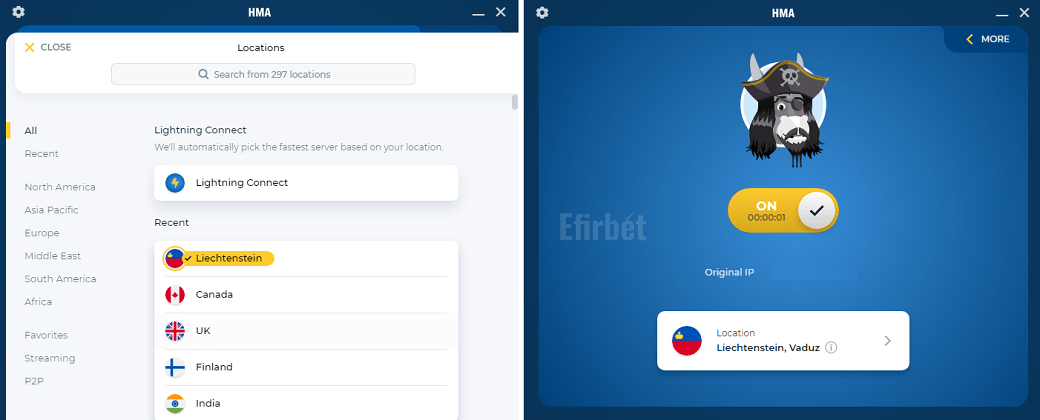 After a thorough moment of testing VPNs, we have settled on HMA as the best for Stake.com VPN.
HMA VPN offers you numerous servers from different countries where Stake.com is available. The VPN has over 5500 servers located in 59 different countries. A few examples of these countries include Canada, Mexico, Comoros, Denmark, Cuba, Curacao and Kosovo.
In addition to helping you change your IP address, HMA VPN offers you flexibility as it works on iOS, Linus, macOS, Android, Windows and Android TV. Additionally, it is possible to wire the entire homestead with a single connection on the router.
Besides, HMA has a fast connection, advanced protection features and excellent customer support.
---
How to Play Stake in US, UK and All Other Countries
If you are a punter based in countries where Stake.com is illegal, it is possible to play at the platform using Stake.com VPN. Below are the steps to follow. However, keep in mind that breaching the terms of the platform or the regulation of the country you reside in is not advisable.
Download and create an account on a good VPN
Register an account at the VPN service
When in the US, the UK or any restricted country, connect to the server in one of the Stake.com allowed countries.
Load the Stake.com account and play instantly without a restriction
---
Why Stake.com is not available in the United States
When checking stake.com available regions, we note that the platform is unavailable in the USA. Mainly, this is due to licensure issues. Currently, the bookmaker does not have a valid license to operate in the jurisdiction prompting you to use a VPN for Stake.com.
---
Final Verdict
Where is stake.com available is one of the big questions you will always ask yourself as a punter. But the question should not be a bother anymore due to the VPN service. Provided you know at least one Stake.com available region and you can download Nord VPN, your issue is solved.
The usage of VPNs has brought a great revolution in the gaming industry. Lack of licensure to operate in a particular country is no longer a barrier to punters playing Stake.com and any other bookmaker from restricted territories.
---
FAQs
Is Stake available in the US?
Unfortunately, Stake.com is unavailable in the US and some other regions.
What States Can You Use Stake?
Although Stake.com is not available in the US, some states allow it to operate. Some of these states include Georgia, Texas, and Michigan.
Is Stake.com available in Canada?
Yes, Canada is one of the countries where stake.com is available. Besides, it is one of the best countries when punting on Stake.com VPN.
Is Stake available in the UK?
Unfortunately, no. The United Kingdom is not on the list of Stake.com available countries. But, you could play from the UK using a VPN.
How do I withdraw from a Stake in the US?
Provided you use a VPN service, you will easily withdraw money from Stake in the US as you will be punting through servers from a different country. Therefore, you will technically be punting from another location, making it easy to withdraw.
Why is Stake not available in the US?
When answering the question of where is stake.com available, the US misses the cut as the platform does not have any legal operating license in the country.