About Coral and Its App
Coral has been in the gambling business since 1926. It has recently been merged with Ladbrokes, thereby forming the Gala Coral Group. First popularised in horse race betting, Coral has far more sports and casino offers, bonuses, and promotions now than ever.

Its online presence is strengthened even more with the creation of the Coral mobile app for Android, iOS, and Windows phone users. Coral mobile is currently one of the most trusted casino websites in the industry.
The company is headquartered in England and is regulated and licensed by the UK Gambling Commission. For offers outside the UK, the Gibraltar Gambling Commissioner regulates the transactions.
Coral App for Android
The Coral mobile app may not have the fanciest design, but it's brilliant when it comes to the aspect of user-interface. Understanding the basic and most important need of punters, it has ensured players can place bets easily in a few clicks. There is a huge option for sports betting and casino games in this app, which is why it gained popularity among its users.
In the coral mobile app for Android, there is a number of pre-event and in-play options available for almost all sports. Players have access to live scoreboards, commentaries, and stats for every match or event – even for those with the lowest profile. Until now, the bookmaker is looking for ways to improve in all aspects. There is nothing that Android betters will ask for this app that it cannot grant.
Download and Install Coral App on Android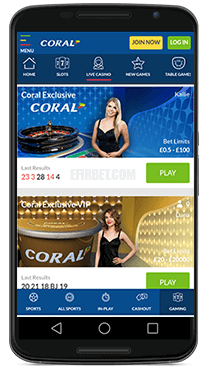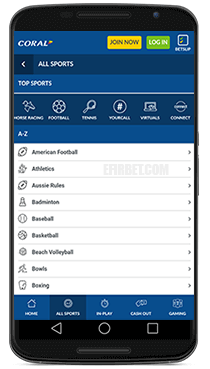 Whether you already have an existing Coral account or not, it is easy to get the mobile app for your Android phone. Below are the simple steps you should undertake:
Step 1:
Head to
sports.coral.co.uk
to create an account if you haven't done so yet.
Step 2:
Allow downloading of third-party apps on your phone through the security settings.
Step 3:
Search for Coral Sports and Casino on your mobile browser and click to download the app.
Step 4:
Wait for the download to finish and then click to install the app. If there is no installation prompt, you will need to open the coral mobile APK file from your download folder and install the Coral app from there.
Note: A coral mobile APK file is safe. For some phones, access to this is necessary because of your phone's precautionary measures.
Download Coral app for Android
A simpler method to get the coral mobile app for Android would be to proceed to the Google Play Store. Simply search for Coral Sports and Casino app and follow the download and installation steps.
Coral App for iOS
Coral app for iOS receives admiration from punters for its easy navigation and outstanding features. You can simply click on icons to choose from different sports options, events, and promotions. Tracking your bet history and using any voucher codes can also be easily tracked in the account settings.
The Coral mobile app for iPhone and iPad devices allows you to manage your deposits and withdrawals anywhere at any time you prefer. Cash-out option for pre-match and in-play bets is also available at the Mobile Menu. Overall, the interface allows betters to have more control of their favourite bookmaker.
Download and Install Coral app on iOS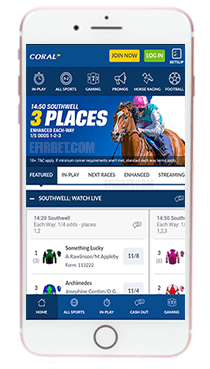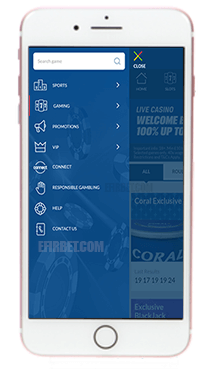 Downloading the Coral app for both iPhone and iPad devices is free of charge. Following the three simple steps below would instantly give you access to the exciting features and the extensive range of markets of the bookmaker.
Step 1:
After signing up in the bookmaker, proceed to the App Store and look for Coral Sports and Casino app.
Step 2:
Once found, click to download the app and wait for it to finish.
Step 3:
When the download is finished, install the app on your iOS device and start playing!
Download Coral app for iOS
Coral App for Windows Phone
Coral is also available via Windows mobile – a feat less common among most bookmakers. The features available are the same as what's found on both Android and iOS versions. The Cash-out option in all events is still available. The promised odds on sports and casino games and events remain the same. Coral for Windows phone is consistently gaining a reputation and is constantly being improved.
How to Download and Install Coral App for Windows Devices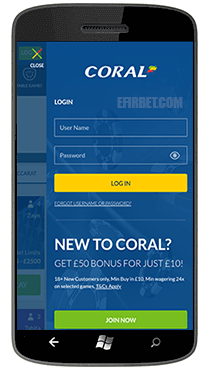 To download the Coral app on your Windows device, follow the step below:
Step 1:
Look for Coral Sports and Casino in the Microsoft App Store.
Step 2:
Click to download the app and wait until the download is done.
Step 3:
After downloading, click to install the app.
Download Coral app for Windows Phone
Coral Mobile Sport Betting
Just like all mobile betting apps, Coral mobile betting advertises betting on the move, and it does so well with its mobile sports betting app. There is less information than what's found in the main site to simplify the user-interface. Additionally, all sports and gaming options with all their features are only a click away. Everything on the mobile sports betting app is easy on the eyes. Even a first-time better can navigate around it with ease.
Coral features a wide range of sports options, clickable through the A-Z menu, where they can do in-play betting. The list includes football, cricket, basketball, golf, tennis, boxing, American football, and more. Thousands of events are created within these sports events for which the bookmaker guarantees high odds. Among its best features is the live-streaming of horse and greyhound races which is well-loved by its UK market.
Whatever sports events you are betting on, you can easily view results from the results section. One can also find results from a specific meeting at the touch of a button. Another additional feature gives punters the option to view odds either in decimal or fractional format. This is a great feature for those who are more comfortable with one than the other.
Mobile Site Version Review
The bookmaker's mobile site version is an option for those who'd rather not download the apps. The site is predominantly of blue shade which is pleasing to the eyes. It has fine layouts and colours on all pages but is not necessarily the most sophisticated. Regardless, the functionality of the site is incredible, thus making up for its rather reserved look.
If it's your first wager of £5 or more, you are immediately greeted with £20 free bet. This is in addition to the many other offers and promotions available on the mobile site. Just like in the app and desktop versions, these offers are constantly being updated so it will help to keep an eye on them to get the most of the free stuff.
Nothing is left out in the mobile site version, although it may not be as responsive all the time as the apps and the main site. You can even access the live actions and many other features. The mobile site is a good alternative to consider.
Differences Between Mobile App and Mobile Site Version
Here is a list of the things to consider when choosing to access Coral either through a mobile app or mobile site version.
Mobile App
Advantages:
Tailor-fitted to each mobile version (full functionality ensured)
More interactive and functional
Better security
Disadvantages:
Has system requirements (may not be compatible with phone)
Regularly needs update for additional features and others
Mobile Site
Advantages:
No app download and system updates required on your end
No compatibility issues (more mobile responsive and friendly)
Easier to reach and share
Disadvantages:
Less interactive and functional
Requires strong internet connection
Coral Mobile Sign Up Bonus
Coral offers a number of attractive promotions and bonuses – one reason why punters label the bookmaker as their favourite. If you are a first-timer, you can immediately receive a €20 bonus, whether you're signing up through a mobile device or via the main website. To avail of this bonus, simply make your first deposit. Once a qualifying bet is placed, Coral will give you a free token equivalent to the value of your bet which should be placed in the next seven days.
Apart from the signing bonus, the bookmaker has numerous other offers centred on specific events. For instance, you may place a pre-tournament bet and once the event is won, you will receive a full refund plus a £50 free bet.
Oftentimes, the promotional offers are time sensitive and typically changes from season to season. Nonetheless, all these bonuses and promotions should be taken advantage of.
Claim your bonus
18+ T&C apply | begambleaware.org | Play Responsibly.
System Requirements and Compatibility
While Coral mobile apps are supported by most Android, iOS, and Microsoft mobile versions, taking note of the following system and compatibility requirements will ensure the best betting experience.
for Android
Coral Android app works well on most devices but is most compatible with OS versions running from Froyo (2.2) to the latest, Oreo (8.1).
for iOS
iPhone, iPad, and iPod devices run Coral betting apps with the most efficiency in iOS versions 9 up to the latest.
for Windows Phone
HTC, Nokia, Samsung, and most other Microsoft devices with mobile versions that are Windows Phone 8.1 and Windows 10 Mobile can cater to any Coral betting app.
Compatible Devices
Here are some of the mobile devices and their OS versions compatible with Coral mobile app.
Android
HTC One, Motorola, Samsung Galaxy, LG Nexus, Sony Xperia, and Galaxy Tab
(Honeycomb, Jelly Bean, KitKat, Lollipop, Marshmallow, Nougat, and Oreo)
iOS
iPhone 5 to 8 (S and Plus versions), iPhone X, iPad Air, iPad mini, and iPod Touch
(best with iOS 9, iOS 10, iOS 11)
Microsoft
HTC Touch, LG Optimus, Nokia Lumia, Windows Mobile 5 to 8
(Windows Phone 8.1, and Windows 10 Mobile)
Coral Mobile Payment Methods
Customers can effortlessly process payments using the Coral mobile payment methods. Nevertheless, it is important to make sure that your payment account has the same name as your registered Coral account.
Deposit
| Payment Method | Minimum | Maximum |
| --- | --- | --- |
| Credit or Debit Cards | £5 | £99,999 |
| Skrill | £10 | None |
| Neteller | £10 | None |
| Paypal | £10 | None |
| ecoPayz | £5 | None |
| Bank Transfer | £10 | None |
Withdrawal
| Payment Method | Minimum | Maximum |
| --- | --- | --- |
| Credit or Debit Cards | £5 | £5000 |
| Skrill | £5 | None |
| Neteller | £5 | None |
| Paypal | £5 | None |
| ecoPayz | £5 | None |
| Bank Transfer | £5 | None |
FAQs
If you have questions regarding the Coral Mobile app, read these frequently asked questions and be informed.
Is managing deposits and withdrawal directly from the mobile apps possible?
Yes. There are various banking options that are directly available for the apps. Managing your deposits and withdrawal is easy yet the transactions are guaranteed safe and secure.
Is downloading an app necessary to access the sports and casino options?
No. Aside from the desktop version, you can also access the sports and casino options with all bonuses and promotions on Coral's mobile site version. Type in sports.coral.co.uk on your web browser and start from there.
Are the apps accessible on all mobile devices?
Most versions of Android, iOS, and Windows phone can run the Coral mobile app. However, you are encouraged to access it through the latest versions to fully utilize the app's capacity.
Are there major differences between the Coral mobile app for Android and iOS phones?
The functions, range of betting markets, promotions, and bonuses are essentially the same for both Android and iOS devices. They only slightly differ in the aesthetics and design because the apps are optimized for each phone model and make.
Is there a Windows mobile app for Coral?
While some betting companies have no available version for Windows phone, Coral has an easy to download app for it. The functionality of this version is like no other.
Is it safe to transact using the app?
The Coral app makes sure that all transactions are safe by employing strict security measures. First, all transactions are encrypted based on each customer log-in. If available on your mobile phone model, you can also enable your Touch ID security or PIN code for safer options.
Are the odds high and market extensive?
As one of the leading bookmakers in the industry, Coral offers some of the highest odds you can find. There is also an extensive market option where you can place your wager on.
Conclusion and app rating
Coral mobile app is a great example of what other bookmakers should aim for in their own mobile app versions. There should be an excellent design, simple navigation, and one-click option for all markets. Whether you are using an Android, iOS, or Microsoft mobile, the app has a clear organization with an overview of whichever market you want to follow. Add the high odds and extensive market options to consideration, Coral mobile could become your best mobile betting app. An excellent mobile app like this deserves a rate of 9.5 out of 10!
Visit Coral mobile