Company information and details
Edward Wray and Andrew Black founded Betfair. They were involved in the industry of gambling as players. Black was the one who started to create the idea of having Betfair ever since he was consistently jumping from one job to another, while Wray had his degree in economics, management, and engineering from Oxford University before he became the vice president at JP Morgan. In 1990's, Black approached Wray about the Betfair idea, and both of them decided to contribute capital in order to start their own venture.
Betfair wanted to take the lines set for sporting events from the traditional bookmaker and give such events to the bettors. Their theory explained that if people can set their odds through their knowledge of the sports, the options in betting would increase, which will make the wagers become more appealing to a larger group of players.
In order for both founders to accomplish this, they created an exchange of betting. In the year 2000, after they built the exchange, Black and Wray launched their website. They became famous when they had their advertising called "Death to the Bookmaker", which featured both founders who were dressed as gangsters and a funeral procession party where a coffin which represented the bookmaker had a parade throughout London.
---
Betfair App for Android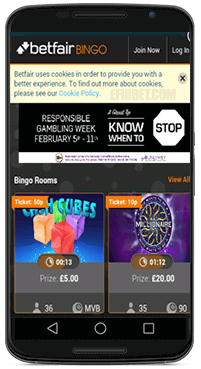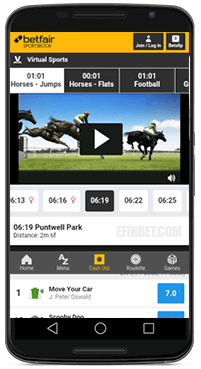 Betfair is one of the largest betting sites in the UK. This company is also the most popular and is one of the pioneers of betting exchange. This app offered by Betfair is available for mobile devices and smartphones. However, the functionality of the app will differ depending on what device you're using.
You can have your bets in every available market both in-play and pre-match events. You can also make deposits, withdraw your winnings, and have their regularly improved offers and bonuses. This app may not be attractive to some, but it still offers the best betting experience and it is also one of the most reliable and stable mobile betting apps. This app offers a range of settings for you to customize based on your own preference. It is also very responsive and is rich in information.
One of the factors that this app offers the best is its interactivity. This means that there's no need for you to consistently switch from one screen to another because what you need and want to see will just be accessible in one frame. This is best especially if you're looking for in-play sports betting.
Download and Install Betfair App on Android
Downloading and installing the Android Betfair app is easy. Although you can't download it from Play Store (since Google Play does not support betting and gambling apps), you can easily get the app by using your mobile browser and getting the app's .apk file from Betfair's site version.
Follow the simple steps below for clearer instructions:
Step 1: Go to your mobile browser and visit Betfair's website.
Step 2: From the website, download the .apk file of Betfair's Android app.
Step 3: While waiting for the download to finish, go to your Android device's Settings without closing your mobile browser.
Step 4: Then, proceed to Security. From there, check the box for the Unknown Sources. Apps downloaded from other sources other than Play Store are categorized by Android as Unknown Sources. However, it doesn't mean that an app comes from unverified sources. It also doesn't harm your device. Once the app is installed, your settings can be reverted by unchecking the Unknown Sources.
Step 5: Once the app's .apk file has been downloaded, install it on your phone and wait for the installation to finish.
---
Betfair App for iOS (iPhone and iPad Devices)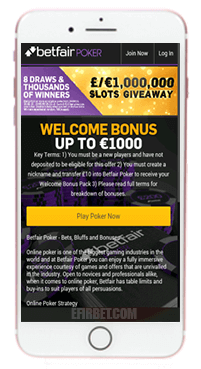 Using Betfair app for iOS is very easy and speedy if you're using the app over 3G. This iOS app is one of the few apps for sports betting that are specifically designed for iOS. There are multiple apps that you can choose – from apps for sports betting to casino betting to exchange betting.
This app is mainly advertised by Betfair. It is also the standard betting app for bettors. You can already place your bet in just a tap or two if you use this app. Upon opening this app, look for a yellow banner where you can choose your own welcome offer. You can have the standard bet of £10 and get £30, or you can have their enhanced odds offer which offers a greater return. However, if you lose, you can still get a free bet.
Its home page has an uncluttered and simple look. You can see quick links for sports like horse racing, football, golf, tennis, and others. You can also see the most famous bets and the combination of in-play and pre-match betting events.
Their betting exchange will offer you a fast, easy-to-navigate, and secure experience. They also feature the cash out tool of Betfair, which will allow you to choose a profit. They also automatically update tennis and football scores together with their live price, making sure that you always have the best market information and odds available.
Download and Install Betfair app on iOS (iPhone and iPad Devices)
Things are much easier on an iOS device, especially when it comes to downloading and installing the Betfair app.
Follow the steps below:
Step 1: Login to your Betfair account. If you don't have one, create now.
Step 2: Open your App Store.
Step 3: On the search box, type in "official Betfair app".
Step 4: Download and install the app on your iOS device.
---
Mobile Site Version Review
Since Betfair offers a wide range of betting events and sports options, its mobile site version is quite a busy site. That is why using Betfair's mobile site version with a small-screen device may be difficult. Surprisingly, their stripped-down and simple layout is usable on small mobile screen. It is also fast in loading.
They offer markets on multiple sports on their standard site. They also allow their mobile users to have their bet on just about anything — from martial arts to Aussie Rules football. Once you already logged into your Betfair account, it will be easier for you to place your bets.
---
Betfair Mobile Sports Betting
The mobile sports betting app of Betfair is the Betfair Sportsbook. It is available in many countries, including Canada, the US, and the UK. However, it is not available in countries like Israel, Bulgaria, US, Hong Kong, China, France, Japan, and more.
---
Differences Between Mobile App and Mobile Site Version
The Betfair mobile app offers live streaming where you can watch top events live using your mobile device. You can also have an in-play betting where you can bet across a wide range of sports. It also has a fast bet which places your bets faster in just two taps. It also provides you with regular promotions where you can take advantage of their enhanced price specials and daily offers. It also has Acca Edge in which you can get your money back in cash if you accumulate 3 consisting selections of any sport event and market.
However, on Betfair's mobile site version, it will be harder for you to look for the betting market that you like. If you search for a certain betting market, they will give you a huge list of a market with 40 and more options before you find your betting market. Plus, if you have a slow internet connection on your mobile device, you can encounter multiple menu options which can be frustrating sometimes. Betfair's mobile site is only better when you use it on an iOS device.
---
Betfair Mobile Sign Up Bonus
Betfair is offering new customers a Betfair welcome bonus of up to £20 for your first bet. In order to claim this bonus, you should sign up or log into your Betfair account and use their promo code. You can only join in this offer if you're not a previous or an existing Betfair account holder. This offer is also not available to registered accounts in countries like Portugal, Armenia, India, Bulgaria, Chile, Belarus, Hungary, Croatia, Macedonia, Latvia, Russia, Romania, Slovenia, Serbia, Ukraine, and Tunisia.
The first bet exchange that you will place within 7 days of having your new registered account in Betfair must have been in an amount of at least £20. Your bet should also be settled within the period. Moreover, if your first bet is below the standard bet of £20, you will not be able to join this promotion. If you bet a standard or qualifying bet and you lose within the 7-day period, you will get a refund of £20 in cash. This £20 refund will be credited to your account not later than 72 hours. Only deposits through debit/credit cards and Paypal are qualified for this promotion.
18+
T&C apply
| begambleaware.org | Play Responsibly.
---
System Requirements and Compatibility
If you're planning to download and install the Betfair mobile app on your mobile device, you should know the system requirements and make sure that your device is compatible. Get the system requirements below:
For Android
The Betfair Andoid app is compatible to any Android device with an operating system of Android 2.1 or higher. The Android app sizes 12.4 MB, so you need to prepare more than enough space on your memory to ensure that the app can perform at its best without any lag or delay.
For iOS
Your iOS device needs to have an operating system of 7 or higher. Basically, it works on iPhone 4 and later versions. The app not only works on iPhones, but it also works on iPads and iPods. It works on iPad 2 and later versions. In iPods, it works on iPod Touch 4 and later versions.
---
Betfair Mobile Payment Methods
Betfair is a great sportsbook that makes almost everything easy, fast, and convenient for players. That's why they offer various payment options for players to choose.
Payment Method
Deposit
Withdrawal
Credit or debit card
Minimum Deposit: £5
Maximum Deposit: £20,000
Minimum Withdrawal: No
Neteller
Minimum Deposit: £12
Maximum Deposit: £32,500
Minimum Withdrawal: £2
Skrill
Minimum Deposit: £10
Maximum Deposit: £32,500
Minimum Withdrawal: No
PayPal
Minimum Deposit: £5
Maximum Deposit: £6,000
Minimum Withdrawal: £1
---
FAQs
If you are new to Betfair's mobile sports betting and casino gaming, it's natural for you to ask questions. Read the following FAQs:
How does the rating system for the app work?
Betfair usually surveys at least 100 active customers for every vendor application each quarter. In order to receive a rating, there must be at least 5 ratings from the customers for that app.
Are these certified vendors?
Every software application in Betfair is technically applying the guidelines of the Betfair's vendors. Therefore, these vendors are indeed certified.
How to sign up for one of Betfair's vendor products?
You should directly contact the vendor to use their services or products listed in Betfair's App Directory.
Is API subscription fee payment necessary in order to use one of the products in Betfair's vendor?
No, it is not necessary. You can have an agreement with the product's vendor for using their application.
What other options can I have if I cannot find what I want?
If you can't find anything that you want from Betfair's App Directory, you can contact their bespoke software providers.
Can I change the app's language?
Yes, you can. To change the app's language, simply go to My Account and go to the language settings. You simply choose your preferred language, select it, and then save the changes made.
Who will I contact if there are any problems with my application?
You can contact the vendor for that application if you have any issues or questions about it. Betfair will not provide any technical support for the applications of the vendor. You should have an agreement with the relevant vendor if you want to use any of their applications.
---
Conclusion and App Rating
Overall, Betfair is a well worth and a top performer online betting. The betting exchange can give you a fantastic betting experience. It is really worth it to spend time betting on this app. There is a top value that you can find across the Betfair's betting exchange, and if you do not want that, you can switch to Betfair's sportsbook. Betfair is one of the top and best recommendations that we could offer. All in all, the rating for Betfair will be a 9 out of 10.