eSports Betting
Electronic sports, known as eSports, has grown substantially over the past few years and is now a multi-national industry. The industry of betting on eSports events has seen equal growth and makes an interesting alternative to traditional sports betting.
Placing bets on electronic sports is no different than playing on regular sports. Usually, eSports are in a separate sub-section, and you can find a list of the various electronic games that the bookmaker monitors.
---
Top online bookmakers for betting on eSports
We look at some of the top online eSports betting sites. If you are in the US, do check on local betting regulations that may apply in your area.
Loot.bet
Loot.bet offers profound eSports betting markets. Furthermore, the bookie allows you to access fast withdrawal services if you are lucky to make a profit.
Pros
Allows eSports HD streaming.
Covers all eSports events.
Guarantees eSports live betting.
Offers competitive eSports odds.
Cons
Does not provide the best eSports offers.
GG.bet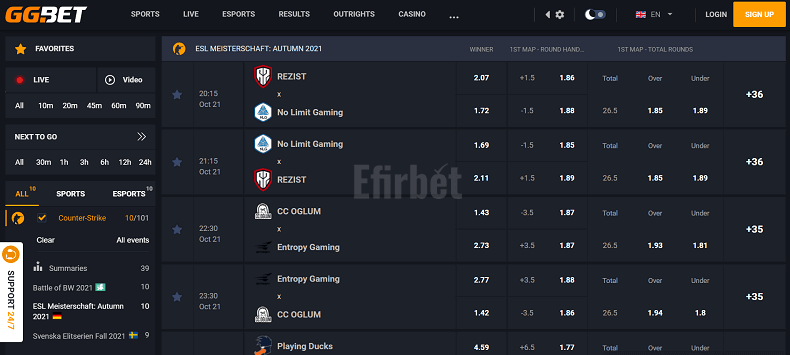 GG.bet covers more than ten eSports games with hundreds of eSports events. Furthermore, punters are granted access to numerous eSports offers.
Pros
Has the best eSports markets.
Offers eSports specific bonuses.
eSports live betting is allowed.
Offers HD eSports live streams.
Cons
Does not allow bitcoin eSports betting.
Parimatch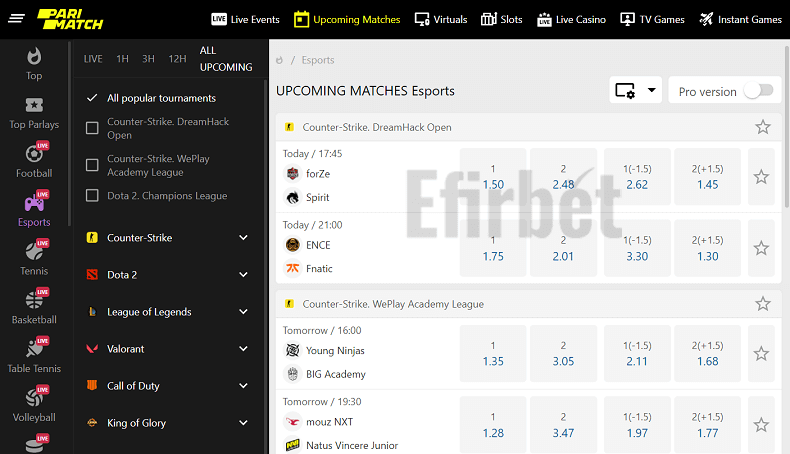 Parimatch is an eSports betting hub. It covers games like Starcraft and Dota 2. Furthermore, it offers CS: GO matches.
Pros
Has the best eSports live statistics.
Grants live results.
Offers live streams of in-play events.
Provides punters cash-out feature.
Cons
Lacks eSports bonuses.
Cyber.bet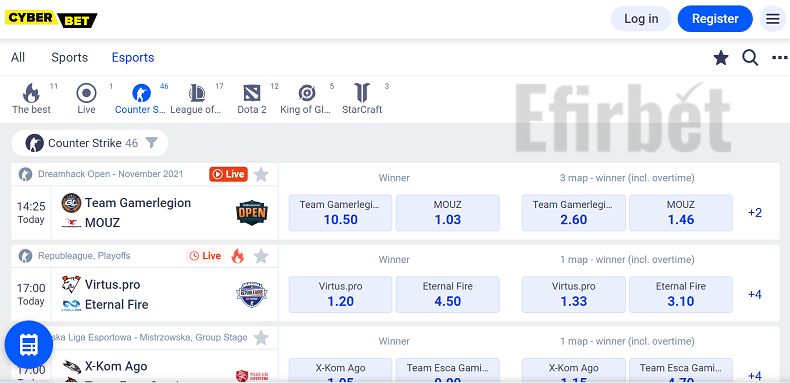 Cyber.bet is among the most dedicated eSports betting sites. The bookie is unique, with multiple options for amateur and expert eSports punters.
Pros
Covers multiple eSports lines.
Allows in-play betting.
Provides live statistics to eSports bettors.
Has competitive eSports odds.
Cons
Does not have the best eSports bonuses.
22bet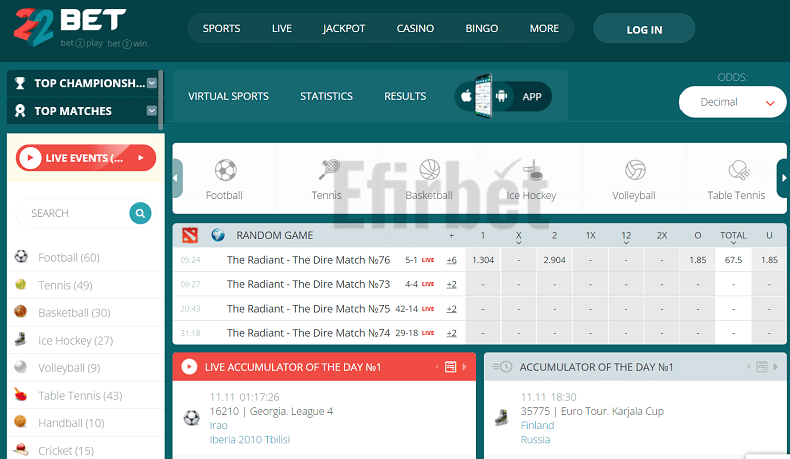 Even though the bookie combines eSports with actual sports, it has an amazing eSports coverage. That means you will receive the best eSports betting experience.
Pros
Covers all major eSports events.
Offers in-play betting.
Has extensive eSports markets.
Offers eSports Outrights.
Cons
Does not have competitive eSports odds.
Betway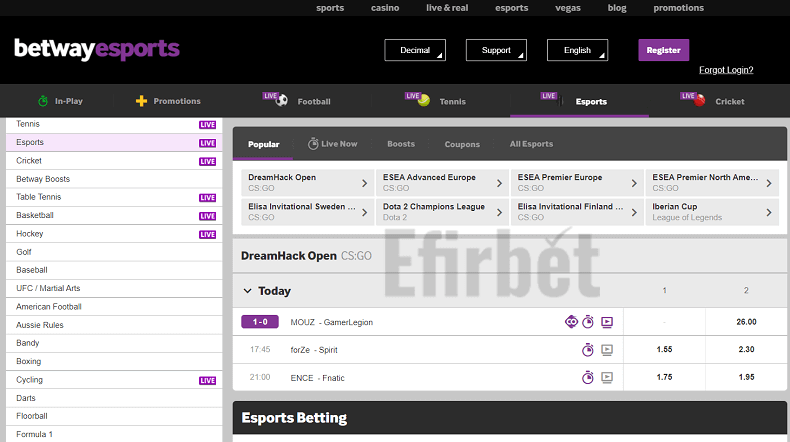 It is not easy to come across a three-in-one bookie with fantastic eSports markets like Betway. The sportsbook offers all the major bet lines and immersive odds.
Pros
Allows eSports live streaming.
Offers eSports live betting.
Has eSports Outrights.
Covers all basic eSports markets.
Cons
Few bet types per event.
Unibet
If you are an eSports betting enthusiast, try out Unibet. The bookie covers all major eSports events with multiple markets for punters.
Pros
Has a special eSports section.
Covers all major eSports tournaments.
Offers extensive markets.
Allows access to live eSports results.
Cons
Lacks eSports free bets.
---
Most Popular Betting Markets
There are several markets for each match, but they mostly depend on the type of eSports you're wagering on. The good thing here is that electronic sports are available both for pre-match predictions, as well as live betting. Another plus is that usually, bookmakers offer live streams of the matches. You will be able to follow the game and the players' reactions in real time. Here are the most popular of them.
Match winner
Probably the simplest market. You must bet on the overall match winner to win the bet. Look carefully at the odds before betting, and research the payer or team's previous form in that particular event.
Winner of map
Choose which team will win a specific map section on Dota 2, League of Legends, or Global offensive.
First blood
Here you need to bet on the first player or team to score a kill during the game.
Total rounds
In this wager, you must predict whether the entire match will go beyond or under a specified number of rounds.
Handicaps
The underdog, or least favoured team, will be given a predetermined handicap score at the commencement of the match. This is then added to that team's total score to give the adjusted result on handicap. Betting on the lesser fancied team can lead to you winning if they win on handicap.
Correct result
Predict the correct score at the end of the match.
Tournament winner
Predict the outright winner at the end of the tournament. Odds will generally be better on bets placed before the start of a tournament, but bets can usually be placed during the tournament, with varying odds as it progresses.
---
Why bet on eSports?
Betting on eSports has become hugely popular. Here are some of the pros and cons.
Pros
eSports games are enthralling and action-packed
Games are usually not of long duration
Many betting markets are available for each game
Odds are usually better than most traditional sports
Cons
Betting markets can be confusing, at first
Some game rules are complicated and require a good understanding to bet wisely.
Electronic sports are a fascinating way to diversify your game. In recent years, they have successfully come to prove even their biggest critics wrong. Lots of experts were sceptical about the success of eSports. However, these bets are currently in a serious upswing, as there are more and more new titles added to the list of games. eSports are here to stay.
---
Important Factors to Consider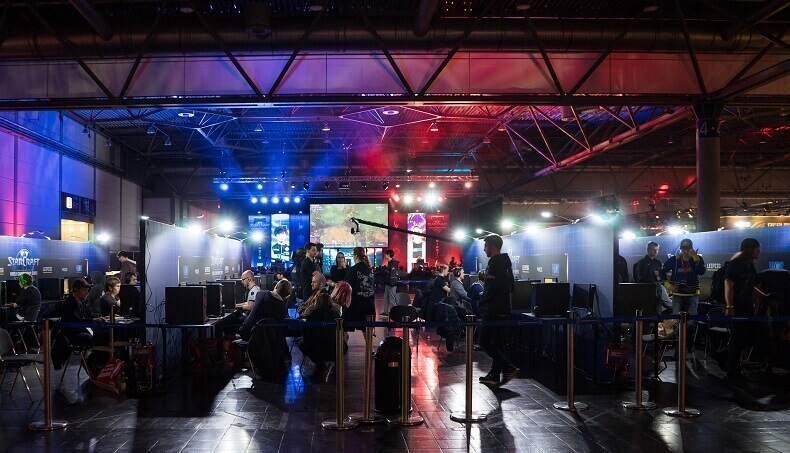 Just as with traditional sports betting, there are factors to be considered before placing your wager. Here are some of the most important.
Choose your games, learn them and then bet.
When betting on a game for the first time, it makes good sense to first gain an understanding of the rules and objectives associated with it. If practical, playing the game yourself beforehand will lead to a better understanding of the different scenarios involved.
Find information about the teams and their strategies.
Here you will need to do some research. Find out about the teams' previous performances in the game and whether these teams have competed against each other before. Pay attention to strategies that are employed by the teams and how those strategies influence the game.
It is better to avoid heavy favourites in knockout matches.
Knockout matches quite often produce shock results. Betting on the heavy favourite can lead to a heavy loss in the event that the opponent wins.
Watch out for lesser-known teams and players.
It is quite often the newcomers in any sport that cause the upsets. Never assure a team or player to be the least likely to win merely because they have no ranking or performance history.
Watch live streams and learn.
With an increasing number of eSports betting sites offering live-streaming of events, it's a good idea to watch a few games as a spectator before committing to a wager. This way, you will gain a better understanding of the rules and the gameplay format.
Check the news for roster changes.
Visit the relevant organizers' websites for news on events and tournaments to find out if changes have been made to the roster. These could influence your betting choices.
What about betting in-play on eSports?
Most eSports betting sites are now featuring live-streaming of events, and in-play betting is possible. Placing your bet during play can take advantage of changing scenarios, as opposed to a bet placed before the match.
---
Our thoughts
The growing popularity of eSports betting makes it a worthwhile and entertaining alternative to conventional sports betting. The number of sites hosting eSports betting is increasing all the time, as are the games supported and the markets within them. Counter-Strike: Global Offensive even has dedicated csgo betting sites, such is the popularity of the game. eSports betting is here to stay, and rightly so.
---
FAQ
We answer some frequently asked questions on eSports betting.
Where can I bet on eSports?
There are a number of betting sites that support eSports betting. Most of the traditional sports betting bookies are now including it in their lineups.
Can I bet during play?
Yes, you can. Most sites allow for betting during a match.
Is there live-streaming?
Yes, a lot of sites are now featuring live-streaming during matches to assist in-play betting.
What are special bets?
These are bets taken during the game that has no direct connection to the final outcome. Examples are first killed, first blood, etc., as well as betting on the outcome of various scenarios within the game.
How can I improve my chances of winning?
Watching the games live will teach you a lot about the rules and format of each game. Several TV channels broadcast eSports events, as does Youtube. You can also watch the live-streaming on some betting sites during an event to better understand your betting opportunities and where to be wary. Research the players or teams involved. Learn their strategies and strengths. The more you learn, the better prepared you will be when it comes to placing your bet, and you will be able to minimize your risk.