Тipico Review
Tipico is one of the biggest betting websites in Europe. However, unlike many other betting companies out there, they also have a lot of "physical" offices. In fact, as of 2019, there are over 700 offices all over Germany. This is a clear sign that the company knows how to run this type of business.
You can find a wide range of Casino, Live Casino and Sports bets which will keep you occupied for a long, long time. What's more, Tipico has one of the best mobile apps that are available for iOS and Android. So, even if you don't enjoy desktop betting, you will still be able to do it through your phone.
---
How to open an account at Tipico
Are you already excited to try out Tipico? If that's the case, the first thing you need to do is to create an account. Luckily, unlike some other betting websites where you can barely see where to do this, the "Register" button here is located in the top right corner.
Once you click on it, a new window will appear where you have to add information about you. However, apart from the usual username and password, you also need to provide your address, city and country of birth, and postcode. Even though it might seem a little bit too much, this is proof that this website is very serious about what they do.
If you don't want to deal with any of the above, you can also log via your PayPal account. This is one of the few betting websites where PayPal is available.
---
Website review – navigation and layouts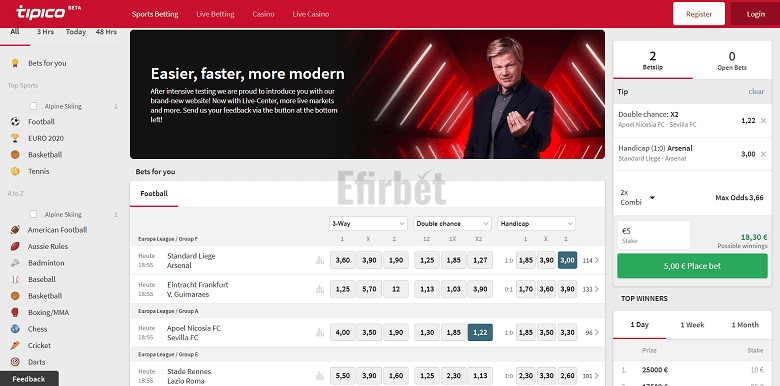 The first thing you will see once you're on the main page is how structured it looks. Even if this doesn't seem like much, it makes your life a lot easier, especially when you're just starting to explore around. Everything is easy to find, and there are no useless ads or anything to distract you.
The primary tabs that you will want to look at first are located on the left of your account – Sports Betting (there is a new and an old version), Live Betting, Casino, and Live Casino. You should definitely check each section, so you have a good understanding of what to expect.
If you scroll down a little bit, you will find some of the hottest matches right now. This gives a quick and easy way to place a bet if you wish so instantly. Even though this is pretty cool, the focal point on the homepage is the last part called "Football – last minute." If you are lucky enough, you can get some pretty good deals here. Just remember to check it from time to time because you never know what you will find.
If you need any basic information about the website, feel free to check the bottom of the homepage. You can find things such as the ToS, FAQs, and so on.
---
Sports betting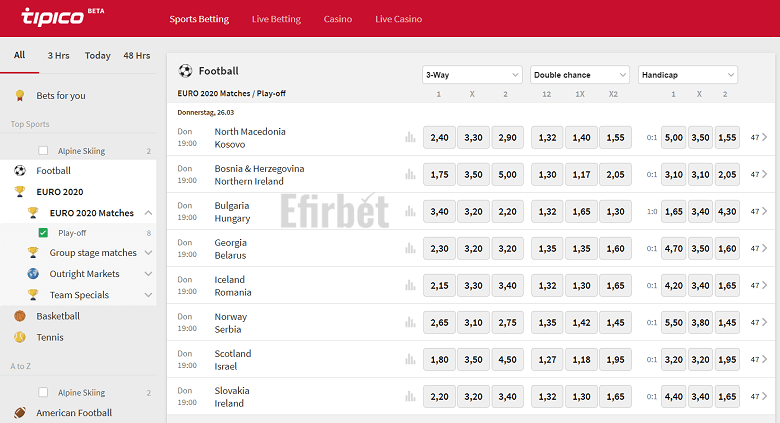 The first section that we want to have a closer look at is Sports. As we mentioned previously, Tipico has some exciting sports bets that you can take advantage of. Let's take a look at everything it has to offer
Available sports
Currently, you can choose between 21 different sports. Of course, the most popular one is going to be football, but that doesn't mean you have to only bet on it. However, should you decide to do so, there is also a special section about the upcoming leagues.
If you try to click on any of the sports, you will see that they all have different sub-categories. The idea behind this is to allow the user to select the specific match he wants to wager on. This makes it a lot easier for you to navigate around.
Betting options
When it comes down to the betting option, Tipico is at east as it gets. In most cases, you can choose between the following:
3-way – this is the 1X2 variant, which means that you can choose which team will win or is it going to be a draw. For example, if you place a bet on 1, you predict that the home team will win.
Over/Under Points in Match – mostly used in the football section, this is where you can predict how many goals are there going to be scored. The odds, in this case, are pretty good, so many people try their luck.
Both Teams to Score – as the name suggests, both teams have to score a goal or a point.
Doble Chance – if you go with this option, you predict that either a team will win or it will be a draw. Alternatively, you can also choose that either team will win, which means there won't be a draw.
Which team will score first? – you can choose the team that scores the goal/point first
Draw no bet – a very cool option that allows you to choose which team will win. However, if the game ends a draw, the money for your bet will be returned to you.
Handicap – one of the teams in the current match starts with a certain "lead." In the end, this lead is added to the final score. This is a popular way to make some series of cash, especially in football.
Who wins the half? – you can choose which team will win the first or second half.
Halftime/Fulltime – this option allows you to predict how will the game end during the halftime and then, during full-time.
What about the odds?
At first glance, the odds seem pretty good. However, they will differ a lot, depending on what type of bet options to choose. Naturally, the "easy" bets won't have any sensation odds. Nevertheless, if you manage to do a specific combination of games using all betting options mentioned above, you can get some pretty amazing results.
Before you start betting, be sure to check all the options for your desired match. Who knows, you might find a hidden gem somewhere.
---
Tipico welcome bonus – 100% bonus up to €100 on the first deposit
Being a big betting website, we can expect that Tipico has some cool bonuses. It seems like we are in luck because they have a very special offer right now. You can get as much as €100 as a bonus on your first deposit! Here are the things you need to know about it.
General ToC:
Every single bonus is only valid one-time per customer.
Only non-professionals can benefit from this bonus. It will not be granted to the professional players.
If you decide to bet twice on the same match with your bonus, only the first bet will be counted towards your wagering requirements. The same applies when you use Cashout.
Before you can withdraw your bonus, you need to risk it at least six times.
Specific things to keep in mind for the welcome bonus:
The maximum amount you can get as a bonus is €100
To participate, you need to deposit at least €10
Do not use Skrill or Neteller as deposit options because you won't be able to benefit from the bonus.
You need to bet on odds of 2.0 or higher so that it counts towards the wagering requirements.
The bonus is valid for 90 days. After that, Tipico can cancel it.
The overall conditions are perfect when you compare it to some other websites out there.
---
---
Live betting options
Placing bets on different sports is very cool, there is no arguing that. However, what if you can make your experience even better? With Tipico, you have the chance to follow your chosen game live. This allows you to combine all possible odds for maximum efficiency.
To begin, you just need to click on the Live Betting tab that's located in the top centre of the website. After you're in, you will see all currently live sports matches in the most popular sports on the site. However, if there is nothing that interests you at that time, you can scroll down a little bit, and you will find all upcoming matches within the next six hours. This is a great way to schedule some of your bets, especially when you don't have that much free time.
Another helpful tool that Tipico has is they show you all the details about a particular match. For example, you can see how many corners or yellow card does a certain team have.
---
Live-streaming option
Unfortunately, there is no live-streaming option currently available. You can still follow a specific game live but only via Tipico's platform. However, some matches have a special TV icon. If that's the case, this means you can watch this specific match live. If you hover your mouse over it, it will indicate where to go and watch in. In most cases, it will be an external website that you can go to.
Nevertheless, you don't need to really go through this because Tipico's live page is working very well. It gets updated instantly, and all data is easily accessible, which saves you a lot of time from going through the statistics.
---
Cash-out service
Cashing-out is a great way to save some money when things are going wrong. Fortunately, Tipico offers this to its customers, which is pretty cool! Here is how it works:
If the cash-out option is available (sometimes it won't be), you can click on it to see what's the evaluation of your current bet. The numbers will change depending on how well is your bet doing.
The money can you get via this method will not count towards your bonus requirements if you completely settle your bet. You can't use the cash out option on the so-called "Free bets."
It is essential to look of your bet carefully has a cash-out option or not. After all, Tipico is the one who decides when to and when no to add it.
---
Tipico casino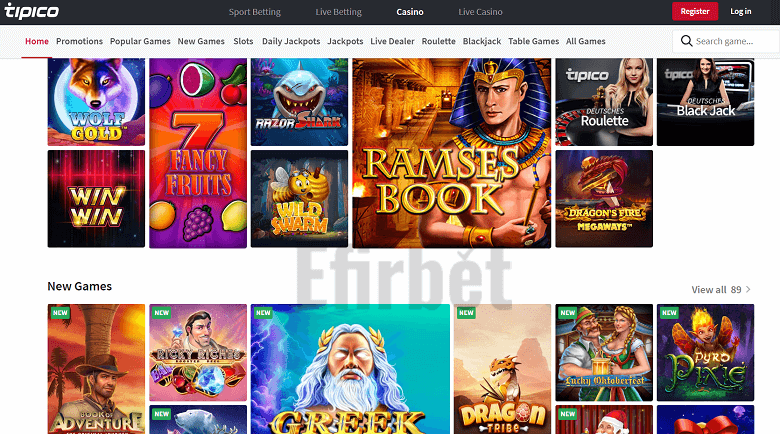 Even though many people consider Tipico to be a strictly sports betting websites, that's far from the truth. In fact, it probably has one of the cleanest Casino sections. In order to check it out, you need to click on the Casino tab, and you will discover an entirely new world in front of you.
Right now, you can choose between the following Casino games:
Roulette
Slots
Live Dealer
Jackpots
Table games
Blackjack
Daily Jackpots
All of them are pretty cool, so we suggest you check them out. If we have to recommend one of them, it will be the Live Dealer. You can find more information about it below.
Tipico welcome bonus for Casino – 100% up to 200 EUR + 100 Free spins
Needless to say, no Casino experience will be complete if there isn't a bonus for it. It seems like Tipico knows that because they have one of the best casino bonuses on the market right now. If you decide to make a deposit and play in this section, you can get as much as €200 for free! As if that's not enough, Tipico goes one step further by also giving you 100 free spins. How cool is that?!
Before you jump in to make your deposit, here are a couple of things you need to know:
First, this bonus is only applicable to the new casino players.
You can use the free spin bonus on the following games: "Aloha," Twin Spin deluxe," "Starbust," and "Pyramid." Keep it in mind that you need to use them within seven days of obtaining them.
To participate, you need to make at least a €10 deposit.
To withdraw your bonus, you need to wage it at least 35 times in the month after you get it. DO NOT try to withdraw your bonus before this period because you will lose it.
Different games have a different contribution percentage to your wagering requirements. For example, Slots will add all their value (100%), whereas Baccarat won't add anything (0%).
---
Tipico Live casino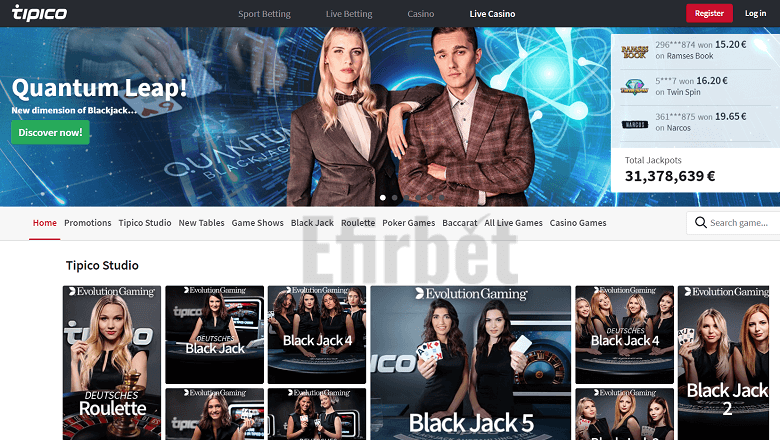 As we mentioned earlier, the entire casino section works like a charm. Every single subsection has something unique to offer, but what really stands out from them is the Live Dealer. With over 60+ different games and dealers to choose from, this is one of the most significant collections of Live Dealers right now.
Whether you want to play some good-old Roulette or try something new, Tipico has you covered. You can choose between games such as Baccarat and many kinds of Roulettes and Blackjacks. However, if you want to try something new, there are games like the Football Studio, for example, where you can have an entirely different experience.
It will probably take you a couple of hours to go through everything that Tipico's Casino has to offer, but it's well worth it. It's nearly impossible not to find something that will make you smile.
---
Deposit & Withdrawals
Being one of the leaders in their sector, Tipico has many different payment methods to choose from. When it comes down to deposits, though, there is only one way to do it – via a Bank Transfer. To make it safer, every single transaction is handled manually, so it takes up to seven days to be completed. You can withdraw up to three times per week without paying any fee for it. However, if you go over this number, each transaction will cost you €5.
Here are all currently available INSTANT Deposit methods (your money will be in your account immediately). Keep it in mind that this works only for Austria and Germany. If you are not from these countries, you might experience a slight delay in your deposits.
Deposit Methods
Withdrawal Methods
| Payment Method | Deposit Minimum | Deposit Maximum | Time for Deposit |
| --- | --- | --- | --- |
| Bank Wire Transfer | €25 | - | 1-5 days |
| Neteller | €10 | €5000 | Instant |
| Skrill | €10 | €10 000 | Instant |
| Paysafe Card | €10 | €1000 | Instant |
| Fast Bank Transfer | €25 | - | 1-5 days |
| Skrill 1-Tap | €10 | €10 000 | Instant |
| Tipico Pay | €10 | €400 | Instant |
| Payment Method | Withdrawal Minimum | Withdrawal Maximum | Time for Withdrawal |
| --- | --- | --- | --- |
| Bank Wire Transfer | €25 | €100 000 | 3-7 days |
| Neteller | €10 | €5000 | Instant |
| Skrill | €10 | €10 000 | Instant |
| Paysafe Card | €10 | €2500 | Instant |
| Fast Bank Transfer | | | |
| Skrill 1-Tap | - | - | - |
| Tipico Pay | - | - | - |
---
Mobile services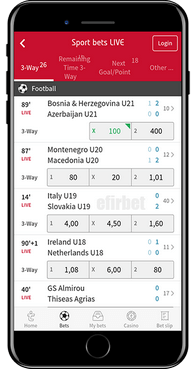 Unlike many betting websites out there, Tipico has a fully-fledged Mobile application that works very well.
In order to get it, you need to download it from Tipico's website and then install it on your iOS or Android device. Keep in mind that you won't be able to find it in the App Store, so you have to install it manually.
Once you're done, you can start placing bets. Tipico's mobile application is optimized to run as smooth as possible, so you shouldn't have any troubles when navigating around. In fact, the layout of the app is very similar to the one on Tipico's desktop version.
Some of Tipico's signature features are also available here, such as the Live Betting and the Cashout options.
---
Affiliate program
If you have a stable way to bring traffic to Tipico, why don't you join their affiliate program in addition to your play? You can earn as much as 25% commission per new customer, which is a perfect amount.
What's more, you will also benefit from their affiliate team, which will always be there to help you. Whether you're interested in finding out new ways to promote your website or want to optimize it properly, Tipico will be there to help you out.
If you want to learn more, check out this link.
---
FAQs
Is Tipico a safe place to bet?
This bookmaker is one of the largest ones in Europe, so we think they are safe.
Are there any bonuses for new customers?
Yes, check out our bonus reviews for more info on all current promotions.
Can I use PayPal to make a deposit?
Yes! You can also use PayPal to log in to your account.
Is the mobile app available for iOS?
Yes, you can download for iOS and Android.
What is the minimum deposit amount?
It depends on what method you choose, but in most cases, it is €10.
How many times can I withdraw my winnings?
You can withdraw as much as you like. However, if you do it more than three times a week, you need to pay a €5 tax.
Does Tipico have a lot of Live Games?
Yes, Tipico has more than sixty Live Games to choose from.
---
About Tipico
With more than 700 real offices, we can safely say that Tipico is one of the biggest bookmakers in Europe. The company has been "in the game" for over fifteen years now, and it doesn't seem like it will be going anywhere for now.
Despite being mainly in the "physical" business, Tipico has one of the best betting websites. It is very easy to navigate around and to understand, which is a very rare thing among betting websites. What's more, Tipico has some of the best bonuses in the industry right now.
As if that was not enough, they also have a fully working mobile app for Android and iOS. This means you can bring your bets wherever you are and take advantage of their cutting-edge live platform.
---
Customer services
You can contact Tipico's customer support in two ways – either by email or via the live chat. Both methods work fine, so it all comes down to your personal choice. If you have an urgent thing to ask, do not hesitate to contact them via the live chat. On the other hand, if it's something that can wait, an email might be the way to go.
However, before you do any of these things, remember to check their FAQ section. In most cases, you can find your answer there.
---
Contact details
Like we mentioned, you can use Tipico's contact form and send them an email. Usually, they will reply within a couple of hours.
On the other hand, if you want to get into direct contact via the phone, you can use the following number: +49 721 50995450.
---
Rating and conclusion
Our personal opinion is that this betting website has a lot of potentials. They've been on the market long enough to prove themselves that they can handle the ups and downs. Also, Tipico is mainly occupied in the "physical" bookmaker's business, which is another sign that they know how to do this.
The only real downside is that it's not available in most countries. However, if you are lucky enough to live where it is, you can enjoy it to its fullest.
Our overall rating for Tipico is 4.2/5.