Choosing an online bookmaker in Portugal could be a difficult task. In order to help Portuguese players to select the right betting site, we provide a table with the leading and trusted operators in the country. See which they are in our table below.
---
The Best Bookmakers in Portugal Ranked
| | |
| --- | --- |
| 🥇 1. Betano | Best Overall Performance ✅ |
| 🥇 2. 22Bet | Best Betting Jackpot Section ✅ |
| 🥇 3. Betclic | Most Attractive Design ✅ |
| 🥇 4. Betway | Best Reputation ✅ |
| 🥇 5. LVBet | Best for eSports ✅ |
The new laws in Portugal, as seen in many newly regulated territories, still require a fair bit of massaging and polishing to iron out all the unforeseen issues associated with the process which will still take some time.
Despite some unexpected setbacks in the form of overly protective rules relating to peer competition in the country's industry, it still provides its citizens with access to a massive range of high-quality online entertainments available from a number of offshore operators and its locally licensed operators, we discuss and summarise some of the most popular bookmakers below.
Betway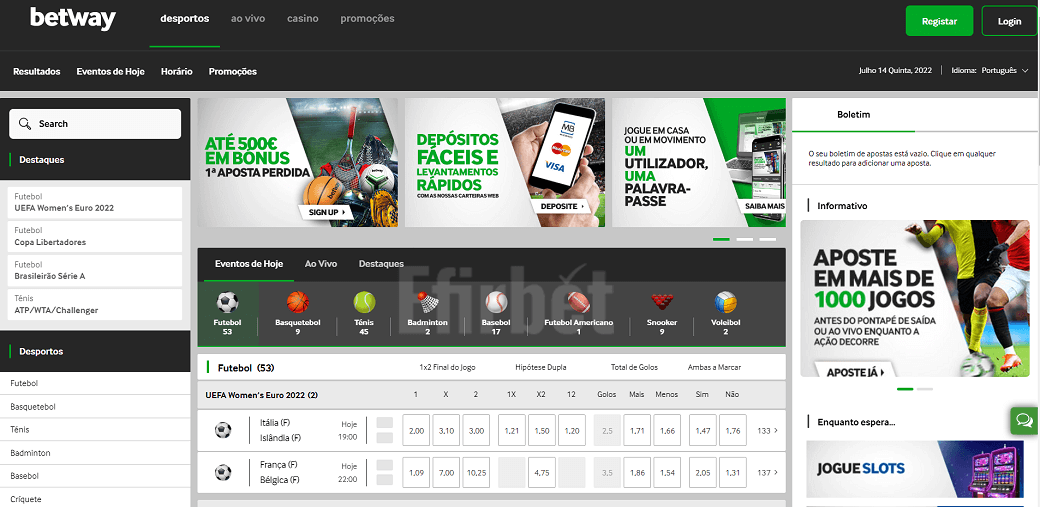 Betway made a name for itself as one of the most prominent and trustworthy bookmakers found in the UK but nowadays popular in the whole world. One of the key advantages Betway offer is its extremely high payout rate and the vast variety of sports and markets. Moreover, their primary focus points are offering high odds and a wide range of fast, safe payment methods. In addition, the brand's range of sports types and betting markets rivals the best in the industry.
Pros
Experienced brand
Extra features for racing betting
Many free bet offers
Reliable support
Cons
Just a few long-term promotions
22Bet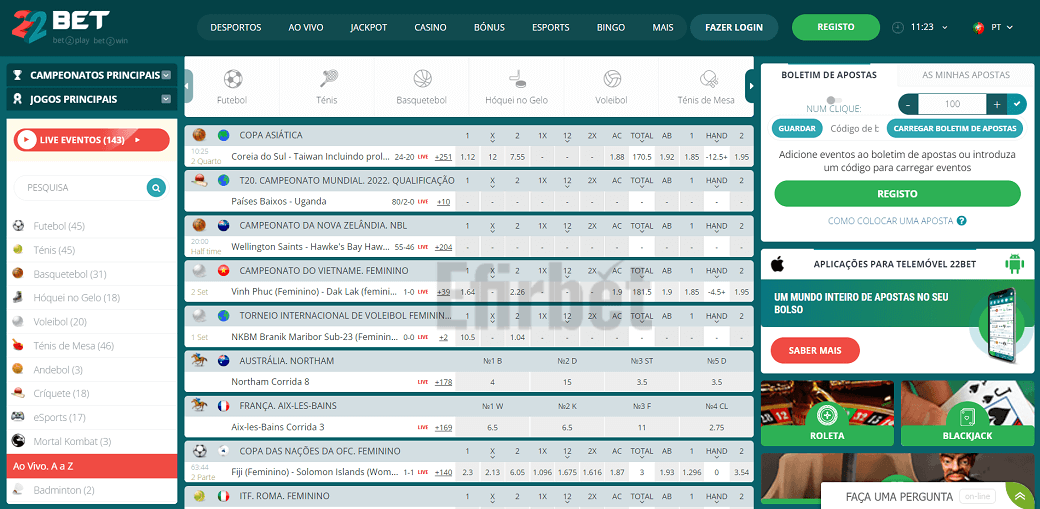 Another one of the impressive new sportsbooks that appeared on the market since 2017 22Bet since its inception surprises with its fully comprehensive sportsbook range that offers an extensive number of betting markets, all of which are supported by an excellent live video streaming service and highly favourable odds. This success recipe, combined with an astonishing number of payment methods and accepted currencies, allowed the brand to establish itself as one of the premier international betting destinations.
Pros
Exciting jackpot section
Many markets
Various sportsbook
Useful features
Betano
Betano showed its commitment to becoming a severe sportsbook by rebuilding the brand's image after taking some blows due to strategic a miscalculation. Since these early days, Betano became known as a reliable, trustworthy betting partner to thousands of east block country members. In intervening years, the company also re-set its focus on gaining traction amongst punters from western European countries. Betano offers a good range of sports and betting markets and adds value with some of the best odds in the market. It has become known for attaining notably high payout rates, as well as its impressive video streaming feature that shows up to four events in real-time.
Pros
A fast-growing and innovative company
Top-notch betting features
Competitive odds
Various bonuses
Betcli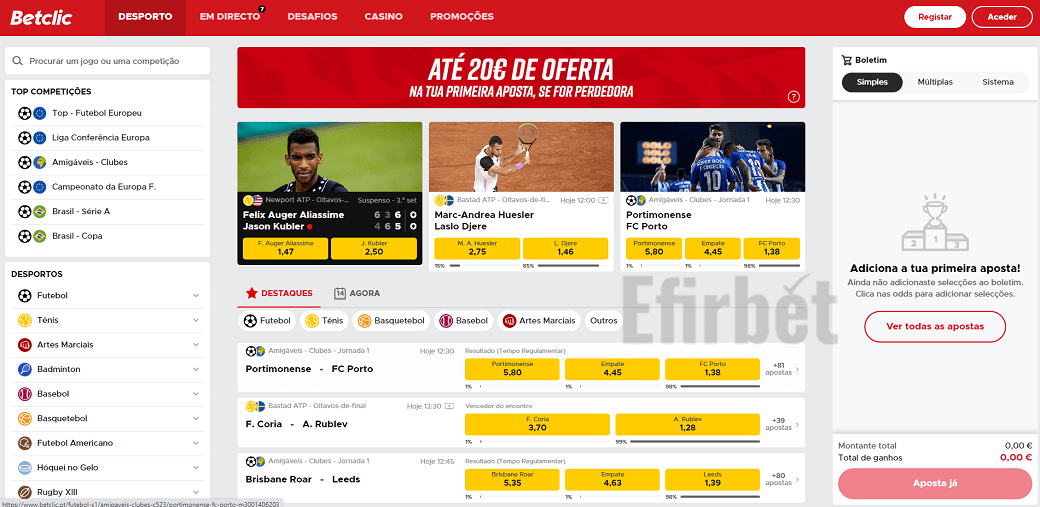 Found in 2005 in the UK, Betclic is now considered as one of the leading betting brands. It focuses on the European market and is now licensed in several countries. Betclic stands out among its competitors because of the variety in the bonus portfolio. It offers not only sports betting, but also an exciting casino section.
Pros
Superb betting features
Excellent In-play section
Convenient betting apps
Various sportsbook
Cons
Live chat support is not available 24/7
LVBet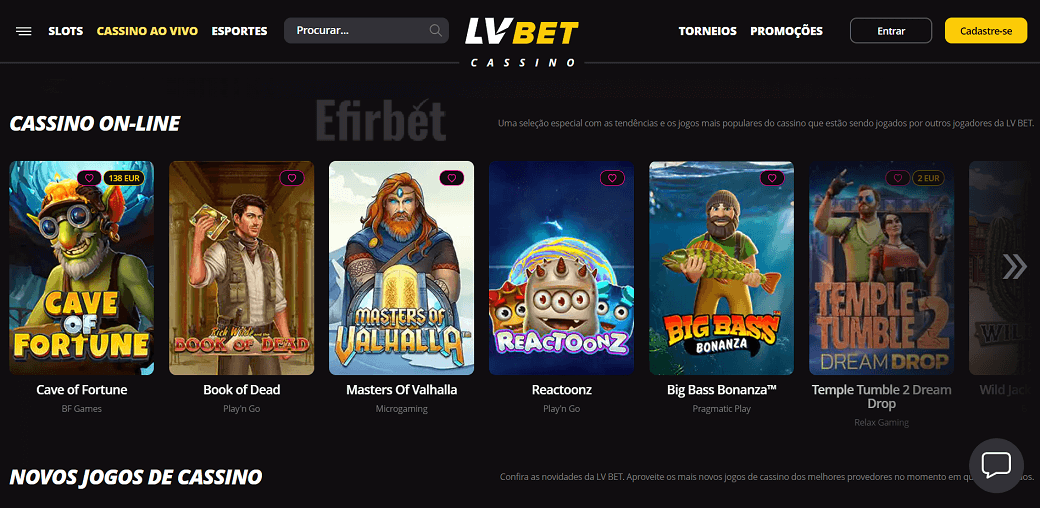 It comes as no surprise to us that LVBet is one of the leading brands in the Portuguese online betting market. This company has proven itself as an ambitious competitor. The brand aims to provide the best possible gaming experience to its customers. LVBet is one of the recognisable operators in Europe and it's popular among players because it offers equally good sportsbook and casino sections. In our humble opinion, if you're keen on eSports, this betting sites is the right one for you.
Pros
Excellent eSports section
Competitive odds
Good variety of useful features
Excellent bonuses
Various casino games
Cons
A bit limited payment options for Portuguese players
---
How Popular Is Online Betting in Portugal?
Gambling forms an integral part of just about any nation's cultural history, and the significance of the role it played in the culture of the Portuguese peoples over the past century is quite remarkable. For the most part of its early history, the Portuguese monarchy banned just about all forms of gambling in the country. As in many cultures, this caused it to become a secretive underground activity.
However, just after the turn of the 20th century the country's first newly elected government, after centuries of oppressive monarchical rule, soon proclaimed gambling a legal activity. On the 16th of January 1916, Bernardino Luís Machado Guimarães, the third president of the First Portuguese Republic opened the start of construction for a new casino in Estoril, one of Portugal's then civil parishes.
Construction soon completed and the casino quickly gained fame throughout Europe, especially so during World War II when it proved an attraction to officers and men from the armed forces. According to popular legend, the casino also saw spies from various countries meet, dine, and gamble at its tables. Reportedly, Casino Estoril served as one of the inspirational factors responsible for giving birth to Ian Fleming's first novel, Casino Royale, in 1952.
1934 saw the opening of Portugal's second casino, Casino da Póvoa de Varzim. The astonishing building itself draws from the inspirational work of French modernist architect Jean-Louis Charles Garnier (also served as architect for the famed Le Casino de Monte-Carlo). It aimed to help the entertainment needs of the country's upper classes while visiting the beach resort and it too proved extraordinarily successful. In 1977, Portugal's authority for its national treasures, IGESPAR, officially declared the building a national monument.
Over the course of the next several decades Portugal saw the construction of 9 more casinos, totalling to 11 at present. A number that may seem insignificant today until one learns that Portugal's casinos have built a reputation for being Europe's largest, most elegant, most luxurious, and expensive establishments. With the country's land-based casino industry having initially paved the way, in 2015 the French Betclic Group became one of the first online bookmakers to start operating and marketing its services in Portugal.
---
Gambling Facts at a Glance
Currency

In 1999 the euro replaced Portugal's long-serving escudo which the state first introduced as a gold coin in 1722 and finally removed from the market on the 28th of February 2002.

Population

As at the beginning of 2019, an estimated 10.25 million people resided in Portugal placing 88th on the list of the most populous world countries.

Active players

Home to several of the most luxurious casinos in Europe, Portugal currently has over 2.2 million active gamblers living within its borders.

Regulatory authority

The Decree-Law enacted on the 24th of November 1955 provided for the establishment and reorganisation of Santa Casa da Misericordia de Lisboa (SMCL) in combination with the Serviço de Regulação Inspeção de Jogos (SRIJ) serves as the jurisdictional regulatory bodies responsible for establishing and implementing controls overall form of gambling within the country's borders.

Licensed gambling products

The Regime Juridicio dos Jogos e Apostas Online (RJO) provides the legal framework for licencing the following land-based and online products:

Casino gaming
Poker
Bingo
Betting Fixed odds
Sports/Horse race betting
Fantasy Sports betting

Types of operators

The Santa Casa da Misericordia de Lisboa (SMCL) in combination with the Serviço de RegulaçãoInspeção de Jogos (SRIJ) by a state-approved decree will issue licenses for the following types of online and land-based gambling operations:

Casinos
Bookmakers
Lotteries
Bingo
Poker
Is Online Betting Legal in Portugal?
Portugal's legal system splits gambling into three categories: lotteries, casino, and sports betting, and it provides for each differently. The state shows little interest in raffles which have a relatively low financial impact; however, the rest remain subject to a state-run monopoly.
The Santa Casa de Misericordia de Lisboa (SCML) or The Lisbon Holy House of Mercy MHIH, which serves a charitable humanitarian organisation, has remained in control of Portugal's sports betting industry since 1955 via a government-sponsored monopoly. The NGO primarily uses the profits it generates for the funding of social programs aimed at helping Lisbon's elderly and disenfranchised children.
Over the past several decades since 1955 an extensive series of laws provided for the regulation and licencing of just about every format of land-based gambling, but still left gambling in all the convenience of its online forms out in the cold. Finally, in 2015, the state brought a significant change to Portugal's gambling landscape by enacting a new set of laws specifically to address the legalisation and regulation of online gambling in areas under its jurisdictional control.
Even though Portugal legalised and regulated online gambling and opened its market to foreign gambling operators in 2015, the country's betting market remains unsettled and unfulfilled. Much of the blame is due to a heavy tax burden which the country's tax system places on its licensed bookmakers. Licenced bookmakers are also forced to lower their odds to keep Portugal's local bookmakers in business which proves another critical contributing factor for dissent amongst online bookmakers and Portugal's citizenry.
These unresolved issues caused many of Europe's major international bookmaking brands to refrain from officially entering the market. As a result, several unlicensed foreign bookmakers still continue to provide their services to Portuguese residents. As many of the country's local punters prefer to bet with these unlicensed online bookmakers, local lawmakers have tried countering this trend via the usual ISP blocking. However, user access to unlicensed bookmakers resulted in punters countering such unfair restrictions by masking their IP address.
Are there restrictions on Portuguese players by some bookmakers?
Portuguese punters face a myriad of state-imposed restrictions that range from the ability to only play and fund their accounts at a limited number of state-approved online sportsbooks, to restricted access to unlicensed internet sites. Despite the reasonably recent legalising of online gambling, the state-imposed monopoly of its gambling market still leaves local punters and players feeling dissatisfied. Essentially, despite the freedoms afforded by EU intervention, the state still only instituted these at half measure, with its own aim apparently more the protection of its monopolised income than in the interests of fulfilling the freedom it people deserves or complying with EU sanctioned views.
How to Choose the Right Online Betting Site?
Portugal's gambling landscape may not yet quite meet the standard of control, freedom, and positive atmosphere set by countries such as the UK. However, it has over the past several years made a massive leap forward in providing its people with a much wider variety of online gambling entertainment than they have ever enjoyed previously. If this made you consider joining up with one of the locally licensed or international internet-based sportsbooks, please continue reading and give the contents some thought as it may assist you in making the correct choice the first time and avoid many of the pitfalls associated with making your investment Ask the following:
Does my list of preselected names all hold valid operating licences from a recognised regulatory authority?
Have they implemented a regular testing program to verify and certify the RNG validity of their games?
Do they possess a verifiably good reputation amongst more experienced punters?
How vast is the sports range they offer and is it supported an equally impressive number of betting markets?
Do the operators on your preferred list provide a comprehensive variety of gambling products and options such as a Cash out function, betslip builder, betslip editor, a live-streamed video feed of all betting sports?
Do they feature a comprehensive range of banking methods suitable to your current needs?
Bonuses for Portuguese Players
Portugal's licensed betting sites feature some of the richest promotional bonuses that comprise of multiple valuable bonus money opportunities for online sports betting. This covers everything from the best signup offer to daily, monthly, and weekly bonuses, specially priced events, and boosted price offers to provide new and existing members with an inflated wagering budget.
Most of these branded bonuses payout its resultant rewards in one of two formats, Free Bets or Cash and do so mostly within 24 hours after the due expiry date. New punters can opt to receive percentage matching welcome or signup bonuses for merely making their first deposit or placing their first wager.
Taking care of existing players has provided punters with numerous innovative ways to extend their wagering budget. These include the best price guaranteed offers, exclusive event odds, boosted pricing, enhanced odds, enhanced ACCAs, and numerous others.
---
Most Popular Sports to Bet on in Portugal
The Portuguese nation shares its high level of sports enthusiasm with many other European nations, and similarly has a massive following dedicated to the great game of football/soccer. Aside from football, its peoples also have their own unique preferences that show in the way they choose to support their favourite stars and teams. The most popular sports to bet on in Portugal are in order of popularity:
Football
Golf
Tennis
Cycling
Ice Hockey
Are Online Casinos Popular in Portugal?
Portugal became one of the first European nations to embrace casino gambling fully. As a state, it has refrained from overloading its local economy with too many options in the land-based market. However, its online industry offers a great multitude of the best bookmakers from around the globe. Sadly, due to the restrictive laws, its citizens only have legal access to a limited number of online options, yet many love gambling online so much they prefer to take the risk of gambling at one of the offshore sportsbooks and casinos not licensed within Portugal that serve the international market who continue to grant membership to locals.
---
Trivia/Did you know that…
Close to 70% of Portugal's punters still prefer to bet with unlicensed online bookmakers
The SCML enjoys a 50% lower tax rate than its offshore competitors
In 2016, one of the most famous football stars on the planet, Portugal's Cristiano Ronaldo, appeared in several advertisements for, PokerStars, the world's most popular online poker network
Only nine licensed online sportsbooks operate in Portugal
The legal age for gambling in Portugal is 18
---
Available Mobile Apps
Considering the number of brands detailed in our discussion above, Portugal's sports bettors have access to some of the online betting industry's absolute best betting apps that work in Portugal. All these internationally recognised operators feature a range of apps able to accommodate just about all latter-day mobile smart devices. One of the most convenient assurances is that each comes with a fully optimised mobile-centric interface to provide the absolute best sportsbook user-experience on mobile.
Custom features include optimal use of touch screen functionality for intuitive navigation and controls, making the quick placing of bets while on the move a pleasurable stress-free affair. They all offer interfaces instantly familiar to those already acquainted with the respective full website. Most also in addition to an excellent mobile portal still offer downloadable, installable apps dedicated to either Android or iOS devices.
---
Supported Payment Methods
Once again, as any savvy punter would demand, brands such as 22XBet and the others in our discussion offer a multitude of popular and internationally accepted payment options to fund their player accounts. Payment options include credit/debit cards such as Master/Visa, Maestro, Visa Electron, while indirect payments feature brands such as POLi and PayPal, further options incorporate Bank Transfers, e-Wallets from NETeller and Skrill, and many more. Regarding processing time and bank-imposed delays, it mostly depends on your preferred selection; credit/debit card transactions remain instant, indirect options may require a day and bank transfers 4-7 days.
Is there tax on winnings?
No not for individual gamblers. Instead, the state collects tax revenues directly from the operators with levies ranging from 8% to as high as 16% on sports betting, while casino operators remain subject to a tax rate varying between 15% to 30% imposed on revenue.
---
FAQs
How safe is it to place bets with one of the reputable international operators?
The law considers this an illegal act, however, has not prosecuted an individual for doing so but have in the recent past imposed severe penalties against transgressing operators. Employing a good VPN reduces the risk substantially.
Can I use Ladbrokes in Portugal?
Yes, they offer their services to Portuguese Punters.
Why do so many internationally recognised casino brands not want to accept players from Portugal?
Legality, licensing, and taxes, still remain some of the critical issues in pretty-much all such instances. Many internationally active operators prefer to avoid any problems that may result in prosecution, a fine, or any long, expensive legal wrangling.
Is it better to sign up with a locally licensed bookmaker or go with one of the international brands?
There is always less risk when you stay with a locally licensed operator. But refer to our recommended criteria when making your selection!
How long will one of the international bookmakers take before they settle my bets?
It depends on the bookmaker you choose, but if it is with one of the brands featured in our article, they will settle bets within 24 hours after the natural conclusion of the event.
What are the best bonuses to choose when I first sign-up with an online sportsbook?
If you have the option of choosing between several, then select one that suits your playing style, frequency, and level of experience best.
How often will an online bookmaker require me to verify my account details?
Hard to say since the operators follow no specific schedule and all such checks remain random but frequent.
---
Final Comments
The 2015 coding responsible for legalising most forms of online gambling in Portugal is in its current format still not representative of an entirely positive attitude towards gambling but has made great strides in paving the way for a series of further improvements to the protection of its bettor inhabitants. The government, if it correctly serves the purpose of its original tender, is in place to best serve the needs of the more significant part of its populace. However, in its current format, the country's gambling laws do not yet attain that level of status. This quite surprising considering the world-class status of its land-based gambling venues!