Which bookmakers are trusted and where to place bets in Australia?
In the vas variety of betting companies, find out the best bookmakers for your online bets. Below you can see a list with the most reputable bookies that currently operate on the Australian market.
Top Australia Betting Sites
| | |
| --- | --- |
| 🥇 1. Betfair | Best Overall Performance ✅ |
| 🥇 2. Unibet | Best In-Play Section ✅ |
| 🥇 3. Pointsbet | Best for AFL Bets ✅ |
| 🥇 4. 22Bet | Greatest Jackpot Section ✅ |
| 🥇 5. Ladbrokes | Great for Horse Racings ✅ |
Australians still continue to have one of the world's greatest love affairs with gambling, which makes it a desirable target market for several of Europe's largest and most reputable international bookmakers in Australia. We detail a few of our recommended licenced betting sites below in our best bookies review of online bookmakers in Australia.
Unibet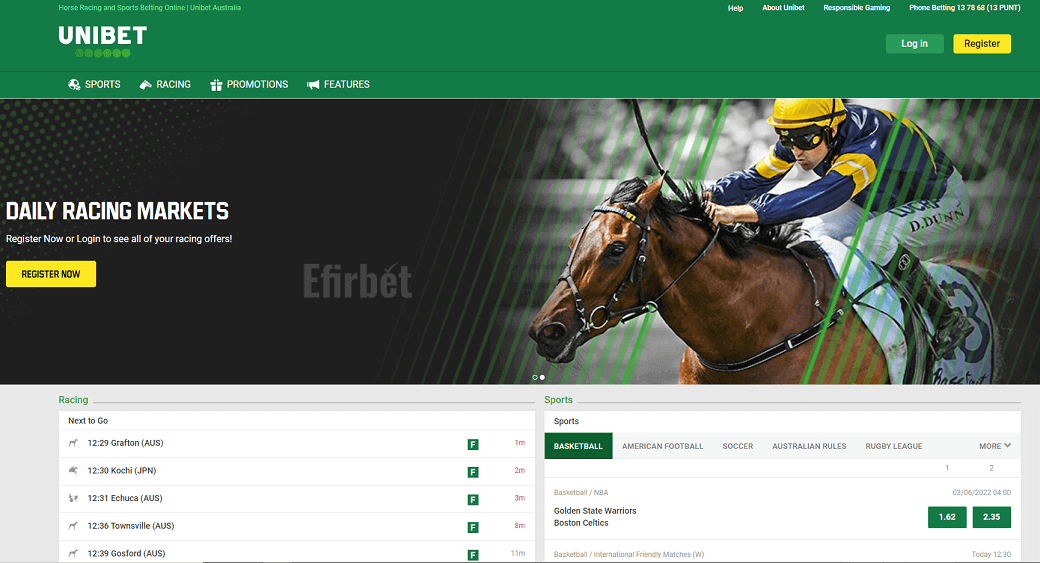 Considered one of Australia's most popular bookmakers, Malta-based Unibet forms part of the world-renowned Kindred Affiliates of online sports betting and casino venues. Founded back in 1997, the operator boasts a worldwide user base of over 6 million registered members. Entering Australia by offering one of the best betting features on the market, the company currently is seen by many as a leader in its field.
Advantages:
Excellent variety of markets
High odds
Betting community available
Reputable and experienced brand
Disadvantages:
Just a few ongoing promos
No events calendar
22Bet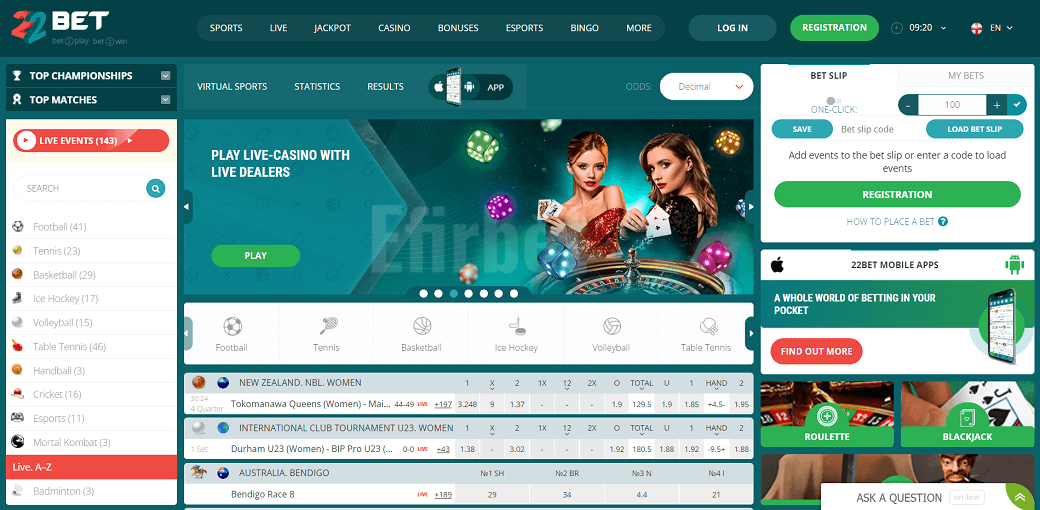 In 2017, 22Bet wowed their audiences across the globe with the launch of a betting platform, based on the cross-platformed compliancy of HTML5. This provided members with a host of benefits, including faster and reliable page loading on all hardware platforms, thanks to the 22Bet mobile app and the optimised desktop version.
Advantages:
High betting limits
Superb jackpot section
Low deposit & withdrawal limits
Disadvantages:
Often Lagging in-play section
Relatively low odds for secondary leagues
Betfair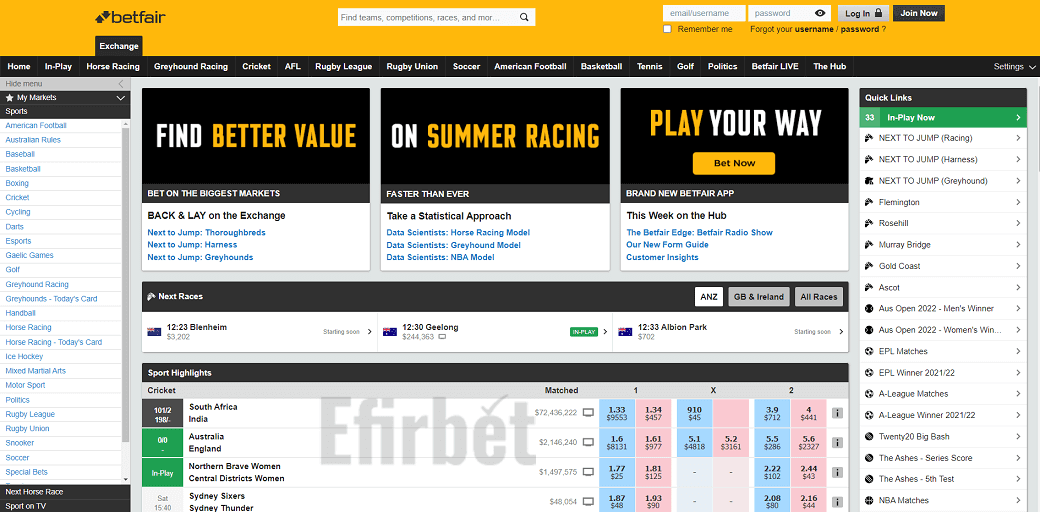 Starting life during 2000 in Britain and not considered a bookmaker in the true sense of the word, Betfair, as elsewhere in the world differentiates its Australian identity from others by offering one of the world's largest bet-exchange services. Bet-exchanges allow punters too, instead of betting on a win or points spread, place bets against one-another by backing and/or laying teams, horses, results, and outcomes.
Advantages:
Various payment methods
Secure transactions
Great betting exchange
Excellent features for horse racings
Disadvantages:
Not that competitive odds
Live streaming is not available to all events
Pointsbet
Pointsbet.com.au established itself as one of the industry's top-tier online betting destinations, supporting a cutting-edge sportsbook. It offers splendid Australian betting features, an excellent betting environment and a formidable range of online entertainment options. Established in 2015 and operated out of Cyprus, PointsBet forms part of the Marikit Holdings Group of companies.
Advantages:
Cash out & other useful betting features
Multi live streaming
Great variety of payment methods
A wide range of sports
Disadvantages:
Lower betting limits
Ladbrokes
Regarded as one of the best bookmakers to operate locally, Ladbrokes Australia was quick to establish itself as the most preferred online sportsbetting site amongst local punters. Its local website, designed in Australia by Australians with the Aussie punter's needs kept foremost, offers intuitive navigation and design allowing punters to switch directly between the various sports types, which makes finding the race or match they want to bet on a breeze. Many Australians prefer this brand because Ladbrokes are not only focused on the new customers but on the registered players as well.
Advantages:
Excellent Horse Racing Section
Useful betting features
Great cash-out deals
Competitive odds
Disadvantages:
Slow transactions
---
Why Choose Online Betting in Australia
The more significant majority of Australians love gambling, despite the local and globe-spanning popularity of online gambling, its legal system has not yet caught up with this fact. However, when compared to the confusing state of gambling affairs in the US, the country has made notable progress but still remains far behind the levels of freedom to gamble afforded by the legal systems in most European countries.
Video Slots locally known as Pokies remain one of the staple diets amongst Australian gamblers. As a result, players from other shores will find the wide variety of online slots made locally available one of the primary attractors in Australia based online entertainment venues. However, the wealth of international sports actively practised at a high-level by local sports stars enjoy a sizeable loyal following amongst their Australian fans. This ensures Australia based online sportsbetting venues enjoy a substantial local and international patronage.
These factors combined make Australian online gambling venues quite an attractive option since they not only feature the most popular sports types commonly found in European and American licenced betting sites. They also pay particular homage, such as proper pricing and excellent odds, to local sports types not commonly found in venues facing Europe and the USA, which makes Australian online betting venues particularly attractive to internet visitors from abroad.
---
Is Online Betting Legal in Australia?
The Interactive Gambling Act (IGA), enacted back in 2001 already, remains the key legislative control covering all aspects of online gambling in Australia. Considering the dynamism so natural to the online gambling arena, it could quite possibly imply the IGA might be past its due date for an update and overhaul. The IGA only regulates the actions of gambling operators, the act serves to prohibit operators from marketing unregulated forms of online gambling locally while making no provision for the activities of players. It is essentially leaving its citizens free to engage in any kind of online gambling.
The IGA considers racing, sportsbetting, and lotteries as the only regulated forms of gambling, however, it imposes certain restrictions on the types of games operators may offer. Governmental lawmakers enacted this law to regulate and deal with the explosive growth of online gambling during its formative years. The IGA essentially barred gambling operators from marketing all forms of online casino and poker games, forcing Australian gaming operators to block local players from accessing these types of activities, but specifically allowed operators to provide foreign players with access to such services.
Australian gambling law does allow local operators to market racing and sportsbetting activities, however, it implemented one exception which places a strict moratorium on all forms of Live In-Play betting. The IGA prohibits all kinds of sports wagering on games while they are in progress.
---
Are there restrictions on Australian players by some bookmakers?
As detailed in our explanation regarding the legalities of sportsbetting, Australian law demands local online casinos restrict all Australian residents from accessing games like poker, while online bookmakers mat not offer In-Play betting to locals. Bizarrely, the law does not forbid an Australian resident from engaging any form of online gambling at foreign operators, including poker and in-play sportsbetting.
[/box]
---
Gambling Facts at a Glance
Currency
Local and international sportsbook brands operating within Australian jurisdictional regions accept the Australian Dollar (AUD/AU$) for account funding. It is uncommon for local entertainment facilities to accept funding from residents using other currencies. However, the same site may accept any number of popularly traded international currencies from members residing in other countries. This includes 22Bet, Unibet, Ladbrokes, and several others.
Population
Occupying 53rd position in the global population rankings, Australia's population estimate hovers around 25.5million people, making it the most populous country in Oceania.
Active players
According to a recent official study, over 80% of adult Australians regularly gamble, placing the number of active gamblers living in Australia at over 20 million.
Regulatory authority
Since the incorporation of new online gambling activities, the Commonwealth increased its active role in gambling regulation. However, Australia's gambling industry also falls under the regulatory jurisdiction of Territorial and State authorities, with no overarching statute in place responsible for regulating gambling activities the governmental system gave rise to the establishment of each of the following controlling bodies:
Australian Communications and Media Authority (ACMA)
Australian Capital Territory Gambling & Racing Commission
New South Wales Office of Liquor, Gaming and Racing
Northern Territory Licensing Commission
Queensland Office of Liquor and Gaming Regulation
South Australia Independent Gambling Authority
Tasmanian Gaming Commission
Victorian Commission for Gambling and Liquor Regulation
Western Australia Department of Racing, Gaming and Liquor
Licensed gambling products
A Gambling Operator License is required from the territorial authority for companies presenting retail wagering, casino operations, lotteries, keno, and instant lottery services. Online sportsbook operators require a Bookmaker License also from the territorial authority for offering online racebooks and related sportsbetting facilities. Naturally, it excludes any in-play betting options. Gaming Venue & Machine Licensing legalities require a venue licence from the territorial authority as well as individual licences for each individual machine. However, casinos are exempt from requiring individual machine licenses since such licences allow for the operation of multiple machines within casino premises, and the exemption also applies to online venues.
Types of operators
Australia's ACT provides for casinos to only offer gaming machines and casino games to patrons present on facility grounds, with no provision for online gambling facilities since under current law it remains illegal for casinos to offer such services to patrons residing within the country borders. Retail Wagering Licensees present totalizator (pari-mutuel) betting on racebooks including greyhound, harness, and thoroughbred, as well as fixed-odds betting covering the same sports types as well as virtual racing simulations and other virtual sports.
---
How to Choose the Right Online Betting Site
Punters wanting to find a new or additional online betting partners in Australia best suited to their purposes and requirements need to consider the following few factors.
Does the venue hold a valid licence to operate within your region/country?
Is it reputable, trustworthy, and secure?
Do they offer first-rate customer support services such as live chat?
Does the operator offer a good selection of betting products, including Cash out, bet stop, bet editing, live video streaming, one of the best betting apps, and In-Play betting?
How are their pricing and offered odds compared to others in the market?
---
Most Popular Sports to Bet on in Australia
While it's an established fact that Australians follow and find interest in a great many sports types, their avid interest in certain sports stands out clearly in their betting preferences. The following lists these sports in the order of their respective popularity:
Aussie Rules Football
Rugby
American NFL Football
Cricket
Basketball
Tennis
---
Are Online Casinos Popular in Australia?
Despite a relative lack of urgency from the governmental lawmakers to expediently update the ACT of 2001 to better meet the challenges and demands of today's fast-changing online gambling market, Aussies continue to engage in their favourite gambling pastimes without any respite. An updated ACT would most importantly provide Australian citizens who gamble online with an effective method of recourse should they experience difficulties in their dealings with online sportsbetting entertainment venues.
Several independent studies conducted by various groups throughout the world have shown Australia as the world's biggest gambling nation, with over 80% of Australia's adults wagering regularly and over 60% engaging in some form of gambling every week. A well-known local and international retail chain, Woolworths, is also the largest owner and operator of gambling machines in the country. Operating more than 11,000 gambling machines, in sheer numbers, it outdoes the total combined number of gambling machines owned by Las Vegas' top six casinos. So, yes, Australians show a definite leaning towards casino types of entertainment.
---
Trivia/Did you know that…
An official study confirmed Australians are indeed the world's biggest gamblers, with over 80% of residents regularly participating in gambling.
Per capita Australians bet more money than any other nation, collectively spending $18 billion per annum on gambling activities
20% of the global gambling industry's slots machines are located in Australia, with more than 200,000 pokies distributed throughout the country
40% of adult Australians prefer poker above any other form of gambling, considered as of the few games of skill in gambling its features an average payout percentage ranging from 90% to 92%.
Surprisingly Woolworths is the biggest single owner and operator of poker machines in Australia. As a supermarket chain store, it operates over 11,000 poker machines across the nation. It effectively leaves Woolworths owning more poker machines than Las Vegas' six largest casinos combined.
---
Available Mobile Apps
Each of the five top-tier online gambling entertainment brands discussed in our scribblings above, Unibet, Ladbrokes, Betfair, and 22Bet offer several mobile-centric access methods to their services. Although showing from slight to significant differences in layout, and interface appearance, they all successfully serve to deliver a most memorable user-sportsbetting experience.
All offer the full and complete range of sportsbetting and casino features present on the full versions of their websites. All come fully optimised to deliver the maximal benefit provided by the features of a touch screen and similarly have their interface controls and navigational options adapted to suit the reduced screen sizes of mobiles.
Also, with choices differing between brands, their patrons have the option to either download and install a dedicated app or use the cross-platform compatible dedicated mobile portal/virtual version.
---
Supported Payment Methods
Australia facing online sportsbooks commonly accept the Australian dollar (AUD/AU$) as the preferred fiat currency for locals when transacting deposits or making withdrawals. Due to the international nature of the largest sportsbooks discussed here, all the above-mentioned brands also trade in just about every currency on the planet, with options growing and shrinking regularly due to the influences and fluctuations of international law and politics.
Widely accepted banking/finance house brands and methods include credit and debit cards such as Visa and Mastercard, e-Wallets NETeller and Skrill, payment processors such as PayPal and POLi, plus prepaid vouchers available from retailers across the nation.
Is there a tax on winnings?
In short, no, Australians do not have to pay taxes on winnings derived from gambling activities, since the government does not consider gambling a profession. Instead, the Australian taxman prefers to knock rather loudly on the doors of gambling operators when looking for their regular stipend.
---
FAQs
What is a sportsbetting stake?
A stake refers to the amount of money placed on a betting selection, usually expressed in units with the AU$ commonly used in local referencing.
What will an Australian sportsbook require me to verify for my newly opened online account?
The sportsbook will require you forward them clearly legible copies of your government issued ID, driver's license, or Passport, recent utility bill or bank statement, and the front face of credit card you will use to fund the account.
How long does Visa credit card deposit transactions take before it reflects in my online sportsbook account?
The times may vary slightly between the various online sportsbooks, but to avoid possible future frustrations I recommend keeping clear of any sportsbook where credit card transactions do not reflect almost instantly?
How do I know the sportsbook I signed up with will pay out my winnings?
This is the most important and easily verifiable matter that you need to feel quite sure about long before you even consider signing up with any sportsbook. Simply refer to the expert advice and list of personally vetted and approved sportsbooks available from one of the premier online affiliate sites such as Efirbet.
How can I verify whether an online sportsbook holds a valid license allowing it to operate in Australia?
By law and self-imposed auditing requirements, reputable online sportsbooks must clearly display the full details of their operator's license somewhere on their website. Most online sportsbooks prefer locating a link to these details somewhere along the bottom of their homepage or in the "Help" section or in both these locations.
I'm new to the online sportsbook betting scene; How much must I deposit when I first begin?
The amount would much depend on the size of your planned budget. If you're an average wage earner use an amount you can afford to lose without hurting your finances, say $10 for your first deposit then find your way from there.
---
Final Comments
The Australian government by a flaw or by design affords the average citizen great freedom in their allowed range of online entertainment facilities and activity types, which for locals is a great thing considering the emphasis the average Australian places on their freedom to engage in all kinds of gambling, especially online. To the great benefit of all involved the highly experienced European bookmakers entering the country vastly expanded available betting markets, sports types, and betting options. It also created a significant level of competition amongst local bookmakers to either keep up or lead the way by example, which in turn created an even more favourable betting climate for local punters. If only the government would update the 2001 ACT to include some form of regulated recourse to protect the Australian gambler from potential abuse and the actions of online scamsters and fraudsters.