Which are the most reputable and reliable bookmakers in France? You can find the answer to this question in the chart below. These are the bookmakers that offer the best terms to the French players. Compare their conditions and choose the right one for your play.
---
Best Betting Sites in France
| | |
| --- | --- |
| 🥇 1. Bwin | Best Overall Performance ✅ |
| 🥇 2. Unibet | Best In-Play Section ✅ |
| 🥇 3. Vbet | Greatest Design ✅ |
| 🥇 4. Pinnacle | Best for Experienced Bettors ✅ |
Despite the severe restrictions placed upon France's online gambling community by an outdated, unfriendly, self-serving act of law, a few hardy operators willing to face the harsh local online betting climate remain. Fortunately, the remaining online betting services represent a number of the industry's best bookmaker products offering some of the sportsbetting world's finest online sportsbook experiences.
Bwin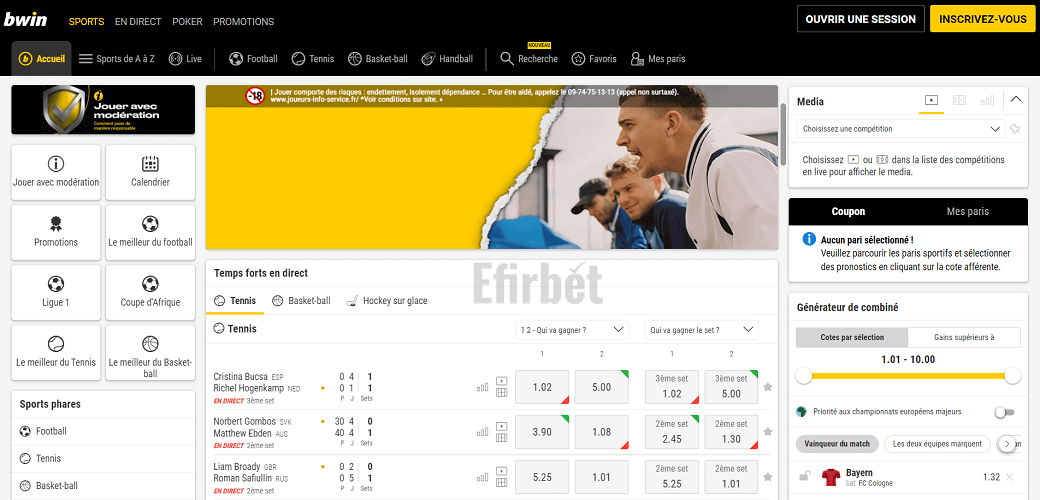 Established in 1999, Bwin distinguished itself by creating the brand as the industry's first giant. Today the Bwin brand features a massive selection of sporting types and betting markets, delivering up to 30,000 markets each day in the process covering the betting action for over 90 unique sports. Their betting products include a live streaming function viewable from any desktop or mobile device, while a singular football match may offer 160 and more alternative betting markets.
Advantages:
Superb reputation
Excellent betting features
Blog and community
Partial and auto cash out available
Disadvantages:
No events calendar
Vbet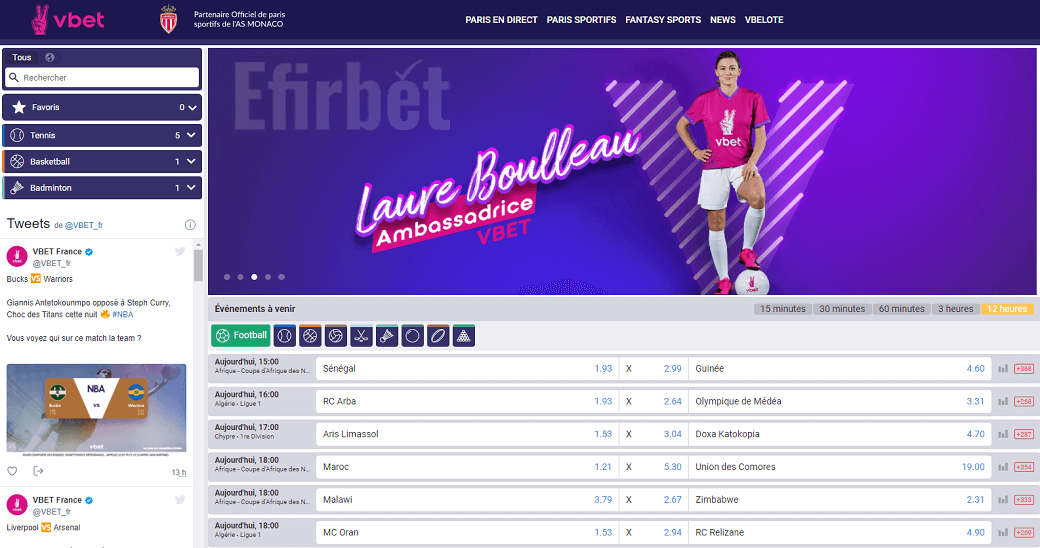 Founded in 2003 as a local online sportsbook serving Armenia the company rebranded, abbreviating its name from Vivarobet to the more memorable Vbet. The brand currently operates from offices registered in Armenia (Head Office) and Malta employing a sportsbetting platform from its holding company, BetConstruct, a company acknowledged as one of the leading providers to the industry. The excellent-optimised mobile apps of Vbet are one of the reasons for the company's success in France. Its mobile applications are very popular with French players.
Advantages:
Beautiful design
Attractive odds
Gennerous bonuses
Many disciplines in the sportsbook
Disadvantages:
A bit slow mobile platform
Unibet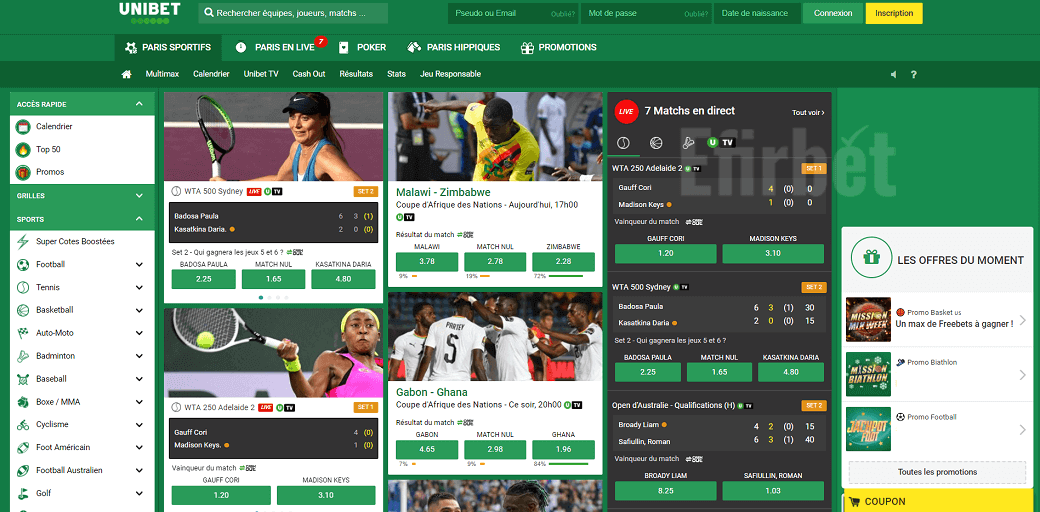 As one of the industry's largest and most popular bookmakers, the Unibet brand offers hard to match levels of quality and service to its members. Their sportsbook's range of sports encompasses one of the industry's largest local and international sports selections, further bolstered by a complete variety of betting markets and betting options. Despite having football as its primary focus, upholding the proud tradition of European bookmakers its sportsbook still features strong Greyhound and horse racing products, all available for viewing via its live video streaming service.
Advantages:
Top-notch horse racing section
Excellent odds
Correct and reliable bookmaker
Quick support
Disadvantages:
Slow withdrawal payments
Pinnacle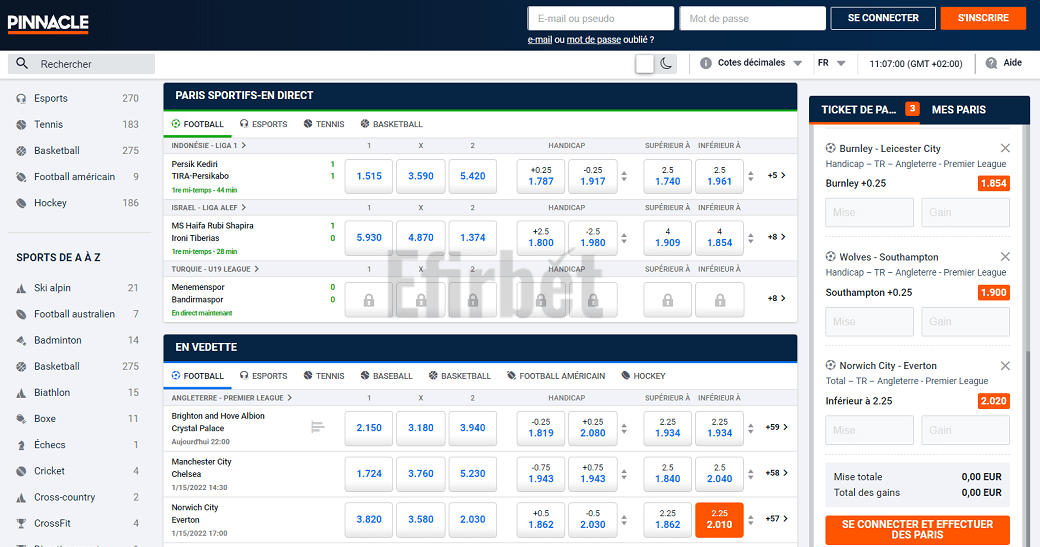 The brand Pinnacle is well-known among experienced players, as this platform is one of the few betting operators that tolerate arbitrage betting. In addition, this bookmaker aims to impose a minimum margin on their quotes. As a result customers on this website can enjoy attractive odds and gain more out of their wagers. Another positive side that deserves to be mentioned is the fact that Pinnacle grants high payout limits.
Advantages:
Enjoyable horse racing section
Vast variety of sports
Arbitrage betting tolerant
Superb football markets
Disadvantages:
No cash out option
Slow support
---
Why Choose Online Betting in France
France has a long, rich history with gambling. In the 1500s the French added a Queen to poker card decks which brought a significant and permanent change to the manner in which we play poker to this day.
French authorities banned all forms of gambling aside from horse racing in 1836. The French bettors responded to this by establishing a mushroom industry that saw hundreds of gambling dens popping up virtually overnight.
In the 17th century French mathematician, Blaise Pascal, invented the roulette wheel, which brothers Francois and Louis Blanc then converted to a gambling apparatus by adding the zero in 1842. By the 1800s betting on horse racing had evolved into fine art and in 1867 once again French innovation permanently changed the landscape of betting on the horses with their introduction of the pari-mutuel betting system. Surprisingly this new-fangled style of betting not only stayed with us but continued growing in popularity till it became the primary form of betting on horse racing across the world today.
The French regulating body ARJEL run one of the tightest regulatory ships in the world today. What greatly enhances France's attractiveness to online sports bettors is the country's annual hosting of several of the world's most prestigious horse racing meets and a massive online sportsbook football following. As a result, many of Europe's largest online sportsbetting brands hold a French operator's licence.
---
Is Online Betting Legal in France?
Despite the 1836 Act already banning all forms of gambling in France, in 1891 the French Parliament placed a specific ban on all kinds of fixed-odds and non-horseracing pooled betting. However, the same act provided for establishment of the state-owned & controlled Pari Mutuel Hippodrome (PMH), which allowed a government monopoly on the legal acceptance of pooled bets on horse racing. However, the turn of the century saw wagering on football, and other sports become increasingly popular amongst the French, resulting in a rampant rise in the number bookies operating illegally.
During the 1920s & 30s, in a concerted effort to re-establish a modicum of governmental control various forms of gambling regained their legal status if done via one of the state-owned betting entities, for horse racing Pari Mutuel Urbain (PMU) or Française des Jeux (FDJ) for lotteries and betting games. Over the following decades, PMU & FDJ retained their monopolising position of the local market, with large parts of their profits employed towards the development, funding, and sponsorship of sports throughout France. This additional source of funds played a significant role in establishing football as the country's most popular sport.
During 1983 pool betting on Greyhounds gained legal status, followed in 1987 by a lowering of the legal gambling age from 21 to 18, with the legalising of Basque Pelota following is 1997. FDJ & PMU's 2001 online licencing finally allowed the two entities to establish an online legal presence which brought about the single most major influence and innovative change in French gambling. This eventually led to the 2010 opening of the local market, allowing non-resident operators from EU member states to apply for a French gambling licence.
However, French gambling laws consider some types of gambling as too addictive and still forbid the online operation of popular casino games of chance. The list of legally prohibited online operations includes casino activities such as roulette, and slots amongst others.
---
Are there restrictions on French players by some bookmakers?
In comparison to many of the world's other tightly regulated jurisdictions, France does not represent one of the most pleasant online environments for sports betting and casino activities. While French law does not explicitly forbid its citizens from partaking in online betting activities at venues not holding a local online operating licence, the state forces internet service providers (ISP) to block access to sports betting sites not in possession of a French online operator's licence.
In addition, the country's residents have access to a somewhat restrictive betting pool containing only 11 locally licenced betting sites, mainly due to the state imposing an exorbitant company tax rate of 33%. Moreover, all bet exchanges/spread betting operations such as Betfair have refrained from entering the country meaning there is no French betting exchange whatsoever since such operators also become subject to a tax system. It requires operators to lower payouts to their customers by up to 4% since the system places a tax penalty on each and every individual bet.
To further demoralise the local gambling scene, poker pots also become subject to a 2% tax rate, and the country's tax system nails the coffin shut by taking 8.5% of all winnings derived from sportsbetting.
---
Gambling Facts at a Glance
Currency
The French franc commonly identified by FF served as France's currency from 1360 until 1961 when it underwent a revaluation, introducing the new frank (NF) holding a value worth 100 old franks. The NF currency identifier persisted for a few years after its introduction before returning to its simpler franc origins. However, France's joining of the EEC in 1996 saw the country adopt the euro (EU/€) as its official currency.
Population
According to the latest UN estimates France's total population will surpass the 65,5 million mark in 2019 which sees the country listed in 22nd position amongst the world's most populous nations.
Active players
According to recent figures released by ARJEL, France's governing regulatory body responsible for all gambling-related activities online, during the first quarter of 2019 the number of online players increased by a fifth, rising to 2.2 million active player accounts registered online across all locally licenced gambling websites.
Regulatory authority
Autorité de régulation des Jeux en ligne (Regulatory authority for online games), abbreviated to the acronym ARJEL serves as France's independent administrative authority, created in answer to the 2010 enactment of Article 34 detailing the state's gambling law, more specifically for the regulation of all online gaming activities within its borders.
Licensed gambling products
Act 2010-476 enacted fully on the 12th of May 2010 provided for ARJEL to issue licenses for the following types of online gambling products:
Poker
Betting
Horse & Sports Betting
The 2010 Act also explicitly forbids all online casino type games, including slots, blackjack, and roulette.
Types of operators
ARJEL's authority only extends to the issuing of licenses for online operators of horse betting, sports betting, and poker websites, while continuing to prevent the availability of matched betting in France.
---
How to Choose the Right Online Betting Site
Despite retaining a high level of loyalty to the online brand that has always served them best, any punter worth his salt always remains on the lookout for additional opportunities allowing them to turn a greater profit. Newly joining an online sportsbook usually provides several such potentially profitable opportunities. However, below is a number of essential factors you should include in your list of requirements when drawing up a shortlist of sportsbooks combining the particular combination of traits you desire.
Does your chosen list of brands have a well-established reputation for operating according to a fair, honest, and trustworthy policy known for delivering a high standard of service to its patron?
Do they all possess a valid local operating license allowing them to legally advertise and present their services within your geographical region/country?
Are they subject to regular audits from independent industry recognised testing and certification agencies such as BMM Testlabs, eCOGRA, and iTech Labs?
Do your listed brands offer uninterrupted 24/7 access to their customer support agents via an onsite Live Chat function?
Do they provide a range of banking methods most suitable to your requirements?
What is the scope of their betting product, i.e. do they offer reasonable prices and odds on the sports you prefer?
Do they feature a good betting product range that includes essential features such as Cash out, betslip editing, and live-streamed video feeds?
---
Bonuses for French Players
Punters who avail themselves of the products offered by the French online sportsbetting market still have an impressive variety of promotional bonuses and special offers to available to boost their budget. These include a significant variety of Free Bet offers ranging from first deposit matching bonuses to similarly structured fist bet matching bonuses. They include free Bets on different racing sports, boosted football bets, daily enhanced odds/special enhanced odds, Free Bet Clubs and sign up offers relating to first lost bet back as a Free Bet as well as weekday promotional offers incorporating free bets and many others. Claiming and using these bonus offers leaves the French punter in a good position to extend his or her wagering budget by a significant margin for many years to come.
---
Most Popular Sports to Bet on in France
As a nation, France displays a near-universal taste for the internationally more popular sporting types. However, the French people have their own particular sports types which they show a greater affinity for, with football assuming its world-ranked #1 position at the top of the sportsbetting popularity money tree, followed in the order of their popularity by:
Basketball
Tennis
Rugby Union
Ice Hockey
Volleyball
Handball
---
Are Online Casinos Popular in France?
Immaterial of the level of popularity seen in its land-based casinos, French law still strictly forbids operating any online casino in France, since the state considers the type of activities one would typically engage in at an online casino as far too addictive to make any of these available online. This blanket ban encompasses all varieties of games such as blackjack, roulette, slots, and many others. However, the law does allow for the operation of online poker rooms, but recently a court decision ruled against France's largest operator of online poker tournaments and that left room for many grey areas.
---
Trivia/Did you know that…
Legal French betting sites use a .fr identifier at the end of their web address.
The 1836 Gambling Act placed a blanket ban on all forms of gambling but considered activities such as poker, and betting on sports such as horse racing as games of skill, which is the reason they remained legal.
Several world-acclaimed land-based casinos continue to operate legally in France, yet French law forbids them from starting any online operations.
Coinciding with France's hosting of the 2018 FIFA World Cup the country's sportsbetting industry posted its most significant online growth figures in eight years.
In addition to inventing roulette and as the first to institute regulated betting on horse racing, France also distinguishes itself with being the birthplace of blackjack.
---
Available Mobile Apps
The restricted contingency of international operators marketing and presenting their services in France still provides the country's residents with the use of some of the industry's most excellent mobile access solutions. These leading brands all offer excellent dedicated mobile portals/virtual versions remodelled and optimised to provide a mobile sportsbetting experience comparable to any serving the international arena.
Several continue to offer individual apps respectively dedicated to iOS and Android software environments, capable of delivering a full range of sportsbetting features including intuitive navigation via familiar branded interfaces offering the parent page's comprehensive variety of sports types, betting markets, betting options, and betting products. Most allow for live-streamed video feeds covering a goodly selection of the presented sports and events. Betting features available via mobile includes a full range of banking methods, Cash out, betslip editing, as well as overviews of results and scheduled upcoming events.
---
Supported Payment Methods
Irrespective of the French facing severe restrictions ultimately responsible for the complete lack of locally available online casinos, French sportsbook punters still have access to all of the more popular international banking options to finance their online sportsbook accounts. These include deposit and withdrawal facilities via credit card from brands like Visa, Mastercard, and Diners Club, indirect payments options from PayPal, access to e-Wallets such as Skrill and NETeller to list just a few of the multitude of available options.
Is there a tax on winnings?
Poker pools remain subject to a tax rate that varies anywhere from 2% to 8%, while a 2016 amendment to the tax laws sees the winnings derived from wagering on horse racing and sportsbetting remain untaxed. Besides, the state levies a 33% corporate tax from operators licenced within French borders.
---
FAQs
As a French resident, may I place a bet with an online bookmaker not explicitly licenced to operate in France?
No French law forbids you from doing so. However, it is customary for the ISPs serving France to block the websites of online bookmakers not in possession of a licence issued by ARJEL.
How often will France's online bookmakers require me to verify my account credentials?
Online bookmakers operating inside France's legal jurisdiction remain subject to the same EU law-set governing the actions of other online bookmakers. Meaning they will still on a randomised regular basis continue to request you submit your account verification documentation.
What is the legal age at which I can start gambling in France?
In 1987 they amended the law, lowering the legal age at which a French citizen may start gambling from 21 to 18 years of age.
Which is the best online bookmaker in France?
If you are on the lookout for a reliable new online betting partner, it is always wise to refer to the expert advice and services of a leading online affiliate. They feature thousands of advice pages specifically aimed at guiding your decision-making process.
How long must I wait for a French licensed online bookmaker to settle a bet?
The required delay periods vary between jurisdictions but should generally occur within 24 hours of the conclusion of a match or event, unless specifically stated otherwise by the bookmaker for a particular event.
Do France's online sportsbooks offer odds comparable to those provided throughout the rest of the EEC countries?
Yes, aside from the few sports affected by local tax laws (spread betting), everything remains similar to the prices and odds offered in neighbouring EU countries.
May a French licensed online bookmaker divulge my details to an unauthorised third party?
No, bookmakers across Europe remain subject to the extremely strict EU law-set dealing with the protection of private data?
---
Final Comments
Without considering the elevated taxation making survival difficult for French licensed online bookmakers it remains a mystery that in the modern age of universal online connectivity a country would still consider it reasonable to act in such an authoritarian fashion towards foreign providers of online gambling entertainment. One cannot simply dismiss the fact that poker players in France become taxed on each poker pool they win. Situations such as this and the blanket ban on online casino activities leave French residents with few options but to take the risk of betting at one of the unlicensed offshore sportsbooks. France is in urgent need of a revised, modern legal and tax framework international online bookmakers will find more appealing, encouraging the industry's leading brands to re-invest and offer French punters a greater range of available options offering improved pricing and odds.