Ad disclosure
Here at EfirBet (EB) we pride ourselves on having a site that is completely ad-free. No ad blocker is needed while browsing EB. At the same time, we do use affiliate links to earn commissions (every time you click a link and sign up at a betting site). This revenue helps us deliver quality and trustworthy reviews for our readers at no additional cost to them. Read the EB
About Us
page if you want to learn more.
Hollywoodbets is a top option for racing fans but one which many UK horse racing lovers might not be overly familiar with. That's great news for you, though, because it means that you can claim a nice welcome offer when you first join.
Hollywoodbets has been around for some time now, but despite that has not gathered quite as much traction as they might have. That is a little strange in our opinion because they are a great all-round bookie. In addition to that, Hollywoodbets has a huge sponsorship deal with Premier League outfit Brentford that garners them significant publicity.
They are far bigger in South Africa though, and we suspect it is only a matter of time before they become more popular in the UK. Founded in that African nation, they have been around for over 20 years and remain a very popular betting site in their homeland. If you like horse racing, they are well worth checking out.
---
How to Play Hollywoodbets Horse Racing
Placing your Hollywoodbets horse racing wagers is quick, simple and straightforward. In order to make your bets, just follow the simple steps below: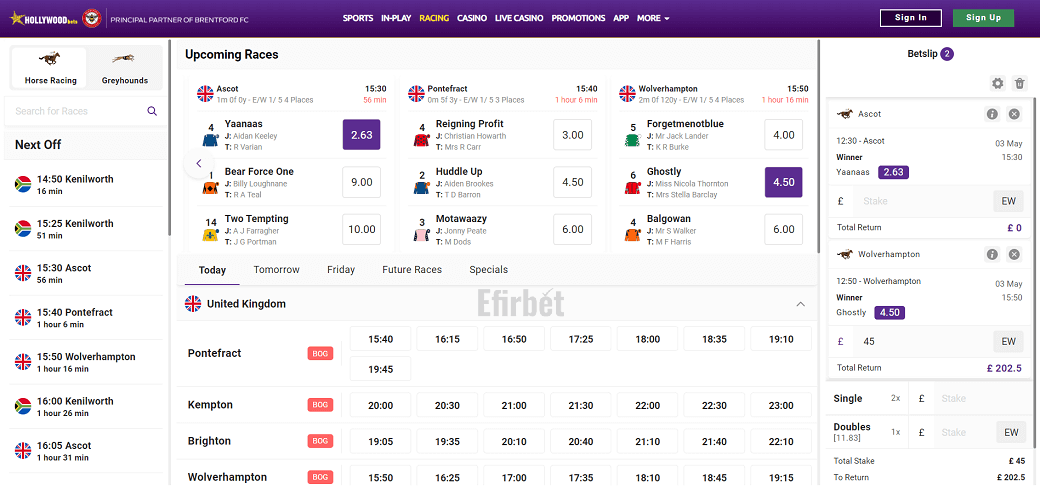 First, access the racing odds by clicking "RACING" on the menu bar at the top.
Upcoming races are shown in the left-hand side bar under "Next Off" and also in the centre of the racing homepage.
Alternatively, you can use the search bar in the top-left of the page.
Finally, you can simply scroll down the page beneath Next Off to see the rest of today's action.
Next, to make your bet, click on the race you are interested in.
As default, the race-winner market will appear, with horses listed in order of their odds.
Click the odds of the horse you want to back and this will add your selection to the betting slip.
---
Hоrsе Rасing Betting Markets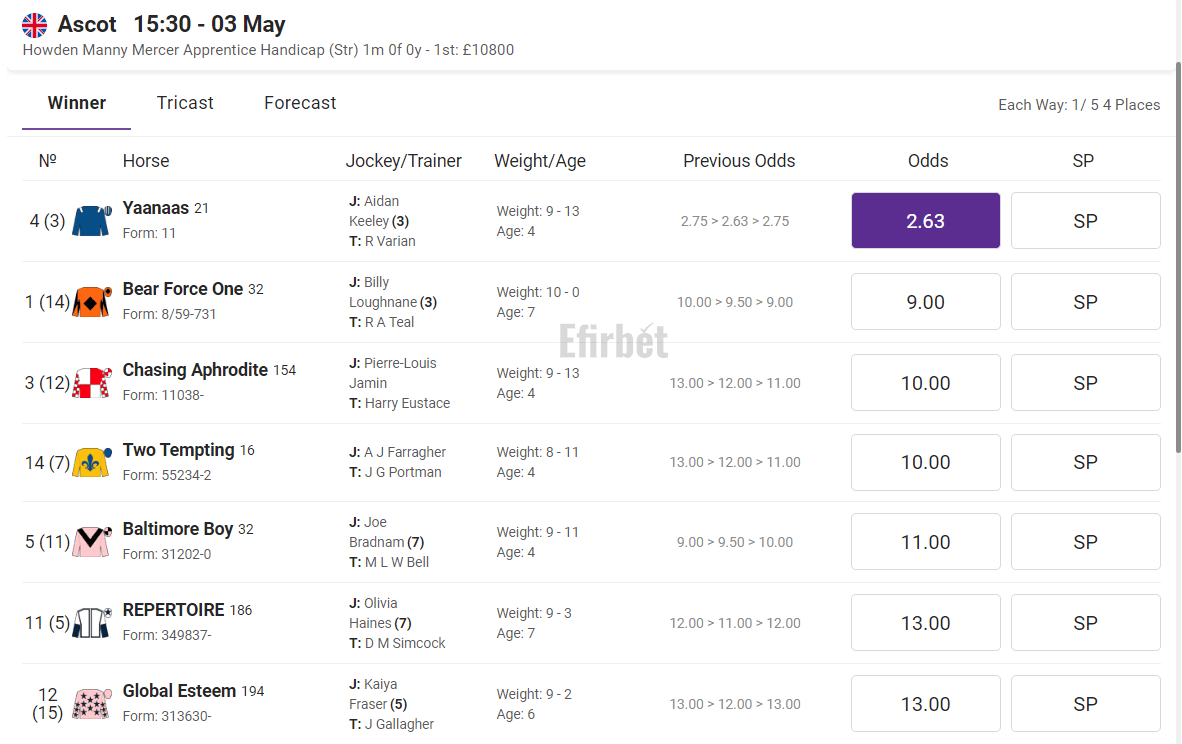 Racing is not a sport that lends itself to hundreds of different markets. However, Hollywoodbets' horse racing offering is a little limited compared to some rivals. They do, however, offer all the most popular betting options. Below you can see a list of the key markets.
👉 Winner: a simple bet on which horse will win a specific race, this is the most popular bet in racing.
👉 Each way: part of the winner market, each way betting is popular at longer odds. This is because it is two bets in one, with half your stake on the horse to win and half on it to place. Note that the place bet is paid at a fraction of the odds, often a quarter.
👉 Forecast: a forecast is a bet on which horses will come first and second in the correct order and can offer handsome rewards. However, you can also opt to play it safe and go for a reverse forecast. With this bet, you name the first two but in any order.
👉 Tricast: like a forecast but based on the first three in a race. Like a forecast, can also be placed with the horses to finish in any order inside the top three.
---
Hollywoodbets Horse Racing Bonuses
As with all online betting sites, Hollywoodbets offers a range of free bets, bonuses and promotions. Some of these deals can be used for betting on horse racing. In contrast, others apply to the casino, or other sports. Hollywoodbets horse racing includes Best Odds Guaranteed on many races, whilst First Past The Post is another excellent racing offer. They also have acca promos too, one of which, Acca Bonus, can be claimed on horse racing.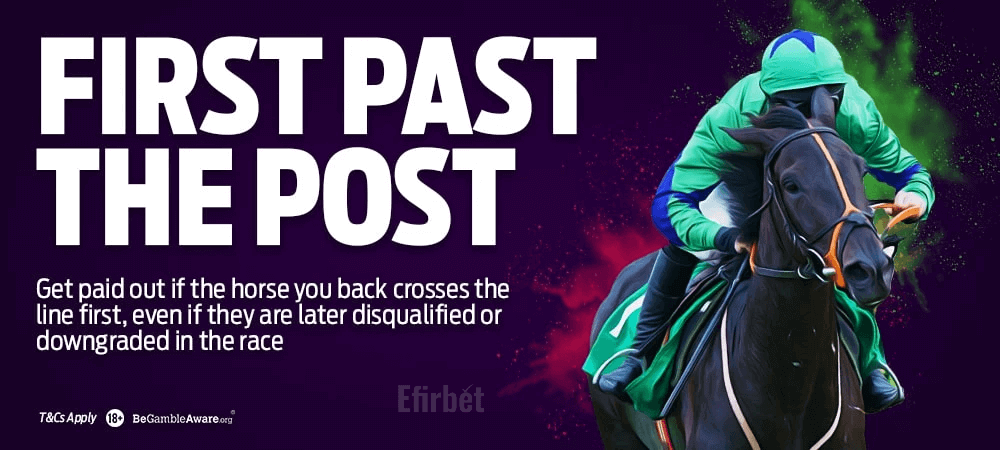 First Past The Post
This racing promo can come in very handy if you bet on a race that ends up going to a steward's enquiry or similar disqualification-type issue. Hollywoodbets horse racing will pay out on the official result and any subsequent one as well. This offer applies to UK and Irish races, however it is only valid for win/each way bets placed on the day of the race.
Punters Challenge
Punters Challenge is a prediction game that Hollywood bets have offered. It is currently "taking a break", according to their website and live chat staff. However, it should return soon, and gives racing fans the chance to win cash prizes. It is free to enter so is definitely worth looking out for.
---
Hollywoodbets Horse Racing Tips
When you are trying to assess the markets and find racing value, we recommend the following basics. Using the betting tips of others is a good starting point, however, nothing beats doing your own research.
Race day program
We recommend taking a full look at the card, or even cards over multiple courses, before you decide on your bets. You do not need to bet on every race and so selecting a smaller number of races where you have more confidence is a tactic we favour.
Odds of winning
Many betting newbies get hung up on trying to pick the winner of a race and ignore the odds. If you want to have long-term betting success, it is crucial that you find value. Comparing the odds to the probability of a horse winning is the way to do this.
Jockey's past results
Another common mistake some racing punters make is to ignore the impact the jockey has on a race. The horse is the most important factor but study how well the jockey has been riding and performing too.
Horse level
As in any sport, perhaps the biggest factor in performance is ability, and the overall class of a horse should be one of the biggest features of your analysis. Looking for wins and places is important but you should always check what level those wins were at. A horse with no recent success making a big drop down in terms of the class of the race could offer you real value.
---
FAQ
Whеrе tо find hоrsе rасing schedule оn Hоllywооdbеts?
The Hollywoodbets horse racing homepage clearly shows the races that are off next. In addition, it also highlights for you the rest of the day's card. You can click the "Tomorrow" tab, "Future Races" or "Specials" to see even more options.
What are the minimum and maximum stakes for horse racing bets with Hollywoodbets?
The maximum you can win is £50,000, so stake accordingly dependent on the odds. The minimum stakes are very low, just a penny on some markets!
Is thеrе livе hоrsе rасing оn Hоllywооdbеts?
You can watch live streams of many races at Hollywoodbets and you just need to be signed into your account.
What are the rules and terms and conditions for horse racing bets with Hollywoodbets?
Ts and Cs at Hollywoodbets are similar to those at all good bookies. However, if you have a specific query or issue, see the rules at their website or contact their customer service team.
How do I contact customer support if I have any issues or queries?
You can contact support via live chat – in our tests service was quick, with no waiting time to reach an agent. You can also email but this is not manned 24/7.
What are some tips and strategies for horse racing betting with Hollywoodbets?
Winning consistently is very hard at any bookie. However, do your research, bet responsibly and take advantage of the many racing offers Hollywoodbets provide.
Published on 03 May 2023