Ad disclosure
Here at EfirBet (EB) we pride ourselves on having a site that is completely ad-free. No ad blocker is needed while browsing EB. At the same time, we do use affiliate links to earn commissions (every time you click a link and sign up at a betting site). This revenue helps us deliver quality and trustworthy reviews for our readers at no additional cost to them. Read the EB
About Us
page if you want to learn more.
Parimatch is a place well-known for its enormous casino and sportsbook, and this is part of the reason why it is such a highly-rated brand. What fewer people know, though, is that Parimatch also has an excellent range of virtual sports games.
The beauty of their simulated sporting action is that it never stops, meaning it can work around any schedule, with matches and races occurring very regularly, 24 hours a day. To find out more about Parimatch's collection of high-quality virtuals, keep on reading.
---
How to Bet on Virtual Sport at Parimatch
Virtual sports are not for everyone because the action is entirely simulated, meaning it is purely a luck-based endeavour rather than having that skill and knowledge element that a normal sports bet would. In this sense, it is more like a casino game, just one that is simply based on sports rather than a slot or table game.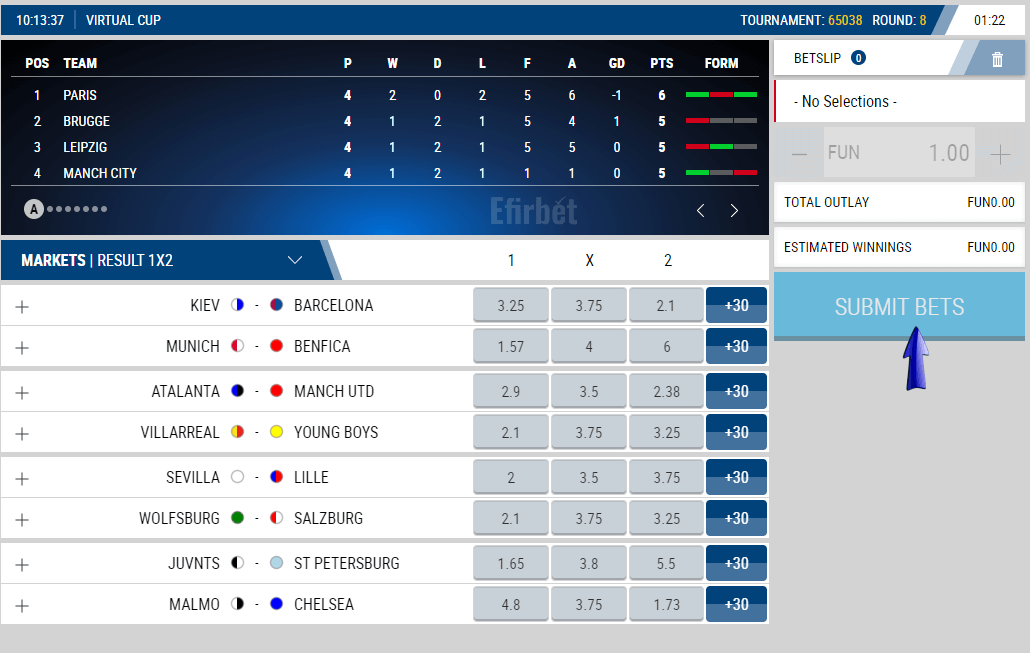 Firstly, you will need to create an account at Parimatch, if you do not have one already.
Next, deposit some funds as virtual games use real money, despite not being 'real' in nature.
On the Parimatch website, click the 'virtuals' option across the top menu.
Find the game you want to play and click on its image to load it up.
Choose a bet (or bets), plus the size of your stake and then confirm your bet.
---
Types of Virtual Sports Available
Parimatch has virtual games from eight different providers, meaning they boast a very impressive collection that far exceeds what you will find at most other sites. The developers present are Betradar, Leap, Kiron, Highlight Games, Global Bet, Edge Gaming, NSoft, and the extremely well-known Pragmatic Play.
By having such a range of developers, means you can enjoy distinctly different experiences even within the same sport, allowing you to mix up how you spend your time.
Virtual Football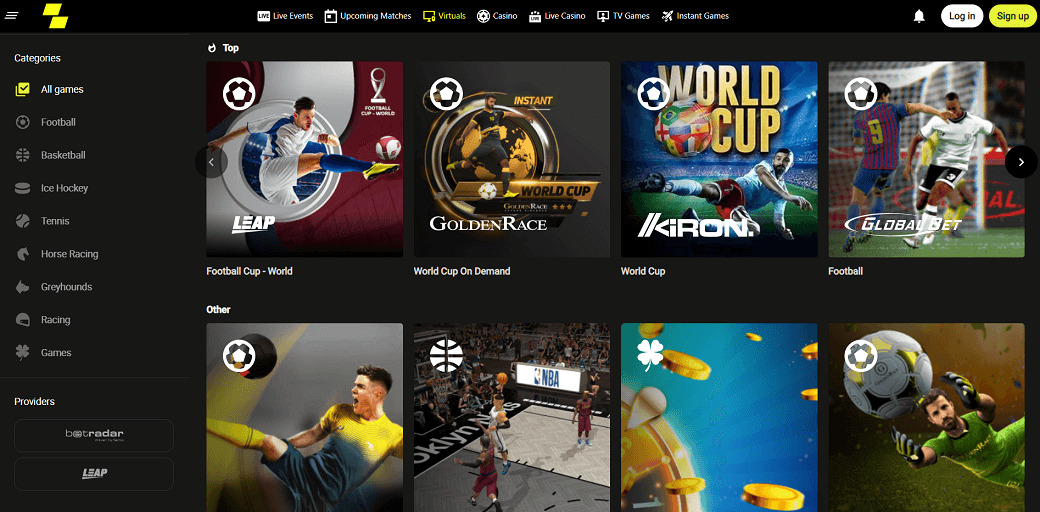 Football is the sport with the biggest collection of virtual games, and by some distance too, befitting the planet's most popular sport and the one that is most gambled on. There are around 30 different virtual football games to choose from. Most of them quickly simulate full matches, showing you key highlights from the action.
Others, however, are based around penalty shootouts rather than normal 11 v 11 play. In both cases, it does not take much time from the start of the game to the finish, so rounds come and go quickly rather than taking 90+ minutes.
Due to the costs involved with official licensing, the players and teams within the virtual football games are all made up, although there can be some real-life similarities. The only exception is Betradar's Virtual Sports Bundesliga.
This mixes real footage from their Bundesliga archive with a simulation engine to create an especially immersive experience. Standard games, by contrast, rely on simulated action and include no real-life footage, with fictitious teams and players.
Virtual Horse Racing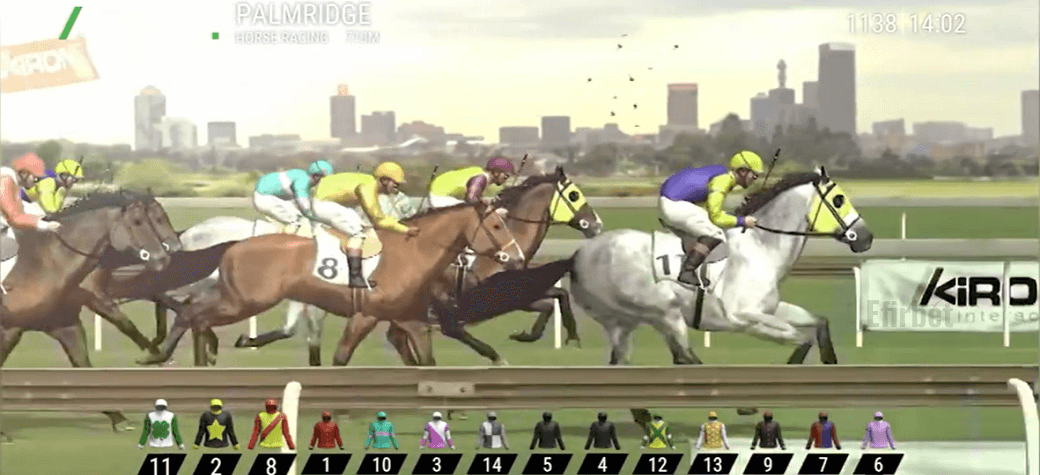 Within Parimatch virtual horse racing, there are nine different options to choose from. Most of them simulate the more traditional horse racing experience with a jockey riding on top of a horse, but there is also a trotting simulator, which has the jockey sitting behind in a two-wheeled cart.
Generally speaking, what you will find with the horse racing simulators is you have a field of 8+ runners, all competing on a flat track (rather than jumps) and a wide variety of odds.
Due to the range of odds available, you will have the option for a "safe" bet on one of the favourites, or you can play it risky by going with a long-odds outsider. Races do not take much time, but they are long enough that there is plenty of jostling for positions and twists and turns along the way.
With many of the contests coming with commentary and realistic sounds, plus life-like graphics, virtual horse racing ends up looking not too dissimilar from the real thing.
More Virtual Sports Games
Although football and horse racing are the big two game types, customers can also access Parimatch virtual basketball, ice hockey, table tennis and tennis, plus there is quite extensive greyhound racing collection. Parimatch also has an impressive mix of games within its 'racing' section, which mainly includes motor racing, both cars and motorbikes, but also features a cycling velodrome game.
Finally, there is a generic 'games' section which basically includes titles not worthy enough to have their own category. Some options here are not virtual sports, but you do have the likes of baseball, golf, camel race and steeplechase horse racing.
---
Parimatch Bonuses for Virtual Sports Betting
You can enjoy a great selection of different Parimatch promotions, particularly for new players. You will find that most bonuses are not redeemable on virtual sports, however, because they do not fall neatly into either the 'sports betting' or 'casino', which offers tend to relate to.
This is not always the case, though, so you may find that certain promos for existing players state in their small print that they are redeemable on virtual sports. In addition, from time to time, there may be offers specifically for virtuals, which remain untried by many regular sports bettors or online casino fans. If you are ever in any doubt, contact customer support before betting.
---
FAQ
Can you make money by betting on virtual sports at Parimatch?
You can make money from Parimatch virtual games betting as you are placing real money bets, but you could also lose money, and that is the risk of gambling! The return to player (RTP) rate for many virtual games on offer is around 90%, so while it is possible to register a profit, you will need luck on your side.
How does betting on virtual sports games work?
After loading up one of the Parimatch virtual games, you will be presented with a range of betting options. Choose the bet you want, enter your stake and confirm your bet. Once done, the simulation will begin immediately or very shortly after (if on a timer).
Is Parimatch a safe and reliable bookmaker?
Yes, Parimatch is a long-standing and trustworthy name, having been involved in the gambling industry for decades now. They have happy customers all over the globe, so you should have no worries about gambling here.
Is there a casino section at Parimatch?
Is it possible to bet on virtual sports games from a smartphone?
Yes, you will find virtual games on the mobile website and also on the Parimatch apps for Android and iOS.
Are there any strategies for successful virtual sports betting?
For some useful tips on Parimatch virtual sports betting, read our virtual sports betting guide. That said, it should be remembered that these are entirely games of chance.