The online betting industry is always advancing, with new features being introduced regularly. These functionalities are included in sportsbooks to make the billion-dollar industry exciting and attractive to different punters.
Despite the prevalence of online betting features, this piece will focus on Request a Bet. A feature that allows you to place special bets not offered by the operator. Keep reading to learn more about the top request-a-bet bookies and tricks you can use to get the best odds.
---
Request a Bet Feature Explained?
Before explaining further about Request a Bet, you should know what request a bet is and the aspects it entails. With that said, request a bet is a function that allows you to contact the operator and ask for special bets which bookies normally don't offer. While some bookmakers require you to use Twitter to request a bet, others accept bet requests via live chat, telephone, and sometimes email. Note that different bookies use different terms for the betting function.
For example, some sportsbooks refer to request a bet as #BetYourWay, #PickYourPunt, and #GetAPrice. Therefore, you need to be conversant with these terms before opting for the gambling feature.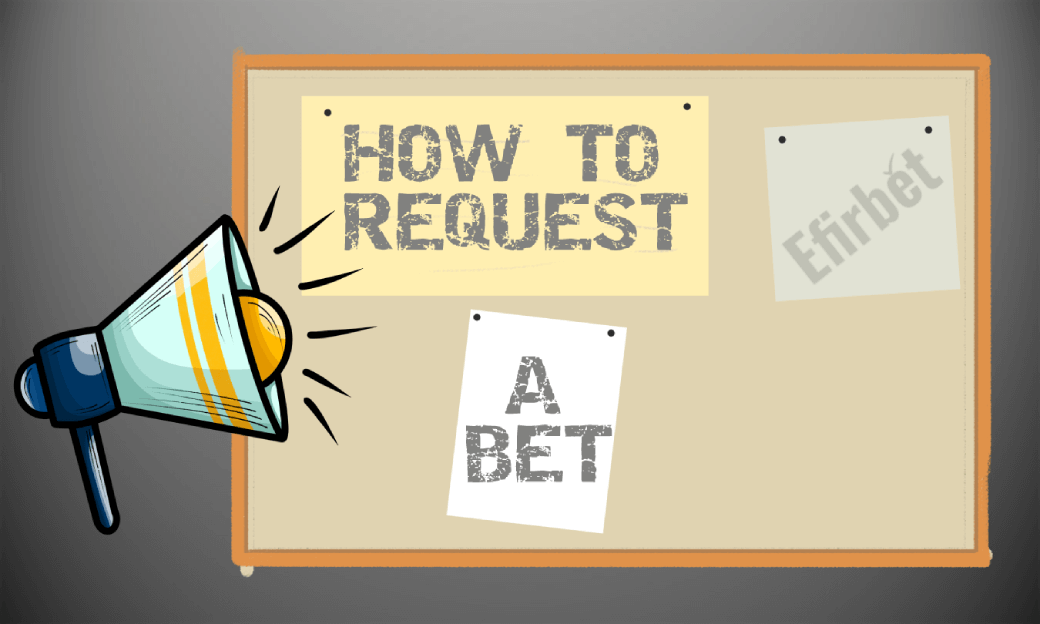 ---
How to Request a Bet?
Requesting a bet is an easy procedure that will take only a few minutes of your time. Here are the steps to follow:
Log into your betting account.
Choose the sport you wish to gamble on.
Check the availability of the bets you wish to request.
Contact the support to suggest your special market.
Wait for the operator to reply so that you can place the requested bets.
---
Bet Request from the Most Popular Betting Sites
Below is a detailed list of top request-a-bet bookies that you should consider whenever you want to enjoy sports betting. Go through the information to see why they are superior to the rest.
Betway #BetYourWay
Betway is one of the bookies with the #BetYourWay feature, which you can use to request multiple unique bets. With the feature, you also get enhanced odds on special markets, especially if you research which markets to consider.
Betano – Request a Bet
Betano sportsbook offers request a bet. According to Betano, if you notice a missing market, you can contact the operator and request the bet. But first, the trading team will have to examine your request before any reply is made.
BoyleSports #InventABet
#InventABet is BoyleSports' version of request a bet. The option allows you to use Twitter to request BoyleSports operators for a particular betting market. According to the operator, BoyleSports will price it up after analysis.
Unibet 'Community' forum
Unibet offers a request a bet function on their community forum. You can opt for the community forums and request a particular bet. Unibet operators will respond to your request by either providing you with the market or declining your request.
William Hill #YourOdds
William Hill introduced their own #YourOdds function, allowing you to place multiple personalized bets. To use the function, simply tweet William Hill's official account page with the hashtag #YourOdds and state your request.
Ladbrokes #GetAPrice
Thanks to the #GetAPrice feature, Ladbrokes allows you to request a price on multiple football markets. Note that you must tweet the hashtag to Ladbrokes followed by the markets you wish to request.
Coral #YourCall
Coral is an established bookie allowing its clients to call the shots using their special #YourCall function. Like other bookies, you need to log into Twitter and use Coral's hashtag #YourCall and your bet request to ask for special markets.
Betfred #PickYourPunt
Betfred is yet another bookie with a signature request a bet feature called #PickYourPunt. Using the function, you can customize your multi-bets and enjoy some of the best prices.
---
How to Get the Best Prices When Requesting Odds?
Requesting a bet is one thing and getting the best prices in the process is another. If you want to end up with the best odds, here are some of the things you should put into your consideration:
1. Keep in Mind the Stake & Pay Out Limits
When placing bet requests, you need to consider the stake and the payout limits. How much you stake will determine your earnings if you place a bet. However, you need to ensure your bets are not higher or lower than the limits. Also, calculate how much you are likely to win and whether it is within the payout limits.
2. Compare the Prices from Multiple Bookmakers
The number of bookies offering the request a bet feature are many. Therefore, don't settle for a single sportsbook. Instead, look around to find which bookies offer the best prices. The advantage is that requesting a bet is free, so you can go around requesting bets from different bookies until you find one with the best price.
3. Related Contingencies
When placing special bets or requesting a bet, you need to watch out for related contingencies. This is where the outcome of a particular event will affect another. Once you figure out which events are related, you can use the insight to get better prices and place likely bets. Doing so will be using the feature to your advantage.
4. Check the Existing Markets
Operators tend to provide a list of requested markets on their sportsbooks. So first, go through the usual existing markets to see if your bet is included. After that, check the list of special bets that other players have requested and see if you find one that matches your needs before going ahead to request a bet. Doing so will also help you understand how to get the best prices.
5. Look for a Specific Offer
You need to make sure you look for a specific offer when requesting a bet. This will help you make wise decisions on which bets to request so that you end up with the best prices. If you don't find your offer on a particular bookie, be open to browsing other bookmakers.
---
What Are the Positives of Creating Your Own Bet?
Creating your own bet comes with major advantages, which is why the feature is so popular among punters. For instance, using the function, you can get better odds, and this may see you end up with significant payouts in case of a likely bet. Furthermore, the request a bet function allows you to punt on special markets that you would otherwise be unable to punt on. Generally, the feature gives you control over your bet slip and allows you to create customized accumulator bets.
---
Are Bet Requests Worth It?
Requesting a bet, along with the bet builder option, is one of the best features in sports betting, with massive impacts on punters. Since the introduction of the function, punters worldwide can finally gamble on initially impossible events. Moreover, gamblers can now customize their multiple bets and end up with massive odds, which have the potential to yield significant payouts. However, you should know that bookies have different names for their request a bet function as indicated above. Therefore, keep an open mind when looking for the feature. Another key aspect you should note is that it is not definite that the operator will accept your request when you ask for a bet.
Some operators will decline the request, so you will have to look for another option. Most bookies offer request a bet via Twitter. To request a bet, you need to log into your Twitter account and tweet the hashtag the operator uses, for instance, #YourCall. After that, the operator will give you a reply. When requesting a bet, the odds prices may rise significantly. The operator will multiply your cumulative odds and your wager to calculate your expected payout. Overall, the request a bet function is worth considering whether you are an expert punter or not.
---
FAQs
Can I use the Cash out Feature for my Requested Bet?
Yes, you can use the cash out feature for your requested bet.
Will the sportsbook accept all of my request a bets?
No, the bookie will not accept all the bets you request.
How Do I Ask for a Bet?
Most bookies require you to tweet when requesting a bet. Simply send to their request a bet hashtag on their official Twitter account to ask for a bet.
Do I Need a Twitter Account to Request a Bet?
No, you don't necessarily need a Twitter account to request a bet. Some offer the option via live chat.
Will My Requested Bet Count in Extra Time?
No, extra time and penalties usually don't count on your requested bets.