Last update by Efirbet on :
28 May 2020
How to download TonyBet Android app?
From the start, TonyBet quickly established an excellent reputation for fairness and honesty. Its early history of success in its native Baltic region was the result of the company paying particular attention to the quality of its product. That success also came on the heels of how it delivered the best standards of customer service via the most convenient access solutions, including mobile.
TonyBet offers a complete range of quality mobile access solutions which greatly aided its expansion into the international arena. Owners of Android-based mobile smart devices have the option of downloading and installing a dedicated TonyBet app explicitly created to provide them with complete sports betting and casino access.
First, ensure your device is ready to install the necessary .apk file via the following steps:
Step 1: Open your device "Settings" menu.
Step 2: Find and select the "Security" option.
Step 3: Scroll to the "Unknown Sources" option and activate/select it.
Step 4: Confirm your action by choosing the "Yes" presented option.
---
How to install the Android app?
To download and install the Android .apk file:
Navigate to the TonyBet home page at www.tonybet.com/sport
Scroll to the bottom of the page find the "Download the App for Android" button and select it.
The necessary installation files will then automatically download and install on your device.
Once the download and installation process completes, if you already own a valid TonyBet account, login using your existing username and password.
If you have not yet applied and registered for membership and an account with TonyBet conveniently use your newly installed TonyBet app to sign up and register for an account.
---
How to download TonyBet iOS app?
Prospective members who prefer Apple's software environment have a far easier time when installing the dedicated TonyBet app for iOS smart devices. To do so navigate to the TonyBet home page atTonybet, scroll to the bottom of the page, find the "Download the App for iPhone" button and select it. This will redirect you to the TonyBet app in the Apple App Store where you proceed by following the same steps as with all other iOS app installations as described below.
---
How to install the iOS app?
To start the download and installation procedure, click on the "Get" button for the TonyBet app, the necessary installation files will then automatically download and install on your device.
Once the download and installation procedure finishes if you have already registered with TonyBet login using your existing username and password.
However, if you have not yet registered for a TonyBet membership, then use your new TonyBet app to sign up and apply for an account.
---
Benefits of TonyBet application
TonyBet, in its continual drive to provide members with the ultimate mobile sportsbook user experience, offers its loyal patrons the convenience of two dedicated mobile apps, one Android and one for iOS. Both apps recently remodelled to further improve the quality of each member's regular sportsbook/casino gaming sessions.
Newly improved UI & UX designs deliver an even better mobile gaming experience by providing a more user-friendly environment with faster app performance and more straightforward navigation. Further improvements to the layout and display allow members to view even more information at a glance. While clearer navigation between the In-Play and Prematch sections allows for reduced times when making selections or placing bets.
Installed apps also provide direct, easy access to your sportsbook account and bet slip, which allows you to place bets or check-up event results quickly. Intuitive navigational links such as the customisable new Favourites tab and others will enable you to switch swiftly between Poker, Sports, and the Casino sections.
---
How to use the app?
Once you have installed and logged into the TonyBet app, you can immediately start making selections and placing bets. Fortunately, TonyBet kept the betting mobile betting procedure as comfortable as possible. To start placing bets using one of the apps, from the "Last Minute Bets", "Popular Bets", or "Sports Categories" menu, scroll down, find, and select the sports type on which you wish to place a bet.
If you do not immediately see the betting line you seek, select the column on the far left to reveal additional lines. Select the line you wish to wager on by clicking on one of the available odds the bet then automatically appears on your bet slip. Once it appears on the bet slip, find the "Stake" box, and enter the preferred amount you wish to wager. The TonyBet bet slip will allow you to select up to 8 single bets.
---
TonyBet Mobile website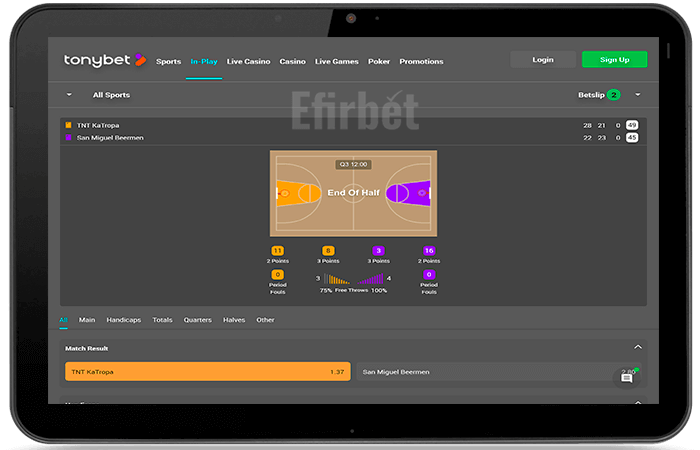 In addition to TonyBet's two high-quality installable mobile applications, the bookmaker also features an equally impressive mobile portal/virtual version. Over the past several years, just about all leading online gambling entertainment venues adopted HTML5 as the website coding of choice. This allowed developers to create true cross-platform compatible mobile access solutions that are able to provide access to latter day mobile smart devices directly from within most mobile browsers.
That essentially negated the necessity to develop separate apps for the Android & iOS operating systems. That saw the start of a new trend amongst newer sportsbook and casino venues where many currently offer just one singular cross-platform compatible mobile portal/virtual version and no dedicated apps.
As with all new technologies, HTML5 based mobile portals offer many benefits but also suffer a few drawbacks. Its two most significant advantages are, firstly, the massive range of devices now able to search for new venues or access their favourite place without first having to download and install additional software. Its second great benefit is the ease with which developers can quickly and easily incorporate changes and improvements without them first forcing users to update an app at an inopportune time before they can gain access again. However, the same direct access method's greatest detractors are relatively slow initial access from launch and dependant on the browser in question could prove slightly less stable and reliable.
---
App Features
Aside from essential conveniences such as quick access to events and results in the sportsbook as well as a wide variety of mobile banking solutions, mobile portals and apps must also deliver the complete range of betting tools and products available on its parent desktop parent version. That includes features such as a comprehensive range of Live Betting sports and markets, as well as an excellent Cash out feature.
Live Betting
In-Play or Live Betting is one of the most exciting forms of online wagering available today and TonyBet has quite an impressive live betting product which is available in full on any of its mobile apps. The team at TonyBet created a unique product called the 1-Click feature that differentiates itself from most others by allowing the bettor to place Live bets at superspeed with just one click. Located at the top of the bet slip, as a precautionary measure, you first have to "TURN ON" the option before it comes into effect. 1-Click allows you to pre-set up to 5 favourite betting amounts and whichever event you click on is instantly added and accepted as a bet or an additional bet.
Cash Out
TonyBet also features another of the punter's most significant and best friends. The system generated Cash out a feature that allows punters to sell their bet slips back to the bookmaker either in part or in full. It only becomes available at certain moments of a match or during an event, and it allows punters to better stay in control of any potential profits or minimises a possible loss.
---
Mobile Sportsbook
Fully optimised for all latter-day mobile smart devices, the company's mobile sportsbook allows a punter to remain fully aware and in control of all their current and future wagering action while on the move. It features the same fully comprehensive collection of sports types, betting markets, betting products, features, banking options, security, safety, privacy as delivered by their full website. Punters can continue to place bets, view results, make deposits, request withdrawals, and perform all other functions from within all sections of the sportsbook.

The user interface retains the familiar look and layout of its parent website, and also, offers all the added benefits, features, and controls that come as part and parcel of touch screen functionality. White on the grey text makes everything visually easy to discern, while the muted colour scheme remains easy on the eyes. Menus remain in all the expected familiar locations while navigation becomes even more intuitive courtesy of touch screen control.
---
Casino app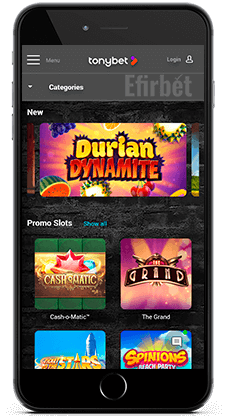 The functionality, usefulness, and layout of its mobile casino remain in line with the excellent sportsbook experience it delivers. TonyBet's mobile casino portal offers pretty much all the titles available in its surprisingly high-quality gaming library, which contains 397 casino-style games. On mobile slots and other games run smoothly, offer superior quality, and has the added benefit of having undergone the full mobile optimisation process which once again courtesy of the touch screen provides far better in-game control.
---
Poker app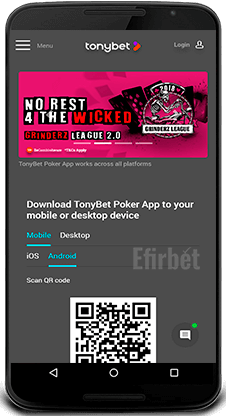 Available as an App Store link from TonyBet or directly from within the Apple App Store, the poker app offers a truly excellent downloadable mobile poker platform that on larger mobile touch screens may provide an online poker experience superior to any other. The company launched its super-easy to download mobile iOS poker product to audiences across the world irrespective of their geographical location. It features all the poker and OFC variants and rooms available via a desktop device, including SnG, MTT, and Cash.
---
Mobile App vs Mobile Version
Dedicated Mobile App – Pro's
Delivers a performance advantage to older mobile phones
Fast direct, easy access
Improved gaming performance
Offers an additional security factor
Mobile Portal – Pro's
Cross-platform compatible by nature
Negates additional software downloads & installation
Improved support & maintenance for software
Delivers larger range of games
---
Mobile bonus offers
TonyBet stuck to the same significant trend followed by the world's top sportsbooks whereby no mobile-focused promotions offered. They instead prefer not to differentiate between access platforms, and as a result, make their complete current range of promotional bonuses and special offers available on mobile. That includes a 100% matching Casino Welcome Bonus of up to €300, Weekly Casino Regulars offer of 300 Extra Spins, €50 Sportsbook Welcome Bonus, Poker Cash Game Grinders League 2.0, and the 100% matching Starter Bonus of up to €2000.
---
Compatible devices
TonyBet's mobile access solutions and apps provide full compatibility to all newer model mobile smart devices. That necessarily includes all devices running Android 5.0 and newer, or iOS 7 and later. The following is a list containing some of the most popular compatible brands and models:
Samsung – Galaxy range; S6, 7, 8, 9, 10, including each model range's Note and sized screens, Tab 2, 3, 4
Apple – iPhone 6, Plus, 7, Plus, 8, Plus, X, Plus, XS, XR, as well as XS Max, iPad Mini, Lite, 10 & Pro.
HTC – Desire range from 7 – 11, U 3 – 12, and One Series
LG – G4, 5, 6, 7, 8, nine including each respective model's topping V range.
---
Mobile Payments
Mobile users at TonyBet also have the full range of many banking methods available via desktop at their mobile disposal. That allows its vast player base hailing from all corners of the globe to continue conducting and enjoying the full benefit of their TonyBet membership without any interruption while away from their desktop device.
| Payment Method | Deposit Minimum | Deposit Maximum | Time for Deposit | Minimum Withdrawal | Withdrawal Maximum | Time for Withdrawal | Taxes |
| --- | --- | --- | --- | --- | --- | --- | --- |
| Visa | €10 | no limit | Instant | €10 | €12 500/week | 3-5 days | No |
| MasterCard | €10 | no limit | Instant | €10 | €12 500/week | 3-5 days | No |
| Skrill | €10 | no limit | Instant | €10 | €12 500/week | up to 24 hours | No |
| Neteller | €10 | no limit | Instant | €10 | €12 500/week | up to 24 hours | No |
| PayPal | €10 | no limit | Instant | €10 | €12 500/week | up to 24 hours | No |
| PaySera | €10 | no limit | Instant | €10 | €12 500/week | up to 24 hours | No |
| Paysafe Card | €10 | no limit | Instant | €10 | €12 500/week | up to 24 hours | No |
| EcoPayz | €10 | no limit | Instant | €10 | €12 500/week | up to 24 hours | No |
---
Frequently Asked Questions
Can I use my Free Bet while placing bets via my mobile?
How do I cancel a bet via mobile?
Was the app ever not working?
My Android app won't install, can you assist?
How much will TonyBet charge me for downloading or using their app?
Can I change the odds from fractional to decimal on my mobile app?
Can I create a separate account to use while playing or betting via my mobile purely?
---
Company info
From 2003 onwards, the company initially operated as OmniBet until popular poker professional, Tony Guoga bought the operation and re-imaged the company to the current TonyBet brand name. It continues to work as such today despite the Swedish based Betsson acquiring the Lithuanian division of company operations to facilitate a quick increase of its presence in the Baltic regions.

Other than the rebranding it took Tony G four years to finally make his presence felt on a large scale within the company. When in 2013, he managed to add one of the unique online poker rooms in the industry to his brand's operations. It differed from other poker rooms by offering products such as Chinese poker and Open-Face Chinese (OFC) poker variants, which are pretty much unheard of in the western online poker hemisphere. Also, the brand became host to the first World OFC Poker Championship.
---
Apps Rating
There is very little for which one can fault the TonyBet mobile product, other than the few intrinsic shortcomings of its full parent website. All mobile access solutions offer an excellent, logical, well laid out interface featuring intuitive navigation, a complete list of all present on the full site, including sports, products, and features. It is merely one of the better mobile access methods out there!