League of Legends is a free-to-play video game created by Riot Games in 2009. It is a multiplayer online battle arena where two teams of five players each have to go head to head.
After it was introduced to the public, League of Legends (LoL) quickly became a huge success. With millions of players from different parts of the world, LoL is among the most successful eSports. This also makes it important for punters because the sport provides loads of betting opportunities.
Most recommended League of Legends Bookmakers
There are several League of Legends Bookmakers that you can come across, but the ones mentioned below usually stand out.
Betway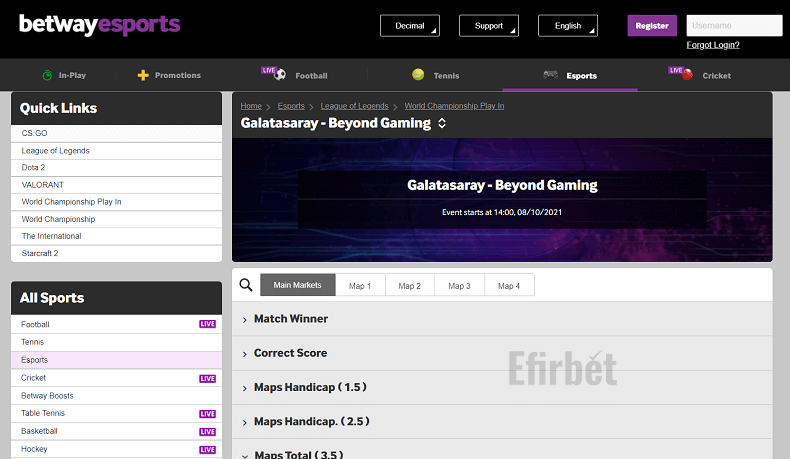 The famous brand Betway is a gambling site with millions of customers worldwide. It is a part of the iGaming industry since 2006 and offers plenty of betting options, including eSports. Punters interested in League of Legends can wager on the hottest matches and events.
Pros:
Betway offers the most sought-after betting features.
Bettors interested in League of Legends have access to competitive odds.
You have the option to use an eSports section.
Cons:
This is one of the iGaming sites that is not available in every country.
22Bet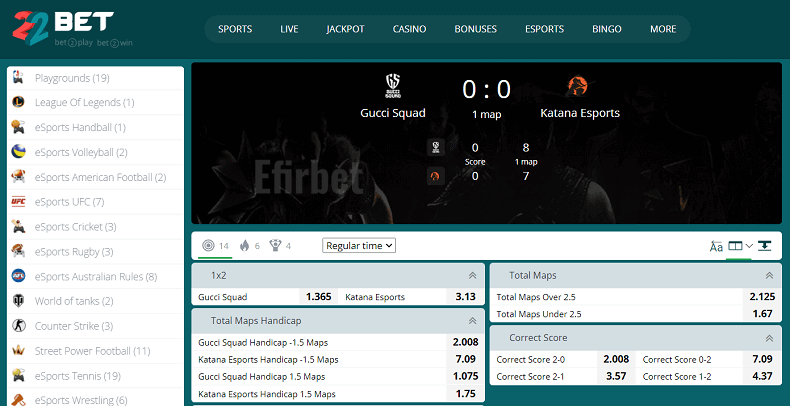 22bet is a gambling site that started operating in 2017. Since then, it has been one of the go-to places for sports fans from all over the world. Although 22Bet offers other sports, the bookmaker also has an eSport section. The latter allows players can punt on League of Legends and other popular games. 22bet is also known for providing users with various betting features.
Pros:
The site has a separate eSports category.
Thanks to the features, punters can wager on most LoL matches in real-time.
22bet offers good lol betting odds.
Cons:
You won't find any LoL-specific betting bonuses
William Hill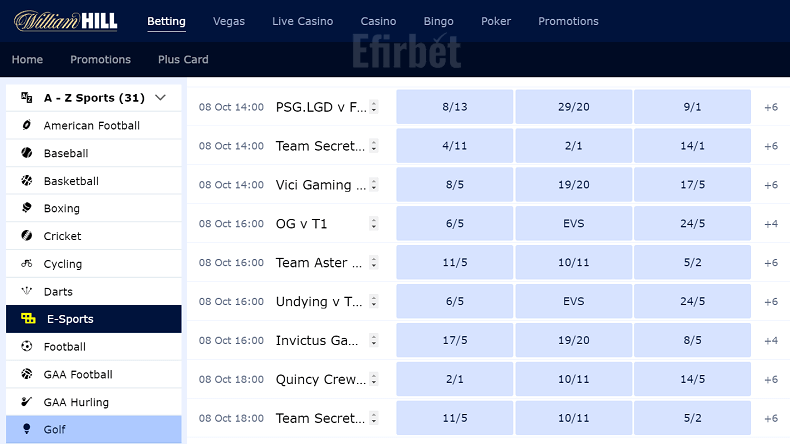 William Hill has a strong presence in the online sports betting industry. As one of the leading UK betting sites, this platform offers its customers the option to wager on eSports. Although it may not offer a stand-alone eSports section, you can punt on several games, including LoL. Usually, William Hill offers its customers plenty of markets.
Pros:
You can avail yourself of numerous betting markets for LoL.
William Hill allows its eSports fans to use various payment options.
Cons:
The site does not offer any bonuses for League of Legends.
Unibet
Unibet is among the leading betting websites for eSports. Although it may seem like any other iGaming site, Unibet offers plenty of features, markets, and good odds. What's more, the bookmaker offers League of Legends betting tips, which can come in handy.
Pros:
This is a great platform for inexperienced League of Legends bettors because it offers a detailed guide.
The odds for most LoL events are better than in other betting sites.
Unibet has Cash Out and Live Streaming.
Cons:
Some LoL events may not offer that many betting markets
GGBet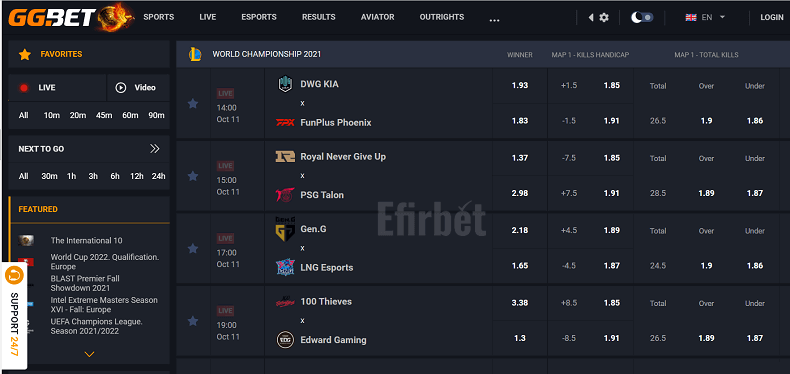 GGBet is one of the biggest betting websites in the world when it comes down to eSports. It is often the go-to option for people interested in LoL, Dota 2, CS: GO, and other computer games. Known for its numerous markets and promotions, GGBet is a place where you can find a lot of options. Interestingly, the bookie also sponsors many top-tier gaming events.
Pros:
This is one of the biggest sites in eSports betting.
You can find plenty of promos, some of which work if you are on League of Legends.
GGBet often sponsors different events.
Cons:
There aren't any special eSports betting features.
Bwin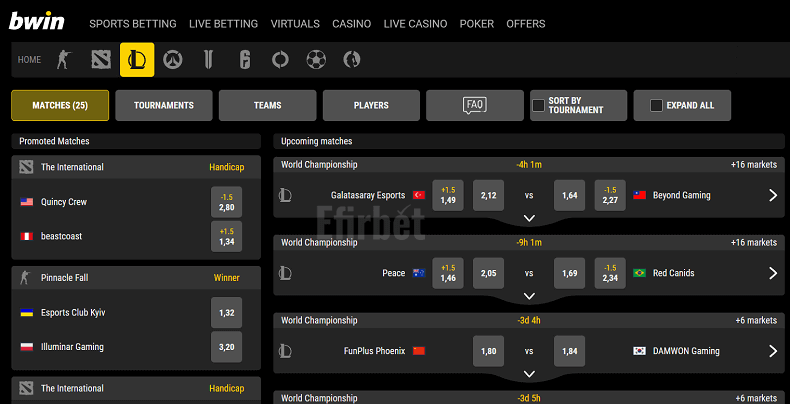 Bwin is one of the widely-available betting websites that used to be called "Bet and Win". Thanks to the separate eSports section, of Bwin clients have the opportunity to wager on the hottest LoL matches. What's more, the platform often provides its users with additional info about the game.
Pros:
Bwin's live betting section allows users to wager on live events.
LoL fans can use different features while betting on their favourite game.
Some of the LoL betting markets are not available on other gambling sites.
Cons:
You probably won't be able to try any special LoL promos.
Melbet
This iGaming platform is based out in Cyprus and offers League of Legends fans a lot of betting options. The betting site Melbet is available in multiple countries, but sometimes, players may need to use a mirror link. Melbet has an eSports-exclusive section where you can find all of the hot LOL events.
Pros:
Melbet's eSports section offers specific markets that are not available elsewhere.
You can ask the customer support team for help if you have questions while betting on eSports.
Cons:
The site has loads of animations, which make it a bit tricky to use.
---
What to consider when choosing where to bet on League of Legends?
There are several things that you should consider when choosing where to bet on League of Legends. You can check some of the most essential lol betting tips below.
Variety of Tournaments
Since LoL is one of the most prominent eSports titles, it offers multiple tournaments. This means that you have to learn more information about them because each one provides loads of betting options.
Markets
Most LoL betting markets you will have access to can be used even if you bet on other sports. However, some of the bookies mentioned earlier can provide you with exclusive betting markets for League of Legends.
Odds
League of Legends bettors will usually have access to better odds than people who wager on usual sports. Nevertheless, the size of the odds and their format largely depend on the bookie itself.
Live Streaming
One of the features available on most League of Legends betting sites is called Live Streaming. This option has a big impact on people's success, especially if they have more experience.
Useful features
Besides Live Streaming, some League of Legends fans will have the chance to utilize many other features. For example, some bookies will let them settle their bets or do different changes after placing them.
eSports bonuses
Sadly, not every iGaming website has eSports bonuses. Those that offer special promotions usually make sure they are available to LoL bettors. Some online bookmakers offer free bets, reload promos, no deposit offers, and more.
Mobile usability
Some LoL bettors don't have enough free time to use their computers, which means they can only bet on the go. Therefore, it is vital to use a bookie with a mobile app for Android and iOS, or at least a mobile site.
---
What is League of Legends Betting?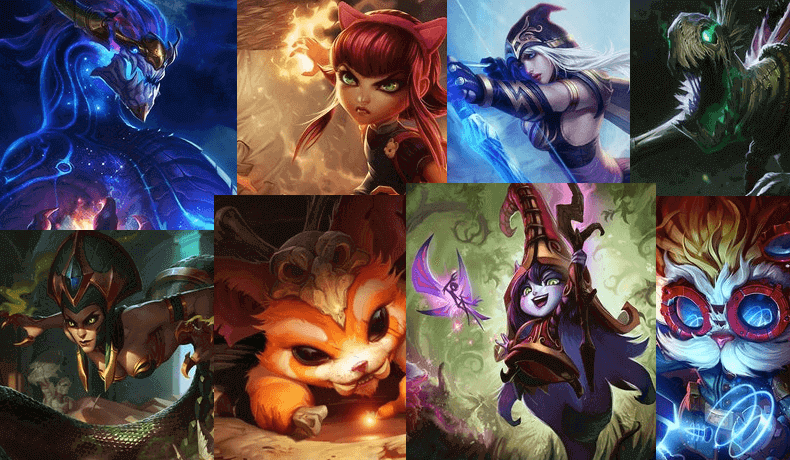 League of Legends betting is an activity where people use real money or other things to wager on the team/player they support. Although League of Legends money betting is the most popular option, there are a few alternatives you can pick from.
LOL skin betting
The League of Legend skin is an in-game cosmetic item that people can purchase to customize different things. Even though they are not created for online betting, some LoL fans decided to take advantage of them. As a result, there were several platforms that allowed players to wager with their skins. For better or worse, this is usually not an option among most iGaming sites.
Real money bets
Wagering on League of Legends matches with real money is the most common way of punting. Following the iGaming industry's rapid growth, many online bookies added some of the popular titles to their portfolios. Needless to say, League of Legends is one of the options that are available on almost every online bookmaker.
Fantasy betting
The last form of betting on League of Legends that you can try out is often called "Fantasy betting". What differentiates it from the other two is that you don't have to use real money to play. In fact, most Fantasy betting platforms or sites that offer this option simply require you to choose a fiction team of five players. After that, you will earn points, depending on their real performance.
---
League of Legends Skin Betting vs Betting on LOL for real money
Once you start looking for the best bookmakers for LOL bets, you will find many sites. Some of them might allow you to punt with real money, but you may be able to punt with skins. Both options have pros and cons, but it seems like most League of Legends fans prefer to bet with real money. By choosing this option, you don't have to "waste" your skins.
Another thing to keep in mind if you like skin betting is that you could get scammed. Sadly, some people try to take advantage of this and often steal people's rare LoL skins.
---
Most Popular Markets for LOL
You can come across multiple betting markets for League of Legends, depending on your platform of choice:
Match Winner
This is the most common betting market for every option, and LoL is no exception. Punters who choose it have to pick the team they think will be victorious.
Map Winner
Besides choosing the LoL team that you think will win the series, you can also pick the one you think will win the map. That's because most LoL matches are played in a Bo3 or Bo5 format.
First Tower
This is one of the more specific markets that you can find on some lol betting sites. As its name suggests, you can wager on the team you think will destroy the first tower in the game.
Total Kills
The majority of eSports you bet on will allow you to wager on the total number of kills. When it comes down to League of Legends, this market is also known as Over/Under.
---
League of Legends Betting Tips
There are all sorts of League of Legends betting strategies that you can follow, such as:
1. Always read the latest LoL updates
The first and probably the most important thing every LoL bettor needs to do is to read the latest in-game news. In other words, try to check whether there is a new patch because it will usually affect each team's performance.
2. Check the tournaments' rules prior to placing a bet
Although most LoL tournaments don't have any specific requirements, there might be some exceptions.
3. Learn more about each team's previous results
One of the tips that can seriously impact your LoL betting success is to check each team's previous results. Most online bookies will allow you to do that in a matter of seconds.
4. Before placing a bet, try to learn if there are any upcoming events
Some of the best League of Legends teams don't want to reveal their tactics before a big tournament. Therefore, they might not always be the best betting option.
5. Place live bets if possible
Betting on live LOL matches has many advantages, such as more markets. Let's also not forget about the dynamic League of Legends betting odds that are more attractive than most regular alternatives.
---
Major Tournaments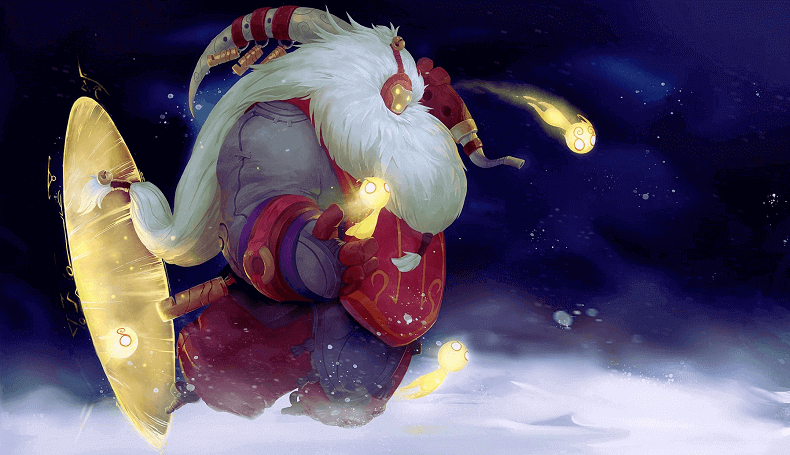 If you want to be successful while betting on League of Legends, you need to know more info about the biggest tournaments. Below, you can find some of the most famous LoL competitions you can punt on.
LoL World Championship
If you read some of the LoL betting predictions, you will often find the name of this event. That's because the so-called "Worlds" is the most prestigious LoL event of the year. The annual championship includes a substantial prize pool of several million dollars and a "Summoner's Cup".
Most top online bookies usually offer exclusive promotions and other perks during this event. This makes it popular even among people who're not League of Legends fans.
LCS
The League Championship Series (LCS) is run by Riot games, and it includes ten franchise teams. They compete in an annual event that is divided into two – spring and summer. Once they are over, there is a double-elimination tournament where the top 8 teams go head to head. After the season is over, the teams that occupy the first three spots receive an invitation for the League of Legends World Championship.
LEC
European League of Legends fans knows that LEC is one of the most prestigious leagues that consists of ten teams. Like other top-tier tournaments, it is run by Riot Games, and it is also split into two – spring and summer. Usually, each one lasts nine weeks and includes the best teams in the region. This automatically makes it an event that every LoL bettor should pay attention to.
---
FAQ
How do you bet on LOL matches?
To bet on LoL matches, you need to find a proper online bookie, choose an event, and decide which market you like.
What is the best League of Legends gambling site?
The best League of Legends gambling site is GGBet because it is an eSports-focused betting platform.
Is betting on League of Legends legit?
Yes, betting on League of Legends is legit, as long as you find a licensed online bookmaker.
Can you make real money from League of Legends betting?
Yes, you can make real money from League of Legends betting, but you need to be successful.
Which is the best League of Legends team in the world?
The best League of Legends team in the world is DWG KIA. However, this will most likely change in the future.
Are the League of Legends betting predictions important?
Yes, the League of Legends betting predictions are important because you can learn more information about specific options.
Which LoL team should I bet on?
Usually, you should bet on the team that performs well throughout the year.
---
Final Thoughts
League of Legends is a fun MOBA and can be a good betting option, even for inexperienced punters. However, the game is more complex than other eSports titles, so it is recommended to learn more about it. After that, check the League of Legends betting Reddit or simply choose one of the bookies mentioned earlier. All of them will provide you with plenty of markets, good features, and odds.