Ad disclosure
Here at EfirBet (EB) we pride ourselves on having a site that is completely ad-free. No ad blocker is needed while browsing EB. At the same time, we do use affiliate links to earn commissions (every time you click a link and sign up at a betting site). This revenue helps us deliver quality and trustworthy reviews for our readers at no additional cost to them. Read the EB
About Us
page if you want to learn more.
Crazy Time is an exciting gameshow based on the concept of the Dream Catcher wheel. The game hostess spins the wheel after you have placed your bet. Cross your fingers and hope that the spindle lands on the bonus to get more out of your bet.
Crazy Time Parimatch rewards you with jaw-dropping prizes with the chance to win up to 25,000X your wager. The game sports an eye-catching layout with a colourful studio and a glamorous host. If you are the kind of player that would like to skip the rules and strategy and enjoy some harmless fun, then Crazy Time is the game for you.
---
How to Play Crazy Time at Parimatch?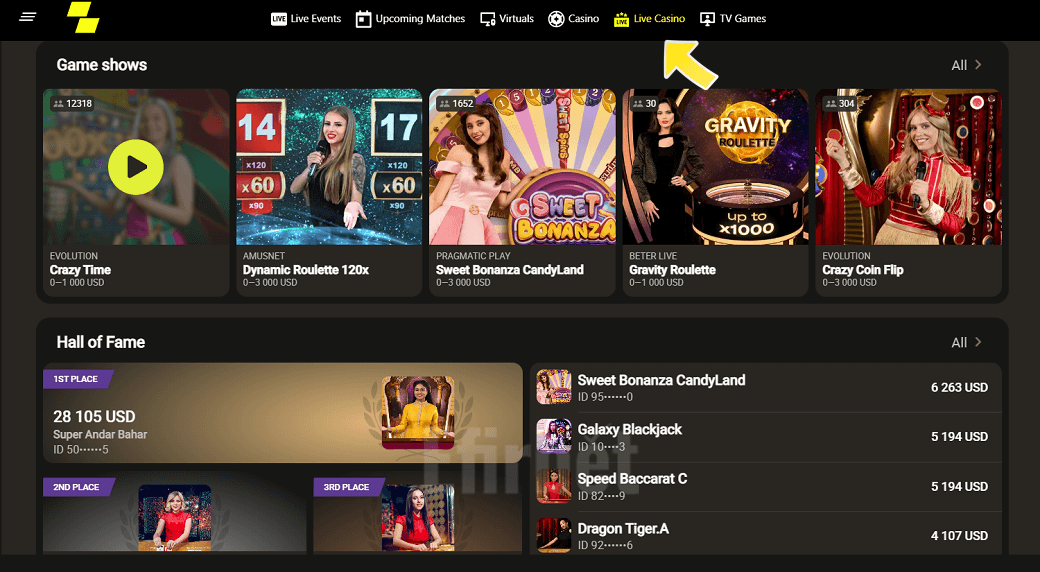 Visit Parimatch and login to your account. Alternatively, you can register at Parimatch using our exclusive promo code.
Enter the live casino of the brand.
Scroll down to the Game Shows section and click on the Crazy Time game.
You will then enter the Evolution Gaming lobby. A live dealer will spin the wheel for you.
---
Crazy Time Live Casino Game Review?
Pick Crazy Time live from the game lobby and get ready for a thrilling ride. The hostess spins the wheel, and you have to guess where the spindle lands when the wheel stops. A wheel has 54 sectors divided into sets of five. Most of these are 1s, 2s, 5s and 10s, and you also have sectors for:
🍒 Pachinko – RTP 94.33%: The bonus lies on two segments of the wheel. To play the bonus, the puck is dropped from the top, and a multiplier is applied on the bet it lands on.
🍒 Cash Hunt – RTP 95.27%: Aim at a number from the 108 symbols available. Once the timer expires, players attempt to hit multipliers to be applied to their bet.
🍒 Coin Flip – 95.70%: Random multipliers are added to the side of the coin that ends up on top after the coin flip. The coin has a red and blue side.
🍒 Crazy Time – 94.41%: Played with a mega wheel, the round applies three flappers. Your total bet is also boosted by mega-wheel multipliers.
The special slots come with bonus games that give you a chance to win a different prize every time you play. You place your bet on a number and a bonus game and hope the wheel lands on one of these when it stops.
Players have a total of 8 bets to choose from when playing the game. Aside from the wheel, there are two reels that spin to add multipliers to your numbered bets that also upgrade your bonus rounds.
---
RTP And Volatility
Crazy Time has an RTP of 96.08%, and each segment comes with an RTP showing what the odds of landing one of these are. Crazy Time live stats show that the RTPs play a big role in what numbers win more often:
👉 The number 1 is labelled on 21 segments (RTP 96.08%)
👉 The number 2 has 13 segments (RTP 95.95%)
👉 The number 5 has 7 segments (RTP 95.78%)
👉 The number 10 has 4 segments (RTP 95.73%)
As you might have noticed, the RTPs for each of the segments are quite high. With RTPs like this, players have recorded massive wins of up to 5000x with a payout of €14.4 million. The game has high volatility, and you always win no matter what bets you pick.
This, coupled with the multiplier reels, makes the game a high-reward type. With Crazy Time stats to show you what bets are hot, you have all you need to start winning. Players that choose the game have the chance to play for some amazing rewards, and it helps that the game is fast-paced.
---
Where Can I Play Crazy Time For Free?
Crazy Time casino dealers are found in virtually every online casino you visit. You ought to play at the best sites, though. With top-notch sites, you get a seamless stream that ensures your gaming session is never interrupted.
Sites like LeoVegas and 888 Casino are among the virtual casinos where you can enjoy the game. Casinos like these let you play the game with low wagering limits that start at $0.01 and go up to $500.
---
Tips and Strategy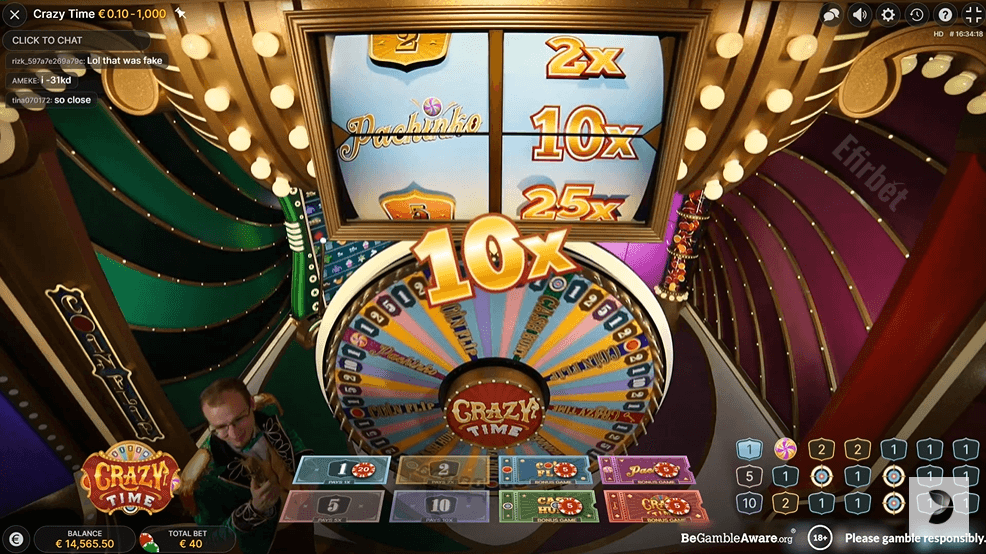 Playing the Crazy Time stream is not only about blindly predicting what segment the wheel stops at and hopping for the best Crazy Time results. You can make the game even more fun when you apply a strategy. A Crazy Time tracker is a handy tool to have when deciding what strategy to apply. There is research to show that gameshows will help you learn better. It's one of the reasons children are often taught through fun games:
Go for Bonus games:
Place your bets only on bonus rounds so that you never miss out on any of the bonus rounds when the wheel stops at these.
Play it Safe:
With this strategy, you totally avoid the bonus segments and play only the numbers since these have more segments on the wheel. Play more segments so that the casino score Crazy Time produces at the end of a spin always favours you. The Crazy Time result for such a bet is more likely to be favourable.
Crazy Time Martingale:
It goes just like the roulette Martingale betting system. This strategy does not need you to have a Crazy Time live tracker. You keep doubling your bet until you strike your first win, which recoups all your previous losses.
All in:
This is the strategy for players who can't decide what numbers they like, so Crazy Time live score would do very little for them. Place bets on both numbers and bonus segments on all your available betting slots so that you have a chance when the wheel lands on a bonus or number segment.
---
Pros & Cons
Live Crazy Time is a fun game with high payouts. There are lots of reasons why you would enjoy the game, but there are downsides to it as well. Here are some of the pros and cons of playing Crazy Time today:
Pros
Four bonus rounds to play
High energy and entertaining gameplay
You need no skills to play the game
A huge multiplier of up to 25,000X with a huge Crazy Time score
Strategy can win you more each time you bet
Cons
No demo version
Few bonus slots
---
The History of Crazy Time Parimatch
Crazy Time is a long-time favourite of online players created by Evolution Gaming. The software provider first introduced the game in 2012. Crazy Time history today tells us just how far the game has come. Over the years, Crazy Time history has seen the game add new features, such as the Coin Flip bonus, which was not part of the game at its inception. Crazy Time live stream quality has also improved since the game was launched.
---
Games By The Same Developer
Evolution Gaming is one of the industry leaders when it comes to live gaming. The game provider has had many other successes in its time on the online gaming scene. Other top-rated/highly recommended games from the software provider's line-up include:
🍒 Lightning Roulette
🍒 Dream Catcher
🍒 Deal or No Deal
🍒 Teen Patti
🍒 Gold Bar Roulette
🍒 Monopoly Live
---
Crazy Time Parimatch vs Other Casino Games
Crazy Time guarantees a fun time whenever you pick it from the game lobby. You have the chance to win much more than you wagered, and it's up to you to up the ante and go for the big leagues. Fans of fast-paced action are better off playing Crazy Time over other live games, such as blackjack or baccarat, that may need you to learn a thing or two about the game before playing.
All you need is Crazy Time spin history to come up with your strategy for the game. You will also like the game for its flexible wagering limits that let all types of players be part of the action.
---
FAQ
What are the odds of winning at Crazy Time Parimatch?
You have high odds of winning when playing the game as it has an RTP of 96.95%.
Is Crazy Time Parimatch safe and fair to play?
Yes, the game is safe to play, and you don't need any skills to enjoy it.
What kind of strategy should I use when playing Crazy Time Parimatch?
The best strategy to play on Crazy Time is placing bets on both numbers and bonus segments for your available betting slots so that you land on something every time the wheel stops.
Can you play Crazy Time Parimatch for free?
No, there is no demo version for the game, and you have to place a bet with real money to play.
Is Crazy Time Parimatch available on mobile devices?
Yes, you can play Crazy Time on mobile.