Ad disclosure
Here at EfirBet (EB) we pride ourselves on having a site that is completely ad-free. No ad blocker is needed while browsing EB. At the same time, we do use affiliate links to earn commissions (every time you click a link and sign up at a betting site). This revenue helps us deliver quality and trustworthy reviews for our readers at no additional cost to them. Read the EB
About Us
page if you want to learn more.
Editing a bet after placing it is one of the most utilized services at Bet365, as it gives punters a chance to twist a selection in different ways.
In this article, I will share my experience of how this edit bet feature at Bet365 enables me to add, swap, remove a selection or even change my stake amount. Besides, I will delve into the bet editing process.
---
Explaining Bet365 Edit Bet Feature
The Bet365 Edit Bet feature is a feature that gives me the chance to either add a selection, remove, modify my stake or swap a selection that I make at the bet slip.
If I place a selection by mistake, I will not panic since I know that I have the chance to redeem myself by changing the selection.
---
Simple and Fast Steps to Edit Bet on Bet365
To ensure that I use this feature, Bet365 has simplified it. Instead of being some rocket science, it is a walk in the park.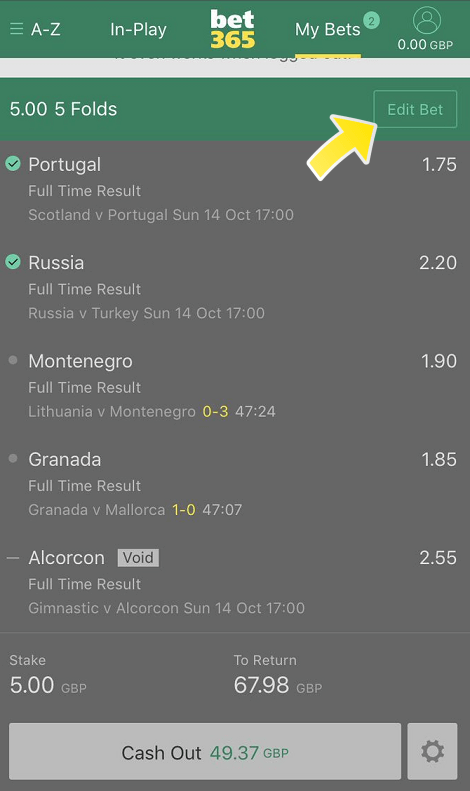 The below steps outline the 'how to edit bet on Bet365' really works. Of course, as I gathered from my experience with this brand, the process is really simplified, so the players won't be bothered with unnecessary details or procedures. But here's how I discovered it really works behind the scenes:
Since I already have an account at the bookmaker, I will proceed to the already placed bets.
When I choose the 'Edit Bet' option, I will actually cash out the bet in the system so that the amount I cash out becomes the new stake of my edited bet.
I will proceed to place the bet as usual.
From the above, the edit bet option is only available on bets with the cash-out feature. The cashed amount forms the new stake of the edited bet. Consequently, the Bet365 edit bet option will not be available on any bets that do not have the cash-out option.
Below are the possible edits I will be able to do with the Bet365 edit bet option:
Adding A Selection – After cashing out, I can add an extra selection to my bet. This is possible if I am placing an accumulator.
Swapping a selection – If I feel like the outcome of the match may be the opposite of my initial expectation, I may want to replace my initial selections with new ones.
How can I remove a selection? – To remove a bet from my selection, I will cancel the bet I would like to remove. The bet will automatically be dropped from my bet slip. Consequently, I will get a chance to place a new bet.
---
How many changes can I make?
With the Bet365 edit bet feature, I enjoy great flexibility. I have no limit on the number of bet changes I should make. Whenever I realize I made an error when placing a bet, I will edit it provided I have the cash-out feature on it.
What is an unsettled bet?
An unsettled bet is a bet whose outcome has not been known yet. This implies that I can change the bet as my stake is still intact, waiting for the final play of the odds.
---
Is there a way to cancel a bet365?
Unfortunately, there is no way to cancel a bet at Bet365 after I place it. However, I can edit the bet, and things could turn around for me and get the prediction correctly.
---
Final Verdict on Bet365 Edit Bet
When betting, there is a huge possibility of judging wrongly. As a result, punters tend to place bets without foreseeing a dramatic change of events that risk stake. But, with the Bet365 edit bet feature, I have a chance to redeem my stake by changing my bet. This is a great feature that other bookmakers should consider offering.
---
FAQ
Can you change a bet once placed?
Yes, I can change the bet through the Bet365 edit bet option.
Can you undo a bet on bet365?
Unfortunately, no. Once I place a bet, it is not possible to undo it. But I can edit the bet feature to make some changes to any unsettled bets.
Can you delete a selection using the Bet365 Edit bet feature?
Yes. When betting with accumulators, Bet365 will give you the opportunity to remove some of the included selections from your betslip.