Ad disclosure
Here at EfirBet (EB) we pride ourselves on having a site that is completely ad-free. No ad blocker is needed while browsing EB. At the same time, we do use affiliate links to earn commissions (every time you click a link and sign up at a betting site). This revenue helps us deliver quality and trustworthy reviews for our readers at no additional cost to them. Read the EB
About Us
page if you want to learn more.
I have always been a sports fan, so it shouldn't be surprising that I am interested in sports betting. Even though I usually place bets on a single event, while I was using bet365, I found out that the site allows me to combine different bets.
Placing bets on multiple sports events seemed interesting, but since I bet responsibly, I was reluctant to give it a chance. However, there were a few sports events I was interested in, and thanks to bet365 and its features, I could place my bet.
---
What is a combined bet on bet365?
A combined bet on bet365 is when you choose a couple of sports events or markets from the same or different events and wager on all of them at once. Doing this will give you access to higher odds, but it increases your risk. That is because failing to predict one of the markets in your betslip means you won't win anything even if you predict the rest.
---
How to Combine Bets on Different Sports events at bet365?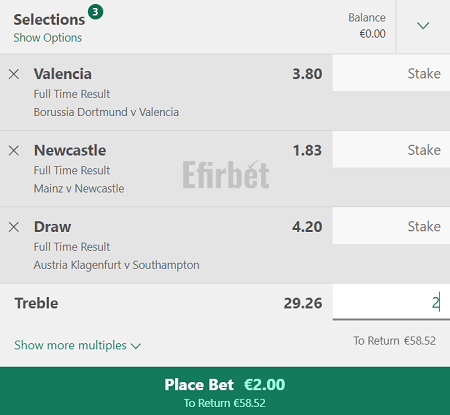 To combine bets on different sports events at bet365, you have to complete the steps I've gone through, which include:
I had to use my login details to access my account.
After that, it was time to open the sports section and browse through the available selections
Once I've decided what to bet on, I've added the markets to my betslip.
Lastly, I had to choose the amount I wanted to bet with and place my Acca bet.
Bet365 allows me to make different combinations when it comes down to Accumulator bets.
After adding all the markets I want to bet on, the odds will multiply, giving me a chance to gain bigger odds for my betslip.
How to use Bet Builder at bet356?
To use Bet Builder at bet365, I had to do the following: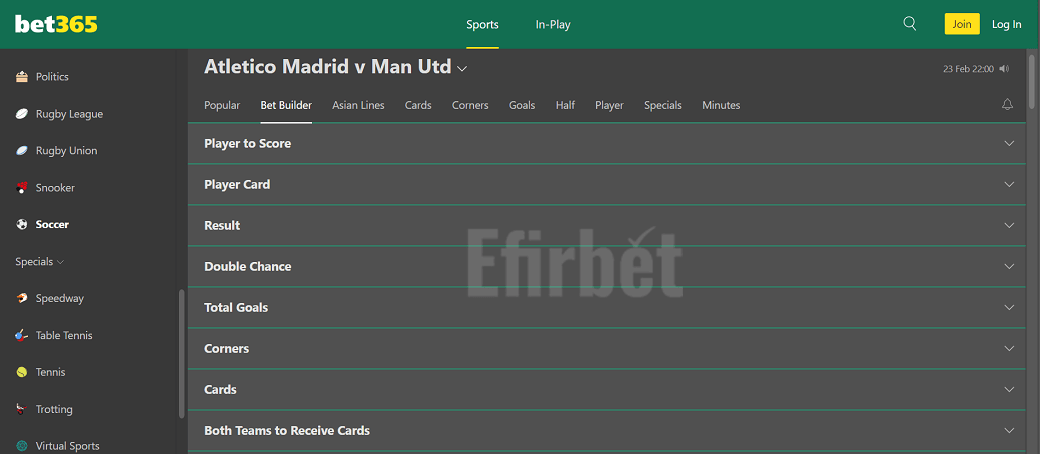 After going to the sports section, I picked one of the many sports and events that were available.
When I was ready, I selected the Bet Builder feature from the heading and saw the available betting markets.
After I've decided which options to punt on, I've placed my bet.
One thing that surprised me is that Bet Builder is available for different sports. Although I usually use it for football, bet365 allowed me to take advantage of it while wagering on rugby, tennis, baseball, and more.
Similar to the ACCA bet, this feature will multiply the odds I can bet on.
---
Which features can I use to combine bets on bet365?
The features you can use to combine bets on bet365 are called Bet Builder and Accumulator bet. I have experience with both, so I'd like to share some of the important things you should know about them.
Starting with the ACCA bet, this option lets you add multiple betting markets to your betslip. Doing this will increase your total odds. However, it will also make your bet more challenging to predict.
Bet Builder, on the other hand, is similar to Accumulator bet in many ways. I've used this option to combine several markets that I was interested in so that I could have access to higher odds. However, instead of combining markets from different sports or events, Bet Builder allowed me to punt on options from the same match.
---
Pros & Cons for Combined Bets
Many online punters might be puzzled regarding whether to use the combined bet options at bet365. Therefore, the Pros & Cons listed above should come in handy.
Pros:
Using the combined bets options give you access to higher odds
In some cases, you can bet on both sides (as long as the markets are not self-excluding)
You can create interesting bet combinations
Multiple bets are not excluded from the terms of most Bet365 bonuses, so I can place the while wagering a promo
Cons:
These types of bets are even riskier to predict
Bet Builder is usually not available for every sport
---
Frequently Asked Questions
How can I combine bets on bet365?
You can combine bets on bet365 by using the Accumulator bet or Bet Builder feature. They look similar, but the latter allows you to choose multiple markets from the same selection.
How to place an ACCA bet on bet365?
To place an ACCA bet on bet365, you must go to the sportsbook and choose multiple events to wager on.
How to use Bet Builder at bet365?
To use Bet Builder at bet365, add different markets from the same event. I was interested in football, but you can check if the feature can be used for other sports.