Svenbet Review
In this review, we will be evaluating the quality of betting services offered here. Our casino review will go further to look at the bonuses offered, sports betting markets available as well as the general layout and design of the site. This article is meant to guide you through your decision on joining and playing at Svenbet. At the end of this review, we will give an overall rating of the site, regarding other leading as well as upcoming online gaming sites.
---
How to register at Svenbet?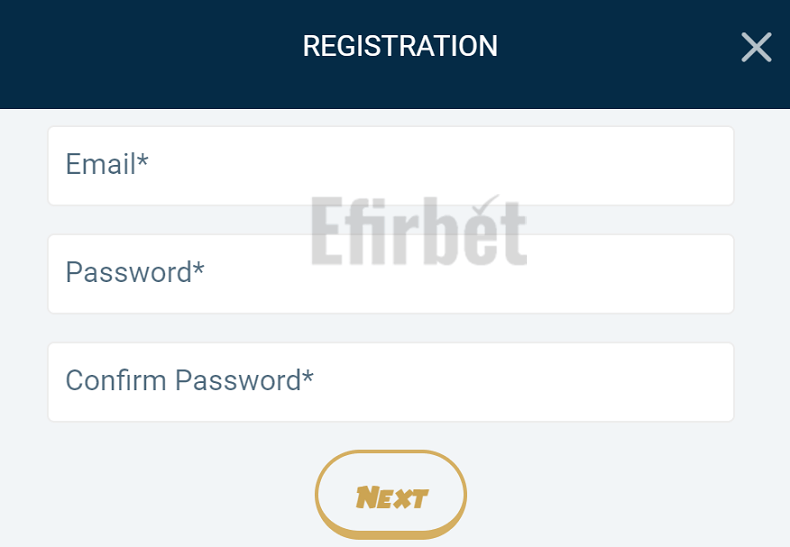 Account registration is the first and very important of playing at any online gaming site. The account registration should be an easy to hack process that does not take the customer through too much hustle. For this reason, most online casinos are coming up with a simplified account registration process. This is the same idea that has been brought forward by Svenbet.
Registering a new gaming account at Svenbet is a simple 2-step process. To get your account up and running, you will need to have a valid email address.
Type in the URL: svenbet.com in your favourite browser. At the top right corner of the page, click the 'REGISTER' button to start the registration process.
The first step will prompt you to provide your email address and a strong enough password. In the second step, you will provide more details such as your name, gender, date of birth, country of residence, address and preferred currency.
It is important you take note that the information provided in this registration process cannot be modified later. As such, you should be extra careful to give true information in order to avoid issues with your account in the future.
You can register an account and start playing at Svenbet through your mobile phone or tablet. Similar to the desktop registration, this is an easy process that you can get done within minutes. We have explained the mobile gaming feature in more detail in the next section below.
Steps for activating and verifying your account
While registering an account is a fast and easy process, you will realise that some feature in your account will remain inaccessible and 'locked' until the account is verified. Account verification is a process used by online gaming platforms to collect more details about you and authenticate that the information you provided in registration is true. Verification also allows these sites to play within the rules because they can, for instance, confirm if you are of legal age to participate in online gambling. For this reason, some crucial features such as money withdrawals will remain locked in your Svenbet account until you verify the account.
We found the account verification process to be a bit longer and complex than the account registration process. You will be required to provide documents that prove your age, place of residence as well as proof of bank account ownership. To verify your identity, you can send them a scanned copy of your ID or passport.
Most gamers normally have an issue with providing proof of residence. For this, you can simply scan your recent utility bill that shows the details of your physical address. It is, however, important to note that the utility bill has to be no older than three months.
Once you have collated and scanned all the required documents, you should send them to the customer support team via email. On paper, the company promises a turn-around-time of about 72 hours. While doing this review, however, we were disappointed to find that it takes up to 5 days before you get any feedback on the verification of your documents. Besides, if your scans are not too clear, you might have to redo them and send them over again before you get the green light.
How to recover a lost password?
If you already have an account with Svenbet but are unable to log in due to a password issue, you can easily regain access by resetting the password. You do not need to create a new account simply because you forgot your password. It is against the company's policy to own more than one account per person, household or IP address.
To reset your account password, click the 'Log in' button placed at the top right corner of the page. At the bottom of the small pop-u window that appears you will see a link indicated 'Forgot Password?'. Click on this link then provide the email address you used to register the account with. Within a minute or so you will receive an email with the instructions on how to reset your account's password.
In some instances, depending on the email filters you are using, the password reset mail might not appear in the inbox folder. Before you request for another reset link, you should, therefore, check other folders in your mail such as Social or Spam.
---
Design and Navigation
Svenbet uses a straightforward yet impressive design on its website. In as much as flashy web designs with futuristic animations and sliders tend to be catchy, sometimes a simple, neat laid back approach does the magic. This seems to be the general idea behind the design of the Svenbet website. The site has a white and blue background, with large beige buttons offering the links to the various sections of the site. At the top right corner of the homepage, you will find an option to switch the languages. Other than English, the site is also available in Norwegian, Finnish and German. This should make it very easy to use the site for gamers from non-English speaking countries, especially from these European countries.
In addition to the large buttons placed at the centre of the page, there is the main navigation bar placed at the uppermost part of the homepage. The menu navigation bar will remain permanently visible from whatever page you are in on the site, making it easy to jump from one section to another, such as from the sportsbook to the live casino, without having to go back to the homepage.
The mid-section of the home page is populated with highlights of the most popular slots games available, with slots being the most dominant game offered in this online casino. We will expound more on this in the casino review section below. At the very bottom of the page, you will find the quick links to various help sections and the terms and conditions page. In this area, you will also find the licensing and registration information, as well as the contacts page.
---
Sports Betting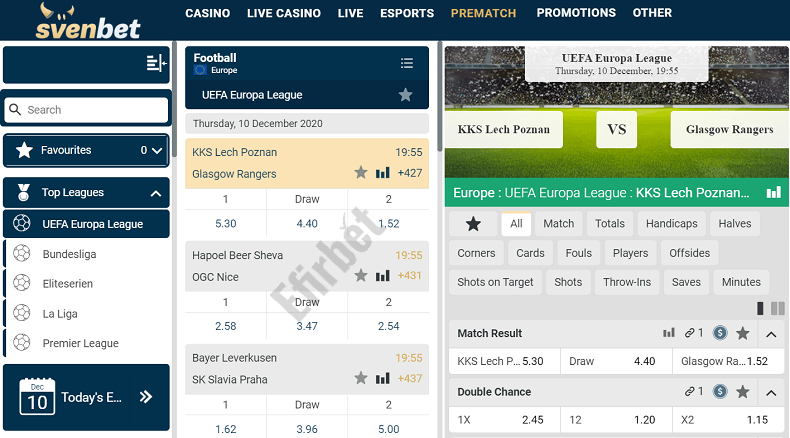 Though Svenbet is more popular for its online casino section, the site also has a very vibrant sportsbook. There are two ways to access the sports betting section; either by using the large beige button at the centre of the screen or by clicking the 'PREMATCH' tab on the main navigation bar at the top of the page.
The layout and design of the sports betting section is quite different from the usual layout common with other sports betting site. Rather than having the betting markets laid out in horizontal rows, Svenbet uses a columned layout. The Sports Category and Betslip occupy the far right and far left columns respectively. The mid-section is comprised of two columns. The first will display the lineup of any upcoming matches in a particular sport. Whenever you click on a specific match, its details as well as the betting options will pop-up on the second column.
With time, you will find this layout to be quite more comfortable to use as you can quickly jump from one match to another without having to reload the pages.
Available Sports
The Svenbet sportsbook brings together an impressive collection of sporting disciplines that can cater to a global audience. In all, there are more than 30 different sporting categories represented here. These range from popular games such as football, tennis, baseball, American Football and cricket to region-specific speciality sports such as biathlon, beach volleyball, and Gaelic football.
In addition to the regular sporting activities, Svenbet has also thrown in some e-sports action with betting options on popular games such as Dota 2, Counter-Strike Go, Call of Duty and Starcraft. The sportsbook also gives you betting options on other TV entertainment events and politics. Some of the famous reality TV shows you can bet on here include Eurovision, Game of Throne and X-Factor.
One obvious disadvantage with the Svenbet sportsbook is the arrangement of the various sporting categories does not follow any particular order. It would be much easier to use the sportsbook if the games were arranged alphabetically. Here, you will have to manually create a filter by adding the sports of your interest to the favourites list. At least this way, you can have quick and easy access.
Betting markets
While Svenbet has made some good effort in offering a large number of sports categories, the betting markets available are not as comprehensive. What we realised is that the football section has nearly all the betting options you could think of. With football, each match has dozens of betting options which include 1X2, total goals scored, corners, cards, fouls committed, halves as well as handicaps. On the contrary, other sports tend to be much more limited in the betting options. For instance, with tennis, you can only bet on the outright winner. The same is the case for other sports such as American football and even cricket.
Odds
Svenbet offers its odds at a rate that tend to be at par with the average market prices. Here you will not find ridiculously high odds nor an option for enhanced odds.
---
First Deposit Sbook Bonus – Up to €100 Welcome Offer
To set the ball rolling in the sportsbook, Svenbet offers you quite a lucrative welcome bonus package. This offer is designed to match your first deposit 100%, basically meaning you will get your first deposit at the sportsbook doubled. To trigger this offer, the minimum amount you need to deposit is €20. The bonus money offered can be as much a €100.
You should take note that this bonus comes with a ten times wagering requirement, on minimum odds of 1.9. Once you have received the bonus money, you will have up to 30 days to fulfil this minimum wagering requirement before you can withdraw the money.
---
---
Live Betting
In addition to the regular sports betting section, Svenbet also has a live betting lobby. Here you can place an in-play bet on live matches such as tennis, handball, football, baseball and any other sports available on the regular sportsbook. Svenbet has quite an innovative way of presenting the live sports betting section.
You can switch from a single event view to multi-events. In multi-events, you get to place up to three different events in action tabs and place live in-play bets concurrently.
---
Cash out Option
Svenbet also supports a cashout. However, you will realise this option will not be available for all sports in the sportsbook. The option is offered predominantly for the soccer matches. To cash out on a bet, click on your bet slip then scroll to the active bet that you would wish to cash out. The option is offered predominantly for soccer matches, but it can be found on other sports too.
---
Live Streaming
Unfortunately, Svenbet has not developed any live streaming options as of yet. In its place, the site offers a live betting page that is quite interactive. Through the live sports section, you will find animations of the live events, giving you a vivid presentation of the live action. The animations are not actually of players in the field as it is the case with virtual sports, but instead graphical presentations of the highlights such as attempts on goal and ball possession.
---
Virtual Sports
Virtual sports is another interesting betting section that is worth checking out at the Svenbet website. We've all had those moments when our favourite sports or tournaments are on break leaving us with little or no sporting activities to enjoy. Thanks to virtual sports, you are now guaranteed to have round the clock sporting action and betting markets, throughout the year.
Betconstruct powers the virtual sports section at Svenbet. The games you will find here include virtual horse racing, virtual greyhounds, virtual tennis, virtual bicycle races, virtual car racing, and virtual football. There are two formats of virtual football offered here. The first format is the regular one where you have the key match highlights played out throughout 90 seconds. The second format is the virtual penalty kicks, in which teams go head to head in shooting penalties. This is another innovative and equally entertaining way of playing virtual football.
All the virtual sports here are designed in a scheduled format. In this format, a new match or race is set to kick off every 3 minutes. The duration of the virtual sports varies from one to another, but on average they will last between 60 and 90 seconds.
---
Casino
Besides the sporting action, Svenbet also offers quite an interesting online casino lobby. Their online casino brings together works of various online casino software providers. Here you will find games from up to 20 different companies, including leading brands such as BetSoft, Pragmatic Play, Play'n Go, Endorphina and EGT.
This collaboration ensures that you get a collection of casino games inspired and built from diverse ideas. The games catalogue features table games, video slots, classic slots, scratch cards, and card games. The organisation and arrangement of the online casino gaming catalogue make it very easy to navigate and even find a particular game you are interested in. You will have the option to filter based on game type, software providers, popularity or even the newest games first.
The largest of these games categories is the video slots section which is home to over a thousand slots machines. These include classic 3-reel slots as well as newer video and 3D slots. Curiously, Svenbet has not set aside a jackpots-only category as it is the norm. This makes it much harder to trace the jackpot games as they listed amongst the rest of the video slots.
At the table and card games section you will find an impressive lineup of classic casino strategy games such as poker, blackjack, roulette, and baccarat. The inclusion of multiple software providers ensures that even here you will find diverse designs and variant of these traditional casino games. For instance, if you are interested in blackjack, you will have over a dozen variants of the game including European Blackjack, Double Exposure Blackjack, Single Deck Blackjack, American Blackjack, 3 Hand Blackjack and 21 Blackjack.
---
First Deposit Casino Bonus – Up to €1200 for new customers
Similar to the sports betting section, new gamers at the Svenbet online casino section will also get treated to a welcome bonus to boost their online gaming adventure. Instead of giving you the usual 100% welcome bonus, Svenbet goes a step further and offers you 120% bonus on your first deposit. The bonus could be as much as €1200, which is quite a lot to use in online casino gaming.
To activate this bonus money, your first deposit has to be at least €40. It is also worth noting that this bonus money comes with a 40-times wagering requirement which should be met within 30 days. The first deposit bonus money can only be used in playing at a selection of online slots from specific software providers.
---
Live Casino
For an even more intensified and realistic casino gaming session, Svenbet has developed a live casino lobby where you will find games hosted by actual casino dealers. The live casino plays host to live dealer games from NetEnt, Evolution Gaming, Ezugi, and Lucky Streak. This collaboration from the four software providers yields an interesting live games lineup. The design and layout of the live game table or lobby will vary depending on the software provider powering that particular game. This helps to ensure you get a fresh environment with each gaming session.
Among the favourite live dealer games such as baccarat, roulette, and blackjack, the Svenbet live casino section is also home to instant in live lotteries such as the Dream Catcher and Live Keno.
---
Other Betting Sections
Svenbet has also introduced a series of mini-live games that are similar to live TV lottery games. You will find these games listed under the 'Other' section, alongside virtual sports. These mini-live games can be a quick source of instant cash prizes if lady luck is on your side. The games are of two main categories as described below;
Tombala
This is Bingo inspired live lotto game. Similar to other bingo games, you will be prompted to purchase cards then cross your fingers for the numbers to work your way. The Tombala section is also equipped with an in-game live chat option, allowing you to interact with other players in the live chat rooms.
There are four different types of games offered here; Over Under, Tombala Classic, Tombala Reward, and Tombala Color. All these games are hosted by live dealers and streamed live. Unlike the live casino section, the live streams here are TV-like, meaning the live dealers are TV presenters.
Betgames TV
This category is comprised of various live TV games with instant cash prized. Unlike with regular casino games, the BetGame TV games are designed like lotteries giving you a chance to win instant prizes now and then. Most of these games have a new round kicking off every 5 minutes.
The type of game you will find here include Lucky 7, Lucky 6, Lucky 5, Dice, Dice Duel, Wheel, Bet on Poker, Baccarat, and War of Bets.
---
Deposits and Withdrawals
Svenbet has a relatively flexible cashier. In addition to having a variety of payment options lined up, the Svenbet cashier accepts payments in different currencies such as EURO, GBP, USD, RUB, and CAD. It is, however, important to note that once you select the currency to use during account registration, you may not change it at a later point.
In the table below, we have summarised the deposit and withdrawal options you can use while playing at Svenbet;
Deposit Methods
Withdrawal Methods
| Payment Method | Deposit Minimum | Deposit Maximum | Time for Deposit |
| --- | --- | --- | --- |
| Visa | €20 | N/A | Instantly |
| Bank Wire Transfer | €25 | N/A | 2-5 Days |
| Neteller | €25 | N/A | Instantly |
| Skrill | €25 | N/A | Instantly |
| Paysafe Card | €15 | N/A | Instantly |
| EcoPayz | €15 | N/A | Instantly |
| MasterCard | €20 | N/A | Instantly |
| Sofort | €15 | N/A | Instantly |
| Sepa | €25 | N/A | Instantly |
| Neosurf | €15 | N/A | Instantly |
| Flexepin | €15 | N/A | Instantly |
| CASHlib | €15 | N/A | Instantly |
| Pass N Go | €20 | N/A | Instantly |
| Payment Method | Withdrawal Minimum | Withdrawal Maximum | Time for Withdrawal |
| --- | --- | --- | --- |
| Visa | €20 | N/A | 2-5 Days |
| Bank Wire Transfer | €25 | N/A | 2-5 Days |
| Neteller | €25 | N/A | 24 Hours |
| Skrill | €25 | N/A | 24 Hours |
| Paysafe Card | | | |
| EcoPayz | | | |
| MasterCard | €20 | N/A | 2-5 Days |
| Sofort | | | |
| Sepa | | | |
| Neosurf | | | |
| Flexepin | | | |
| CASHlib | | | |
| Pass N Go | | | |
---
Mobile Version of Svenbet
Svenbet has made efforts to ensure you take your favourite casino game or even bet on sports on the go through mobile gaming. Instead of using a stand-alone downloadable mobile app, Svenbet relies on the mobile version of their site.
From your regular mobile browser, you can simply type in the Svenbet's URL, and you will be automatically redirected to the mobile version of the site. Based on our experience while doing this review, we found the mobile site version to be well designed and laid out, and even easier to use and navigate than the main desktop site. The mobile version does not have the flashy banners and sliders that normally clutter the home page. Instead, you will only one single banner section followed by the navigation tabs to the various sections.
Aside from the aesthetics, the functionality of the mobile site version is equally impressive as you get to access all the games and betting options available on the main desktop site.
---
Affiliate program
As mentioned at the start of this review, Svenbet is part of a group of other popular online casinos brands owned by the same company. As such, their affiliate program is run under one umbrella program. The Campeon Gaming Partners is the affiliate marketing program in charge of managing all the affiliate marketing activities of the CW Marketing BV owned online casinos, including Svenbet.
The online registration process for this program is quite easy. During registration, you will get prompted to select which of the online casinos under their rooster you would like to promote. Once you have submitted your application, you will get feedback based on your website's traffic and content. Normally, this feedback is done within a week or so.
This affiliate program offers a commission structure that pays relatively more than other regular affiliate programs. The commissions are paid out in 4 levels, determined by the traffic of new sign-ups you generate. The first level gets 45%, the second level gets 50%, the third level gets 55%, and the fourth and highest level gets 60%.
---
Frequently Asked Questions
Does Svenbet offer any casino no deposit bonus?
Not really, while you will be getting many offers and bonuses, none of them is no deposit bonuses. All the promos offered here are triggered by making a real money deposit.
How long does it take for my account to be verified?
Ideally, this should take no more than 72 hours. However, the verification process could take much longer owing to various reasons.
Do I need any casino bonus code to activate the welcome bonus?
No, you do not need any promo code to activate the welcome bonus. The bonus is automatically activated for new players who meet the minimum deposit requirements.
How can I be sure the live TV games are fair?
The RNG automatically and randomly generates results on the live games. This is a computer program designed to ensure the results are completely random thus ensuring fairness.
Do I need separate accounts for the casino and the sportsbook?
No, you only need one account to access all the Svenbet gaming products. You can use the same casino login details to play at the sportsbook. The same applies to mobile betting as well.
Can I use the money won in the casino to bet at the sportsbook?
Yes, the money is held in the same casino wallet, and you can use it to play at any game of your interest.
Does the Svenbet sportsbook allow multi-combo bets?
Yes, with the Svenbet sportsbook, you can place multi bets combining a series of events.
---
About Svenbet
Svenbet opened its virtual doors in 2018. Despite being quite new in the market, the site seems to be making the right strides to becoming a reliable all-inclusive online gaming portal. From its inception, Svenbet brought along a one-stop online gaming site that combines both an online casino and a sportsbook.
The site is owned by the CW Marketing BV, a company that has been the brains behind other leading online gaming brands such as Evobet and Campeonbet Casino. The day-to-day running of the site as well as marketing activities are done jointly with the Viking Holdings Limited. The online gaming and betting activities here are licensed and regulated by the Government of Curacao.
Generally, Svenbet can be accessed and used by gamers from all around the world. The site is particularly popular in the European region, with the largest customer share coming from the Northern European countries of Finland and Norway. As it is the norm, many countries are restricted from playing here, primarily based on the local legislation of gambling in those countries. Such restricted countries are Italy, Australia, Greece, and the United States.
---
Customer Support
Customer support is a very integral part of any business, especially in online transactions. One impressive element with the Svenbet support team is that they are available in multiple languages such as English, German, Dutch, Russian, Spanish and Portuguese. This helps to ensure a large section of the clientele gets support in the language of their preference.
While Svenbet has made some effort in developing their customer section, it is quite noticeable that there is still a lot of improvement to be done. For instance, the customer support services are not available round the clock.
---
Contact Details
For any gaming-related inquiries, you can send an email to the support team through the address support@svenbet.com. Alternatively, you can use the live chat portal to seek help. However, you should remember that their working hours are between 09:00 to 01:00 CET.
---
Conclusion and rating
Though still a relatively new brand in the iGaming world, Svenbet is making determined strides to capture more markets, especially in the European markets. This is evidenced by the high welcome bonuses offered here that are quite lucrative. Also, the selection of games is equally impressive, particularly in the online casino section.
Some of the easily noticeable cons of playing here is the lack of 24/7 customer support. utBesides, the account verification process tends to be quite long. It is also worth noting the casino welcome bonus has a quite high wagering requirement of 40 times, which seems very prohibitive.
Rating: 7.5/10