Ad disclosure
Here at EfirBet (EB) we pride ourselves on having a site that is completely ad-free. No ad blocker is needed while browsing EB. At the same time, we do use affiliate links to earn commissions (every time you click a link and sign up at a betting site). This revenue helps us deliver quality and trustworthy reviews for our readers at no additional cost to them. Read the EB
About Us
page if you want to learn more.
Draw no bet is one football market almost all bookmakers provide odds for. Indeed, Betway is no exception to this, offering it across virtually all fixtures, from big-name clashes right down to lower-league battles.
It is a popular market among punters as it provides something of a safety net when wanting to back either the home or away team. The safety net does mean accepting lower odds, but it can be a worthwhile trade-off.
---
How to Place DNB on Betway?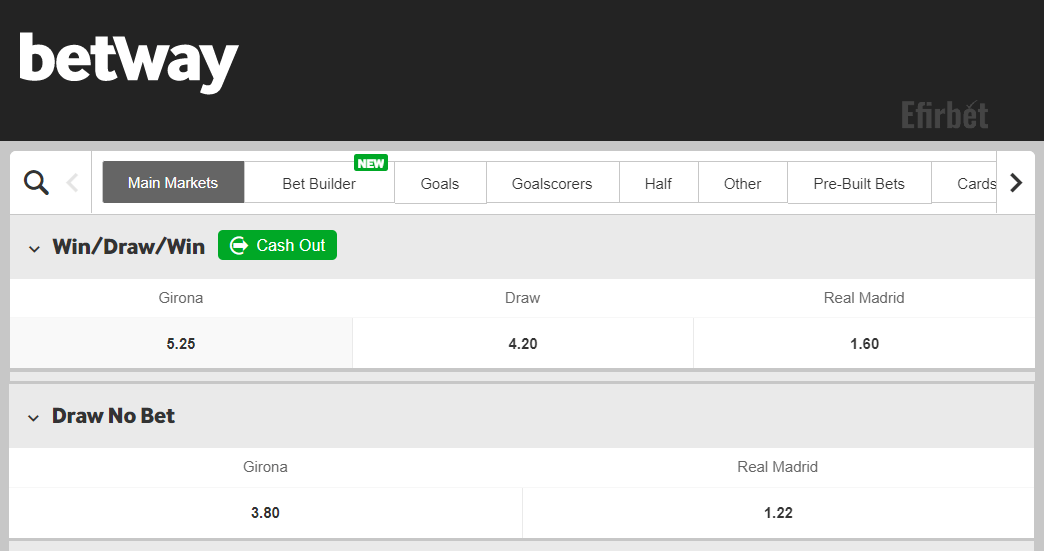 When you are logged in to your Betway account, you will find making a draw no bet selection is very straightforward.
Find the fixture on which you want to place a DNB wager.
Within the default 'main markets' selection, scroll down until you find 'Draw No Bet'. Alternatively type 'no bet' into the search bar to bring it up quickly.
Next, just select the team you think will win the match, and this will add it to your betting slip.
In addition, you can add additional selections if you wish to place a multiple bet. Players can combine DNB selections.
Once done, enter the desired stake on the slip and click confirm.
---
DNB – Draw No Bet Meaning Betway Explained
Draw no bet is not a market specific to football as you can find it in other sports where a draw is a possibility, for example, boxing or rugby. It is, however, most often used for betting on football due to how relatively frequent draws are.
For almost all football matches, there are three possible results – 1) home win, 2) draw 3) away win. Even in cup matches that cannot end as a draw, there can still be a tie after 90 minutes, which is what a 'win/draw/win' bet relates to. Should you wish to bet on a team to win, doing so in the DNB market gives you something of an insurance policy.
It means that you will win money should your team win and not lose anything if the game ends as a draw, as Betway will refund the bet.
Let us take a look at an example of this by comparing a €10 win/draw/win bet with a draw no bet for an Everton vs Tottenham game (real odds used).
| | | | |
| --- | --- | --- | --- |
| Bet Type | Everton Win | Draw | Tottenham Win |
| Everton to win (WDW) at 3.20 odds | €22 profit | €10 loss | €10 loss |
| Everton to win (draw no bet) at 2.30 odds | €13 profit | €0 profit/loss | €10 loss |
---
Pros & Cons of Draw No Bet on Betway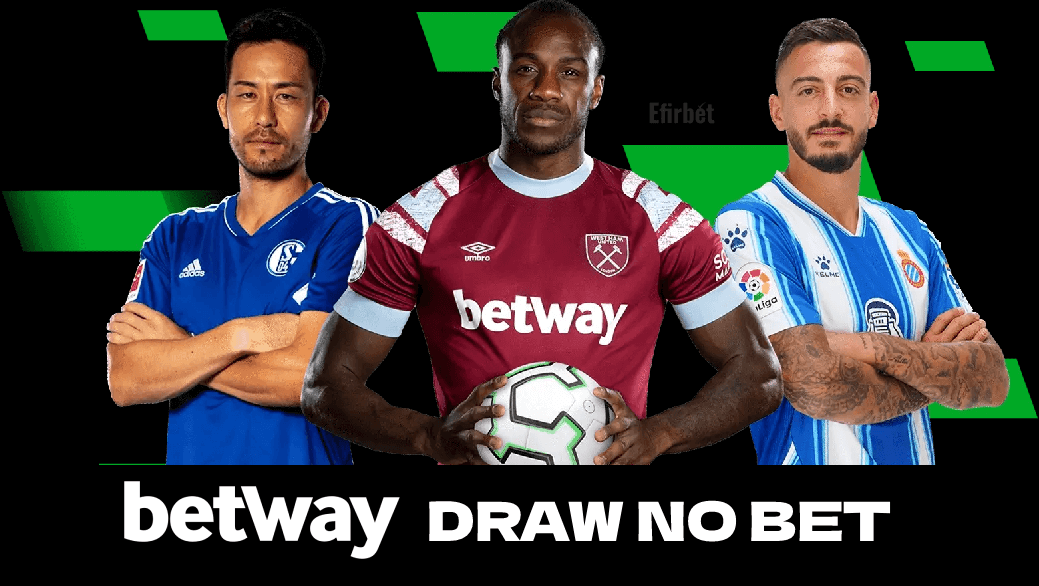 Advantages:
Avoids losing money in the event of a draw, effectively guarding your stake
Offers more protection on 'riskier' legs within an accumulator
Better odds than a double chance 'win & draw' bet
Disadvantages:
Significantly lower odds than backing a team to win in the win/draw/win market
Reduced payout is not always worth the insurance draw no bet provides
Betway does not offer cash out for draw any bet selections
---
Betway Draw no Bet Tips
When it comes to draw no bet betting at Betway, there are some major areas you should focus on. If you want to find some winning bets and enjoy your wagering, the tips that follow will help you. We do, of course, also offer a range of betting tips on many games. You can use these if you prefer, but doing your own research is always recommended.
Do your research
This is not specific to draw no bet, but it is worth highlighting how important pre-bet research is. By identifying trends, seeking out key team news and analysing form, you can improve your chances of success. You do not need to spend hours doing this, but even 5 or 10 minutes before a bet can make a real difference.
Avoid picking teams that rarely draw
Some teams are known for running hot or cold, meaning that they seem to win or lose most of their matches, rarely drawing. Moreover, a simple look at the league table can tell you which teams this applies to. Then, if this is the case, having the insurance of the 'draw no bet' may add little value as this is an unlikely match outcome.
Better for underdog betting
Draw no bet often does not provide good value when betting on the favourite. Favourites are often trading at a low price, and draw no bet cuts this further, producing some very small returns. As such, draw no bet is better placed when you are sensing an upset but you want a consolation in case the team cannot quite pull it off.
Consider multiple selections
If you choose a single 'draw no bet' wager, you can easily end up only getting your stake back, which is quite unsatisfying. By combining two or more draw no bet selections in an accumulator, though, one match drawing will not stop you from enjoying a (reduced) win.
Draw no bet or double chance?
A draw-no-bet wager is best placed when you fancy a team might win, but you think there is a modest chance the game could end all square. If you think the likelihood of a draw is more considerable, going for double chance instead may be a better option. Although the odds on this market will be lower, you will actually win money in the event of a draw.
---
FAQ
What does draw no bet mean on betway?
Like many bookies, Betway offer the draw no bet market, mainly on football. It enables punters to bet on a home or away win as normal, but they get their stake back in the event of a draw.
Can you cash out on draw no bet at Betway?
Betway does not typically offer cash out on draw no bet selections.
What is the difference between Betway DNB and money line?
Money line is a three-way bet, and this means you can back a home win, draw, or away win. With DNB, though, this is a two-way bet (home or away win), as draws result in a void bet. This is also known as a push, meaning Betway will return your stake.
Can I wager my Betway bonus on the DNB market?
Although this may be possible, be mindful that for some Betway bonuses e.g. free bet, you will not get the stake back in the event of a draw. Therefore, it is generally not a good market to pick for bonuses.