Ad disclosure
Here at EfirBet (EB) we pride ourselves on having a site that is completely ad-free. No ad blocker is needed while browsing EB. At the same time, we do use affiliate links to earn commissions (every time you click a link and sign up at a betting site). This revenue helps us deliver quality and trustworthy reviews for our readers at no additional cost to them. Read the EB
About Us
page if you want to learn more.
If your bet slip features a Betway postponed game, don't worry; your hours of analysis won't go to waste. Betway allows you to receive payouts of other events if your bet slip had more than one game, then a match is postponed. In the case of a single bet, your bet slip is valid for 24 hours, after which it's voided.
---
What Happens In Case Of An Abandoned Game?
When making sports wagers on Betway, it's helpful to learn that abandoned games aren't the same as postponed matches. A game is considered to be abandoned if it stops midway. Many factors can prompt this situation, but it's considered abandoned if a game stops even a few seconds after kick-off.
If a fixture kicks off and is abandoned midway Betway will not void it right away. Instead, it waits up to 24 hours to see if the game continues. When the game fails to restart within this period, all bets on this event are voided.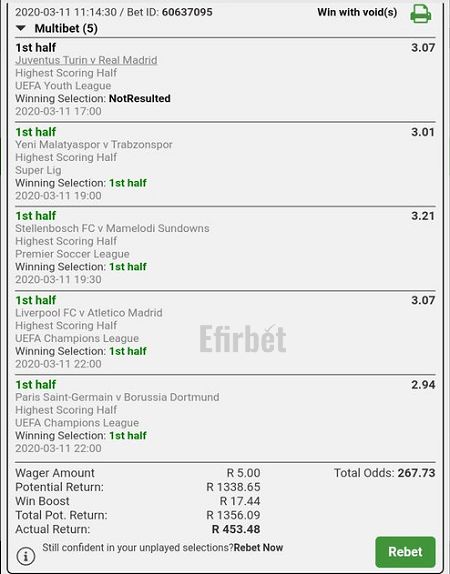 If you had placed a single bet, your stake is returned in full. For accumulator bets, your winnings are determined by the results of other games in your bet slip. That's a relief! So what happens to multi-bets when games are put off?
---
Multi-Bet And Put-Off Game On Betway
Sometimes events in your multi-bet can be postponed when other games are already live.
In this situation, it's impossible to cancel your wager or tweak your bet slip. What happens?
If a match is postponed in Betway, your multi-bet remains valid. The affected game will be voided and subsequently struck off your bet slip.
Nonetheless, the other games will pay if you get a favourable outcome. As this seems fair, the question is whether it applies when using the Build a Bet feature.
---
Betway Build A Bet And PostPoned Match
The major difference between the Build a Bet feature and a regular multi-bet is that you can't have combined events in the former. The Build a Bet feature only comes as a single bet.
In the unfortunate situation that a game is postponed with this feature, all selections will be voided. The result of one event is applied uniformly to all selected events in the Build a Bet future. So, when a postponed match is voided, all other selections face the same fate.
However, if any of the other valid events in your Build a Bet slip culminates into a loss, the whole bet is considered lost, and you won't get back your stake.
---
How Do You Know If Your Bet Has Been Voided?
The selected event will not pay out when a bet is declared void, so you will get your money back. You neither gain nor lose money with voided bets. In Betway, games are mainly voided after they've been abandoned, cancelled or put off.
Betway is quite forthcoming with information and will immediately notify you when your bet has been voided. Alternatively, you can check your bet history for voided games with the following steps.
Head over to the "My Bets" section in your registered Betway account. 👉 Open your bet history to see if any has been voided. You'll also see if your stake has been reverted to your wallet.
---
What Happens In Case Of Active Betway Bonus?
Sometimes games can be cancelled or postponed as you redeem an active bonus on Betway. This will affect your winnings if you have the affected event on your slip. This is how the following bonuses are affected by postponed games.
Money Back Boost
The good news is that the money-back boost still stands even when one event is voided. You'll still get a full or partial refund if you lose by a single event. Unfortunately, you're disqualified from the bonus when the voided event brings down the number of games in your bet slip to less than six.
Win Boost
When playing with a win boost on Betway, you can still receive the extra amount if one event is postponed. The catch is that the remaining events on your bet slip must match the minimum accepted odds and bets. All the same, the winning amount will be less than what was stated in the original bet slip.
Free Bet
In Betway, you can only make single bets with your free bet. As a result, you'll get your free bet stake back if the event is postponed and voided.
First Deposit Bonus
Betway gives new users a free bet as their first deposit bonus. Therefore the terms of use of a free bet apply here. You'll get your stake back when a game is postponed and declared void.
---
FAQs
Here are some concerns users have about postponed games on Betway.
When is a postponed game voided?
Betway waits 24 hours after a game has been postponed before declaring it void.
Will I lose my first deposit bonus if a game is postponed on Betway?
No. Your free bet bonus will be refunded, and you can use it for other events as long as it's valid.
Does a postponed game affect my multi-bet?
Yes. When an event is postponed and subsequently voided, it's taken off any bet slip, which scales down your odds.