Ad disclosure
Here at EfirBet (EB) we pride ourselves on having a site that is completely ad-free. No ad blocker is needed while browsing EB. At the same time, we do use affiliate links to earn commissions (every time you click a link and sign up at a betting site). This revenue helps us deliver quality and trustworthy reviews for our readers at no additional cost to them. Read the EB
About Us
page if you want to learn more.
Betway is a reputable gambling site with a Malta and UKGC license allowing it to operate in different regions of the planet.
Their dedication is the reason behind Betway's vast catalogue of games and partnerships with industry-leading software providers. For example, the site houses immersive slots, table games, and live casino games.
However, this piece will focus on Betway Mega Ball, a captivating live game by Evolution Gaming set in a fantastic game show studio. Read on as we detail what the game entails and how to play Mega Ball on Betway. Make sure you go through the entire piece to understand the game better.
---
How to Play Mega Ball on Betway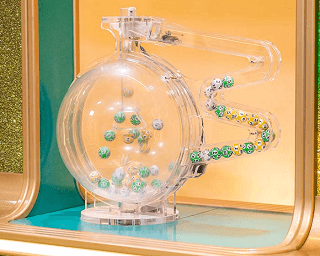 Mega Ball is an immersive live dealer game by Evolution Gaming that features the characteristics of Bingo. The big difference is that Mega Ball brings out the multiplier element, which aims to give players a chance to win a significant payout.
Mega ball sessions are manned by skilled croupiers who are not only charming but also friendly. The game is fast-paced, with single or double Mega Ball bonus rounds.
Before discussing the gameplay, you should know that the dazzling game is set in a colourful Evolution Gaming studio. The action happens on Evolution Gaming's custom-built drawing machine that contains 51 multi-coloured and numbered balls.
To play the game, you need to set the values of your Mega Ball Cards before purchasing your desired numbers. The climax of the game is when the draw begins.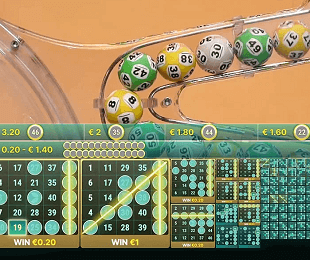 This is because you have to watch as the draw machine brings out the balls, hoping your selection is spot-on. Note that the entire game is randomised, which means every session is different and independent.
Before learning how to play Megaball on Betway, you should understand that one of the main features of the live dealer game is that the least amount you can wager is 0.10p per card. Moreover, the multipliers range from x5 to x100.
On the other hand, the maximum possible prize you should expect when playing Betway Mega Ball is 1,000,000x your bet. This makes Mega Ball by Evolution Gaming one of the game shows with an insanely huge payout.
Remember, the operator allows you to buy up to 200 cards per session.
Unlike slots, Mega Ball does not come with symbols. Instead, the entire game is based on numbers labelled on the balls. All these aspects make Mega Ball by Evolution Gaming one of the best live titles you can play at Betway.
---
Steps To Play Mega Ball on Betway
Now that you understand what the game is all about, it is time to take you through the steps of how to play Mega Ball on Betway. Well, Mega Ball may seem complicated at first, but it is not, especially if you understand the gameplay.
This is because the operator has done a great job in simplifying the gaming process. With that said, to play Mega Ball, a game that has helped shape the future of remote gambling, you need to open Betway on a computer or smartphone. After that, sign into your account and search for Mega Ball using the search bar. You can then proceed by applying these steps: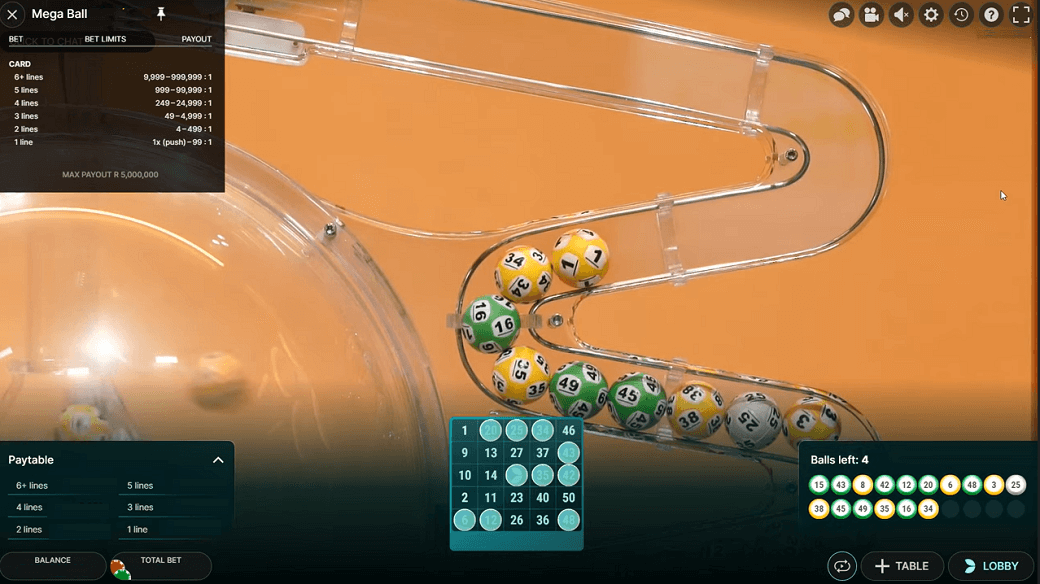 Set the value of Mega Ball cards you want to play
Wait for the 20 balls to be drawn
Watch out for the single or double Mega Balls that will be drawn after the 20 balls are drawn
Compare the numbers with those on your cards.
Find out whether you have won.
Note that every card contains 24 numbers and a wild space in the middle of the card. Also, you can purchase up to 200 cards per round. Finally, the minimum amount you can use to purchase the cards is 0.10 per card.
---
Betway Megaball Payouts
On Mega Ball, the payout is entirely dependent on the number of lines you make on any of your selected cards. If a Mega Ball is on the winning lines, then a multiplier will be applied to the winnings. For a better understanding, here is a Mega Ball payout table you should go through:
| | |
| --- | --- |
| Number of Lines | Payout |
| 1 Line | 99/1 – Push (Returned Stake) |
| 2 Lines | 4/1 – 499/1 |
| 3 Lines | 49/1 – 4999/1 |
| 4 Lines | 249/1 – 24999/1 |
| 5 Lines | 999/1 – 99999/1 |
| 6+ lines | 9999/1 – 999999/1 |
Go through the table keenly. Doing so will let you know what to expect depending on the number of your winning lines. As stated above, you can win as much as 1,000,000x your bet at Betway Mega Ball.
---
MegaBall Tips & Tricks
Playing MegaBall is only as easy as your understanding of the game. You should also know that apart from the common knowledge, there are tips and tricks that you can apply and increase your winning chances, for example:
🎡 Purchase more card games – You should consider purchasing many cards because the more the number of cards, the more chances of winning.
🎡 Keep track of your outcomes – Always keep track of the outcomes so that you may know which numbers occur in high frequencies and which ones don't.
🎡 Take note of lucky numbers – Always take note of lucky numbers and add them to your cards. You can do this by checking the previous records.
🎡 Apply the Martingale strategy – It is advisable that you apply the Martingale strategy. For every loss, you make, double the value of your wager so that if you win, you make up for the loss. This will help you recoup your wagers whenever you make a profit.