Whether or not a bookmaker includes extra time for a bet can make the difference between winning and losing, so it is important to know where they stand. A lot of punters, especially those with less experienced, are not aware of the rules covering their bets, and this can lead to them feeling confused or even angered by the outcome of their wager.
Although there is no simple, one-word answer to the question, 'does extra time count on Betway?', by reading this short article, you will know when it does and when it does not.
For those unsure what is considered extra time, it is the additional block of time added onto regulation time following a tied scoreline in matches where an outright winner is sought (such as in cup competitions).
Important!
Note this is not the same as 'injury time' or 'stoppage time' which is added to the end of normal time to account for any stoppages in play and is typically just a few minutes.
---
Does Extra Time Count on Betway?
In sports that do have 'extra time' rather than 'overtime', such as football and rugby, this is something that Betway does not typically count for bets. There are some exceptions, but as standard, an action that occurs after regulation time (90 minutes in football, 80 minutes in rugby) is irrelevant as bets will already have been settled.
This means that if, for example, you placed an anytime goalscorer bet and the selected player only scored during extra time, this would be a losing bet. Similarly, a bet on the number of corners will not include any corners taken in extra time.
Settling bets in this way is neither good nor bad for bettors. Although it may mean that some bets do not win, it also prevents others from being losers.
---
Does extra time count on Betway for some markets?
As mentioned above, there are some markets at Betway that do count extra time for the purposes of a bet. It can only ever happen in matches that cannot end as a draw, so the knockout stages of cup competitions rather than regular league fixtures. Betway will typically not offer such markets in the early stages of cup competitions but rather introduce them later when fewer teams are involved.
Outrights
Outright bets cover seasonal results such as 'top 4 finish' 'to reach the semi-final', or 'top goalscorer'. In some cases, the competitions involved will never include extra time as they work using a draws-allowed league format. If they do though, extra time will count both in terms of results and any goals/assists too.
So, if you were to place a top goalscorer bet at the World Cup, extra-time goals count just the same as regulation-time goals. Note however that penalties scored in shootouts will not count towards such bets.
To Qualify
For a 'to quality' bet, you are simply betting on the team that will prevail in their fixture and progress to the next round of the competition. How they manage this, whether it be a regulation time win, an extra-time win, or a penalty shootout triumph, does not matter.
To Win the Championship
Effectively the same as a 'to qualify' bet but used during the final match of a competition because there is no additional round to qualify for. The method of victory and how long it takes is again irrelevant; you just need to correctly pick the team that gets their hands on the trophy.
---
Does Overtime Count in Betway?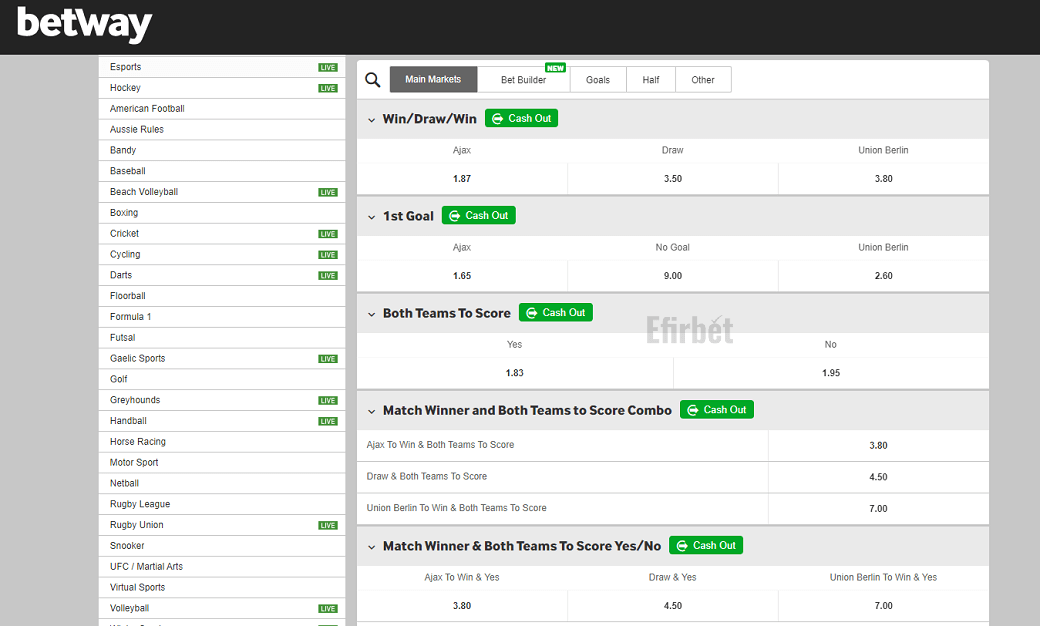 Now we know the answer to does Betway count extra time? How about overtime instead? For sports that have overtime, rather than extra time, the answer is, it usually does count, but not always.
For American football and basketball fixtures, Betway state in their betting rules that overtime does count unless stated otherwise. The biggest exception is the win/draw/win market, as here, overtime cannot be considered because overtime usually prevents there from being a draw.
The industry standard for north American sports is to include overtime with bets, and Betway follows suit when it comes to ice hockey played on the continent. So, in all NHL matches, for example, overtime action will impact your bet as standard.
For all other ice hockey though, Betway clearly states that, unless stated otherwise, bets will be settled "on the score at the end of regulation time and excluding overtime or shootout if played."
---
What's the difference between Overtime and Extra time in Betway?
For sports that can feature a period of extra time, this is the phrase used across most of them except for those considered 'north American' sports, i.e. basketball, ice hockey and American football. In these sports, they use the word overtime as a standard instead.
Despite the different terminology, they are effectively the same thing. Both extend the duration of a game for a set period in order to help determine a winner following a draw (or aggregate draw) after regulation time. You see it more often in American sports as overtime follows drawn league encounters.
---
FAQ
What counts as extra time on Betway?
Betway, as is standard in the betting industry, defines extra time as the additional period of play that can follow a tied regulation-time match and where there must be a winner on the day. It does not include 'injury time', also known as 'stoppage time', as this is simply considered part of the standard regulation period.
Can I bet on extra time only at Betway?
Yes, but usually, this is only available when betting in-play. Following a regulation time draw, there will be a short break before extra time commences. During this time, Betway will release odds and markets relating to the upcoming period of extra time. Such markets tend not to be available pre-event because if there ends up being no extra time, it means voiding a lot of wagers.